(Last Updated On: January 23, 2018)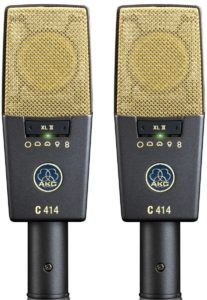 Drums possess the most complex array of tones out of almost any instrument and as a result, recording them is a real challenge. To record drums effectively, you need mics which can handle the loud attack of a snare, the depth of toms and bass drums and the high shimmer of cymbals. Not only that, but drums also span a large physical area meaning mics need to be able to pick up sound from right across a kit.
The modern drum mic set up takes advantage of many purpose-built mics. In the 60s and 70s however, Glyn Johns who engineered albums by The Who and Led Zeppelin pioneered a 3 mic drum recording technique where he'd simply use 2 overhead mics combined with 1 kick drum mic.
It is possible to get a great sound from this technique and it's still used today. This is because the most important element of a drum mic set-up is almost invariably the overheads. You can't record drums without them, it just wouldn't work.

Top 4 Best Overhead Drum Mics: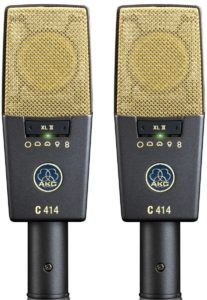 An evolution of the legendary AKG C414, the C414 XLII is a widely recognized beast of a microphone that can handle almost every audio source with exquisite ease. Such is the AKG C414's flexible status that it's cited as a tremendous vocal mic as well as an amazing drum overhead mic. In the aluminum flight case/box, you receive an array of accessories. These include a shock mount with bayonet release system, a pop shield, and a wind-sock.
Build and Features
It's a substantially built mic, not the smallest by any means but tough and relatively heavy. One of the top selling features of this mic is its plethora of controls. These include a pad setting for particularly loud sources. This extends from 6dB through to 12dB and 18dB settings.
There's also a bass cut section with 40Hz, 80Hz, or 160Hz settings which can be used to reduce unwanted rumbles and eliminate subsonic noise. A slope of 12dB/octave is the default for 40Hz and 80Hz settings and for 160Hz it's 6dB/octave. Additionally, the mic comes with an astounding amount of polar patterns. These include omnidirectional, wide cardioid, cardioid, hypercardioid and figure of 8.
You can even select between these patterns, though, combining two polar patterns. For example, you could combine wide cardioid with cardioid for an overhead sound with a little more ambiance. Combining hyper-cardioid with figure of 8 is interesting! Overall, the mic allows for 27 different settings!
Sound Quality
This mic quite simply sounds very good. It performs very well in all manner of diagnostic tests on a variety of sources. It's warm, natural, rich and open. Perfectly suited for picking up whole kits, it really excels when used in a minimal miking setup to obtain those 70s Glyn Johns recordings.
You can pick up extraordinary detail and it all sounds very recognizable and real, which is quite simply what you need from a drum overhead. When coupled with single drum mics in a more comprehensive modern set-up, this mic still excels. It offers a flexibility unlike many others. For its price, when compared to other flagship mics, it suddenly doesn't look too expensive for everything you get.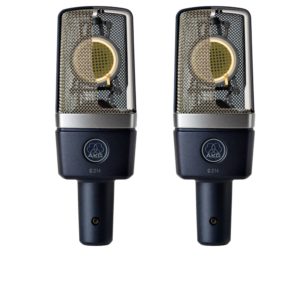 The AKG C414 was famous for its huge range of selections. However, let us face it, if you just want to record drums then you probably don't need them. This is AKG's answer to the overhead drum mic industry. You get a stereo-matched pair in the box for a great price, they're great mics and have a familiar sound akin to AKG's higher-end models.
These mics are fixed cardioid mics, meaning they only have the cardioid pickup pattern available. This is ideal for drums – you won't need anything else with this mic as it can obtain a great stereo-image with that setting.
Build and Features
The C214 is minimal on the features. This is partly how AKG got the cost so low. You don't really need a full C414 feature set for the average drum studio and AKG were mindful of that. Instead, they put a great sounding mic into the hands of many at an affordable price. It comes with some AKG goodies like their spider shock-mount and the build quality is extraordinary for the price.
Sound Quality
These mics sound particularly good on drums. That's great because that's what we're here for! They pick up cymbal sounds with a smoothness that doesn't get overly washy or shrill when they're played hard.
Toms and other drums sound fat and smooth but not too boomy, as this mic features a dead-flat response below 500Hz and rolls off near 75Hz. Once again, it's great for drum mics as you won't need to worry about EQ'ing these areas so much. This mic can handle high-gain close miking duties on drums and snares too.
Overall, they have a pleasing response to transient sounds which aren't hindered in their bite whilst also remaining natural and smooth. The only downside is, because of its low-frequency response, you wouldn't want to use this as a close mic on anything lower than a tom. Of course, that is somewhat irrelevant here – its low-frequency roll off is perfect for overhead miking!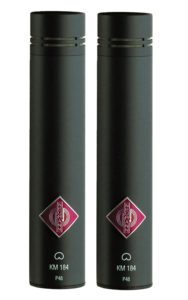 This mic is a small diaphragm condenser with a fixed omnidirectional polar pattern. It's part of Neumann's 180 series and is supplied in either nickel or matte lack in a wooden box with a quality clip and windscreen. It's just one digit away from the KM184, which is a cardioid mic and the 185 which is a hypercardioid. They all fill a different niche and can all be used to record drums, with the 183 and 184 particularly appealing.
Build and Features
The 183 is an omnidirectional condenser, meaning it's best suited for mic duties in well-treated rooms which sound good a whole. As an omnidirectional mic, the 183 is useful when there's no need to filter out background noise. It also makes it useful for capturing sounds from expansive drum kits or from percussion groups. It's quite a niche mic for the price, but with Neumann's legendary name attached to it and sublime engineering, it's justified.
Sound Quality
The 183 has a super flat response, it's just supremely faithful to the sound it's picking up. It has no roll off, no attenuation across any frequency. If you have a good room and a lovely sounding kit, this mic will pick it up with supreme accuracy. Many claim it's a one-trick pony but we're talking about overhead mics here and it will carry that job out with amazing accuracy. It is an omni mic, that's why you need a good room, as it will pick up unfavorable echoes like nothing else.

No mic shoot-out is complete without a Shure mic. This little mic is a multi-pattern mic with cardioid and omni settings, adjustable pad settings and even a switch for adjusting the roll-off per octave. It's a quirky mic and its settings stand it apart from other similar sized mics.
Features
These are feature packed for a small diaphragm studio condenser. That makes them somewhat of a swiss-army knife around fixed-blade mics like the KM series. The cardioid and omni switch means you have two settings to try – you can even combine them with pleasing effects. The low cut off features a 18dB/octave at 80Hz setting or a smoother 6dB/octave at 115Hz setting. It also has a 15 or 25dB pad setting, enhancing its capability of capturing loud sources.
Sound Quality
This is a snappy mic, great for picking up drum transients. It has a quick response that has a good amount of bite whilst remaining smooth and controlled. As accurate mics, they can be setup to achieve a really detailed stereo image which is rich in 3D detail. The mic's ability to pick-up high frequencies with more-than-adequate brightness but not harshness makes it excellent for picking up cymbals.
Types of Overhead Mics
The only type of mics that see widespread use from drums is condensers and ribbon mics. Condensers are vastly cheaper than ribbon mics and come in all sorts of shapes and sizes from small diaphragms to large diaphragms.
Neither small or large is better than the other, it just depends on your preferences. Overhead mics also feature multiple pickup patterns which can sometimes be changed on the mic's body to modes ranging from super-cardioid to omnidirectional.
Small Diaphragm
Smaller pencil-shaped mics are small diaphragm mics and they're generally accepted as more precise. They respond more quickly to the transient sounds found in drums and percussion. This makes them more suitable for overheads intended to just pick up the cymbals and higher frequencies. They don't usually have as much of a sonic character as large diaphragm mics, though.
Large Diaphragm
Large diaphragm mics can sound more natural and less precise. They're used widely for vocals as they make the voice appear more as it sounds in real life. For drums, they produce similar results and are perhaps better suited to picking up the whole kit than small diaphragm mics.
Supercardioid
These provide a focussed image which is not suitable for larger sets of drums. They also won't pick up much off-axis noise originating from outside the target zone of your mic pickup pattern. These could be useful if you have a lot of loud instruments packed into a room and want to record drums using overheads without capturing too much ambiance.
Cardioid
Widely seen as the most useful pickup pattern for drums, cardioid mics when used as overheads provide good stereo imaging whilst picking up just the right amount of room noise if set-up properly.
Omni
This pickup pattern can be useful if you want a more ambient and all-over sound for creative reasons or if you have a great room and great sounding kit. It will reduce the precision of your stereo image though.
The Verdict: What's the Best Overhead Drum Microphone?
Going by straight quality and its powerful selection of effects, the AKG C414 XLII trounces these opponents. It's the mic that many people say they wish they bought earlier. It's suited to so many things in and around drums, it's sure to stand any time test and it will pay for itself through its enormous flexibility.
The Neumann KM183 is a quirky little mic that many people adore. Some people don't see the attraction of, whilst the Shure mic has the unique offering of multiple features packed into its small, high precision shell. For achieving drum sounds on a budget, though, the C214s have to weigh in as the best all-round overhead mics.
They pack a legendary sound in with AKG's sublime build quality. Whilst they are suitable for recording other instruments, they do excel in their overhead mic duties. They have an appealing sculpted low-end that gets warm mid frequencies out of your drums whilst reducing your need to battle the lows in your mix. Perfect for amateur recordists and studios.