(Last Updated On: December 21, 2017)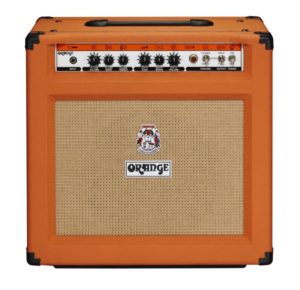 Not only is the Orange look, with its clever framing and bright orange covering and classic logo styling highly sought after but the sound that these amps produce is one that is often considered amongst the best.
This guide will attempt to provide you with tips and reviews for finding the best Orange amps for electric and bass guitars.
Top 3 Best Orange Amps: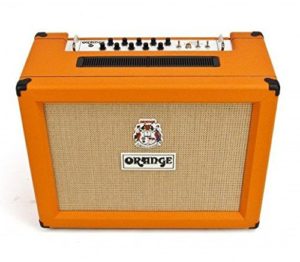 The AD30TC can be considered one of the top-end tube amps that you can buy.
Featuring that iconic Orange styling, a classic open-back 2×12″ design and 2 Vintage 30 speakers, you are getting the warmest of the warm and the fullest of the full while still being able to crunch if you want.
The twin channel design is a blessing. You can have a clean and a dirty channel that each have their own signal paths. So, a buttery smooth tone or a crunchy growl are each just a plug a way.
Channel 1 brings that great creamy tone that recalls the old school clean tube sound with some bark added for the modern era. Channel 2 is slightly bouncier and more top-end heavy giving it a little extra bite. Both channels offer a sound that truly is a joy to hear.
This amp is sure to please even in the largest bar. The 13 ply plywood enclosure is acoustically designed by the engineers at Orange to produce the best sound from the great speakers in the housing.
Testimony to the quality of this amp is that the previous iterations were so successful worldwide that the specs of the amp have remained unchanged.
The downside is that the 2 speakers really produce a lot of sound and it may not be ideal for the practice room especially if the other players practice gear is not up to snuff. But, if you have the money to drop on this beauty, you will not be disappointed.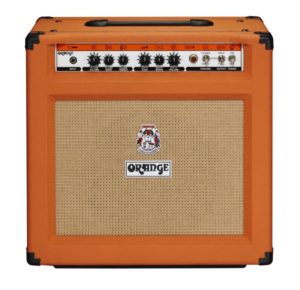 This model can be considered the portable version of the one above. The TH30C features a single 12″ Voice of the World speaker in a similarly engineered enclosure.
The two channels of this amp essentially make it a combo of the Rockerverb (Channel 1) and the Thunderverb (Channel 2).
I really like what I have heard from the tone shaping capability of the dirty channel. The 4 tone shaping knobs allow you to fine-tune your crunch.
If I was to recommend one of these amplifiers to a gigging guitarist, the portable 1×12″ design make this amplifier the one to beat. It is just so portable without sacrificing too much in terms of presence and really forcing no sacrifice in terms of sound.
There may come a time where you are playing a venue that is just a little bit too large for this amp to cover with the same warmth and tone that it used to.
However, there may come a time where you are playing a venue that is just a little bit too large for this amp to cover with the same warmth and tone that it used to.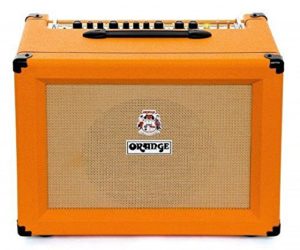 In a turn away from tube amps, Orange made its first leap into all solid-state design with the Crush amplifier line. This particular model is the 1×12″ 60 watt design.
The design of the cabinet is similar to the TH30C, it has a single 12″ Voice of the World speaker, and like all Orange amps the enclosure is acoustically engineered to the utmost specifications.
According to Orange themselves, this amp is designed on the legendary Rockerverb range. Like that range, the clean channel is a two stage two-band design and produces sound which is extremely warm and smooth until pushed when it begins to break up.
The dirty channel is based on a four-stage three-band EQ design that offers all kinds of overdrive shaping ability.
Additionally, the effects loop on this amp allows you to confidently add your own effects pedals to the mix and know that the sound will still be great.
This is a blessing on gigs or in recording sessions. Knowing that you can trust the sound of your pedal setup through your amp is a weight that no guitarist should have to feel.
The CR60C is amongst the best in solid-state amplification. It offers a price-tag that is not quite as shocking as all-tube amplification. However, it will not quite stand up to the warmth of a tube amp.
So, bear that in mind when it comes time to pull the trigger.

What Is The Difference Between A Tube And A Solid State Amplifier?
There are two fundamental types of amplifiers. They are designated by whether they use vacuum tubes or digital components to amplify and shape sound.
Whether or not there is any advantage to one type of amplifier often differs between types of guitarists, genre desired, versatility and cost. As a general rule of thumb, tube amps are a bit more fiddly and costly but produce a more full and warm sound.
Tube amplification also requires paying a premium price due to the care and skill required to assemble the amplifiers.
Something to consider when buying tube amplification is that if you ever have a major problem with your amp, you may have to seek more costly repairs simply because your amp requires more skill to repair.
On the other hand, I find that tube amps can often be great projects for people to learn more about tubes and how amplification used to be done.
Another downside to tube amplification is that some tube amps require the tubes to "pre-heat" before the amp is officially ready to be played through. But that tube sound is so worth it.
Solid-state amplifiers, which use digital components to shape and amplify the sound, are often cheaper and produce a slightly less full sound to some ears.
Orange also produces a type of amplifier referred to as a "hybrid" amplifier which uses a vacuum tube to shape the sound and digital components to amplify.This style of
This style of amplifier is considered by some to be a good compromise between the natural fullness of a tube amp and the cost-effectiveness and predictability of sound across amps of the same model.
Tube amplification often brings a level of musicality that has yet to be reproduced by digital amplification, but digital amplification is reliable and reproducible across each individual amp of the model series.
Tube amps are powered by expensive and sometimes breakable tubes, solid-state amps are powered by much more cost-efficient digital circuitry that is cheaper to repair and less prone to breaking.
The rule-of-thumb is, if you have the money, tubes offer sound that just has that certain something, whereas higher-end solid-state amplification offers slightly less musical sound for much less cost.
Speaker Configuration
The quality of speaker also has a significant effect on sound. More clearly, the best tube amplification through a bad speaker will sound worse that decent solid-state amplification through a great speaker.
When I say "great" speaker, I am partially referring to the size of each individual speaker and the number of them.
Larger speakers, like larger strings or larger drums, offer a lot more low-end yet are slower to respond. Smaller speakers offer less in the area of low-end but more articulation and quicker response.
The "sweet spot" for guitar amps can be considered anywhere from 10″ to 12″. However, it isn't unheard of to see amps with speakers of slightly different sizes offering quality sound.
The number of speakers in a combo amplifier can effect volume perception and presence of sound. If you have more speakers in your cabinet, you will often be able to cover more sonic "space" and feel like you are louder than a single speaker.
If one were to choose a 2×12 amplifier, he would be capable of filling a large room with less effort. He would also be wise to pick up a smaller amplifier for practicing purposes where filling up large venues is not such a concern.
Even still, for most players a 2×12 is probably not necessary if they plan on going through a house sound system. This would help cut costs. However, if one goes with a 1×12 and ends up having to fill a medium to large venue, the amp may struggle a little bit when it comes to presence of sound.
The only way to determine what speaker configuration you need is to determine what sort of playing you will be doing.
If somebody is looking for a good amplifier for practicing and playing bars, a 1×12 would be the best compromise without needing to purchase a smaller amp for practice sessions.
So, What's the Best Orange Amp?
Forced to pick a winner, I would go with the TH30C, the portability is an irreplaceable feature for the gigging musician and the point of music is sharing it with people.
But, if the price-tag is just too high, the CR60C will offer a competitive sound with a less shocking price tag. The sound will not be as warm but the cost-effectiveness is higher in my opinion.
Orange offers some of the best amplifiers for electric and bass guitars that money can buy and they offer a wide range of products that allow musicians at all levels to purchase an amplifier they can confidently plug in to.