(Last Updated On: December 21, 2017)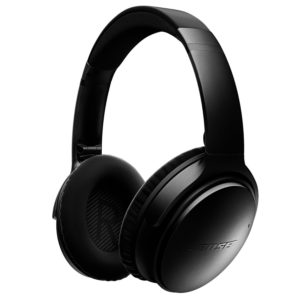 We have collected a list of the best noise cancelling headphones available on the market right now.
Below you can find them reviewed as well as some detail of how this technological miracle works and all its features. 🙂
Please notice that in this article we reviewed only headphones which use active noise cancellation (ANC) to block ambient noise.

Top 5 Best Noise Cancelling Headphones: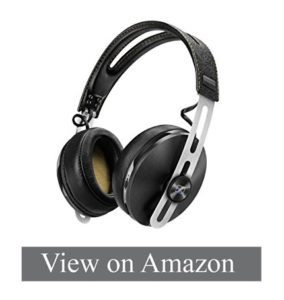 What is in the box?
We have a traveling bag for the Momentum 2 and a bunch of papers inside: a quick guide, a safety guide, a warranty, etc.
What else is in there? There are:
an airplane headphone jack adapter.
a 3.5mm audio cable straight angled for going inside the headphones and right angled for going inside your portable MP3 player or any other device you decide to use.
a micro USB charging cable.
And some silica gel.
Comfort
They are foldable which makes them very compact and great for portable listening.
The ear cups of this model are a lot larger than the ear cups in the first Momentum. If you have huge ears you will definitely notice the difference.
The cups themselves feel a lot better for listening to music for longer periods of time. I could wear them for 7-8 hours without any discomfort.
The headphones themselves are extremely flexible and durable. If you want to wear your headphones every day, everywhere, and you are afraid that the headphones will break, these ones are great for you.
If you have a really large head and you are looking for headphones that are flexible, lightweight and sound great, Momentum 2.0s are the headphones for you.
They have a 100% genuine leather headband with classy gold stitching on the outer rim and on the inner rim of the headband.
You can move the ear cups exactly where you want them to stay or put them on your head, and they will not move at all.
You can adjust them so they can move, but they will not move on their own.
Sennheiser has done their absolute, very best to make everyone who has these wireless headphones forget about the typical wireless headphones that we think of today by using and incorporating Bluetooth 4.0 technology, NFC pairing, aptX codec, and active noise cancellation.
The headphones need to be charged for three hours and you get up to 22-23 hours of continuous playback time. Bluetooth 4.0 is also great with accepting lots of incoming information at once.
NFC pairing is a short range, also low energy efficient technology that cares about connection between your headphones and your Bluetooth device, e.g. phone or tablet. You will have no issues whatsoever with the connection and the pairing of your source or a smart device to your headphones will be done easily.
AptX codec is a super cool and intriguing concept. It is a different way or technology that compresses audio differently than the way most technologies do.
It still compresses the music because there is no way to avoid that when you have wireless headphones, but it compresses audio so that you can hear music at CD quality playback.
Noise Cancellation
They do cancel out about 80% to 90% of the noise around. So I can put them on, turn my music on, turn noise cancellation on and get this open, airy, natural sound, which I really like.
These headphones do not really have too much passive noise cancellation, though.
If I put them on without any music going or any noise cancellation happening, I can still hear everything just fine.
Sound Quality
As far as sound goes, you are still going to hear that same traditionalist Sennheiser approach that is very clear, accurate, and overall great sounding. Lots of color and liveliness coming at you in all different directions with a slightly elevated bass as intended.
I noticed two major improvements that I really liked compared to the 1.0
The mid-range frequencies are elevated slightly. There is a more forward treble sound.
I like this because, for the 1.0, I heard all the clarity and cleanliness that I wanted to hear, but the music seemed divided among the frequencies on its own. I wanted to hear more "togetherness" and the more joint sounding package of music.
With the 2.0, I get all the separation and clarity while hearing the togetherness that recreates the musical vibe a lot better. I think you will agree with me when you listen to these headphones.
It is probably my favorite part about listening to these headphones.
Second, there is an increase in depth of soundstage.
Conclusion
If you are reading this review and you are thinking, "Should I get these headphones or not," yes you should.
If you are looking for that all-in-one pair, that desert island pair of headphones that achieves near perfection in almost every category that the average or above average consumer and listener is looking for when shopping for headphones, then you are in the right place.
Pros
AptX codec support.
NFC support.
Great sound quality.
Noise cancellation works pretty well.
Perfect traveler bag. Actually, I think that these are one of the best noise cancelling headphones for travelers if you do not like earbuds which are always my first choice for an active lifestyle.
Cons
I have not found any real cons. I recommend them very highly and they are probably close to the top of my list of headphones to get in that all-in-one category.

These brand new Plantronics Backbeat Pro wireless active noise cancellation headphones are a big step for Plantronics, a company that is known for the last fifty years for their headsets, both wireless and corded.
They offer a pair of budget noise cancelling headphones that are specifically made for a person who listens to music or watches videos rather than a person who uses the pair of headphones for calls.
Design
They are not all that exciting at the first instance, and I would say they are even intentionally pretty conservative in their appearance.
They are not something that is going to be a pair of fashion headphones, the way that we have seen so many companies. Monster, Beats, and so many others have gone for the fashion aspect of headphones.
These headphones have built-in Bluetooth 4.0 DDR and A2DP for audio streaming, NRC support and active noise cancellation. They have DSP (digital signal processing) and they also offer a microphone so you can use them for calls.
What Is In the Box?
They have a very nice headband and two soft earpads which are very comfortable. The headphones have nice adjustments on both sides.
The company also included a soft bag.
The ear cups have more than enough space so that they can sit nicely on your ears, and if you look on the inside you could see an indicator which shows whether it is the left or right ear cup. Yes, these are not ambidextrous headphones, so there are a left ear cup and a right ear cup.
On the left cup, you can find a play/pause button as well as a noise cancellation button.
NFC spot is on the right ear cup and it will automatically pair.
You also have a 3.5-millimeter port and you are able to use them both in a wired or a wireless mode. So if your battery runs down you can plug in the included cable and these headphones become normal wired headphones.
You also can find the micro-USB charging port and a USB to micro USB cable for charging included in the box too.
Comfort
The headphones have physical dials for your track control and for your volume control on the left ear cup. It took me a little while to get used to this feature but once I did it works really well.
The volume control works really well too. It is also quite easy to accept the call and to end the call just by pushing one big button.
Maybe the most amazing thing about these headphones is their long-lasting battery life. This model has a crazy 24 hours up and running time per charge.
One more terrific thing is that these headphones do not have normal 33 feet (10 meters) range the way most Bluetooth headphones do. Nope. This model has a full one hundred feet range (100 feet or 30 meters, guys)!
They offer multipoint support if you have multiple devices connected at once.
When you are listening to music and you take them off, the special sensors tell the headphones to stop playing.
When you put it back on, the same sensors indicate to the device you are using that the headphones are back on, and the music starts again.
Sound Quality
The audio is extremely good, especially thanks to an aptX technology if your device supports it.
These are high-end wired headphones and these are wireless noise cancelling headphones for under $250 dollars at the same time. And they sound really good.
Pros
Impressive 24-hour battery life.
100-feet Bluetooth range.
You do not need to take off the headphones when you want to have a conversation.
Built-in sensors to stop playing music when you have the headphones off.
They support both wireless and wired modes.
Multipoint support.
NFC technology support.
AptX codec support.
Cons
Actually, I have found nothing to say about their drawbacks. These headphones are one of my top picks.

Sony MDRZX770BN Headphones Review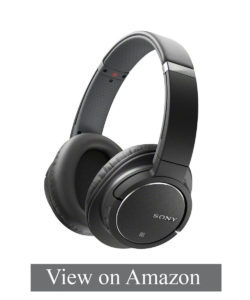 Durability
In terms of construction, Sony MDRZX770BN noise cancelling headphones are well put together and lightweight. They are largely plastic with metal inside the headband.
I do not want to call them flimsy, but let us just say that I would hesitate to put them through any significant abuse.
Comfort
The headphones have big ear caps with soft leather pads and even the headband is wider than most and also decently padded.
This combined with their light weight makes them perfectly suitable for wearing for long periods of time without fatigue.
The headphones also support aptX codec which can improve sound quality a lot.
On the right ear cup is a rocker for skipping tracks, pausing, and answering phone calls.
Next to it is the volume control, and Sony thoughtfully put a bump on the volume up button, so you do not have to memorize which is which.
These headphones have a built-in headset functionality, and it works about as well as you would expect for phone calls.
For those times when you cannot or do not want to use Bluetooth, the headphones come with an audio cable that connects the left ear cup. This is a completely standard cable and should be cheap and easy to replace should you lose or break it.
Battery Life
You can use these headphones even if they are off or the battery is dead and what is more, they sound exactly the same. Sony does not seem to be doing any sort of active equalization so there is no penalty in sound quality if the power runs out.
With Bluetooth and the noise cancelling turned on you can expect about 13 hours of life.
Turn noise cancelling off and that increases to nineteen hours between charges.
Checking the charge remaining is a little cumbersome: you need to tap the power button, then count the number of times the red LED indicator flashes. The fewer the flashers, the lower the charge remaining.
Noise Cancellation
I will try to keep this concise: it works decently and it is effective, but there certainly are other noise cancelling cans in this guide that just do the job better. The 770s focus only on the low frequencies: it just feels like there is more in the spectrum that could be blocked.
In relatively quiet environments that noise floor from the canceling – you know, that hissing sound – is nice and low but it does ramp up considerably if the ambient environment gets loud.
Anyway, I do not think it will be too much of an issue on a train or a plane though and overall noise cancelling works pretty well.
Sound Quality
The low end is tight and robust but smooth, and the highs are crisp but not overly articulate. The mids are interesting on this model of headphones. They sound natural but their position in the soundstage makes them feel a bit laid-back.
While some headphones make it seem like vocals are right in your face these put them a little bit further. It is not a bad thing by any means and the overall sound signature is engaging but in such a way that it never becomes fatiguing.
For the scenarios that people are likely to use these headphones, I would say they sound just right.
Pros
These headphones are extremely lightweight which makes them perfectly suitable for wearing for long periods of time.
Perfect sound quality.
Long-lasting (up to 19 hours) battery life.
Best noise cancelling headset for phone calls at the moment.
Cons
They seem a little bit flimsy but that is just my guess. Sony has a huge experience in making durable things.
Conclusion
So overall I think Sony MDRZX770BN offers a really good balance of features, functionality, comfort and sound quality.
If you are looking for top Bluetooth noise cancelling headphones I do not think you can do any better even at a higher price and they should definitely be on your list to check out.

Bose QuietComfort 35 Review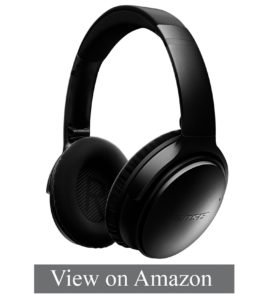 These headphones from Bose are an upgraded version of their well-known QuietComfort 25.
What is in the box?
What you get in the box is basically:
a USB charging cable
a 3.5-millimeter jack if you choose to connect via wire
an awesome leather carrying pouch
a pair of excellent noise cancelling foldable headphones.
Comfort
These Bose headphones sound similar to other more expensive high-end models.
They are ultra-lightweight – under 240 grams.
They are in either silver or black color.
The headband is made from some nice leather on top and micro suede in the interior.
The cups contain play/pause button, a volume up, and a volume down. The earmuffs on the ear cups are nice and plush. These headphones cause no listening fatigue whatsoever.
Bose claims that these will last up to 20 hours on a single charge and I actually had even closer to 23 hours. That is an amazing advantage of these noise cancelling headphones.
Using wires allows the battery to last, even more, roughly 40 hours.
Charging via the micro-USB cable takes just over two hours. When you are connected there is an audible reminder that tells you how much charge you have left inside the headphones.
Pairing the headphones with your smartphone could not be any easier:
just turn on your Bluetooth on your smartphone device
power on the headphones with the Bluetooth option and that is it, you are connected. Super simple!
So they are super lightweight and their battery literally lasts almost forever. What more could you ask for in a pair of headphones?
Sound Quality
The bass levels are pretty good, although the bass heads might want just a little bit more bass.
The mids and highs are outstanding.
What is fantastic is that regardless of how loud your music is, the bass always stays clear, and vocals are still amazingly well.
And regardless of the music genre you like, you are really going to enjoy these.
Noise Cancellation
It works just pretty well: noise cancelling blocks all the sounds that are coming from outside: construction, talking, cars, and buses.
It blocks everything out and allows to concentrate on enjoying music.
Pros
The outstanding sound quality.
Noise cancellation works pretty well.
Lightweight.
Super comfortable to wear.
The immortal battery which lasts up to 40 hours on a single charge.
Cons
They may not be comfortable for people with really big heads
Ausdom ANC7 Review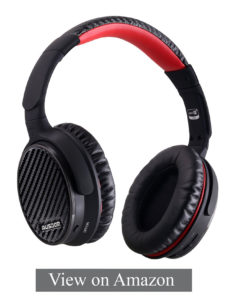 What is in the box?
You have a hard-shelled case, that is included. Inside the case you have two cords included:
a wired headphone cable so you can use these as wired headphones with the 3.5-millimeter plugs at the end;
a cable for charging (micro-USB).
The battery life of these headphones is quite long (up to 18 hours) which is definitely above the average.
Of course, you have a manual which walks you through how to use these and a little bit of a warranty description there as well.
Inside the case you have this little bit of a mesh, kind of a pouch to store the cables in.
Comfort and Build Quality
In terms of the headphones themselves, the build quality is nice and solid. It is a plastic build, but still certainly durable enough.
Starting with the headband up top you have some pretty decent padding. It is not overly luxurious but it is comfortable.
They do not go super large, but they are still going to be large enough to accommodate just about anyone, whether you want to make them smaller or larger.
The ear cups themselves do pivot downward which is nice. There is some of that horizontal and vertical pivot so it helps you get a really comfortable fit that way.
On the left ear cup, you can find the on/off button, a button for turning on the active noise cancellation, a little blue LED indicator, and a charging port for a micro USB cable.
These headphones get charged fairly quickly: just in about two hours you get a full charge for 18-hour battery life.
Over on the right ear cup you have a button for using these headphones in Bluetooth mode. It can turn this on to activate the headphones, and then if you continue to hold it down it will actually go into pairing mode. You will be able to see the blue and red light blinking back and forth, and it will pair with your Bluetooth device.
I found pairing really easy with any Bluetooth device from different tablets to PCs, to my Mac and to my iPhone – it all worked really well.
Then you have your volume up and down here as well and this also serves for play and pause.
The battery can be completely dead and you can still use these as wired headphones which are a great backup option there as well.
The headphones support aptX codec which means you can get a high-quality signal in Bluetooth mode. I found it to be accurate, and it really does work very well in Bluetooth mode.
You get a great high-quality sound that way, you do not get any skips or drops and what is also nice is, you know the range is solid.
It is about 30 feet which are pretty common for Bluetooth headphones but at least it is, it does have a good strong signal within that range.
In terms of the comfort of these headphones, these headphones do a really nice job. A couple of the strengths are that they are light wearing so that they do not put too much pressure at the top of the head.
Noise Cancellation
Active noise cancellation feature works really well on these headphones.
Even if you are in an office environment you will be able not to hear things like copiers, that low kind of conversation in the background, etc. All that is going to be for the most part removed depending on the frequency. You are either not going to hear it or hear just a tiny bit. It is almost like the distant white noise in the background.
As a result, you can use these when you just want to take a nap and wear these without listening to any music.
Sound Quality
Overall it is a relatively balanced and clean sound, nothing is overly emphasized.
With the bass… It is present but I would describe it as being more lean and well-controlled again rather than emphasized or boosted.
You get a nice bit of low extension but not so much for deeper sub bass in a rumble. You do not quite get that lower deeper bass extension but otherwise, it is a nice lean well-controlled bass.
The mids are decent but slightly recessed. Overall they are fairly accurate and natural sounding, guitar strumming sounds natural enough. Voices can sound a bit lean at times but overall the job with the mids is certainly good.
The highs, likewise sound pretty good but they are rolled off towards the upper frequency. You do lose a little bit of detail that way.
As a result of that, these are also non-fatiguing which means you can listen to them for long periods of time without getting a discomfort or getting a headache.
The soundstage is actually one of the strengths of these headphones considering these are closed. You get with these actually fairly open and wide sound. Instrument separation is good. As a result, these actually work quite well for gaming.
Overall the sound quality and this is without the automatic noise cancellation. Can be a bit lean sounding at times but overall fairly clean natural and well balanced.
When you turn on the automatic noise cancellation you will notice the quality of the mids drops a little bit. The highs might be found a little bit more rolled off, and then you lose a little bit of bass extension as well down deep there in the low end.
It is one of those things that is common with automatic noise cancelling headphones in this price range.
Pros
Support of aptX technology for better sound quality through Bluetooth.
Noise cancellation works pretty well.
Great comfort of use.
Although these headphones are wireless and have built-in Bluetooth you can use them as wired headphones as well.
Cons
You should choose something else if you are a kind of audiophile. The sound quality is getting different when active noise cancellation feature is on. That is normal for noise cancelling headphones but may bother some people.
Conclusion
The bottom line on these headphones is they do a lot of things really well and that is really the strength of these.
You are getting Bluetooth, you are getting aptX, you are getting noise cancellation, great sound quality, great comfort, ability to use these as wired headphones, and a really good battery life.
You are getting all that in a relatively affordable package.

Difference Between Noise-Isolating and Noise Cancelling Headphones
Both noise-isolating headphones and noise-cancelling headphones block out ambient noise around you while you are wearing them but they work a little bit differently.
Active Noise Cancellation (ANC) in Headphones
These headphones are great for those people who travel a lot. You simply flick a simple switch on the side of them, and you do not hear a thing, especially at low frequencies, e.g. jet engine or air conditioning roar.
You can better listen to your music, movie, podcast or whatever you want without too high volumes.
So, how do they actually work? Active noise-cancelling headphones block noise with more noise!
There are small microphones on the outside of the headphones. They "listen" to audio around you, produce some kind of "anti-noise" matching the same frequency as noise coming in, and cancel ambient noise out.
If you are not a geek you can easily miss next three paragraphs. If you are – welcome to more detailed explanation below.
Sound travels in waves. If two waves combine they create a resulting wave that is basically the sum of the original two. So if our two waves have peaks and troughs in the same places they merge into one big wave which dramatically increases the amplitude and the level of noise.
On the other hand, if the peaks of one wave line up exactly with the troughs of another than these two waves can cancel each other out completely!

Active noise cancelling headphones use this principle by listening to the background noise with a dedicated microphone or two microphones and producing anti-noise that literally destroys incoming sound waves before they reach your ears.
Combine this with special noise absorbing material built-in the headphone cups in some models and you have got some pretty serious sound isolation.
How strong is active noise cancellation? Headphones can cut out from 75% to 95% of noise around depending on a model, built quality, materials, etc.
Passive Noise Isolation (Noise Reduction) in Headphones
These headphones do not require any battery, there is no power or electricity needed to cut out any incoming audio. As a result, they do not work quite as well but they physically block out ambient noise.
They are also known, by the way, as "passive noise cancelling headphones" instead of "active" ones.
They go inside your ears, usually in the form of earbuds (in-ear headphones) with long silicon ear tips. These ear tips act as ear plugs some people use for snoring. In fact, you can use them for snoring if you wish. 🙂
They are less expensive than ANC headphones and do not need a battery. Although, you get worse sound isolation in total.
Popular Questions About Noise Cancelling Headphones
What is the Difference Between Regular and ANC Headphones?
If you want a pair of good noise cancelling headphones to help you focus on work or listening music without with hearing ambient noise, what should you consider before forking over your cash?
Look at the list of the most important things which differentiate noise cancelling headphones from others:
Battery life: very energy-consuming
One of the biggest concerns with this kind of headphones is their short battery life.
Unlike regular headphones which usually just run off the power provided by your PC or smartphone or whatever else has a headphone jack, headphones with built-in active noise cancelling feature need a separate power source (usually a battery).
So pay attention to this when you are looking through reviews especially because some models manufacturers do not mention at all how long it takes for the battery to die and whether you can continue to use them when they run out of power.
Comfort: Heavy and only over-the-ear
You should also consider how comfortable your new noise cancelling headphones will be because the extra electronics needed to mask outside sound does add extra weight.
A poorly designed pair of heavy headphones may not be comfortable for extended use.
Understandably, there are no in-ear or on-ear noise cancelling headphones on the market.
Sound quality: weak soundstage
Finally, for you, audiophiles: do not expect the same kind of an expensive soundstage as you would have expected from open back headphones as noise cancelling ones are closed to keep out as much ambient sound as possible.
Although, many headphones with active noise control do offer solid sound quality.
Price: way more expensive than other headphones
Also, please note that good cheap noise cancelling headphones usually just do not exist. The best active noise cancelling headphones tend to be more expensive than their "passive" competitors.
That is why I do not believe that you can find the best value for money or even decent quality under $100. I am reviewing several relatively inexpensive models below, though.
Do Noise Cancelling Headphones Block All Ambient Noise?
No, active noise cancellation usually does not block unsteady noise. Usually, people ask this question when they need to block spouse's snoring, baby crying, colleagues' chatter next to them, etc.
Alas, noise cancelling headphones need permanent, continuous and steady sounds to react, e.g. jet engine roaring.
Unfortunately, people's snore is neither consistent nor steady. Babies also do not cry using the same frequency again and again. Chatting people use different words, sound frequency and thus, produce unsteady sounds.
Not surprisingly all those sounds are so annoying!
If you want a pair of good noise cancelling headphones to help you focus on work or listening music without hearing ambient noise, what should you consider before forking over your cash:
Noise Isolating Headphones. As I said above, if you want to listen to music and cancel some ambient noise you may use this type of headphones instead on noise cancelling ones.
Ear Plugs. If you do not want to listen to music and need just some piece and silence you can try earplugs for snoring or shooting. They look like long pieces of silicone you have to put inside your ears. And earplugs work pretty well in terms of audio isolation.
Ear Muffs. If you hate earplugs (some people do) and still need some noise isolation you can try ear muffs. Ear muffs look like almost normal headphones but do not produce any sound. Actually, they are supposed to block it out and the manufacturers use special materials to achieve this goal. The ear protection usually is caused by acoustic foam: it catches sound waves and transforms their energy into heat.
Is Using Noise Cancelling Headphones Harmful?
It is, actually, not harmful for your hearing to use active noise cancellation.
From the technical point of view they just catch ambient noise and send back an inverted sound wave at the same frequency to block initial sound. This signal is outside your ear and it is very weak to cause any harm to your ears.
The only problem with any headphones is that you can damage your hearing by using them too loud for too long. We are not so sensitive to low-frequency sounds (any bass songs) and usually do not feel it when it is too loud.
In fact, noise cancelling headphones do protect your ears.
Can Noise Cancelling Headphones Work Without Wire and Playing Music?
Yes, you can usually use them without playing music.
The majority of good noise cancelling headphones have their own battery and controls so even when music is turned off you still can use active noise cancellation feature.
Regarding cables, manufacturers usually use detachable wires in this case and you can easily unplug them for using headphones in wireless mode.