(Last Updated On: December 21, 2017)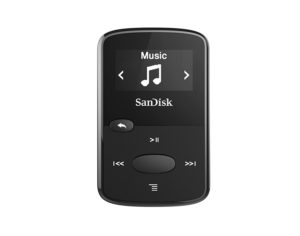 What is the best MP3 player for audiobooks out there?
MP3s used to be solely for listening to music. Now, with huge improvements to battery life, storage, and portability, they aren't only perfect for music lovers, but for audiobook lovers too.
You can now store and play all your favorite titles on one small device. These portable MP3 players are perfect for the audiobook aficionado!

Top 4 Best MP3 Players for Audiobooks:
So as you can see, not any old MP3 player is suitable for becoming your own portable audiobook library. With hundreds of choices out there, where do you start your search?
Right here! Because we've found 5 of the most suitable audiobook MP3 players on the market and we're about to tell you why.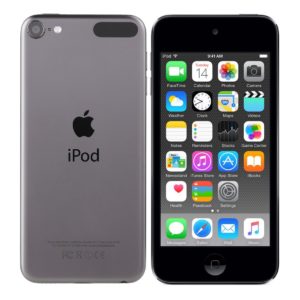 I don't think any MP3 player list is really a list unless there's an Apple product in there somewhere. The iPod Touch was a revolutionary MP3 player and one of the first to incorporate a Touch screen into their devices.
It's no secret that Apple makes some sleek, good-looking devices and are generally user-friendly. But with the name and the design comes a higher price tag than other models with similar specs.
Features
The iPod Touch series of MP3 players come with up to 128GB of storage, which is plenty for even the most hardcore audiobook listener. It's also lightweight, at 88 grams it will probably be significantly lighter than your phone so can be kept in your pocket without being too noticeable.
It boasts a big Touchscreen and a clear display, making managing your audiobooks easy and the newer generations do not get as severely affected by glare from the sun. The iPod Touch has many features that other MP3 players don't have. Features that may be unnecessary for somebody just looking for something to play audiobooks without the added extras.
If you and Touch screens don't really get on well, then you might want to check out other models on this list that use physical buttons.
Full Wi-Fi connectivity grants you access to the app store so you can download and access popular audiobook apps such as Audible and Overdrive, and download audiobooks straight to your device without needing a PC. Bluetooth lets you listen through wireless headphones.
I would recommend you download an audio bookmarking app like Audiolio or SayAgain. The iPod Touch does come with a "remember playback position" feature but it is not a genuine bookmarking tool.
The iPod Touch has up to 40 hours of audio playback. Plenty of time to cover a commute, plane journey, or even a camping trip where you'd be off-grid for several days. The iPod Touch is a great standalone audiobook MP3 player with high storage, a long battery life, Wi-Fi connectivity and a variety of other features that make this more than just an audiobook player.
Pros
Well made, reliable device from a reputable manufacturer
Wi-Fi and Bluetooth connectivity
Access to most popular audio book apps
Many additional features other MP3 players don't have
Good battery life
High storage capacity
Cons
Costs more than MP3 players with similar specs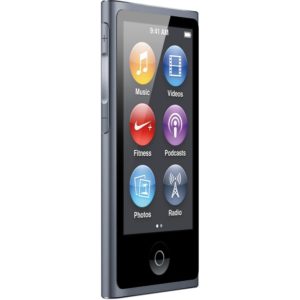 The iPod Nano is basically a down-sized version of the iPod Touch. Not just in size, but every way. That isn't always a bad thing, however, as this makes the iPod Touch more affordable and portable whilst still providing more than enough storage to pack in plenty of audiobooks.
The small and sleek design will appeal to those of you who want something a little less bulky. It's super light, weighing just 31 grams, so you won't even notice it's in your pocket. The iPod Nano still has a Touchscreen, albeit a much smaller one. The simplified user interface will better serve those who find the iPod Touch a little too complex to use.
If you usually download audiobooks on your PC first anyway, don't mind the syncing process and can handle navigating using a small Touch screen, then the iPod Nano will do just fine. If you would rather download books straight from the Internet or an app, this isn't the MP3 player for you.
Features
The iPod Nano, in our opinion, should've kept the classic click wheel. The size of the Touch screen makes it more difficult to use, especially if your vision isn't perfect, to begin with.
For a small device, the memory is impressive. With an ample 16GB of storage, you'll be able to store more books than you can read in a month on there. When it comes to adding new books, however, this is where the iPod Touch shows its downfalls.
There is no WiFi connectivity which means no App Store and no using the popular audiobook services such as Audible and Overdrive straight from the device. You'll need to load up your iPod Nano the old fashioned way – by syncing everything from your laptop.
This isn't a deal breaker, but the iPod Nano, like other Apple devices, come at a premium. Considering the price tag of the Nano, we feel as though Wi-Fi connectivity should have been included. When you have loaded your favorite audiobooks onto the Nano, you'll be able to enjoy them through wireless headphones or speakers thanks to Bluetooth connectivity.
Advertised with a 30-hour battery life, you don't have to worry about not having enough juice to finish your books. The Nano doesn't feature audiobook bookmarking either. Online users say one way around this issue is to pause the book and turn the device off. When you turn it back on, it will resume from the same place. Or you can make a note in your phone of where you were.
Pros
Small, ultra-lightweight
Long battery life
Large storage capacity for small device
Bluetooth connectivity
Cons
Expensive considering features
No Wi-Fi connectivity
No audiobook bookmarking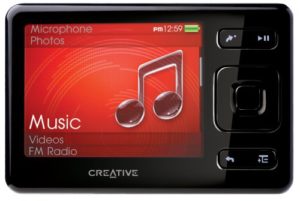 Straying away from the world of Apple, we have the Creative Zen. At first glance, it may not look as sleek as the iPod Nano or Touch, but the Zen is actually a solid device and has excellent features that specifically benefit audiobook listeners.
The Zen has been designed with the audiobook listener in mind, rather than as an afterthought. While it does not have Wi-Fi or Bluetooth connectivity, syncing is a painless process and it can easily play all of your audiobook file formats without the need to download any additional apps. We would like to have had the option to listen via wireless headphones, though.
Features
It's only the size of a credit card and weighs in at 60 grams, making it only slightly heavier than the iPod Nano, the device that can be most closely compared to the Zen. Truly pocket-friendly, the Zen has a surprisingly large and clear non-Touch screen accompanied by some good old user-friendly buttons. The only thing that seems to be missing from the exterior is a dedicated volume control.
Available with a storage capacity of up to 32GB, the Zen will have more than enough memory to store an impressive library of audiobooks. If you do manage to fill up the internal storage, there's an SD card slot to further expand the memory. The battery life will let you listen to 25 hours of continuous audio. While not as long as some other products in this list, it is still more than enough for even heavy users.
What we really like about the Creative Zen is that it supports all the right file types. It works perfectly with audiobooks downloaded from Audible, Overdrive, and NetLibrary. It's also worth mentioning that the Zen supports unprotected AAC files, meaning that you'll be able to play songs you've downloaded through iTunes (just not use iTunes to sync them) as well as MP3, Wav and protected/unprotected WMA tracks.
Syncing isn't quite as painful as using iTunes can be, it is done with a simple drag-and-drop through windows explorer. There is no Wi-Fi connectivity, so you'll need to sync everything you want to load on it. The Zen doesn't support the Mac OS, so if you have a Mac then don't buy a Creative Zen.
Another nod to audiobook listeners, the Creative Zen has a bookmarking feature, allowing you to place up to 10 bookmakers to continue your audiobooks at a later date.
Pros
Compatible with a wide range of file formats
Syncing is easy
Good battery life
Expandable memory
Lightweight and portable
Audiobook bookmarking supported
Cons
No Wi-Fi connectivity
No Bluetooth connectivity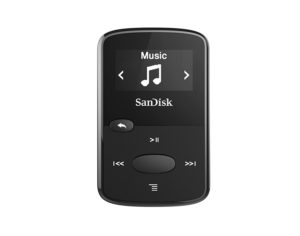 The SanDisk Clip Jam is quite possibly the king of budget MP3 players. Significantly cheaper than the rest of the MP3 players on this list, the Clip Jam delivers a lower quality product than the iPod Touch, Nano and Creative Zen, but we have to remember that the Clip Jam is competing in a different price range and that is where it reigns supreme as a favourite among audiobook listeners.
This is a budget MP3 player for those who don't really have a good relationship with technology or want something cheap that can take a little punishment. It is easy to use and packed full of features for the audiobook addict.
Features
Okay, so it isn't the most attractive MP3 player out there. But it's small, ultra-lightweight at only 22 grams and features a nifty clip to securely fasten to your pants, belt or shirt. The device is durable enough to handle a few bumps and thanks to the clip, you can secure it somewhere safe. The screen is an OLED display and is clearly visible from every angle.
Unlike the other MP3 players on this list, the Clip Jam will appeal to those with little experience or interest in the electronic equipment. The menu interface is intuitive and simple, and navigation is done through tactile buttons. It is by far the easiest and most simple MP3 player on this list to use.
There is no Wi-Fi or Bluetooth connectivity, but as with the Creative Zen syncing from your PC is hassle free. The Clip Jam is compatible with both Windows and Mac OS.
The good news is that if you use Audible, you can transfer all your Audible audiobooks over and the Clip Jam will play them without a hitch. Although there is no bookmarking feature, as with many other MP3s all you need to do is pause the book and when you come back it'll remember where you were.
8GB internal storage should be plenty for most audiobook listeners, but if you fill it up the Clip Jam has an SD card slot for memory expansion. A small drawback to the SanDisk Clip Jam is the battery life. Lasting only 18 hours, you will find yourself having to charge it much more often. Let's be honest, though, 18 hours is still a long time!
Pros
Very cheap – the best MP3 player in its price range
The simplest MP3 player to use
Easy to read screen
Expandable memory
Can play Audible audiobooks
Cons
Battery life is mediocre
No audiobook bookmarking feature
How to Pick a Good MP3 Player for Audiobooks
Not all MP3 players are created equal. There are some specific features that you need to look out for to make sure you're buying the best MP3 player to play audiobooks, not just regular music. We've got them all covered!
Battery Life
While the average music track is about 4 minutes, the average length of an audiobook is a whopping 11 hours. If you've ever sat down on your laptop to watch a film, you'll notice the battery draining much faster when it's under continuous usage.
It's the same with an MP3 player. You want a device that will let you listen to the entire audiobook without dying in the middle of a knuckle-biting chapter.
Let's face it, if your MP3 player dies in the middle of a song, it isn't the end of the world (and most of us have our phones as a backup). But if it dies in the middle of the book just as you're about to get to the big twist, you may well just end up throwing it at a wall out of rage and then wish you had a good old fashioned hard copy instead.
Storage Capacity
One of the biggest advantages of audiobooks is that they only take up as much physical space as the device you're storing them on. We no longer need to carry heavy books around with us and can have all of our favorite books on demand. Well, that is if you've got an MP3 player that can store all of your favorite books.
The average file size of an audiobook can range from 14MB to 29MB per hour, depending on the quality of the audio. Typically if you're downloading from a quality audiobook website, like Audible, the file size will be towards the larger end of the spectrum.
That means your average 11-hour audiobook will be approximately 319MB. You can get MP3 players with less than 1GB of storage so may only be able to hold a few books. That's not useful at all if you're going on holiday and need a serious collection of reading material.
Size & Weight
Choosing audiobooks over traditional hard copies will let you carry around numerous books at a tiny fraction of the size and weight. Maybe not a huge advantage to somebody who religiously reads one book at a time, but even then you'll be taking up valuable space in your home when all those books could fit on something the size of a smartphone, or smaller.
Most of your audiobook MP3 players will be kept in your pocket while in use, so weight is an important factor to consider. While even the bulkiest MP3 players aren't outlandishly heavy, you want something that doesn't feel as heavy as a pocket full of change.
Connectivity
For complete MP3 player autonomy, you will want Wi-FI connectivity. It isn't essential, but if your MP3 player does not have Wi-Fi you'll need to download the book on your computer, plug in your MP3 player and transfer the file over every time you want to read something new. If you've got Wi-FI, simply connect to the internet on your device and poof, audiobook downloaded.
Bluetooth is something else to look for, giving you the opportunity to share audiobooks with friends and enjoy a hands-free listening experience by connecting some wireless headphones.
Screen Size – Touchscreen or Not?
Screen size is one of the main driving factors, along with storage capacity, of the price of an MP3 player. A large screen will be heavier and more expensive, but generally be much more user-friendly.
If you decide to head down the Apple route and get yourself an iPod, the larger Touch screen devices will also offer access to the App Store, giving you access to a range of extra apps and games adding a new dimension of usability to your device.
Devices with smaller screens are, you guessed it, generally cheaper and lighter although it doesn't mean they are inferior in terms of quality. Many people prefer the physical feel of buttons and how simple to use they are in comparison.
Bookmarking Capability
This is a stand-out feature in MP3 players that are well-suited for audiobooks. It lets you drop a virtual bookmark in a page and come back later to continue where you left off.
Since many MP3 players are marketed at music listeners, they don't all have this feature and will require you to pause the audiobook where you want to pick up from later before switching it off or make a physical note of the exact point you stopped reading.
This is generally okay if you only listen to one book at a time, but if you'd like to read part of one book, then part of another or listen to some music, you'll need to get an MP3 player with bookmarking or make a note of exactly where you stopped on each book.
If your MP3 player has access to the App Store then there are several apps out there that let you bookmark audiobooks if the device doesn't come with the feature included.
File Compatibility
A regular MP3 player will support common audio formats such as MP3, AAC, WMV etc. But there are some audiobooks (namely those downloaded from iTunes and Audible) which are encrypted by DRM. For you to listen to these files you need to have an MP3 player that supports them. Without one, you'll need to stick to standard format audiobooks or download a DRM removal tool.
Verdict: What is the Best MP3 Player for Audiobooks?
We think the Creative Zen MP3 Player is the best MP3 player for audiobooks. While the iPod Touch has the connectivity and access to the App Store, the SanDisk Clip Jam doesn't need that as everything you need is already included in the device.
It is free of unnecessary features, very simple to use and is the only MP3 player on the list to offer proper audiobook bookmarking. Not only that, but you can play audiobooks from every source you can think of without a problem!