(Last Updated On: December 21, 2017)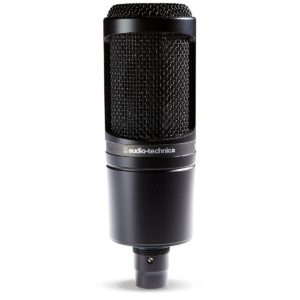 What is the best mic for rap vocals?
When you're busting million-dollar rhymes, you don't want to be using just any old mic. What you need is a microphone purpose-built to bring out the best in your vocals.
Not sure where to look, or what to look for? We've put together a list of the 5 best mics for rap vocals on the market right now. Check it out!

Top 5 Best Microphones for Rap Vocals: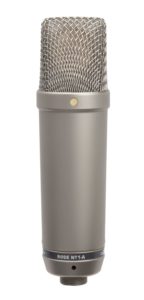 The Rode NT1A is a step-up from the AT2020 and the MXL990 for those willing to spend a little more on a quality entry-level mic. A valuable piece of kit for those looking to record rap vocals, this has become an industry favorite microphone used by rap artists worldwide.
Included with the mic are a pop filter, shock mount, dust cover and an XLR mic cable. The only thing it doesn't include is a mic stand and an audio interface. All the extra features in the bundle are made to a high standard and you will get a lot of use out of them, not to mention saving you a few dollars you can put towards some other gear.
Description
The NT1A is a large diaphragm microphone with a full frequency response range of 20hz to 20khz, so you'll be able to reproduce natural, warm vocals even if you have a strong voice. A cardioid polar pattern concentrates your vocals while rejecting sound from the sides and rear for crisp, clean recordings. You'll also need a phantom power supply to use this mic.
Build quality is solid, the diaphragm is gold-plated and the body is nickel. This microphone will last you many, many years if well looked after.
With self-noise at a staggeringly low 5dB – 6-10dB quieter than most of the competition – this is one of the quietest microphones you can buy and will pick up on all of those subtle nuances in your voice you didn't even know were there. The NT1A has a very natural response and is perfect for hip hop or rap vocals on account of the recordings being super easy to EQ.
But as with all microphones, the NT1A won't suit all voices. The highs are really bright, so if you're the kind of rapper who already has a high-pitched voice, then the NT1A will make your voice sound even sharper.
On the other end of the spectrum, if you've got a Barry White style voice that is rich and deep, the NT1A can make your voice sound thin. So basically, if you're not Barry White or Prince, you won't be disappointed with the NT1A.
Pros
Extremely low self-noise
Comes with pop shield, dust cover and shock mount
Natural sounding vocal reproduction
Wide professional use is a testament to the quality
Cons
Makes a baritone voice sound thin and a high-pitched voice sound very sharp
Audio-Technica AT2020 Rap Mic Review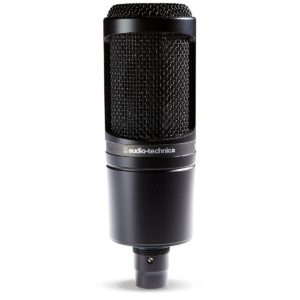 This is a cheap mic, but it isn't a cheap mic if you know what I mean. Used in studios all over the world, the AT2020 makes no compromise on sound or build quality, as is the case with many other lower-priced vocal mics.
It's an ideal microphone for studio recording that, despite its price, has specs that can compete with some much higher-end devices. When considering the performance to price ratio, it's difficult to beat the Audio-Technica AT2020.
Unlike many condenser microphones in this price range which can edge on the delicate side, the AT2020 is as sturdy as they come. It's made of solid metal and has a wire mesh over the cable. Weighing in at 12.1oz it is compact and reasonably lightweight. It requires 48v phantom power to function.
The frequency response of this condenser mic is 20hz to 20Khz, making it great not only for both male and female vocals but for acoustic instruments too. The mic produces a warm sound with no harshness. Adding to this microphone's versatility, it boasts an impressive SPL of 144dB, a level more than capable of clearly reproducing strong vocals.
The cardioid pattern improves the quality of the sound being recorded by reducing pickup of ambient and unwanted sounds from the side and rear.
Up close, the AT2020 will record your voice clearly and without compromise, but anything further away than a meter or two and you'll start to notice a hefty dip in recording quality. It isn't a problem if you're the only one singing into it, but if you're trying to record the whole band then this mic will struggle to deliver.
Pros
Excellent performance to price ratio
Solid build, will last you a long time
Well-balanced, clean recordings
Cons
Struggles when recording from a distance
Doesn't include a shock mount
MXL 990 Rap Mic Review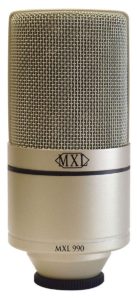 The second microphone on this list is another budget-friendly option. It is similar to the AT2020 in the sense that you get a mic with a great performance to price ratio. The champagne colored, vintage style body gives a clean, professional look which has a broad appeal.
Weighing in at 10.6oz, the MXL 990 is compact and lightweight, durable and feels solid when held. The microphone comes with a robust carry case for safe storage and a shock mount, isolating the microphone from any interference from a vibrating mic stand.
I've seen mics costing $200 that don't come with these bundled extras! The MXL 990 offers excellent value for money. You'll also need a phantom power supply to use this mic.
The MXL 990 performs well when recording vocals, providing great depth without sounding too boxy. The wide frequency response range of 30Hz to 30Khz gives the mic the ability to record male and female voices in detail with warm lows and solid midrange reproduction. A 130dB SPL is ample sensitivity to handle strong vocals and acoustic sessions.
The cardioid polar pattern helps to block out ambient noise from the sides and rear, providing extra clarity and an accurate recording of your rap vocals. As with other mics in this price range, it's great for close-up recordings but shows signs of struggling when you try and record sounds more than a few meters away.
All in all the MXL 990 is a value-packed, versatile microphone that performs way above what the price would indicate. Great for rap vocals and acoustic sessions, it has a rightful place in any home studio.
Pros
Included shock mount and hard plastic case
Excellent value for money
Clear, natural-sounding recordings
Cons
Struggles to record things more than a few meters away
Shure SM58-LC Rap Mic Review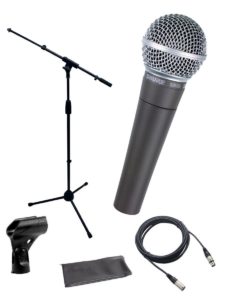 This is the only dynamic mic we're including on this list. One of the most widely used vocal microphones in the world, the Shure SM58-LC is the first choice mic among many rappers and hip-hop artists for live performances, and can still hold up in a studio environment.
Description
Exceptionally sturdy, we'd wager that you could freeze it, run it over with a truck or throw it from the top of a building and it would still continue to work. Our point being, this microphone can take some abuse. It's compact and lightweight and makes for easy carrying around.
This microphone was designed purely with vocalists in mind, so it has some extra specs that your average mic won't have. It contains an integrated filter which drastically reduces sound from your breath and the "pop" noise. The unidirectional cardioid polar pattern reduces background sound at the same time concentrating your vocals.
A finely tuned frequency response of 50hz to 15Khz allows any vocalist to use this microphone and yield fantastic results. It cuts out the low-end rumble and provides an improvement in the mid and upper range frequencies, giving you exceptional vocal clarity and warmth.
As mentioned at the beginning of this article, dynamic microphones are usually used for performances and condensers for studio environments. But this is one of those occasions in which a dynamic microphone can be used in the studio. The only drawback is that you need to keep the microphone so close that your lips are touching the pop shield, otherwise the microphone will experience feedback.
If you spend more time performing than you do recording in a studio, then this microphone is a winner. But if you need a mic to keep in the studio then I'd take a look at the condensers on this list. The SM58-LC is a world class microphone for rap vocals, especially when you're performing live.
Pros
Excellent audio quality and clear sound
Tailored specifically to vocalists
Extremely durable
Can double as a part-time studio recording mic
Cons
Experiences feedback unless singing or speaking very close to the pop shield
Focusrite Scarlett Solo Studio Review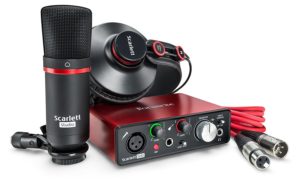 The Scarlett Solo Studio from Focusrite is a little different from the rest of the products on this list as it is marketed in a bundle, making this almost a complete recording solution for artists. The package consists of a 2i2 Scarlett audio interface, a pair of HP60 headphones and a CM25 condenser microphone.
You've got pretty much all the hardware you need to start recording straight out of the box, but you will probably want a mic stand and pop shield to get the most out of the setup. The Solo Studio is designed with portability in mind so is great for recording rap vocals on the fly.
Audio Interface
The USB-bus powered 2i2 audio interface included is the heart of this bundle and is a solid entry-level piece of equipment. With two XLR/jack inputs, you can switch between line and instrument on both of the inputs. You can do this on the unit itself now, while earlier models required you to do this via the computer software.
It works just as well with one or two inputs, so this is perfect if you're jamming with a friend or playing an instrument whilst doing a vocal recording.
Microphone
The CM25 microphone included is exclusive to this bundle. It's smaller than what you'd usually get from microphones in this price range, but the quality will suit novice recording artists well. The mic is plug-and-play but has no bass roll-off pad or switch so you'll have to refine your recording technique through some trial and error to get optimum results.
We had to stand a little further back than with the other condenser mics on this list, otherwise, the CM5 would pick up plosive thumps and spoil the recording.
When you've mastered your optimal capturing technique, the CM5 can deliver a detailed vocal recording and handle acoustic guitar sessions without having that sharp upper-mid range often experienced with other budget mics.
Headphones
The HP60 headphones included are "studio-reference", giving you a realistic listening experience without beefing the sound up too much. They had an impressive top and low extension when tested across a variety of genres including hip-hop and rap, rock, techno, and jazz.
For the price, they're a good pair of headphones, but by no means the kind you'd like to be making important mixing decisions with. The HP60s are also incredibly comfortable, something that you'll appreciate when recording until the early hours of the morning.
Conclusion
It's easy when you're just starting out to make errors when purchasing your entry-level equipment. This bundle offers great value for money. A good entry-level mic and audio interface is likely to cost you more than this entire bundle when purchased separately. What you're getting with the Focusrite Scarlett Solo Studio is a portable, turnkey recording operation for rappers on a budget.
Pros
Sturdy, aluminium-cased audio interface can handle heavy usage
Excellent value for money
Includes all of the necessary leads
Lots of quality hardware and software features
No dedicated phantom power supply needed
Cons
Needs a mic stand and pop filter for best results
How to Choose the Best Mic for Rap Vocals: a Buyer's Guide
We've covered the main things to look for in a rap mic so you can identify the ones that'll make the cut and those that won't.
Type of Microphone
There are two fundamental types of microphone – condenser and dynamic. While they are both microphones, the two are technically quite different.
Dynamic microphones are generally superior when it comes to performing live or on stage because they have a wider pick-up pattern. Using dynamic microphones to record your vocals in a studio can give you a slightly boxy sound. This type of sound was popular in the 1980s when rappers of the time used dynamic microphones to record in studios.
Condenser mics, as you've no doubt figured out, are far superior when it comes to a studio environment because they are more sound-sensitive and delicate. Condenser mics will pick up and produce a far cleaner and clearer sound when recording your rap vocals. These are just generalities, though, as there are dynamic mics used for studio purposes and condenser mics built to be used on stage.
It is also worth noting that both microphones require different power sources. A dynamic mic can operate without a dedicated power source, whereas most condensers need a phantom power supply from a mixing board, preamp or other dedicated power supply.
Budget
Microphones for rap music vary wildly in price. From $30 to thousands of dollars, there is a microphone for every budget. While it's true that the more money you spend, the better mic you'll get, it's also possible to get a great microphone for a very reasonable price.
Often, these cheaper microphones contain largely the same technology that the higher-end models are based on. If you're operating a small home studio, a one or two hundred dollar mic with some bundled extras would serve you well.
Consider Additional Equipment Needed
In most cases, you'll need to budget for some additional gear such as a mic stand, shock mount, pop filter, a phantom power source and an XLR cable. Some microphones are sold with some of this extra gear, but generally, you'll need to buy most of it separately.
Frequency Response
Microphones have different frequency responses, making some better suited to picking up instruments and some for picking up vocals. You want a frequency response of at least 80Hz to 15Khz for a vocal microphone to make sure it picks up the full tonal range of your voice.
Polar Pattern
The polar pattern is a way to determine how the microphone responds to sounds coming from particular directions. Mics for rap vocals should be strictly cardioid, meaning that they'll concentrate the sound coming from directly in front of the mic while reducing the pickup of sound coming from the side and rear.
It offers good feedback rejection and achieves a clearer vocal recording. It can accommodate one or two vocalists stood close together if you're looking to lay down some bars with a friend.
Now you're clued up on what makes a great vocal microphone, let's go ahead and have a look at the the best mic for rap vocals available.
Verdict: Rode NT1A
Thousands of rap and hip-hop artists can't be wrong. In our list, the Rode NT1A takes the crown of best mic for rap vocals. Exceptionally quiet with a great frequency response range, you'll be able to record strong vocals and slick beats with professional refinement.
What's more, you're also saving a good deal of money with the bundled extras, a God-send for rappers on a budget. And it's robust enough to handle a mic drop or two.
*mic drop*
We out.