(Last Updated On: December 21, 2017)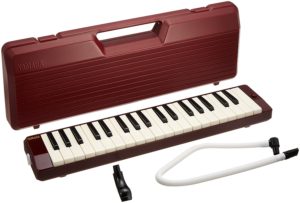 How would we describe the best melodica?
The best melodica is one that is easy to use, has a wide range of sound, and is easy to clean after playing.
However, there is only one simple problem. Finding the "best" melodica is not an easy task.
That is why I have created this list of "Best Melodicas of 2017". After researching online and spending hours in testing these melodicas, I have shortlisted the top 5 melodicas which you can buy right now.
Top 5 Best Melodicas: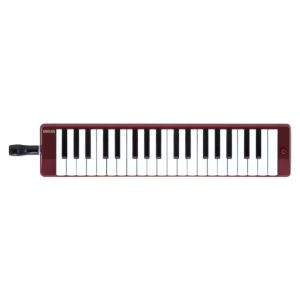 Sound
The Yamaha P37D Pianica produces clear, full tones with solid projection and features anti-corrosive reeds providing stable intonation.
The sound is a lot like a harmonica or an accordion, and with good breath control, you can really add a lot of feeling to the music using volume changes.
It can sound as jovial and bright similar to a harmonica, or warm and broody like a saxophone, as you hit the lower notes. Whatever or however you feel like playing, this instrument will respond accordingly with great dynamics.
Weight and Durability
At 3.5 pounds, the weight and the texture of this product are all very professional.
The case is really professional and impressive… You can even play the instrument while it is in the case, which makes it looks impressive.
A great instrument, much easier to play than the accordion for people who want a portable acoustic keyboard.
Breath and Action
Very responsive to one's breath as well as quick to one's fingers. It has great key action for an instrument of its kind, which is paramount for those who choose to play quickly at any given moment.
Cleaning
This model does have a blow-hole to clear the build-up out, but some users have said that it is a bit ineffective. Opting instead to open the entire thing up and clean it out that way.
If it isn't cleaned regularly, the keys may stick slightly or some creaking may result, at least temporarily.
Pros
Loud sounding
Blend between a harmonica and accordion
Spit valve for cleaning
Cons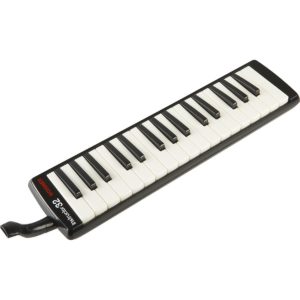 The Hohner 32B boasts a range of over two and a half full octaves for soprano or alto. It has 32 keys starting with F below middle C. It is an ideal instrument for beginners as well as professionals.
Sound
For a relatively inexpensive product, this model has a loud, full sound. It sounds more similar to a harmonica than an accordion.
Weight and Durability
The Hohner is 3 pounds, making it very easy to handle. The plastic is a bit cheap, though.
Tuning
Almost all melodicas are tuned a bit sharp, to the standard of A-443 (the middle A on the keyboard at 443 Hz).
The Hohner's tuning is closer to A-440, which is closer to the proper tuning of this instrument. This is neither good nor bad, simply a matter of personal preference, yet a key feature of this model.
Breath and Action
Playing chords takes a significant volume of air. If you don't have enough lung power, you might lose your high notes.
Nevertheless, the action on the keys is nice; you can press the keys from 3/4 the way to the top and still get a note to come out.
Cleaning
Only real downside to this instrument is the lack of a spit valve. If you play with it for more than an hour, you'll probably want to have some paper towels underneath the instrument and a few more ready for when you take the mouthpiece out.
Pros
Great soprano or alto range
Cons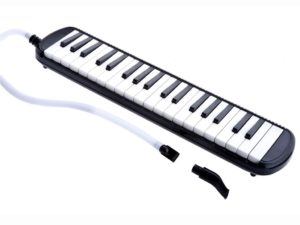 The D'Luca 37 Key Melodica is an ideal instrument for school use, solo playing or ensemble work. They are an inexpensive way to teach children the basics of keyboard playing and can be used in every environment.
This product Features 37 piano style keys, a carrying case, a mouthpiece and an extension hose.
Sound
Very loud, as the entire left side of the instrument is vented to let out sound. Solid brass reeds which provides a harsher sound than the accordion. Still, it has the ability to produce harmonica sounds, though without the note bending that the harmonica allows.
Depending on how you breathe, you can achieve a wide sound range from a hard Blue's harmonica twang to a Parisian-Accordion-esque sound.
Two main differences would be the loudness of the instrument and the ease with which the chords can be played.
Weight
The D'Luca M37-BK is 3 pounds. The case that it comes in is hard, covered in cloth, and able to hold all accessories.
Tuning
This model is relatively in tune when compared to other models. It is only off by a few cents, noticeable slightly on some chords, not noticeable on others. This makes this model more than a toy and provides a dynamic range that makes it fun to play.
Breath and Action
The 37 key range gives you an extra half octave on this model, which makes a world of difference. The keys all have equal action, allowing the exact same pressure to play every key.
More breath is required to play low notes though due to reeds having to vibrate more at the lower end.
Cleaning
The D'Luca has a spit valve for cleaning, which makes it that much more professional and easy to use.
Pros
Loud and great synthesis of sounds
Relatively in Tune
Great dynamic range
Cons
More lung power is required to play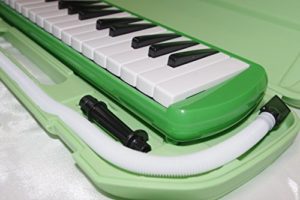 The 32 Key Melodica is an easy-to-learn modern wind instrument. It is also exceedingly useful in musical education as an introduction to all keyboard instruments.
It is equipped with a Flex- tube mouthpiece and straight tube mouthpiece. It has a built-in hand strap and an air release button and comes with hard case.
Sound
This model gives a very warm, rich tone similar to that of an accordion or pump organ. However, although this provides an organic sound, there is no mistaking that it is more like a toy than an actual instrument. This is due to the plastic construction.
Weight and Durability
This mode is very durable because of its plastic build, making it a great "gateway instrument" for getting kids interested in music.
It is light, compact, easy to open up and start playing.
Tuning
Again, the tuning is a bit off, which is to be expected. And because of the smaller range, it sounds a bit like a toy. Unfortunately, no specialist will be able to enhance this tuning.
Breath and Action
The downside to the playability is that it does require a good amount of breath to keep the instrument sounding. This makes it difficult to achieve a much more dynamic nuance in terms of the volume.
Cleaning
There is no real way to clean the spit out of it other than taking a mouthpiece and blowing air through the instrument while holding the "spit valve button" on the bottom of the melodica, which doesn't work that effectively.
Pros
Great gateway instrument
Durable
Cons
No spit valve for cleaning
Sounds like a toy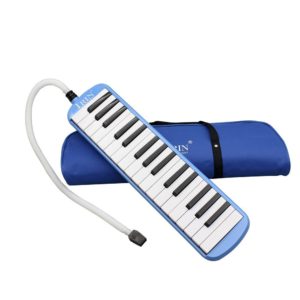 The Andoer 32 Piano keys Melodica is easy to play and learn.
With the short mouthpiece, you can hold the instrument with one hand and play with the other.
With the long bendy straw mouthpiece, you can set the melodica on a table and play it like a small keyboard. It is great for beginners.
Sound
Because this is both a solo and orchestral wind instrument, it blends beautifully with any other instrument. It sounds like an accordion mixed with a harmonica. It's fun and high-pitched.
It is also great for someone who is just beginning to play keyboard and wants a unique way to practice.
However, this model is meant to be more of a toy, though, with its cheap plastic construction and lower key range.
Weight and Durability
It comes with a bag for easy carrying and storing. The workmanship is quite sturdy for such an inexpensive model, making it very durable.
Tuning
almost all the keys are 5-15 cents out of tune, but again this is a typical industry standard on cheap models like these. Also, it is best to play it for a couple weeks to break it in before trying to retune it.
For someone who just wants something to throw in a backpack for impromptu jams, it is a great instrument.
Breath and Action
An added bonus of this model is that the scales are labeled on the keys, making it an exceptional guide for those interested in moving on to the piano.
A drawback from this product though is that there is a lack of sound coming from the highest and lowest keys. You have to blow harder for them to sound
Cleaning
Spit can build up easily, and there is no mouthpiece. This is not a good feature for those that are serious about playing this instrument.
Pros
Labeled scale on keys
Durable
Cons
Sounds like a toy
No spit valve
Best Melodica: Buying Guide
What is a Melodica?
Melodicas are free-reed instruments similar to accordions and harmonicas. It has a musical keyboard on top and is played by blowing air through a mouthpiece that fits into a hole in the side of the instrument.
They are also known as "pianicas", blow-organs, key harmonicas, and melodyhorns. They are beginning to become popular in modern bands because of their unique sounds.
Additionally, they are a top choice for many educators and professional musicians.
Keys and Octave Range
The keyboard is usually two or three octaves long. Since melodicas are primarily used to teach the piano, the number of keys is important because it can range from beginner to intermediate players. The octave range will also lend itself to a variety of sounds.
Sound
In addition to helping teach, the Melodica is also a hot item right now because it produces a combination of unique sounds. Melodicas can range from soprano and alto to tenor, to bass.
Most of the cheaper models will be quite generic, but many have chosen specific models based on their synthesis of sound, anywhere between a harmonica, an accordion, and a saxophone.
Weight and Durability
Melodicas are small, light, and portable. They are easy to transport and easy to hold, giving them a huge advantage over dozens of other instruments. This really comes in handy for teachers or musicians that need to travel with their instruments from gig to gig.
Additionally, they are typically very durable, allowing you to keep playing your instrument for years.
Tuning
Almost all inexpensive melodicas are already pre-tuned when they are shipped from the manufacturer.
However, they tend to be off by a few cents (musical tonal intervals.) For anyone who is not serious about their melodica being perfectly in tune, this is not a big deal.
Nevertheless, for those that have a keen ear, they will notice right away and may choose to have it retuned by a specialist.
Breath and Action
Because the melodica is played both by the mouth and by the hands, it is important to consider these two elements.
How responsive is the instrument to breath? Do you need a lot of lung power to play? How well do the keys respond to your touch? Are they keys easy to press down or do they stick while playing?
All of these qualities will affect the overall sound of the instrument.
Cleaning
One important thing to keep in mind about your melodica is that it will need to be cleaned frequently. Because it is a reed instrument, saliva will build up in the mouthpiece after usage, and it will eventually affect the quality of play.
Some models have a spit valve for easy cleaning, but some don't.
Final Thoughts
All things considered, the Yamaha P37D 37-Key Pianica is the best melodica on the market now.
It is relatively cheap in price but has an amazing range of features. With its wonderful blend between the harmonica and the accordion, the range on this instrument will provide you with an incredibly unique sound.
It is easy to clean after each session of play, and very portable and durable, ensuring long lasting play. You cannot go wrong with the Yamaha P37D 37-Key Pianica.