(Last Updated On: December 21, 2017)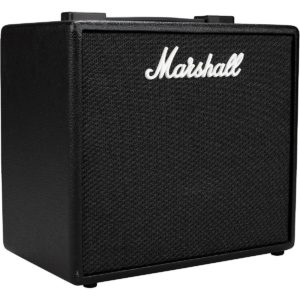 Combo amps are the business.
With a speaker and amplifier housed in a single unit, they're a popular piece of kit among guitar players.
One of the most well-respected manufacturers of amps is Marshall.
They've become a legendary name in rock music, manufacturing some of the grittiest, most bad ass combo amps on the market.

Top 5 Best Marshall Combo Amps: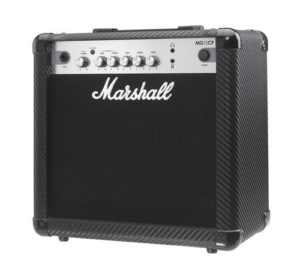 Sound
The MG15CF has a well-balanced sound and handles high volume well, maintaining superb tonal quality.
The 15-watts of power make this perfect for practicing in a home environment where a building-shaking amp isn't something you want.
Whether you're using the clean or overdrive channels, the MG15CF has something to offer, covering a wide spectrum from noise-free, crisp guitar tones to the fuzzier sound of classic rock.
It's these fuzz-orientated musical genres which the Marshall MG15CF was built for.
Anything from blues to classic rock to thrash metal. Users have found superiority in the overdrive channel, a general consensus being that this amp is primarily for rock.
The clean channel still sounds great, and for a sub $100 price tag you won't find anything better.
Durability & Design
At 15 x 8.1 x 14.9 inches, it's a little bulkier than some other 15 watt amps we've seen, although that converts to extra durability.
It's only 7.39 kilos, so you'll have no problem taking this on the road with you. It'll be able to withstand all the beatings typically dished out through transportation.
Everything is packed nice and tight, making the insides secure and are unlikely to come loose or become damaged. The slick, timeless design of the MG15CF reflects the Marshall brand and will no doubt appeal to many guitarists.
Features
The MG15CF doesn't come with many features, which we like. If you want extra features, it's always best to grab yourself a dedicated unit or pedal.
There are two channels – clean and overdrive – with an EQ knob to tweak the bass, mid and treble. MP3 and headphone inputs make this amp perfect for those who need to stay quiet while practicing. You know, if you need to keep the peace with your neighbors.
The 8-inch closed back speaker sounds great, and the amp packs a bigger punch than the specs suggest. It's small, but still, has the power to shake a whole room and provides enough headroom for band practice.
Overall
Even though it's compact, the MG15CF can still blow your hat off if used in the right situations. Those who play rock, whether it's classic, hard rock, or even thrash metal, will get the most out of this Marshall combo amp.
That being said, it's a well-balanced solid-state unit with a solid EQ, and great sounding clean and overdrive channels. It's the perfect little unit for practicing and recording at home, as well as the odd band practice.
Pros
Less than $100 – insane value for money
Durable and reliable – will last you for years and can withstand knocks and beatings from transportation
Lots of power in a small unit – you won't get $1000 amp kind of power, but it's more than adequate for home practicing and recording, to a degree.
Cons
This is a rock amp, so the overdrive channel is far superior to the clean one. If you want an amp that delivers a quality clean sound, you might want to look at other options.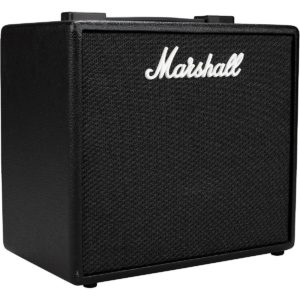 Sound
The Marshall Code 25 is a 25-watt amp with a 10-inch speaker and packs enough power for recording and practicing. The default, out of the box presets sound good, for the most part.
Many of them perfectly emulate the classic tones Marshall has become associated with throughout the years.
Preset 00 'EL34 Heaven' gives you buckets of distortion, reverb, delay and sustain all blended to produce an epic solo sound. It'll give any guitar warrior an instant eargasm.
Preset 01 'Plexi Classic' emulates a 1959 Super Lead plugged into a 1936 cabinet, with a little extra reverb. You'll find some of the presets to be genuinely useful, although you'll probably never use most of them.
The preamp, power amp, and cabinet settings are equally as exciting as the presets, while the Code 25's built-in effects offer studio quality delays and reverbs. You'll still fare better with a dedicated effects unit, but for the price, this is a solid feature.
Durability & Design
Measuring in at 10 x 15 x 15 inches and weighing just 7.1kg, this is one of Marshall's more portable amps. Solidly built to Marshall high standards, you'll have no trouble transporting this without having to worry about accidentally damaging it.
The sleek black design and white Marshall branding is a crowd-pleasing design and will look great as part of anybody's setup. Being a solid-state amp from a reputable manufacturer, the Code 25 should last you for decades if cared for properly.
Features
The Code 25 is packed with a ton of features, giving you the chance to emulate decades of signature Marshall tones at the turn of a knob.
There are 25 onboard effects and 100 presets along with gain, bass, mid and treble EQs, allowing you to dial in that perfect tone and really experiment with a wide range of sounds.
Great if you can only afford one amp, but want flexibility with the kind of tones you can use.
One of the stand-out features is that you can unlock even more features of the Code 25 using the Gateway app for Android and iOS.
The app controls the amp via Bluetooth, giving you access to all the amp functions in real-time, with the added option to key in precise values for extra precision.
You can stream audio to the amp from your mobile device to jam along with as well as being able to edit and store your favorite patches on your phone.
Using the Gateway app is often easier than controlling the amp using the onboard control panel, making the Code 25 super easy to use.
The MP3 input lets you connect up any music device which uses a 3.5mm jack and the headphone socket doubles as a line-out.
Overall
The Code 25 is an excellent, affordable plug-and-play amp packed full of features.
It becomes infinitely more tweakable when you use the Gateway app and gives you the opportunity to experience the sounds of classic Marshall amps without buying multiple units.
Pros
Loaded with genuinely useful effects and presets, allowing users to emulate many of the classic Marshall sounds.
Can fine-tune the sound, even more so when used with the Gateway app
Gateway app exponentially increases the flexibility of the amp, opening up a world of new features
Works with a foot-switch, although it has to be purchased separately
Cons
Ideal for home and band practice but doesn't have the power for live performances
Marshall AS50D – Best for Any Acoustic Guitar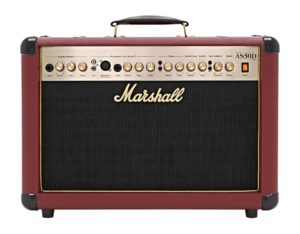 Sound
The Marshall AS50D is a solid-state acoustic amplifier. With acoustic amplifiers, it's important to know to look for slightly different sound characteristics.
First of all, you want pure amplification without too much coloring.
If you've spent money on a great sounding acoustic guitar, you want the amplified tone to just be a louder version of the instrument, nothing more. Of course, you can add effects, but the tone itself should remain natural.
That's what the Marshall AS50D offers. The tone is exceptionally natural and won't color your acoustic guitar too much.
This isn't a hugely expensive amp, so don't expect flawlessly pure sound. The two 8" Celestions and single tweeter produce a lovely tone, and with 50 watts of power, you'll have no trouble using this while gigging or busking.
You'll find the Marshall AS50D has a warmer tone than other similarly priced acoustic amplifiers, which is great, as cheaper amplifiers have a tendency to make your acoustic sound tinny and harsh.
Durability & Design
The first thing you'll notice is the Marshall AS50D's striking design. Modeled on the retro amps of the 60s, it oozes class and would be a stylish addition to any guitarist's setup.
The dark brown/red and gold color scheme offer a welcome change to a world of predominantly black amplifiers.
Weighing in at 16 kilos, this is still easy to transport without much hassle, adding to its usefulness when gigging.
It's a solid Marshall made amplifier which will last you as long as you need it to.
Features
The two channels on the AS50D allow you to manage multiple instruments or a guitar and a microphone.
Both channels offer volume and bass, mid and treble EQ knobs, allowing you to get the right mix and balance between the guitar and vocals or two instruments. Channel 2 has an RCA input and a phantom powered XLR input, ideal for a microphone.
You can use the chorus effect, with controls to govern speed and depth, as well as being able to apply the effect to one or both of the channels.
The reverb can be mixed between both channels too, so if you wanted a lot of reverb on the guitar, but only a little on the vocals, you can do that on the AS50D.
The reverb control also controls the effects loop, so you can mix any additional effects you may be using between both channels, too.
The feedback controls were one of the AS50D's best features, in our opinion. If you've ever used an acoustic amplifier for a guitar and voice at the same time, you'll know that feedback can be a bitch to control.
To help you out, Marshall has included a frequency sweep dial to locate the frequency that's causing feedback, as well as a phase reverse and notch buttons, both included to help you find that troublesome frequency.
Being able to control the feedback is a huge plus for any guitarist/singer.
Overall
The Marshall AS50D is a retro-styled acoustic guitar amplifier that offers a bunch of useful features, especially for those who sing and play guitar simultaneously.
With a natural sounding tone, feedback control and flexibility between the two channels, you have a seriously great amp for the price.
Pros
Striking, retro design will appeal to many musicians
Flexibility between both channels
Feedback control
Great for performing live, whether gigging or busking
Warm, natural tone unlike many other acoustic amps at this price
Cons
Although the tone is impressively natural, you'll still experience a little colouration. For the price, the sound reproduction is excellent. A more expensive amp will produce a more natural tone.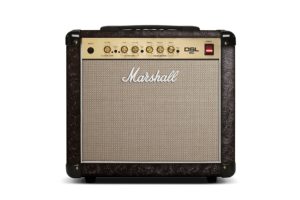 Sound
I know what you're thinking. A 5-watt tube amp? Come on. Let me tell you, this DSL5CCW is anything but quiet.
Crank this up to maximum volume and you'll have the neighbors calling the police within minutes! It's more than loud enough for jamming at home, practicing with a band or even performing live in small venues.
You can use the power damping switch to drop the power down to 1W and still get enough juice to shake the walls while you're playing your favorite rock riffs.
The DSL5CCW delivers the iconic tube-driven tone through its three preamp valves, a single power amp tube and an impressive Celestion Ten 30, there to provide ample bottom-end warmth and the classic Celestion grunt.
The flexibility over the power output and the sheer volume you can get out of this thing make it a versatile amp for anything but large gigs.
Durability & Design
The DSL5CCW is built to high standards and that shows in the design of the unit. With a robust case, you'll be able to take this amp with you on the road and not have to worry about how you put it in the van.
At 22 x 22 x 14 inches and weighing 16 kilos, it'll be easy to take this amp with you to all your gigs.
The limited addition boasts a more elegant design, with a patterned outer casing and extra 'pop' in the form of a bright front grille, as opposed to the black grille that comes with the regular DSL5C.
The classic Marshall gold control panel finishes off what is a sleek, premium looking amplifier.
Features
Channel one – classic gain – is designed to reproduce the classic Marshall 1959 tone and gain. The classic channel can go from bright, clean tones to mid-level, crunchier tones.
The channel doesn't have a master volume control, so you'll only experience distortion at really high volume levels unless you flick the switch at the back to drop to 1W.
Channel two – ultra gain – is made for the more high-gain sounds associated with modern rock music.
The tone shift switch will produce a thinned out, sharper mid-range, perfect for those looking to play genres such as thrash metal. Pressing the deep button will fatten out the bottom-end.
You'll find an effects loop on the back panel, as well as a footswitch jack for the DSL5CCW's channel switch.
There's also a speaker-emulated output on this amp, which will work in different ways depending on whether you have the power setting at 5W or 1W.
At full power, the output will give you a line level signal which can be sent to your recording equipment or mixing console. At low power, the output changes to work with headphones. Plugging a pair in will silence the speaker.
Overall
With the distinct tube-amp tone, low power output and a wide range of features, the DSL5CCW is an incredibly versatile combo amp suitable for playing live in small gigs and practicing at home while still maintaining neighborhood peace.
Pros
Low power output makes this perfect for home practicing
Can switch between 1W and 5W power – both produce equally great sound
Deep and tone shift allow for greater tonal versatility
Cons
Can find amps with a higher power output for the price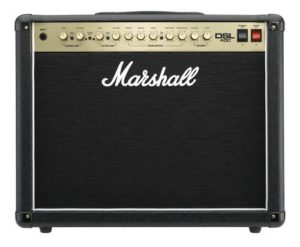 Sound
This bad-boy combo amp from Marshall DSL40C delivers high-end sound suitable for professional musicians for under $1000.
The clean channel offers that classic Marshall sound. It can go from a clean, bright tone to light distortion depending on the volume knobs and pickup selection.
Crunch mode won't take you into heavy metal turf, but the distinct tube-y sound of the neck pickup coupled with crunch mode is a match made in heaven. Things start to get exciting when you explore the red channel.
Lead 1 will give you a real "slash" type sound – crisp but ballsy. Lead 2 cranks up the gain even more, while the tone shift thins out the mid-range for a modern metal sound.
The Marshall DSL40C's roar is delivered through a single 12-inch Celestine speaker.
40 watts is plenty of power for gigging, although you might find it to be a little too beefy for practicing at home and keeping the neighbors happy.
Thankfully, there's a neat switch to drop the power down to 20 watts, allowing you to play in a more socially responsible way at home. Rock out responsibly, guys.
Durability & Design
At 28 kilos this isn't a light piece of kit, and you might want to see if you can get yourself a roadie to do the heavy lifting for you. Offer them free tickets to your gig, it might work.
Expect nothing less than top quality Marshall craftsmanship and great durability with the DSL40C. The design is classically Marshall, with the black and gold color scheme and the seriously sexy Marshall logo on the front.
Features
While this amp is a two channel amp, you can get four distinct voices out of it.
The clean channel can alternate between clean and crunch, while the distortion channel can switch between lead 1 and lead 2, with the same applying to the tone shift.
Going from clean to crunch ramps up the volume, so when you switch between them you'll have to adjust the volume or have pedals set up to do it for you.
Unfortunately, it's tricky to switch between modes mid-song. While it wasn't a deal breaker for us, it was a slight inconvenience. The FX loop sounds amazing and works seamlessly with pedals.
Overall
For those who want professional-grade sound for less than $1000, you won't find an amp better than the DSL40C for the price. Feature packed and versatile, it's a great first tube amp for both pros and novices.
Pros
Excellent value for money
Switchable power output
Wide range of Marshall tones
Cons
Very heavy
Difficult to switch settings during a song
Poor foot switching control
How to Find the Best Marshall Combo Amp
Most people choose to buy a combo amp (often just referred to as an "amp") over buying a separate cabinet and amp head because they're easier to use and generally more compact.
The right combo amp can be versatile – you can use it for practicing, recording, and gigging. They look pretty cool and cut the amount of equipment you'll have to transport.
It's important to know what you're buying before you buy it, so we've covered a few of the main things you should consider before putting down your hard-earned cash on a combo amp that may not be right for you.
Price
It's always a good idea to buy the best you can afford. Generally, the more expensive the amp, the louder and higher quality the sound.
Buying something at the top end of your budget will ensure you get the best combo amp possible. Not only will it be loud enough, it'll also last you a long time.
You don't want to drop money on a cheap amp, only to become disappointed when six months down the line, it isn't packing as much punch as you'd like.
Watts & Usable Volume
Regardless of the brand or model of the amp, 50 watts is 50 watts. It's important to realize that wattage and usable volume are different and not necessarily related.
Solid-state combo amps won't be as loud as all-tube designs of the same wattage. The ones that are as loud will experience a significant drop in sound quality at the higher volumes
You'll rarely need an amp over 50 watts, so keep that in mind when buying.
Tube vs Solid-State
This has been the subject of debate among electric guitar players for as long as different combo amps have been around. This is what we think:
Tube Amps
Tube amps are smoother and more responsible than solid-state amps. You can add high-gain pedals to the signal chain, giving the player more control over the sound.
How hard you pick can even influence the tone. They're considered to be more subtle and you'll find the signal variations coming from your guitar more accurately represented.
They are louder than their solid-state counterparts with the same wattage. A 50-watt tube amp will be louder than a 50 watt solid-state. Players have said to me countless times that the tube amps offer a more natural, warmer sound, and I agree.
The technology used in tube amps is a little archaic compared to that in solid-state models. There are many solid-state amps on the market that can replicate most of the good characteristics of a tube amp
To beginners and those with less experienced ears, you might not be able to tell the difference.
Solid-state Amps
Solid-state amps are generally more reliable and easier to maintain than tube amps. Similar to a light bulb, the vacuum tubes in tube amps only last so long before they need to be replaced.
Solid-state models are also more durable, making them more suitable for gigging. You know, for the times you just throw your gear in the back of a van and hope it still works next time you use it!
Lastly, they're often cheaper than tube amps, both to buy and maintain. A tube amp will require a little more care, time, and money to keep it functioning properly.
A solid-state can last for years, perhaps even decades, without you ever having to think about what's going on inside it.
Features & Effects
Some amps will come with a range of features and effects. You'll probably find some to be useful, and some not so much.
A footswitch to change between clean and overdrive is probably the most useful feature for an amp to have. Other common features include reverb, chorus, delay, phasers and harmonizers, none of which are necessarily something you want.
If you want to use extra effects, it's always best to get a dedicated multi-effects unit or separate foot pedals. When it comes to effects, it's better to have a few good ones than 20 half-assed ones.
Now you know what you should be considering when purchasing a new combo amp, let's take a look at some of the best Marshall amps on the market. We'll be covering a range of models with different specs and budgets, so there'll be something that appeals to everyone.
So, What Is the Best Marshall Combo?
Now we've looked at five very good Marshall combo amps, which one is the best?
If you're playing an acoustic guitar, the AS50D will be your best friend. Take it to gigs or busk on the streets, it'll be able to retain that natural acoustic tone with minimal colouration and maximum volume.
If your music doesn't grab anybody's attention, the retro style of the amp surely will.
For those who prefer the electric guitar, the Code 25 is a great option. It's only $200, making it friendly on the wallet.
While you won't get the same professional quality sound as DSL40C, for the price it's unbeatable.
What's more, there's a truck-load of features and presets for you to play around with, making it the most fun amplifier on this list to use.