(Last Updated On: January 23, 2018)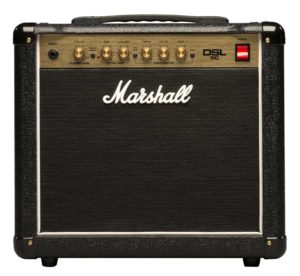 Tube amps are the holy grail for guitarists of all kinds. It doesn't matter if you're playing blues, funk, metal, jazz – anything suits a tube amp and for many it's how a guitar has to play.
Usually, we start off with a cheap beginners amp, progress to something like a Line 6 Spyda and then ask, where now? The only way to go is to a valve or tube amp which can really increase the potential of your tone.
Couple these up with a nice guitar, pickups, pedals – and you're well on your way to a golden setup.

The 3 Best Low-Watt Tube Amps: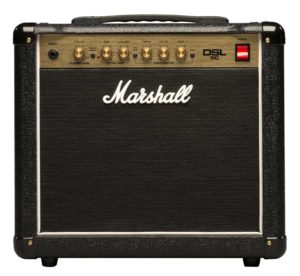 Marshall's DSL range is world-renowned for their awesome tube tones. Marshall has earned its place at the top of the amp industry for nearly 50 years and their new ranges continue to push out great amps at great prices with extra features. No longer do you need a brutal Marshall stack to get that classic snarl!
Marshall's reputation precedes them and the Marshall stack is one of the most iconic amps of all time. You can always be sure of a Marshall amp and these low watt tube amps are amazing bits of kit that roll many years of engineering into one small, portable package.
Features
This awesome little amp is equipped with one 10" Celestion speaker and features an all-valve design. It also has a built-in digital reverb so you won't need to worry about an external pedal or unit for that. The equalization section and other knob sections are built to classic Marshall standards with metallic golden knobs. The whole amp is solid, not too heavy but not light!
You can edit your tone nicely with this EQ to get low-end crunch or high-end shrill. It's a 3-band EQ unlike some amps here. This combo uses 3 x ECC83 and 1 x 12BH7/ECC99 Valves between preamp and output so there's no compromising on tone itself – just volume. It has a footswitch included and a switch between classic and ultra-drive settings.
Tone
This amp packs a tone which you expect from bigger tube amps. It's a proper Marshall affair, there's something different about this amp which doesn't compare to other low-watt tubes. It's not necessarily better or worse, just Marshall-like! Overall, it's impressive and both modes offer something great.
The 'Classic' setting provides a cleaner tone and 'Ultra-drive' provides that break-up which gave tube amps their name. You can get cleaner, chimier tones or driven, broken tones. It's a great amp and it'll make you smile at how it achieves such a rich sound in a small hub. Marshall really hits the nail on the head with this amp.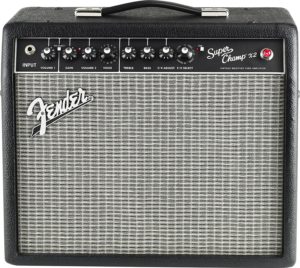 From Marshall to Fender, these giants go toe-to-toe in every competition and low-watt tube amps are no different. The Super Champ range is world-renowned for being great on tone, flexibility and a modern addition of a USB output for PC recordings. If that wasn't enough then these amps have many voice selections so you can quickly dial in tones with ease and variety.
Furthermore, a comprehensive FX selector creates a perfect blend between analog and digital technology. Fender amps aren't just second to their guitars, they're quality offerings in themselves. Fender amps are a tad cheaper too.
Features
These amps pack more features than you can really believe for their size and price. Firstly, you have the valves themselves including 2 x 6V6 tubes and 1 x 12AX7 preamp tube which really provide that creamy vintage tone to any setup and this is all translated through its 10" Fender speaker.
The main deal-breaker, though, lies in its 16 voice mode selections. This means you can switch through tons of amp voices from British metal modes to heavier metal modes to cleaner modes to Hotrod modes..there are tons of options! It also has lots of FX including all your classic tremeloes and choruses.
Tone
This amp has an excellent tone, instantly vintage, beefy and full. It's rich and creamy but you don't need to crank it to get the best out of it. Sublimely designed with its digital effects, this amp really proves hard to beat in value. It's great sounding, beefy and flexible. Fender enter another great product into the market, proving that they're not all about guitars.
It's definitely one of the best low-watt tube amps on the market and the tone combined with extra features makes it strong contender for the best right now. A great low-watt tube amp!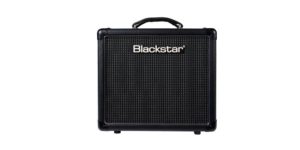 Blackstar have gained an awesome reputation for their quality pro audio amps and PA speakers. This amp is part of their HT range, featuring highly tuned, researched and vintage tubes. These provide a real quality tone that is beefy, refined, flexible and classic.
Blackstar have been around for decades and their HT range's tiniest offering is this 1-watt tube amp – yes, just 1 watt! Obviously, it's cheaper than the other more powerful amps here but it's crazy small – a gorgeous little amp.
Features
At the core of this amp is a 1 x ECC83 (12AX7) and 1 x ECC82 (12AU7) tubes. These create a tone similar to a tube amp of any size – even 100 watts. Obviously, it's scaled down to an 8-inch speaker and it doesn't go too loud but the tone is sweet. It features a switch which can switch you from classic and cleaner sounds to proper overdriven sounds. This switch is actually a knob and you can settle for anyone in between. It has a built-in reverb also – small amp, lots of features! You can also plug this into another cab, like a 4 x 12 speaker cabinet.
Tone
Tone wise you can expect a clean sound that goes all the way to a broken up British overdrive. Classic rock, metal, clean bluesy tones – it packs them all. It's a small amp but it really does mirror bigger amps well and Blackstar's engineering is pristine. Don't be fooled by the 1-watt figure – you can get more than a whisper out of this. For a 1 watt amp, it's quite amazing. Definitely one of the best low-watt tube amps out there!
The Main Features of Low-Watt Tube Amps
Tube amps provide creamy analog-esque tones but often, you need to really crank them to get any break up and drive through the tubes. This means there's one big downside to tube amps..volume! Tube amps do just sound better when cranked, usually all the way up, and that's just not practical. Screaming amps are lovely but you can't take them with you.
You can damage your hearing, damage your relationship with your neighbors, girlfriends, parents, a massive Marshall cranked to kingdom come is simply not a practical option. But still, you want that quintessential vintage tone and wonder, can you get it without breaking safe volume levels? The answer is yes.
Smaller tube amps have many great uses. Obviously, they're perfect for home practice and allow you to get tube break-up at lower volumes. This means you can emulate that proper tube crunch at a lesser volume. You can also get a fair bit of volume out of them anyway, so they aren't all quiet and near-silent anyway – there is some flexibility.
Next, they allow you to practice backstage, or on the go when traveling or even when busking or performing in small venues. Low-watt tube amps are also perfect for studios where you want to record from amps without needing to push volume to impractical levels. Overall, they're clever and brilliant bits of kit and for those looking to deck out there set-up for vintage creamy tones that can be played in or out, they're perfect.
Conclusion: What's the Best Low-Watt Tube Amp?
These 3 amps are 3 class offerings of low-watt tube amps. They perform the job of a big tube amp with guts and richness but without the size, weight, and volume. Modern technology has allowed companies to fuse digital and analog worlds together. The Fender here is a prime example of this.
It has an awesome selection of FX and voices which make it so flexible – something lacked by the other apps. This digital feature isn't for everyone though and if you want that vintage rawness, the Marshall takes the crown. It's a proper Marshall in a small box – quite remarkable really!
These amps are both similar in that they have classic and drive modes so you can push tones to breakage or keep them sitting sweet and clean. The Blackstar here is smaller and really is a low-watt tube amp. It sounds amazing and you can really feel how well engineered it is by this prolific company. At the end of the day, you can't go wrong with these amps, they're three of the best low-watt tube amps.