(Last Updated On: December 21, 2017)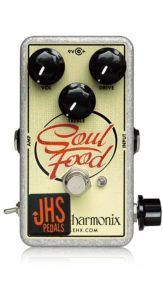 Today, we have a vast selection of 'Klones' that mimic the circuitry perfectly. With modern technology, such contraptions can be built efficiently and cheaply. So, we have the modern privilege of selecting which Klon Clone is the best.
Some are truly faithful and some admit that improvements can always be made, featuring extra settings and knobs that help you craft your perfect overdrive tone.
All of these pedals act as 'clean' boosts too, which is what the original Centaur achieved so perfectly. They allow you to create a high-gain tone which is still clean and unmarred by added frequencies – it pushes more into your amp whilst keeping your amp's natural and open tone raw.
These pedals give you balance between volume and distortion, and for those with great sounding set-ups and vintage amps, they really do complete the setup. They also suit those with more digital sounding setups too, adding natural grit and warmth to any signal imparted into them!
Here are 4 of the best Klon Clone pedals.
Top 4 Best Klon Clones:
At about $100, this is cheap access to authentic vintage overdrive. It's very simple, with an overdrive circuit that mimics the original very closely with the addition of a mid frequency boost.
It has a pristine buffer which will remove some noise from your rig, including mains hum, hum from poor wiring and other circuit noise. Even when bypassed the buffer is active, and whilst your tone remains completely unaffected, your guitar will sound better.
It's a simple, classic design that is a suitable throwback to the original with some extra improvements. It has a lower noise level than the original thanks to its modern manufacture. It can sit in your signal chain and you'll probably never take it out!
The three usual treble, gain, and level knobs allow you to control all aspects of your overdrive. They combine pleasingly just like on the original.
Pros
Faithful reproduction that has added a couple of beneficial extras
Vintage style with effective buffer
Cheap
Cons
Extra additions such as mid boosts mean this isn't as true to the original as some other pedals in the line-up, but it's pretty close!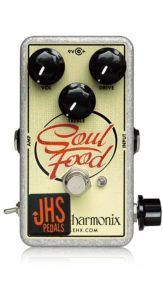 Slightly less authentic, but more controllable, the Soul Food adds a 3-way modification switch to help you sculpt the perfect tone.
You can boost treble and control the drive of the pedal, but can also toggle between Electro-Harmonix clipping, open clipping, and true Klon Germanium clipping.
Germanium is the metal used in the Klon to give it its special clipping characteristics and this is reproduced faithfully in the Soul Food pedal. Lastly, the Soul Food has a bass contouring 'Meat' knob that controls the fatness and size of the low frequencies.
In combination, these settings give you access to a tremendous variety of pleasant and colorful overdriven tones. They will take you back to the original Centaur whilst keeping you firmly planted in the 21st century with a modern vintage classic.
Pros
Takes the original and adds some delightful extras which are very useful
Electro-Harmonix design and manufacture is tried and tested
Cons
Extra settings mean this isn't much of a 'Klon'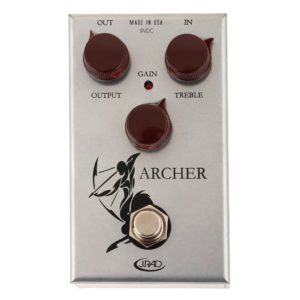 A little more bespoke as a pedal, the Archer matches the circuit of the Centaur almost exactly. Turn the gain down and your guitar receives a lovely clean boost, and crank the gain for 'chimey' overdriven sounds that sound as faithful to the original as you'd like.
Its controls really do mirror the original in how they respond to changes. The output drives the signal quite early, pushing your tone to pleasant clipping. The gain is almost a wet/dry between boosted gain and the clean boost.
Somewhere in the middle, you get a perfect blend of clean volume and gain. The treble control allows you to dial in a dark, robust overdrive or a shimmery, chimey and bright tone that is full of clarity.
The pedal has a solder-less switch that acts instantly and is famed for its rock solid contraction that is promised to remain intact throughout heavy use.
It's slightly pricier but this reflects the authenticity of the pedal. It takes your tone right back and echoes the sound of overdriven guitars in old records.
Pros
Faithful design which mimics the original very closely
Lovingly made by J Rockett
Cons
More expensive than the other pedals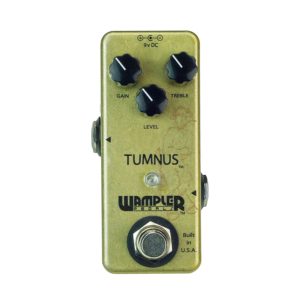 Handmade in the USA, this pedal's research delved deep into the original processes used by Bill Finnegan to make the originals. The sound is beautifully faithful, a real crisp authenticity that transforms your tone into something that you'd find on old records.
It's very small and compact, a minimalist vintage styled design that includes just the 3 original knobs of gain, treble, and level. Through these 3 controls, you can easily access delightful high-end chimes to gruff low-end driven tones. It's versatile and durable, with a high-quality buffer that improves your tone even when it's disengaged.
It's this useful non-true bypass that keeps faith to the original in that even when this pedal is bypassed, its effect is pleasing. Put this in your chain and you'll only realize it's gone when you remove it and notice a reduction in tone!
Pros
Handmade authentically designed pedal is faithful to the original
Buffer functions like the original when pedal is bypassed
Cons
Slightly more expensive than most Klon Clones
Legendary Klon Centaur
2014 marked the 20th anniversary of the Klon Centaur, the first clean and transparent overdrive pedal that hit the market.
Its industry changing design was forged by Bill Finnegan who lovingly built and tested each by hand.
The waiting list quickly amounted to thousands of guitarists who were eagerly waiting to get their hands on a Klon Centaur.
The only pedal which competed before the Centaur was the Ibanez Tube Screamer, which provided natural overdrive for a price. It had nasty, honky mids, poor low-end, and unpleasant compression which really reduced its usability.
The difference between the Klon and other overdrive pedals was its transparency; it drove tone naturally without imposing any artefacts or unneeded overtones into the signal. Word quickly spread and guitarists quickly cottoned on to Finnegan's design, lining up to get their $225 pedal.
The profit for Finnegan was still small and he simply couldn't produce enough off his own back. He discontinued the pedal in 2009 and originals sell for upwards from $2000.
The pedal was always very simple with just 'Gain' 'Treble' and 'Output' knobs. The gain knob would drive the signal, turned all the way down; there would still be a clean boost to the signal without any drive.
The output or level knob pushes the output signal harder and louder. The treble knob dictates the level of high-end content in the tone.
Conclusion: What's the Best Klon Clone?
Klon clones offer the same unique tone-shaping functions as the original for a fraction of the price. They also add enhanced manufacturing processes to make them more durable and more flexible.
It is maybe most optimized when you own a lovely sounding amp and want to boost its gain in a clean way which doesn't detract from the naturalness of your equipment.
But for those who want to juice up their signal with a vintage authenticity, any of these will add harmonic interest and boosts which will help your tone reminisce the tone of those old records.
Overall, the Electro-Harmonix has to rate as the best modern adaptation of the original, with its added functionality and modifications.
The Creme Brulee adds faithful clean boosts and overdrive for a cheap price. The Wampler adds a small footprint Centaur-like sound with all the original features.
The J Rockett pedal adds a fast switch button which allows audio-less bypassing (no click from the operation of the switch) and proper Centaur-like settings at an increased price for a higher quality, boutique pedal.