(Last Updated On: December 21, 2017)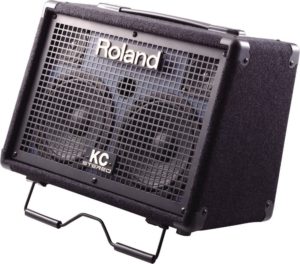 Electronic instruments provide the keyboardist with a wide range of new options for producing their desired sounds. Furthermore, they are often more portable than their "grand" and even "baby grand" counterparts and, in some cases, have no issue sounding nearly as good.
The major issue is, like an electronic guitar, they often cannot produce enough sound on their own. The trick is, how do you find that amp with a perfect balance between sound quality and projection at a good price without sacrifice?
That is always the question! Read on to find out which is the best keyboard amp under $500!

Top 4 Best Keyboard Amps Under $500: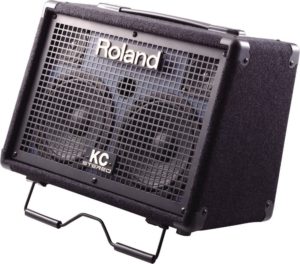 Clocking in at a nice 30 watts, the KC-110 offers a nice feature set under the $500 mark.
Interestingly, the amp focuses so strongly on portability that it can get its power from 8 AA batteries or AC power for when you are at home.
That focus on portability first comes through in the efficiency of the speaker configuration as well. The amplifier features 2 6.5″ speakers and 2 1″ tweeters offering a full stereo setup that is both powerful and portable.
Most reviewers state that the amp can also reach reasonably far with the settings tuned up right for the room. This means that not only is this a portable and lightweight amp, but it does not pull any punches when it comes to packing decent power enough for a gig or two during the week along with practice sessions.
The KC-110 also features 3 distinct channels with a number of effect settings options for each. It also includes a single XLR input along with 2 stereo inputs, a stereo AUX input, stereo outs and a headphone out. The amp really covers all of the bases for a portable, battery-powered amplifier.
Pros
Good sound
Respectable volume when desired
Lightweight
Optional battery-power setup
Cons
On the smaller side
Lower wattage
Only one instrument line-in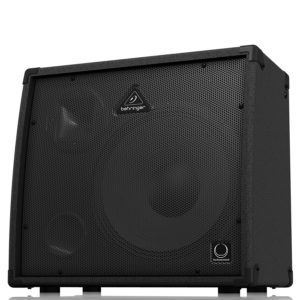 The KXD12 is much different than the Roland KC-110. The KXD12 is a beast within this price range.
The first thing to note about the KXD12 is it is a hugely powerful amp at 600 Watts on each channel. Additionally, it has what Behringer claims is a "true bi-amplifier design" which means that one amplifier powers the woofer and the other powers the mid and tweeters. This means that you can get a ton of sound due to the fact that two amps are working together.
Behringer also states that this amplifier could also be used as a PA system. While most reviewers believe it is much better suited and, in fact, wasted as a PA system you could use it as such. But, I think you would be missing out on one of the truly great piano/keyboard amplifiers in this price range.
The speakers in this thing are very respectable TURBOSOUND speakers, no real complaints but also nothing to write home about. What you get with this amp is a huge yet lightweight workhorse.
As the icing on the cake, the amplifier features a number of effect presets for you to choose from thanks to the Klark Teknik FX processor inside.
Pros
Fairly advanced technology in the sub-$500 range
Huge, yet fairly lightweight
Loud
Cons
Okay speakers
Loud
Not as portable as other amplifiers on this list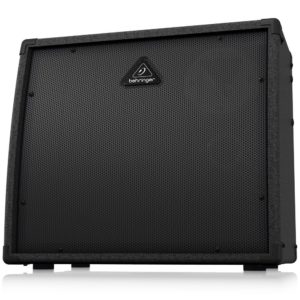 You would not be remiss in considering this amplifier the "little" brother of the previously reviewed KXD12. I think, that the little brother here actually makes a number of improvements overall to the amplifier while keeping some of the most important aspects.
The first thing is that the amplifier is a much tamer 90 watts. I think that this is much more of a "sweet spot" than the 600 watt KXD12. This allows you to crank the amp a little during practice and still have enough control and juice for a larger venue. What you do miss, if it matters, is the bi-amplification technology in the KXD12.
A number of the other features on this amplifier tick the "essentials" boxes:
3 Channels with separate FX sends
Good digital FX modelling
5-band graphic EQ for optimal sound modeling
"Main" adjustments for volume
Sub-woofer output
Pretty much everything you need is contained in the long list of features from the manufacturer.
What is most interesting about this amplifier is the price: $250. That is much less than its big brother or the Roland KC-110. Even at the lower price, I think that the K900FX ticks all the necessary boxes to be a decent amplifier for keyboard players.
Pros
Lightweight and portable
Good volume output
Ticks all the essentials at a low price maintaining quality
Cons
Not great at a single thing
The Peavey KB1 is the minimalist of the list here.
While it is very light on features, it is one of the two amps on this list which is specifically designed for use with keyboards. While that may not matter to all buyers, some will say that the only amp that should be used with a keyboard is a keyboard amplifier. This would actually disqualify the previous two amplifiers on the list.
If you are looking for a portable, keyboard specific amplifier for practice I do not think there is a more sensible option on the list than the KB1.
The KB1, while very light on added features, is also simple and effective. From some perspectives, the simplest solution is also the best. There are very few things that you have to fiddle with on the amplifier to get quality sound.
The KB1 features 2 channels with a 2-band EQ on each. It also has a headphone out. The 8″ speaker is more than enough for small gigs (coffee shops, solo piano in a small bar) and practice.
Pros
Simple and effective
Ultra-portable
Few choices lead to more reliable sound
Cons
Very few additional features
Limited due to size
How to Find the Best Keyboard Amp
Features To Watch Out For
For most amplifiers, it is important that you consider what kind of sound you want to get out of it. Thankfully, for keyboard amplification purposes, a more standardized sound is often in order. That means, trying to find an amp is made both a little more difficult and a little easier. On the easier side, we do not have to consider the advantages of tube amplifiers for guitars. A tube amp for a keyboard would not provide that much tonal benefit. On the more difficult angle, there are a lot more choices.
Hopefully, by providing a list of essential features, we can narrow down the selection of amplifiers.
Wattage
Often times, one of the fundamental factors differentiating one amp from another is the wattage.
A very basic and almost dangerously reductionist rule of thumb to consider goes as follows "the higher the watts, the louder the amp". Of course, this takes the complex equation and makes it very basic, but for most practical considerations this is a rule to start from.
When comparing keyboard amps below $500, you want to make sure that you get something versatile enough for playing gigs but not so loud that practicing becomes difficult.
The question you want to ask yourself is this, "How much power do I need?" Amps like the Leslie amplifiers for the B3 organs are 200 watts which is quite a healthy wattage but probably unnecessary for the purposes of a small time gigging musician. If, on the other hand, you plan on playing very large venues, the Roland KC-880 clocking in at 320 watts might be something for you to consider because of its power output.
If I were to recommend a wattage, I would say stick between 50 and 150 watts for most applications. Going any large is getting far outside of this price range and far outside what is practical for a regular person.
Speakers
When talking about amps, one of the more important aspects is the speaker system contained therein. The most important features to note are the size of the speakers and the quality.
In terms of size, you want to make sure that you pick a speaker that will provide the best volume output for your needs. If you are buying an amplifier only for practice, you probably do not even need one with speakers. Simply something to plug headphones into would suit you very well especially if you do not live or practice in a private place where noise will not disturb anyone else.
In terms of quality, I like to look for speakers made by well known speaker manufacturers for obvious reasons. The more experienced a manufacturer is (hopefully) the more reliable their products.
A further consideration within the speaker realm is the speaker configuration. Perhaps the most common speaker configuration for keyboard amplifier is a 12″ woofer paired with a 1″ tweeter. This makes it so the amplifier can accurately render sounds across the entire frequency response spectrum.
It is my belief that a 12″ woofer and a 1″ tweeter of good make and model will provide the most cost effective setup at the $500 price point.
Frequency Response Range
The keyboard is one of the select few instruments that are often called up to cover the entirety of the frequency response range. Simply put, the keyboard can easily accomplish bass, rhythm, harmony and lead playing without batting an eyebrow.
In order to provide good sound quality, you want to make sure that your amplifier has a wide enough frequency response range to accurately render the sound of the keyboard across the whole sound spectrum.
This is the fundamental reason why you will most often hear recommendations against using guitar or bass amps for keyboard amplification.
Portability
If you are a gigging musician, you often have to tow a line between power and portability. Keyboard amps are no different.
I think the best way to gauge the right amount of portability is to literally go and try to lift the amp you are considering buying.
Portability does not have to be a concern for someone who is only buying a practice amplifier. If portability is a concern, make sure you understand how different feature additions affect the portability of your amplifier.
Effects
Something that you might also want to consider is what kind of keyboard playing you are doing. If you are doing something that requires a lot of sound shaping and effects, you need to consider the effects capabilities of each prospective amplifier.
Most amps give you a bit of a choice: Do you want to manually adjust the effects yourself? Look through presets made by "experts"? Or a little of both? Being in the market for a keyboard amplifier means that you have to have some idea of what sort of effect capability you want your amplifier to have.
Effects may not be important to you if you have a keyboard that can do all of that for you. If that is the case, then maybe looking for an amp with little to no effect capability is a good choice for you. On the other hand, if your keyboard is more bare bones, you might need some effects assistance from the amplifier.
Wrap-Up: What's the Best Keyboard Amp Under $500?
The best keyboard amplifier under $500 for the gigging musician is the Roland KC-110. The 30-watt design gives enough power to push it a little in larger gigs and the sound quality is great.
If you are looking for something a little bit less and more portable, the Peavey KB1 is definitely one to consider.
The two Behringers on the list are also great amplifiers but they come from a design made for more than just keyboards. If you are looking for an amp and have no qualms about whether or not they are "keyboard specific", they are great amplifiers in this price range.