(Last Updated On: December 21, 2017)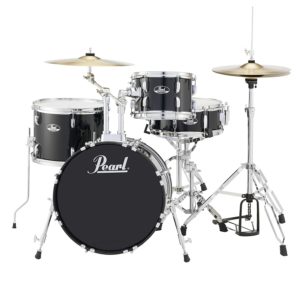 Which are the best jazz drum sets when starting out as a jazz drummer?
Percussionists are a crucial part of a great jazz set, providing a steady heartbeat for rest of the ensemble.
Different drum sets are better suited for different genres, which is important to keep in mind if you are looking to mainly play jazz gigs.

Top 4 Best Jazz Drum Sets: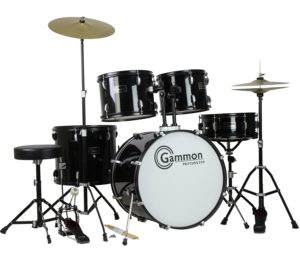 This professional sized set is a good buy for a newly minted drummer, and is cheap enough to convince any closet jazz musician with a few bills in their pocket to take the plunge.
This kit hails as a long term best seller, typically intended to serve as a starter set for drummers just hitting the skins.
Gammon also throws in an instructional DVD to get you started!
Pros
Very affordable set considering that this is a complete set with everything you need to get started.
Good starter piece, if you want to upgrade to a higher quality set in the future, then you can narrow down what you liked and didn't like about this set.
You can also use this set as a foundation, replacing some of the cheaper less quality elements with better grade versions. This set is really what you make of it.
It comes with a key so that can you can adjust the sound.
You have a choice between a high-gloss black or blue finish
This set has chain driven pedals, these are common and mostly meant to be durable under extreme use.
Compact size, can fit in a space of about 5' x 6'.
Cons
The drum heads on the Gammon are made of a thinner plastic, giving off a different sound, a giveaway of their value. If/when you start to make replacements, this can be on the list.
The cymbals that come with this kit don't have the best sound, the silver lining here is that you can pretty easily and affordably replace them.
The hardware that comes with the set is light weight, but again, replaceable.
Not the most comfortable throne, but you can either adjust your expectations or replace it. In some cases, you can replace just the seat.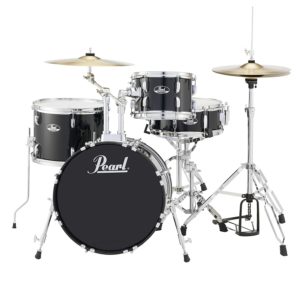 This set of drums appears to have a classic look of silver hardware with your choice from four colors for the drums themselves.
Allowing the buyer to choose the Jazz-style set up for their set from the available Fusion, New Fusion or Rock style set ups, known for its excellent sound quality, the Pearl can serve as an excellent kit at a bargain price.
This set brings more decisions to be made before checkout than the others but is as advertised, Ready to rock right out of the box. This set is flexible enough to be a great fit for a just-starter or for a more-picky veteran.
Pros
This set is very affordable for the quality you are getting, still so if the cost grows when you decide to make any alterations to the set-as-is.
Can play this set right out of the box without needing any major additions, good for a newcomer or someone that isn't incredibly particular about their set
The bass pedal, hi-hat stand, and snare stand are impressive for the price
The tom arm and cymbal arm are ok here, they get the job done. This may later be somewhere that you replace if you make improvements to the set.
Provides a controlled volume, good for jamming in a smaller pace. Even though it's a compact set, it can produce enough sound for a bigger space too if that is needed.
The snare and rack toms come pre-tuned out of the box
Unlike the first set, this Pearl comes with dependable and quality hardware, making it one less thing you might want to replace.
This is a full kit, coming with everything you need to rock in one payment
Cons
The heads and cymbals could be of better quality, but they get the job done that they set out to
This set comes with a smaller throne; this can be a deal breaker for a bigger person but makes the set a good choice as a starter set for kids or pre-teens
Some reviewers have indicated in other ways that this set is good for younger players
The floor tom and bass need tuning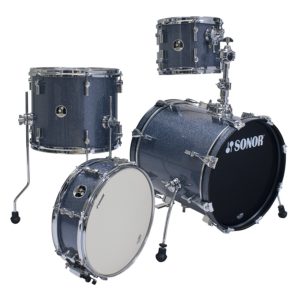 Appearing to be a durable kit capable of enduring frequent relocations and jam sessions, the Sonor also looks impressive straight from the box.
Reviewers have raved about this diamond-in-the-rough set as being of five-star quality for the price you pay, even if it is more expensive than the two above.
With a simple look and voluminous sound, after a good tuning, this Sonor reviews as a solid jazz drum set.
Pros
The wrap is completely glued to the drum which can alter the sound.
Drums sound fat, big and full- especially good sound considering the size of the kit
This kit fits well in small spaces, which is helpful for frequent transport in your vehicle if you are playing a lot of sets. Also, the compact size makes it appropriate for a variety of gig venues, both because of its size and adjustable sound.
There are plenty of ways to customize this set by replacing one or more of its features, most reviewers recommend for starters changing heads for the snare and toms
This kit has an awesome stage sound, with buyers basically in consensus that the kit is of pretty good quality, but can be transformed into a solid gig piece with a few enhancements here and there
Some experienced drummers review this kit as having a similar feel to some of the more expensive kits that they have played
Cons
Those that have bought the kit recommend waiting until you get the set to buy drum bags, as this kit may fit a bit too tightly if you eye-ball it.
A few have complained of a wobbling riser.
This is a shell pack, it doesn't come with cymbals, cymbal stands, a throne or a snare. This can be good so that you can personalize without replacing, but really adds to the cost if you aren't paying attention.
How to Choose the Best Jazz Drum Set
When looking for the best jazz drum sets, you need to keep in mind the many pieces that make up a drum set, with different elements emphasized for different styles of music.
Many jazz drum sets tend to be smaller and made of wooden shells, elements that make for a tonal sound.
When looking for a new Jazz drum set, what to look for:
Size and Character of Cymbals
Jazz drummers are known to be picky about their choice in cymbals.
Cymbals are one of the biggest points of focus in the jazz drummer's repertoire. Always going for an idiosyncratic sound to fit the big jazz sound, jazz drummers are known to modify different elements of their kit based on their personal style. Some features are known to be preferred by jazz drummers prefer over others. Adding different elements to cymbals can produce different sounds
There are all sorts of wisdom about shaping, lathing, tuning, hammering, tensioning, what kind of alloys are best, etc. For a beginner, this is less important at first. Get a taste for how a typical cymbal plays before getting into any additions.
Jazz cymbals tend to be thinner, often with rivets on the crash cymbals.
Crash cymbals and bass drums are less important in jazz than in other styles of music, giving way to the toms, hi-hats and snares.
Typical sizes for cymbals would be 14"-15" for hats, 16"-20" for a crash, and 18"-24" for a ride.
Some jazz drummers look for true vintage cymbals. Modern companies even attempt to recreate these effects when trying to engineer desirable jazz drum sets.
The Ride cymbal is considered by some to be the heart of a jazz set, adding a clear, articulate, and distinctive sound.
Cymbals with more character are usually found in a more modern set- with hats and two standing cymbals- the goal is to create a sound that's trashy and weird.
Known to even have a cymbal on hand with holes, jazz musicians look for any way to add up elements for the perfect strange sound.
What Kind of Sticks and Stick Coverings Are Best for Jazz Drumming?
There are certain types of sticks and toms to use when vying for a jazz sound, usually employing smaller sticks than rockers, and muffling or putting heads on toms to give it a more focused tone.
Coated heads are an awesome tool in a jazz kit, they create a richer sound adding unique character to your set. If you get too-coated head, however, you may end up sacrificing a bit of the response you would ideally have to mess around with in a jazz set.
Recent trends have seen jazz musicians vying for dry and earthy sounds, spotlighting heavy stick runs and less ping than classic jazz.
Best Stool Size for Jazz Drummers
Here it is mostly up to you, but you just want to make sure that the stool is big enough but not too big to get behind your rig, or else your sound may suffer.
Many jazz drummers like to get a lower seated stool, keeping them in control of each element of the kit.
Best Drum Hardware for Jazz Drummers
Different hardware may be used for a jazz kit than for rock drums, usually sticking to the bare basics to showcase the sound.
Usually a bit sleeker than a rock kit, they are often wrapped in vintage or wood lacquer wraps with low profile lugs and matching hardware.
What are the Best Qualities to Have in Snare/Bass Drums for Jazz Sets?
Historically, jazz drums have been very large, fitting the trend of the big booming jazz sound. Today, the jazz sets you'll find are mostly smaller to accommodate quieter music, traveling musicians, and smaller venues.
Getting technical, the dimensions for different drums used by today's jazz players are the 14" wood snare, a 12″ rack tom, a 14″ floor, and either 18″ or 20″ bass drums.
While it's not a rule written in stone, jazz drums are typically equipped with a smaller bass drum than rock kits, with diameters between 18"-20" rather than rock's typical 22", helping to give the bare beat characteristic to jazz.
As a drummer, you're likely to have a favorite depth of snare drum that best suits your personality.
For those who are just diving in, a snare can carry very different sounds, ranging from high and chiming to deep and rich. As with anything, it is always partially dependent on what you're going for and what sounds best to you.
More Tricks Characteristic to Jazz Drumming
Jazz drummers are known to tune their drums tighter and higher so that they have a more open sound, allowing the unique charm of each piece in the kit to shine through.
To accent this effort, single-ply drum heads are used, sometimes adding to the effects of the coated heads to tune in on their tone and add soul to their sound.
This draws influence from the sound produced from calfskin drums used before the now-typical Mylar heads were introduced.
The sound that comes from anything beyond single-coated produce a characteristically rock sound.
You definitely should experiment with different kinds of sticks to see what fits your ear best, generally single ply is preferred.
Many Jazz drummers have a history with percussion, which as any band-kid may well know, percussionists tap and bang on anything and everything.
Because of this long-lived inner beat, you may find in their tool belt alternative instruments like tambourines, bells, or even shells.
Beginner Drum Sets for Jazz
So, with all of this, what kind of drum do you want?
You have a level of discretion here in regards to the size and depth that you want to go with. While some drum kits are not appropriate for all musical endeavors, there are kits out there versatile enough to fit both big band and more intimate gigs.
The dimensions described above will likely be perfect for most jazz sets. However, if you want to go for a bigger more thunderous sound you can go with 22" kicks. You can still achieve an impressive sound with 16", but the thicker the shell, the more punch the sound will have.
Final Thoughts
Finding the best jazz drum set has a lot to do with what you prefer and what you are going for in your overall sound. All three sets are a good choice for those picking up the sticks for the first time.
However, I would have to say that the winner both in price and included everything you need to get started is the Pearl.
The "Best Jazz Drum Sets" may mean something different to someone with preferences different than yours. However, all three sets above promise to help jumpstart your rhythm and get you on the road to jamming at gigs.