(Last Updated On: December 21, 2017)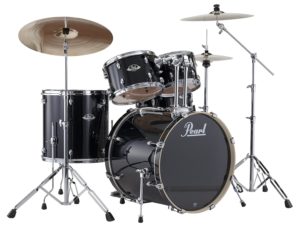 No one stays a beginner forever. As a drummer, there are so many areas to keep pushing yourself. Technique, pocket, timing, dexterity, ensemble playing are just some of the challenges ahead.
To progress in this, you need a kit that you cannot easily outgrow. A drumset that combines playability, value for money and can be updated as your tastes improve.
Top 4 Best Intermediate Drum Sets: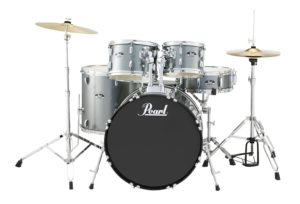 The name "Pearl" is practically drumming royalty at this point. The Japanese company has been manufacturing drums since the 1950s and have been a fixture of every form of pop music.
Even their website's list of Pearl-endorsed drummers reads like a list of every credible drummer in the industry.
Pearl's Roadshow kit, by their own admission, targets the Student and Beginners market. Their marketing material claims it is "exceptional for honing chops and dedicated practice." It comes in at a low price point of $499 and comes in 4 different colors.
The kit is also customizable for genre, with variations such as Jazz, Fusion, New Fusion, and Rock. This decides how big the kick and floor tom are, the type of snare and the number of rack toms.
This tells me that Pearl has a secondary market in mind. They know more seasoned drummers looking for a low-cost kit for practice may be interested in this kit. Let's see how it holds up to scrutiny.
From a beginner's standpoint, this literal starter kit is perfect. It looks and feels great, as any Pearl kit would, and is ready to go. Most of the kit came tuned right out of the box, leaving only kick and floor tom to tune.
Even then Pearl's website provides such budding drummers with tuning and assembly tutorials. It seems clear Pearl really understand the needs of this demographic.
They provide sticks, stick bag and a welcome pack among the included accessories. It's even designed to be quieter than most, so parents may be more inclined to tolerate their child's regular practice.
Yet, to a more experienced drummer's ear, a lot of work is needed to make the Roadshow kit playable.
The low price point was obvious to me as soon as I struck the crash-ride and hi-hat. In fact, they sounded so underwhelming that I swapped them out for other older cymbals I had lying around.
In addition, the snare and tom heads need some work to render them playable. Some drummers I know opted for dampening them in select spots. However, I replaced them with Evans heads and voila!
A great sounding low-cost kit ready for regular practice. I would warn against using it for regular gigs without hard cases. I found the covered wrap used for the shells became unglued with continuous movement.
Conclusion: Great kit for beginners from a company aiming to create lifelong Pearl customers. With a few alterations, it is also a decent alternative for more seasoned drummers needing a practice kit or an emergency back-up kit.
Yamaha DTX400K Customizable Electronic Drum Set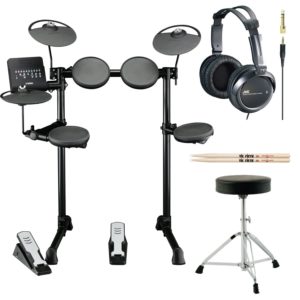 Not much introduction is needed for industry giant Yamaha, a corporation known for their motorcycles and their musical instruments. They have over a century of experience manufacturing every type of musical instruments and audio equipment. Let's take a look at their electronic drum kit.
Yamaha's marketing information tells me the kit has a "drum trigger module" with 297 high-quality sounds". It comes with 10 kit settings with examples like "Maple", "Oak", "Vintage", "Hard Rock", "Session" and "Jazz". The snare and tom pads are on average 7.5 inches in diameter, and the cymbals 10 inches.
There is no physical bass drum pad, but a "silent kick unit", which consists of a single pedal. In addition, the hi-hat pedal can also be used as a double bass drum. The kit also comes with a drum throne, Vic Firth 5a sticks and a pair of JVC stereo headphones.
The DTX400K would be great for helping young drummers with minimal experience hone their skills. It's relatively easy to setup & breakdown making it great for small rooms or limited storage space. The inclusion of headphones means your little ones can practice to their heart's content at all hours of the day with no disturbance.
The kit would be great in helping new drummers gain confidence practicing rhythms and techniques without the pressure of being heard. With the configurable soundset variations, this has an entertainment factor that could help encourage repeated use. There's also a stereo mini-jack input for plugging in a phone/iPad for you to play along to.
For more experienced drummers, the inclusion of the USB port opens up a few options. It can be used as a MIDI controller in programs like Ableton and Cubase to trigger the user's own drum samples. This makes it perfect for producers wanting to inject a live feel to their programmed drum parts.
However, anyone who has spent any length of time on a real kit will struggle with the feel of this kit. Chief among my frustrations was the kick drum…or lack thereof.
Striking rubber pads with no give will already feel incredibly artificial to a drummer. So it seems bizarre to compound this by having no pad for the bass drum pedal to strike.
The pedal needs a mechanism to emulate resistance and bounce as without it, it feels off. Being unattached to anything and having no grip, the pedal does tend to slip and slide. In addition, the mediocre sound of the kits and unrealistic velocity and volume response restricts this to the beginner market. This only adds to the feeling that this product is closer to a learning aid than an instrument.
There are also problems with the build of the kit as well. I found the stand for the snare was poorly built as after a while, the snare starts to rotate downwards. When the kit is plugged into an amp, the relative volume of the snare and hi-hat to the rest of the kit reduces noticeably.
Conclusion: Great for first-time drummers who will find the chance to practice quietly an added bonus. However, the sound and build quality, as well as the artificial feel, mean that even beginners may outgrow it quickly.
Pearl EXX725S/C 5-Piece Export New Fusion Drum Set (Editor's Choice)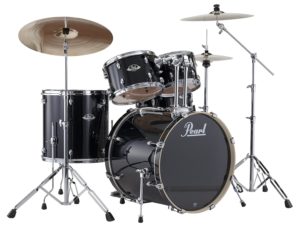 Having already discussed Pearl's Roadshow kit, let's step up a gear and discuss their iconic 5-piece Export kit.
The Export is the most sold kit in history. Pearl themselves refer to the Export as "The kit that spawned a thousand drumming legends." This is the re-release, Export 2.0 if you will, after Pearl initially rebranded it as the "Vision". It now comes with updated hardware, shell build and tom mounts.
Like the Roadshow, the Export also has genre customization, but trims its options down to 3: Standard, Fusion, and New Fusion. It also comes in 5 different colors, from "Smokey Chrome" to "Electric Blue Sparkle".
In contrast to the Roadshow, The Export is marketed as the perfect intermediate kit for all drummers. This is reflected in the price point, coming in at $200 more than the Roadshow.
It's suitable for all from beginners looking to upgrade all the way to the gigging professional. It also doesn't come with cymbals. However, having experienced the Roadshow's stock cymbals, I'm not too brokenhearted about their absence. The build is also superior to the Roadshow's 9-ply poplar, with Export sporting a 6-ply hybrid of mahogany and poplar, making for a much better tone.
From my experience, it's tough to find much to criticize about the Export. My lone critique would be that the stock heads are not great – a common critique with both Export and Roadshow.
But once I replaced them, this kit was everything I needed it to be for gigging and recording. It just sounds great and is highly enjoyable to play live.
The upgraded shells and hardware are well put together and the kit is sturdy. I've met gigging drummers who, due to laziness, transported their Exports without drum cases in cars and vans. Yet their kits still held up remarkably and were easily kept in tune.
Conclusion: For a mid-level kit, the EXX725S sets the standard in my opinion. While certainly not a 5-star kit, you'd be hard-pressed to do better at this price range.
Roland TD-11K-S V-Compact Series Electronic Drum Set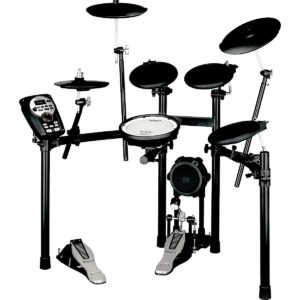 Roland – another household name in the music industry. Known more for their classic synths and keyboards over the years, they have also established themselves as a leader in electronic drum kits. Let's take a look at their TD-11 kit.
The first thing you will notice about this kit (other than its $1k price tag) is the inclusion of a mesh-head snare as opposed to the rubber of other pads.
The snare has rimshot capabilities, although this does not extend to the toms. It also has a kick pad branded by Roland as a "Natural-Feel kick pad", yet oddly enough, it doesn't come with a kick drum pedal. And it also comes with an on-board Rhythm Coach, preset songs, and loops. It also has a USB port to either record onto a USB stick or use as a MIDI controller.
In addition to the lack of a kick pedal, it also lacks a drum throne, sticks, amp or speakers, or headphones. If the price tag alone wasn't prohibitive to new beginners, the lack of such accessories may be the nail in the coffin.
This seems clear they are aiming this product at serious musicians who will almost certainly already have these items. Yet curiously, the inclusion of the Rhythm coach and presets seems to belie this.
Looking at the aesthetics of this kit, it's clear it even looks more like a real drum kit than some of its competitors. The frame and the position of each pad lends itself to a much natural playing experience. The mesh snare is frankly the greatest thing to happen to the electronic drum kit, in my opinion.
The give of the fabric is the closest you could possibly get to the natural bounce of a real snare head. It makes the idea of ever having used rubber for these pads laughable. One wonders why Roland didn't extend it to the toms, rather than release a separate kit with all mesh-heads. However, you can purchase mesh-head pads separately and swap out the rubber ones.
The kick is also made from a woven cloth that poses just the right amount of resistance to a pedal. It's also wide enough for double-pedal users to get their groove on.
The kit is well built and compact, and can easily fold to fit in a small storage space.
The pre-programmed sounds, by themselves, are not exactly mind-blowing. However, by including deep editing, you can add some serious life to the sounds. You can purchase software like Addictive Drums with great sampled sounds, and use the TD11 as a MIDI controller.
As beautifully responsive and realistic as the kick and snare are, the problem, predictably is with everything else. The hard work Roland have done is undone by the artificial feel of the rest of the kit. The rubber toms actually feel more artificial and tiring to play because the snare feels great in contrast.
They also only really register one hit at a time, so flams are out of the question. The cymbals are single zone and have a very poor velocity response. This means forget about any ideas of ghost notes, crescendos, etc.
You can swap out the toms for mesh heads, but the cost of doing so is extremely prohibitive. It would cost you less to trade this kit for its bigger brother, the TD-11KV-S. However, that only improves the toms and not the cymbals.
Conclusion: Roland has created something great and shot themselves in the foot at the same time. The kick and the snare are truly remarkable, but make the rest of the kit look like a missed opportunity. The editable sound parameters give the otherwise standard preset sounds some teeth.
Buyer's Guide: How to Find the Best Intermediate Drum Set
Let's take a look at what makes the best intermediate drum set.
Where Are You Playing?
Are you a young beginner, practicing at your parents' home or a session drummer in a rehearsal studio? Or… Are you a music student in a tiny apartment with little to no storage space?
Are you a touring drummer, needing a kit that can survive car or plane journeys and be ready to rock?
This will decide both the type of kit (acoustic or electronic) and the size of kit you purchase. You need to consider storage, playing volume, practice space and potential noise pollution.
Short-term Vs Long-term
In addition to this, if you are a beginner, where do you see yourself playing? If your plan is to be a gigging drummer someday, then will your kit handle such stress and strains?
Does it look professional enough for you to be taken seriously at auditions or gig venues? If you turn up with a poorly constructed kit, you can't expect to be taken seriously as a budding pro. This clearly will have a knock-on effect on how much you spend on a kit.
If a kit leaves something to be desired, like poor drum heads or cymbals, then you need to factor this in. Is it something you can live with for the sake of practicing and honing skills?
Can you make low-cost adjustments such as using dampening material in strategic spots to improve the tone? If swapping that part will cost you a fortune, is that kit worth it?
All In The Feel
This is often the deciding factor in choosing either an acoustic or electronic drum set. There is a trade-off between a realistic feel vs ease of storage and use within a residential area.
No matter the technology, an electronic drum kit will never feel 100% like a real drum kit. The sounds will never sound as real unless you use MIDI to control drum sample software, which also has its limits. This will also have an effect on your ability to practice subtleties in your playing like ghost notes, flams, etc.
So you need to decide if you can work past that. Is that trade-off worth it to gain regular, discrete practice and a kit you can store under your bed? If you are a stickler for reality, you may struggle to get that kind of practice, depending on your circumstances.
What Style Of Music Are You Playing?
If you are part of an electronic or EDM act, then an acoustic drumset would be overkill. An electronic drum set with USB MIDI capabilities and trigger high-quality samples from a laptop may be more appropriate.
However, a jazz act with an electronic drumkit would struggle due to the absence of nuances like ghost notes or dynamic cymbal playing.
However, you would also need to tailor the type of acoustic drumset you purchase. Playing jazz with a Lars Ulrich signature Tama snare would sound equally as bizarre.
Watch Your Tone
This is specific to acoustic drumsets. An area budding drummers are often not aware of, is the effect the material has on the tone.
For example, drumsets constructed with maple are considered warmer and richer, whereas poplar or birch are brighter. The size of the drum also affects the tone. The bigger the diameter, the lower the tone and the more power it projects.
Verdict: What's the Best Intermediate Drum Set?
After careful deliberation, the iconic Pearl Export EXX725S won the day. It was the only kit that truly felt like an intermediate drum kit. This means tone, feel value for money, and the cost of making upgrades where needed.
The Roland TD-11KV and the Pearl Roadshow both had elements that made them serious contenders but weren't well rounded enough.