(Last Updated On: December 21, 2017)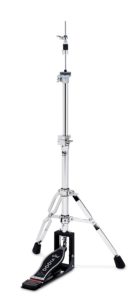 When it's time to start banging away on your drum kit, you want to make sure that you have some hi-hat stands that are really reliable.
The best hi-hat stand will be the one that is not only durable but will be easy to set up and easy to play with while you're swinging away.
Here's a list of some of the best stands on the market.

Top 6 Best Hi-Hat Stands: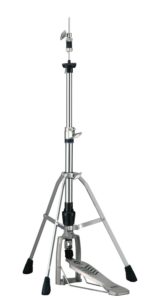 The Yamaha HS-740A is a medium weight stand with an 11-step adjustable tension and rotating legs.
It is a sturdy, double-braced Hi-hat stand with a direct-pull design that is made for stability, flexibility, and convenience.
Action
The action on the Yamaha is phenomenal and is one of the best things about this model.
It is smooth and adjustable with its 11 settings: From extra sloppy to very precise. Additionally, it is incredibly responsive.
Durability
This model boasts durability equal to most other models and is very well designed.
It is rugged and built like a workhorse to withstand any amount of drumming. Both the build quality and the materials used make the Yamaha excellently durable.
Easily Transportable
It is light in weight and easy to deal with. No complaints in terms of playability or carrying around from gig to gig. It works perfectly and won't break your back by adding it to your hardware bag.
Stability
The Yamaha holds up well and is tough and stable while playing.
However, the main rod that goes up through the stand seems to be a bit on the short side. An important consideration for your personal taste.
The rod can also sometimes drop down inside the assembly and get stuck, which can become a major hassle.
Pros
Eleven step adjustable tension
Very durable
Cons
The main rod is on the shorter side
Somewhat poor design
The Pearl H930 offers a chain drive, standard clutch, and rubber made tips. It also provides swivel legs to allow for a double kick pedal.
Action
The action on this model is quick and smooth with a fine, positive response. It is very easy to adjust and is actually surprisingly quiet compared to most models.
Durability
This model is very rock steady. It has a thoughtful design with solid construction. The tension in the foot pedal is adjustable, as are all the other components that one would expect to be.
While the stand is a little bulky, it does add to the overall playability of the hat. Doubles can be performed very easily on this hat.
Easily Transportable
The H930 is a little heavier than most models. And while it might not be the easiest to carry around, once it is set up it performs very well.
Stability
This is an excellent, sturdy stand with pedal swivels to allow for a very customized position relative to the location of tripod legs.
The leg swivels are also amazing and swivel enough to easily allow for many pedal customizations.
Pros
Rock steady durability
pedal swivels for customized positions
Cons
Not so easily transportable

Pacific Drums by DW 800 features double-braced legs, standard-gauge tubing, integrated memory locks and oversize rubber feet.
Action
The action is easy to adjust and feels very smooth. However, when tightening the wing nuts be sure you don't crush the tubing.
Some customers have found that the mechanism which controls the spring tension is slightly off, and this could definitely throw off the action.
You might find that it opens a little too slow for your taste.
Durability
Even though it is on the lighter side, it is solid and will stay where you put it.
Easily Transportable
The DW 800 does what it's supposed to do by reducing some of the clutter if you use a double pedal.
Again, it is a bit on the light side, but in no way feels cheaply made. However, you won't be able to collapse the foot pedal support to fit it into your hardware bag, so keep this in mind if you need to transport it.
Stability
It does not take long to figure out how to balance this model, though you may have to do some tweaking with the tension on the foot spring to get it to your liking.
The two legs make it easy to set up next to a double bass pedal for easy transition between the two, as well as playing both at the same time.
When playing double bass pedals, this two leg hi-hat stand really is a great upgrade from three leg stands.
Pros
Very easy to transport
Stable and spacious two-leg setup
Cons
Some problems with tubing and tension
Slower action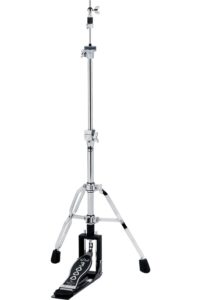 The DWCP3500T is a two-leg hi-hat stand with hinged memory locks for precise height settings. It also has a lateral cymbal seat allowing for instant access in adjusting the bottom cymbal angle.
With both legs AND the foot pedal folded up it can stand rock solid, no problem at all. It's one of those products that you pull out of the box and just know you're going to have for decades.
Action
While this model does have a tension adjustment, it can still run a bit slow in the pedal return at times.
The overall responsiveness could use some improvement, so if you need a quick action hi-hat, this might not be the best model to consider.
Durability
In terms of stability, this DW model definitely fares well. The material is sturdy, and it boasts a good construction.It even has Velcro on the bottom to keep the hi-hat in place.This stand also comes with a short rod and a tall rod to eliminate having extraneous length above your hats
This stand also comes with a short rod and a tall rod to eliminate having extraneous length above your hats.
Easily Transportable
While this model is relatively easy to transport and set up, it does have a few quirks.
You will need a drum key to lock the pedal in place, either up or down, which adds time to the setup or takedown. While this method does keep the hat sturdy, wing bolts would, of course, be the much more convenient option.
Stability
This stand is very stable and adjusts high enough so as to keep you from smacking your snare stick all night. It has a very quick release and the top hat lock keeps it from loosening up.The Velcro
The Velcro bass keeps it from sliding and without the third leg in the way, the transition to the double kick pedal is quick and effortless.
This stand is essential for anyone using a double kick pedal. And make sure you get the legs on even ground, or the whole stand will rock back and forth when you keep time on your left foot.
Another small detail to keep in mind is that this stand holds the hi-hats higher than other models. If you're used to playing things at a certain height, consider whether or not the range of this stand would be a good match for you.
Pros
Comes with short and tall rods
Incredibly stable
Cons
Slower action
Setup requires a drum key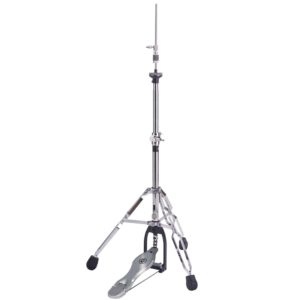 This is a beautiful, very stable, and very sturdy stand with good pedal action, swivel legs, and tension control.
It is low-mass and double-braced. It has round rubber feet for stability, 3-tier cymbal stands, cast-hinged height adjustments, and a 2-point hideaway boom.
Action
Very smooth pedal action, and is excellent with tension control.
Some customers have said that it is a little lacking in terms of its response and overall power, opting to use it strictly for practice rather than for gigs.
However, as for the sound and overall use, it can compete with the best of them.
Durability
The Gibraltar 5707 is a solid, well-made stand for heavy duty drummers. It is heavy enough to put up with even the toughest of beatings and complimented very well with the swivel base. Excellent for drummers of all kinds!
Easily Transportable
Because this model is double braced, it makes it just a bit heavier in terms of transportation. While this is excellent for its durability, consider if it will become a hindrance for you to travel with.
As far as the tension adjustment is concerned, it just requires a small Phillips screwdriver, unlike the other models which have a built-in lever.
Stability
Again, the double braced feature will help with the overall stability, which is great for setting this stand up anywhere.
The feet will hold well on carpet too. And even with the swivel base, the Gibraltar is incredibly sturdy and stable.
Pros
Extremely durable
Incredibly stable
Cons
Slower action
Requires a screwdriver for setup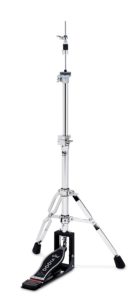 The DW CP5500TD has a double-braced, 2-leg rotating base and is chain-driven. There are interlocking memory locks with built-in spurs and techlock tension adjustments to enhance the overall ease of playing.
This model even has an exclusive folding pedal plate!
Action
The action of the pedal and rods is smooth as silk and gives just the right amount of counterweight feel when playing.
Durability
This DW model meets all the expectations for durability. It is heavy-duty, performs well, and is built to last forever.
A rock solid stand, it provides more room and wonderful adjustment options in comparison with its other DW counterparts. It is a definite upgrade from other models.
Easily Transportable
In addition to durability, this stand is excellent in terms of mobility as well.
Because of the extra room that it provides based on its design, this stand becomes the perfect match for a DW5000 double bass pedal and leaves plenty of space to place a second pedal and not to have to worry about the hi-hat stand.
It also has the incredible feature of folding flat for storage.
Stability
Like most middle to high-end DW hardware, it is easy to use with a double-kick pedal because it only has two legs.
However, the two-leg base combined with a 'flip up' style pedal give it a firm foundation that locks into place and can be further secured by two screws for more permanent installations.
Pros
Smooth, balanced action
Top of the line durability and stability
Easily transportable
How to Choose the Best Hi-Hat Stand
Action
The action that the stand allows for your hi-hat is paramount when it comes to playing. You'll definitely want a stand that allows for some easy and smooth playing. And of course, you'll want the return and response to be quick and precise.
Durability
Durability is essential when it comes to hi-hat stands. There is absolutely no way that you can have something that's going to break down or show signs of wear-and-tear after only a few uses.
You'll want something that is made of sturdy material and that you can use again and again, year after year.
Easily Transportable
Transportation is a huge factor when it comes to carting your gear around for gigs. You'll definitely want a stand that is not too big or weighty or bulky when playing at different venues every week.
However, the stand must be stable enough to support your playing style.
Stability
Stability is key when it comes to hi-hat stands. If it's moving around and shifting all over the place, better find another model because that just won't fly!
Some people prefer two-leg stands because it offers more room, while others prefer three-leg stands because it ensures that the stand will stay grounded. Consider which model you would prefer and if it will be stable enough for the way that you play.
Final Thoughts
With all things considered, the DW CP5500TD is the best hi-hat stand on the market.
Not only does it have a smooth action and is able to remain incredibly stable, but it also provides one of the most durable builds, and easy to transport configurations.
If you are serious about drumming, this is an excellent model that will remain a part of your gear for years to come.