(Last Updated On: December 21, 2017)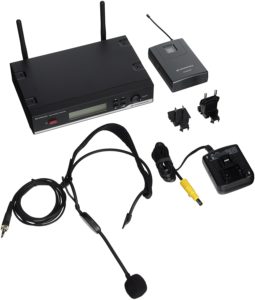 When it comes to vocal microphones used on stage, the first thing that comes to mind is the hand-held units that we are all used to. However, not everyone can perform comfortably with those types of mics, especially artists who have their hands busy with other instruments. If you are a drummer or a keyboard player, chances are you will need a more flexible hands-free solution.
The days of stringing a wired mic around carefully on stage are slowly changing and now, a fresh breed of wireless microphones are taking their place which are reliable, high quality and adaptable to many roles. Enter headset microphones! They're versatile bits of kit which meet the demands of performance whilst also suiting themselves to other hands-free mic activity. They're useful for film and TV or for military personnel, for musicians or for YouTubers, etc.
A headset microphone's main attraction is that they allow the user to have both hands free. This means musicians can walk the stage freely and play instruments. As mentioned, this is especially useful for keyboardists and drummers. Leaning up or down to a microphone isn't good for your posture and these microphones allow musicians to circumvent this risk.

Top 4 Best Headset Microphones for Singing: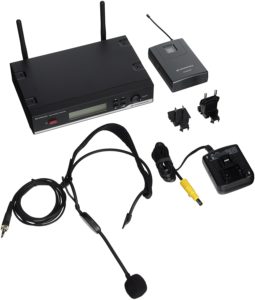 Sennheiser has been amongst the top rank of microphone manufacturers for decades. The XSW 52-B XS is a full package wireless mic system with the transmitter, receiver and headset included.
It's easy to use, you just need to plug the mic into the transmitter which is usually mounted at your waist, connect to your receiver and you're good to go. Obviously, you can move around freely with this microphone, whether that's on stage or in conferences, classrooms, etc.
Features
This headset microphone features 960 available frequencies for transmission, which is a seriously large amount – more than most mics like this. These are arranged in banks which allows you to transition between channels easily. Basically, this means you can always find an interference-free channel for any space.
You won't need to find it manually, though, because it has an automated scanning process which finds an optimal channel with the lowest amount of potential interference. This Sennheiser mic unit has a long range of 250 feet and the signal doesn't drop quickly at its fringes. This mic features a comfortable headset too which is stable and easy to fit.
Audio
In terms of sound quality, this microphone delivers crisp quality from its cardioid mic. It's certainly very clean and high-fidelity, which is exactly what you need for most singing performances that involve these mics or for speeches, etc. If you're using this in a musical setting then you can obviously use FX later on the sound – it has a clean and pure tone.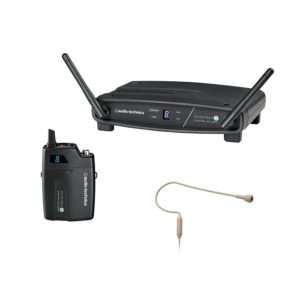 This wireless microphone system is much smaller and more compact than most of its competition. It's more of a stealth mic system, with no monitor headphones, much the same as the Sennheiser but even more discreet.
It's cheaper than the Sennheiser and its receiver can handle 10 simultaneous channels – so 10 mics, with reportedly small amounts of interference. That's quite a bold claim and the reality may be more like 5 or 6 but these are guaranteed to run easily and without much hindrance.
Features
This setup has the microphone, transmitter, and receiver in its neat package. The receiver is powerful with all the modern tricks like automatic optimal frequency scanning. It has a dual antenna design, which decreases the chance of dropouts or interference.
The receiver also auto-switches for the best frequency on the fly, impressive! As mentioned, this can handle multiple sources and pass them out through one output. You can pair other mics like the one included or different types of mics, like handheld wireless mics. The receiver comes with modern fail-safes for monitoring interference between multiple mics. Many people report this system works very well at good distances with multiple mics in areas like theatres, where there's lots of potential interference.
Audio
This system provides really crisp and clear sound that is stable and defined. That's exactly what you need and it does the job very well with tons of extra features and expandability. It's a great headset for singing and a great headset microphone for live performances like theatre or comedy thanks to its interference protection over long distances.
When you're at this price point, headset microphones do deliver a solid level of audio quality. The Audio-Technica System 10 is a lightweight solution and is suited to discreet headset microphone roles.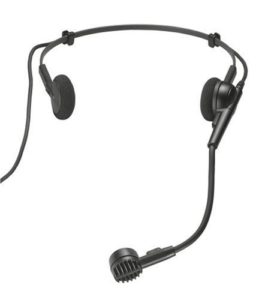 This isn't a wireless model and is instead a wired headset microphone. You'll either need a USB interface to use it or a microphone preamp for amplification. As a standalone mic though, it's acclaimed for its quality which comes at a rather inexpensive price.
For singers, this microphone has a stable fit for singing drummers, keyboardists, and other instrument players. This mic is perfect for home or professional use.
Features
This is a dynamic hypercardioid microphone and thus, it will precisely pick up your voice without picking up background noise. This optimises its use for singing. It provides a simple design in its solid design which fits comfortably. The microphone is sensitive and it may pick up your breathing. Such sensitivity may be a boon or a hindrance.
It has an XLR connection so it can be plugged straight into hardware for recording or amplification. You won't be able to plug this straight into a PC, though. You can plug this straight into an Audio-Technica UniPak Transmitter, though, so it can be used wirelessly!
Audio
This microphone has great noise-canceling features combined with sensitivity. You can eliminate a great deal of background noise and the frequency response is designed well for the human voice. It filters below 200 Hz, removing unnecessary muddying bass and extends up to 18Khz with a crisp high end. It's a great headset microphone for vocals or for home use, provided you can connect it up.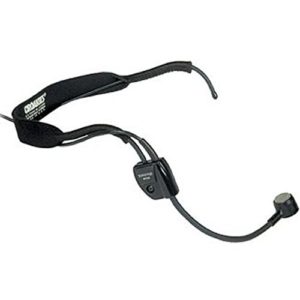 No microphone list is complete without a Shure microphone. This headset microphone from Shure complies to its strict quality benchmarks, offering audio quality comparable to handheld models. This microphone is similar to the previous Audio-Technica – it's a standalone mic. That means you either need to connect it to a transmitter for wireless use or into a USB interface or pre-amp.
Features
It's a comfortable headset mic which Shure has engineered to be worthy of vocal performance. This microphone is comfortable, portable and relatively inexpensive. It's also designed to be tough and can be collapsed for easy storage. With an XLR, you can connect it to interfaces or pre-amps for amplification.
Audio
This microphone has a smooth and natural frequency response which is suited to the human voice. With roll-offs on bass frequencies and crystal clear high-end, it resembles larger microphones in tone. It's cardioid dynamic microphone so should filter background noise through its pickup pattern.
How to Find the Best Headset Microphone
There are many headset microphones on the market, some are expensive but many are now coming down in price. Most packages come with the microphone itself and then a transmitter and receiver. The transmitter sends a signal wirelessly to a receiver which then converts this signal into an audio output for amplification or recording. For singers, headset microphones must also meet the demands of dynamic live performance.
Headset microphones are designed with a natural frequency response that suits the human voice. They provide a crisp and clear sound but this can be passed into FX or amps for more gain, saturation or reverb, etc. Headset microphones now rival their traditional counterparts and though you can spend thousands, there are some great sets that cost under $500 for the entire system.
Common Features of Headset Microphones
Some receivers have two antennae, with one serving as a backup in case signal drops
Some microphones for performance are more stable and comfortable on the head
Many sets come with receivers which can accommodate multiple microphones
Some are very discreet and feature just a microphone whereas others incorporate monitor headphones
Some headset microphones are standalone microphones which can be plugged into a wireless transmitter, a USB interface or a pre-amp.
Conclusion: What's the Best Headset Microphone for Singing?
Finding the best headset microphone depends on your criteria. For singing, this criterion is quite demanding – you need crystal quality without interference or background noise. Fortunately, manufacturers can now create microphones that perform this job well. If you're looking for a microphone system with expandability, the Sennheiser XSW 52-B XS Wireless Headset System or Audio-Technica System 10 ATW-1101/H92-TH are both great systems.
They make use of all the latest in interference control without breaking the bank. You can't easily split them. For standalone mics, both entries here weigh in as great microphones which can be hooked up to systems or used as wired mics. To be honest, you just can't split these, they really are some of the best headset microphone available for their prices.