(Last Updated On: December 21, 2017)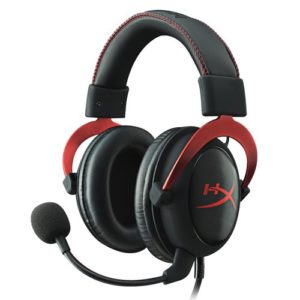 What is the best headset for CS:GO?
CS:GO is definitely one of the most all-encompassing FPS games on the market. If you don't keep up the best technology, though, your experience won't be all that it can be.
Here we have reviewed the best headsets for CS:GO to keep you in the game and totally immersed in the world. You're going to need the best headset if you really want to feel like you're in the game!

Top 4 Best Headsets for CS:GO: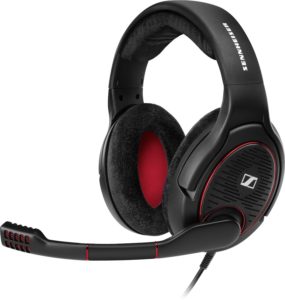 Feel the rush, the beats, the tension and the sound – not your headset. The Sennheiser GAME ONE open acoustic gaming headset features an accurate and natural sound experience for any CS:GO player.
Sound and Bass
The Sennheiser has extreme sound and clarity and is quite clean on the lows. The mids and highs are crystal clear and the frequencies seem to blend well together. The sound is very natural all around.
As far as the bass is concerned, it is clean and punchy but not too "boomy" at the extreme low end. In fact, the bass seems to stand out among the rest of the sound.
The Sennheiser definitely enhances the small ambient sounds and effects, making them more clear instead of generally washed out. The audio quality and frequency response on these CS:GO headphones are top-notch too.
Noise Control
As far as the noise canceling ability on this set, it doesn't fare all too well. Because of the open design of the cans, you can hear the outside world pretty clearly. However, this is to be expected.
While this design does distort the overall immersive experience, it does allow you to hear the important things going on around you (there is a real world outside CS:GO, you know). This is especially important if you multitask while playing or while using the headset in general.
Microphone
The microphone on this model has noise canceling capabilities that ensure crystal clear conversations. Nevertheless, because this set is more or less designed to leak sound, the mic will pick up quite a bit of the output.
There is, however, a convenient microphone mute that automatically mutes when the boom arm is raised. This has been a bit of an issue, though, as the microphone does not always mute even after putting it into the vertical position past the bump.
Comfort
There are velvet ear pads on this model that really let the skin breathe. They also guarantee that air can be led through to your ears, keeping your head light and cool during long gaming sessions
Depending on the size of your skull, it might take a couple weeks to fully break the headset in. Once you do break them in, they become quite comfortable and you almost forget that they're on.
Design
As mentioned above, the open back design keeps your head cool while delivering extreme sonic clarity.
There is a modern, light-weight yet robust design allowing you to listen for hours and they are reasonably durable.
The volume control is conveniently located on the right ear cup.
The only downside is that they are a bit bulk – not at all heavy or awkward, but just big and obtrusive.
Pros
Clear, blended sound
Comfortable and heat free
Cons
Not as noise canceling
Mic picks up output/not as noise canceling
Bulky design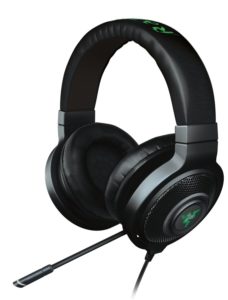 The Razer Kraken 7.1 boasts a surround sound engine to provide an immersive in-game situational awareness true to life. It offers a personalized audio calibration enabling a custom setup for each game or audio program.
Complete with a full retractable digital microphone that pulls out from the ear cup, it can deliver the most pristine voice quality.
Sound And Bass
The overall sound quality of the Razer Kraken is good: decent highs, mids, and lows, with a nice blend and a clear frequency response.
What really makes this headset stand out is the bass. As a matter of fact, it is omnipresent and very full. And while some may, like that overwhelming amount of bass, it is way too much by default for others.
Thankfully, this is saved by the software which comes with so many options that you can make the sound whatever you'd like really. Nevertheless, this is definitely a bass biased headset for CS:GO.
Microphone
The retractable microphone is a nice touch. That way you can wear these around as just a pair of headphones if you really wanted to. Although, the noise canceling on this microphone is not as enhanced as some of the other models out there.
Additionally, the microphone seems to cut out quite quickly and frequently. This can truly be annoying, especially if you have to shout at it just to get it to pick up your necessary audio.
Comfort
The balance of this headset is great; not so light as to feel cheap, and not so heavy as to make your head tired. However, after a few hours, you really start to notice the headset is on your ears.
Unfortunately, because of the design, the pads on the inside will either set on the top or the bottom of the ears, but hardly the entire ear.
There are definitely more comfortable headsets for FPS gaming out there.
Design
The Razer Kraken has EQ functions and a 7.1 configuration that makes it relatively simple to start up and super customizable.
It has the ability to utilize USB connectivity that makes switching from wireless to wired a lot less painful and is always a plus. In fact, it is better when it is wireless so that the cord doesn't make a sound every time it touches your shoulder or clothing.
Additionally, the Kraken also sets itself apart with customizable Chroma lighting's 16.8 million color options and amazing lighting effects right on the headset itself.
Pros
Good sound, for people that love bass
Cool lighting effects on headset
Cons
Microphone cuts out/is sometimes unresponsive
Not very noise canceling
Not as comfortable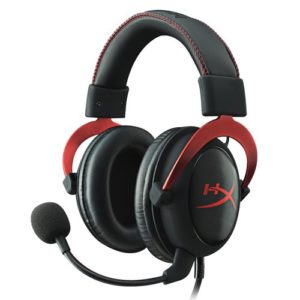 HyperX Cloud II features a newly designed USB, that amplifies audio and voice for an optimal gaming experience.
This next-generation CS:GO headset generates virtual 7.1 surround sound with distance and depth to enhance sounds you may never have heard before. It has a noise canceling microphone, memory foam ear pads, and USB connectivity.
Sound and Bass
The 7.1 surround sound with distance and depth will definitely enhance your gaming, movie or music experience. You can pinpoint your opponents' location in the game and strike before they see you coming.
It is also much easier to pick up on the ambient sounds all around you.
HyperX Cloud II is Hi-Fi capable, with 53mm drivers for superior audio performance and rich sound quality with crystal-clear low, mid and high tones and enhanced bass via the sound card.
The sound quality is very clear and the bass kicks in precisely where it needs to be. The explosions are great; not too poppy, and not overwhelming either.
Overall, the sound quality is well blended with no cracking and no interference like with some wireless headsets for FPS games.
Noise Control
The HyperX Cloud II has a closed cup design which helps with the noise cancellation.
If you are in a gaming tournament or some other loud environment, rest assured that you can annihilate the enemy in peace.It is a solid design, making the noise canceling an excellent feature with this set.
It is a solid design, making the noise canceling an excellent feature with this set.
Microphone
This headset has a digitally enhanced, noise-cancelling microphone with automatic gain control and echo cancellation enabled through the USB sound card.
The result is a very clear voice quality and reduced background noise. This allows the voice volume to automatically increase as the in-game sound gets louder in order to optimize team communication.
One downside is that the microphone position isn't as flexible as some others sets. However, depending on your style this may not be a big deal.
Comfort
The memory foam comfort on these ear pads is no joke, making the headset incredibly comfortable and pleasant for hours at a time. There are no particular pressure points on the ear cups or the headband, so the ergonomics and weight distribution are on point.
The earcups don't rotate at all and the ear pads aren't thicker towards the back of your ear which isn't too comfortable, though. Nonetheless, this set is relatively good for people with glasses.
Design
Pro-gaming optimized, HyperX Cloud II is USB-powered for PCs and Macs.
The set-up is immensely easy as you just need to plug it in and start playing, no driver needed. This CS:GO headset is absolutely designed for gamers with all of its many well-constructed features.
Pros
Excellent amplified audio
Incredible noise canceling
Very comfortable
Good for people with glasses
Cons
Microphone is not as flexible
The Turtle Beach X12 is the definitive headset for gamers seeking amazing game sound, crystal-clear communication and enhanced comfort.
The X12 features massive 50mm speakers, delivering superior audio quality with crisp highs and deep rumbling lows. The in-line amplifier puts you in control with quick access to independent game and chat volume controls.
Sound and Bass
The amplified audio of the X12 enhances game sounds for a more immersive experience and allows for a variable bass boost.
This also allows for crystal clear communication, and the independent chat volume control allows you to hear as much of your teammates as you'd like.
However, there is a buzzing sound at low volumes. There is also a bit of a pulsing noise when they are turned up more than halfway.Unfortunately, these noises are normal with this headset and are not a result of any defect in these headphones.
Unfortunately, these noises are normal with this headset and are not a result of any defect in these headphones.
Noise Control
This is an over the ear headset that provides decent noise isolation.
Microphone
The microphone monitor allows you to hear your own voice in the headset in order to avoid shouting. There is nothing too fancy about the microphone abilities here, but they will get the job done.
Comfort
With large ear cups and bigger drivers than some of its counterparts, the X12 is quite comfortable to wear for extended periods of time.
However, the fabric of the ear cup is not too friendly to heat if you're wearing them for too long. Beware of sweaty ears!
Also, because this headset is over the ear, it might not be the best option for people with glasses.
Design
Because these headsets are USB powered, they are quite convenient and reliable.
The biggest complaint with this design is that it is made out of cheap plastic, and very prone to breaking. Additionally, there is constant static interference.
Muting doesn't help, so you'll probably end up taking them off when you aren't listening to something.
For the low price, these headphones are good enough for CS:GO. And if you're looking for something just above average for a low cost, this is the product you would be looking for.
However, if you want something totally awesome and substantial for your gaming experience, save for something better.
Pros
Decent amplified audio
Clear communication with microphone
Cons
Made with cheap plastic
Constant buzzing sound
Not heat reductive
How to Find the Best Headphones for CS:GO
Sound and Bass
It goes without saying that the sound quality of the headset is paramount. You want to feel completely immersed in the game that you are playing.
And you want a crisp, clear sound that will make you feel like you are really on each map. You want to be able to hear the footsteps of the enemy as they are coming toward you.
How about the explosion from the flash grenade thrown down the hall? Can you feel the bass rock your world? The more you feel like you are actually in the same world as the characters, the better your overall experience is going to be.
Noise Control
If you really want to feel like you are in the world of CS:GO, then you will need to cancel all of the sound around you from the outside. Some headsets are designed specifically for this purpose and immensely enhance the game-play.
Other headsets don't do so well with this feature. They let in too much sound, distorting the realistic vibe that you're trying to create for yourself. Still, sometimes it is nice to be able to hear that fire alarm whenever it goes off.
Microphone
In addition to the headphones themselves canceling noise, the microphone can be noise canceling as well. You'll want to make sure that the mic picks up only the vital information and not the background noise.
When you're playing CS:GO, every moment is precious. Especially those moments of communication between your team or the other players involved.
You want to make sure that your microphone picks up everything that you're putting out. And God knows you don't want that bad boy to cut out!
Comfort
Comfort is a huge factor when considering the best headset for CS:GO. Often times you'll find yourself playing for hours on end, so you'll need something that doesn't become a burden after a while.
Consider what kind of pads the cans are made of. How are they built? How do they fit around the ear? Do they retain a lot of heat?
Additionally, are they more or less compatible with wearing glasses? Nothing can ruin an immersive game experience quicker than an uncomfortable headset.
Design
How is the CS:GO headset designed? Is it simply cheap plastic? Will it break within a few weeks or is it a completely solid build that will stay strong for months and months?
Also, sometimes headsets are designed to look cool but what they gain in aesthetics they lose in comfort. Consider how your headset is constructed so that you get the most out of your model.
Final Thoughts: the Best Headset for CS:GO is…
By a long shot, the HyperX Cloud II is the best gaming headset for CS:GO and any other FPS games.
It boasts comfort, great sound quality, an excellent microphone and incredible noise canceling features.
It works well for people with glasses, and the amplified audio will make you feel like you are truly a part of the world in which you are playing.
To take your CS:GO experience to the next level, the HyperX Cloud II is definitely the way to go!