(Last Updated On: December 21, 2017)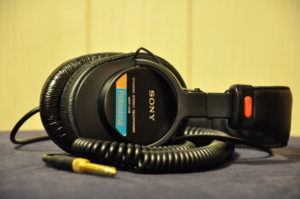 What are the best headphones under $100 in 2018?
In this buying guide, I am reviewing the best headphones under $100 you can find right now on the market. Headphones can range widely both in price and features.
That is why we have extensively researched hundreds of the best headphones under 100 dollars on forums, customer reviews, expert reviews and more, to create this guide for you.
This guide covers on-ear and over-the-ear models of headphones in the price range of $50-100. If you prefer in-ear headphones you definitely will love our research about the best earbuds under $100.If you need cheaper headphones you will probably like our
If you need cheaper headphones you will probably like our cheap headphones buying guide.
Top 4 Best Headphones Under $100: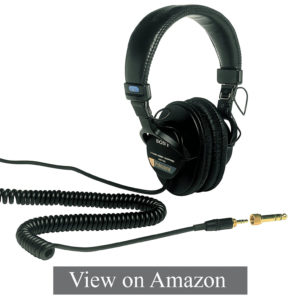 These headphones are highly regarded among audio professionals and they are also hugely popular with the average consumer and for good reason considering they perform better than a lot of other headphones costing almost twice as much.
However, there are some situations where these headphones may not be the best choice so I will talk more about that as I get into the sound quality, comfort, and, features of these headphones.
Features
These headphones only weigh 8 ounces so they are lighter than the average full-size over-ear headphones.
They also fold up and a synthetic leather bag is included which makes these headphones great for portable use. The bag is a basic synthetic leather bag. Nothing fancy but it gets the job done.
You also get a coiled cable as you can see here and this stretches out to about 10 feet. This cable is not detachable so if you are not a fan of coiled cables then that is something to consider. The cable terminates in a 3.5-millimeter connector, and it includes a 6.5 millimeters screw-on adapter.
You adjust the headphones on the side using a click adjustment. These headphones get plenty large so they should accommodate anyone no matter the shape or size of your head.
One thing I am not a fan of is the way their wire comes down and is exposed here along the outside of the headband. it is just something to be aware of and be careful of.I know people who use these headphones for years and years and years without any problems. it is just something you need to be aware of and careful of as you are using these headphones.
I know people who use these headphones for years and years and years without any problems. it is just something you need to be aware of and careful of as you are using these headphones.
The headband is covered in a pleather and has a small amount of cushion here on the inside. The ear pads are racetrack shaped and are just barely large enough for my ears. if you have larger ears you might find these headphones hug the outside of your ears just a bit.
The padding is comfortable but not ultra comfortable and it does get warm after wearing these headphones for a while.
There is also great movement with the ear cups. You can move them a little bit horizontally just enough to help find that perfect fit. there is plenty of up and down vertical movement so it makes these headphones really easy to find a comfortable fit with these headphones.
They have 40-millimeter drivers and are only 24 ohms which make them very easy to drive. As a result, you get plenty of volume. They are ideal to use with portable devices like your phone or MP3 player.
Comfort
Regarding the comfort and fit of these headphones, they are not only durable but quite comfortable as well.
They do a really nice job of accommodating everyone no matter the shape or size of your head. However, if your ears are larger than average you might find it press against them just a little bit.
They do get a little bit warm. I wouldn't consider these headphones cool wearing headphones by any stretch. The longer you wear these headphones you notice that heat and warmth start to build up.
The head-clamping pressure is moderate. Certainly, they are not as compressive as something like that Sennheiser HD 600 or 650, but they do a nice job to staying on your head without being too compressive. I am satisfied with their comfort even for longer listening sessions.
Overall, I consider them to be certainly comfortable headphones and also great headphones to wear even for long periods of time.
Noise isolation is particularly good with these headphones. Even at a moderate volume, I found that this really does a great job blocking out the surrounding noise around me. I really have a hard time hearing what's going on besides whatever I am listening to.
Sound Quality
As I said earlier, they sound better than other headphones costing almost twice as much.
The tonal balance is almost perfect with no flaws, and these headphones sound the way headphones should do. they are excellent reference headphones, and allow you to hear a lot of the nuances in your music.
The bass is smooth and captivating, it is detailed and tight, and there is a nice punch to it. In my opinion, not many headphones in this price range are really able to deliver an accurate and not overwhelming bass response the way these headphones do.
They do lack a little weight down below 55 hertz. But below 80 Hertz and above 14 kilohertz, human ears are less sensitive which, of course, is why we love to boost those frequencies. But with a decent headphones amp, you will be able to hear that nice tight bass even down to the lowest frequencies.
Something to keep in mind is when you first get these headphones the bass can sound a bit boomy. This improves the longer you get them. do not be discouraged if you find that to be the case at first.
The mid-range is very clear, vocals are detailed, and just wonderful sounding.
To get better sounding vocals in these headphones, you really need to spend at least a hundred to two hundred dollars more.
The treble is also clean and not harsh whatsoever .Cymbal crashes sound impeccable and I do not know of other headphones in this price range that do a better job.
From a sensitivity standpoint, I found these headphones to be amazingly sensitive to the mids and highs. The benefit to this is that you will hear all the detail in your music and/or your recordings.
This is why these headphones are highly prized among other professionals. they are perfect for detecting any imperfections in your recording which other headphones tend to hide.
Something to keep in mind is that if you are listening to something with a lot of contamination in the recording, then these headphones won't be as forgiving as other headphones.
Realize that it is not the headphones that sound bad, but they are just more accurately portraying what you are listening to.
These headphones sound really great with any genre of music. Particularly music with vocals or anything with heavy beats. Jazz and classical also sound wonderful on these headphones but the soundstage could be better especially compared to more open headphones like the Sennheiser HD 518.
These headphones would be another great way to get that type of sound signature where you are getting something that is very faithful, very accurate and detailed at about half the cost.
Overall, the sound quality is truly remarkable with these headphones. Their biggest asset is just being able to just so faithfully and accurately reproduce music as it was recorded.
Comparison to Other Headphones
As great as these headphones are there are some reasons you may want to consider something else. Of course one of those reasons being the cable: as I mentioned earlier the cable is not detachable.
Also, these headphones are not as mobile friendly for using with your phone compared to some other newer headphones out there right now.
Then comparing these headphones to some other headphones, if you like or need a little extra intensity in the higher frequencies. For example, hi-hat snares and some female vocals then you might like the ATHM40x a little bit better. Compared to the Sony, the high end is just a little more intense.
That also contributes to the detail, energy, and speed of the M40x. The low end is also a bit more forward with the M40x. if that is a sound signature you think you would like a little bit better or if you just need a pair headphones to mix with, then the M40X would definitely be the ones to buy.
Also, if sound leakage is not an issue, then the Grado SR80E the Sennheiser HD 518 will give you similar detail and overall sound quality of the Sony's but with a more open soundstage.
This can make both of those headphones an excellent choice for gaming and movies, as well as listen to genres of music like jazz and classical music.
They really benefit from that open sound stage and that great instrument separation. While the Grados are airy sparkly and very refreshing sounding they do lack low and bass compared to the Sony's. If you enjoy that bump in your bass line then definitely stick with the Sony's.
If you are interested in more bass and less concerned about an even frequency response, then the Sony MDR V6 would be the way to go.
Price wise, if the price of the Sony's is a bit out of your reach but you still want something that can hold its own against this caliber of headphones then go for the ATHM30X.
They have really nice ear pads which give your ears a little bit more room, and of course, they sound better than their little brother the M20X by being more refined. They have a nice bass bump and higher detail.
Compared to the Sony's they have a tad too much high-end treble in the realm of the 3,000-hertz mark. If you can spend the extra few bucks to get the Sony's then it is more than worth it. The Sony's I think are the better value overall.
Pros
Outstanding sound quality.
They are pretty durable.
Really comfortable
Cons
These headphones are, maybe, the best headphones overall in this price range but if you want something particular, e.g. more bass, you can find another model which would work best for you.
Conclusion
If you are looking for the most faithful reproduction of sound you can get at this price point whether for professional or personal use, then these headphones are the perfect headphones. there is a reason the Sony's have been a staple among audio professionals.
They have an even response across the entire frequency range; they have better sonic depth and dexterity than many headphones costing twice their price. they are also durable, comfortable, a true workhorse, and very reliable.
Considering they cost less than $80 at the moment, it makes them one of the best headphones values on the planet.
Whether you are looking for headphones for professional use or if you are at that place where you are ready to be introduced to the world of high-end sound I think you will really love and enjoy these headphones.
They are one of those headphones you will find yourself using and enjoying time and time again.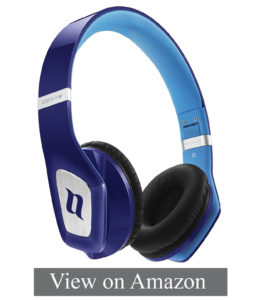 Design and Build Quality
These headphones are sold as fashion hi-fi headphones. and you get a nice carrying case with them.
The design of these headphones is actually very nice. They come in a few different colors. Mine are the blue ones.
I am impressed with the build quality. It is a plastic but it is a well-made plastic.
They are really comfortable and very lightweight.
These headphones are an on-ear ones which mean they are set on your ears as opposed to an over-ear headphones like, for example, Audio-Technica ATH-M50x.
The advantage of on-ear headphones is they are smaller and they are a little bit easier to put in a bag and wear around your neck when you are not using them.
They also, I think, look better if you are out and about especially when you are traveling. With over-ear headphones, you look like you've just walked out of a recording studio if you walk around with them around your neck.
The over-ears typically will have a little bit better sound isolation although these headphones are pretty good as far as isolation.
These headphones do fold at the hinges and they are very easy to pack up.
The construction is pretty good.
Back to the design, they have a brushed aluminum which is really nice.
The earpads are very soft and comfortable on your ears.
Some on-ear headphones have a really strong clamping force which can be uncomfortable for extended listening. The clamping force is just decent.
These headphones come with a removable cable. I really like the detachable cable because cables are usually the most vulnerable parts of the headphones. If you were ever to damage it, you can replace it.
This cable is flat. These flat cables are very tangle-free.
Also, it has a single button remote with a microphone which is very handy. Some of the high-end on-ear or over-ear headphones do not have a mic and a remote.
Sound Quality
The headphones have very good clarity and detail which is one of the highest qualities that I look for in headphones.
The one thing that impressed me the most about these headphones is the soundstage or " space" in your music and by that, I am referring to you know just how separated the instruments sound. It is not all jumbled together and it does not sound like the music in your head.
These headphones also have very strong and forward mid-range. The vocals are really clear.
If you are an audiophile and you are looking for decent little headphones to travel with without spending a whole lot of money, I think, you are going to be pretty pleased with this budget audiophile model.
They respond well to an equalizer and when I tried it I felt that this really brought them up to a very good sound quality.
Pros
Nice, modern-looking, hi-fi fashion design.
Pretty good built quality.
The perfect call and sound quality.
Very good for traveling.
Cons
They seem to sound a little bit flat at first but you can easily fix this by using an equalizer. it is present in the majority of modern smartphones, including iPhone and all popular Android models.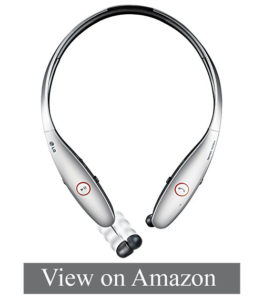 What Is in the Box?
Inside the box, you, of course, get the headphones. 🙂
They also come with a standard micro-USB charger.
They come with a Quick Start Guide and Instruction Manual.
You also get three sizes of ear tips.
Features
For the Tone, Infinim LG has really streamlined the buttons and just put the buttons that you need most of all right on the front so they are easy to access.
The left button is your 'call' button, and the right button is the 'play/pause'.
All of the previous models had magnets that held the ear tips. These headphones are unique because they have retractable cables. You pull them out off the headset, then you put them in your ears. Easy!
To put the cords back inside the headphones, they have special buttons on both sides inside: you just push these headphones buttons down (I typically just hold it on, so they do not go too fast inside), and they retract back into the body of the headphones.
Comfort
The silicon ear tips themselves are very light, and I get a really good fit with them. Please note that they come default with the small size on and you need to choose the best size for your ears. I went with the largest size.
These headphones are not active noise canceling headphones, but they really get a good noise isolation.
I will go ahead and say one of my biggest concerns. These headphones have an extremely thin cord. Compare this to, for example, the Motorola Buds, and you can understand how thick their cord is compared to the Tone Infinim. I think part of that is because it does have to retract up into the body of the headphones.
My only concern would be durability. I do not know what the tensile strength of this is. The good thing is: it is not like corded headphones that can easily get caught on something and yank them out of your ears because there is not a lot of cord. 🙂
Anyway, the warranty offered also protects you at least for 1 year so I do not think it is a really big deal.
You get about 17 hours of talk time about 14 hours of music and 23 days of standby.
These headphones use Bluetooth version 3.0, and I paired them with my iPhone and the Nexus 5, and they paired very easily. I would venture to say that any modern smartphone is going to pair pretty easily with these headphones.
A nice feature of these headphones, which also existed in most of the older models of LG Tones, is that you can compare these headphones with two devices.
Sound Quality
First of all, I would say that they have a built-in equalizer; and the way that you access it is while the music is playing. If you double tap the play/pause button that will switch between the three settings of the equalizer.
The default setting is a bass boost mode. If you tap it twice, you will go into what they call a "normal", which I guess would be a flat equalizer if you double tap it again, we'll go into at a treble boosted mode.
I found that the bass boost mode is the best. I think they sound flat outside of that.
Like I mentioned before, the isolation of these headphones is excellent, but these headphones have a very balanced sound.
The mids are very forward, the treble is very clear and crisp, and the bass is good.
These headphones are not bass-heavy headphones. If you are looking for something that is just got tons of bass, then these headphones are probably not the ones you want to go with.
But if you want headphones that are very balanced, these headphones are excellent and the bass is strong. The bass is tight, it is not loose or rumbly. It is a very clear bass.
One of the most important factors for me in sound quality of the headphones clarity. These headphones have really good clarity, really good detail, really good separation and soundstage.
For those of you not familiar with those terms, separation means that you can really hear the different instruments, you can pick out a snare drum, you can pick out the different strings on the guitar.
The music is not jumbled together as it would be on lower quality headphones. Soundstage refers to how the instruments sound as if they were spaced out.
These headphones do a really good job. Again I am going to rate these headphones as the best-sounding Bluetooth headphones that I've listened to.
I really like to hear guitar strings, especially acoustic guitar. They sound clear and crisp on these headphones. I like the sound quality of these headphones very much.
Pros
Really good and user-friendly design with all the most important buttons on top.
Outstanding sound quality.
Some nice and handy features, e.g. a soft vibration when you are going to leave the 33-feet Bluetooth range.
Cons
I have some doubt about their durability in the longer term but the one-year warranty calms me down 🙂
Conclusion
I think this is the best model of Tones that LG has put out today.
The design is really good. They have done a good job of streamlining the buttons so that you have the major buttons on top.
They have also done an excellent job with the sound quality.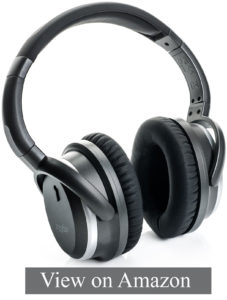 What is in the box?
I will start out by explaining the accessories and then walk you through the design and features.
Included with the headphones you get a nice hard­shell case. It does include a pouch that attaches with velcro. The pouch is great for carrying your cables or maybe an adapter or a plug.
You do get two cables. They are both flat line cables, tangle-resistant as well.
One of the cables does include an in-line mic and remote. The mic quality is rather good. You can definitely hear what people are saying, they can hear you and overall it does a nice job.
You also get an airline adapter and a quarter-inch adapter as well.
Design and Build Quality
In terms of the overall design and build quality they did a nice job with these headphones as well.
These headphones do swivel so they will lay flat, you also get a nice bit of pivoting motion with the ear cups side to side up and down, kind of lateral horizontal movement there when you are adjusting the size of the ear cups.
I really like how this click adjustment gives you very small incremental adjustments: you can really find the perfect fit that way. Along with that, they stay in place really well unlike some even more expensive headphones.
Up at the top, you have a headband with a little bit of cushion in here and the top of the headband has a rubberized feel to it. There is a little bit of flexibility here in the headband as far as being able to move it around. You can really wear these headphones comfortably.
Comfort
Regarding the comfort of these headphones, that is definitely one of the standout features. They are super comfortable.
The cushion itself is quite comfortable and the ear holes here are not that large. When you put them on they still feel like they are surrounding your ears nicely.
It is a nice snug feel but it does not create discomfort on your ears. It does not feel like you are getting that on­-ear experience the way some of those over­ the ear headphones do when they scrunch up your ears a little bit.
Noise Cancellation
When you put these headphones on even without turning on the active noise cancellation you get a great level of passive noise cancellation as a nice bonus. It feels like it almost reduces the ambient noise by 40-­50 percent or so.
I found that just putting these headphones on in the situation where, for example, some kids playing nearby and they are really loud and screaming, reduced the noise up to 40-­50 percent.
This makes a huge difference.
The active noise cancellation feature is on the side of the headphones. You basically just flip a switch and that turns on.
You get about 50 hours of use which is a lot from one little battery.
It works through the battery so that could be a pro or con depending on how you might use these headphones. However, when the active noise cancellation is turned on it does a great job of blocking out. That is especially true for lower frequency noises, e.g. airplane noise, air conditioner fan, the wind blowing, etc.
Sound Quality
It depends mainly on whether you are using the active noise cancellation or not how good the sound quality actually is.
First, they do a really excellent job when you are just using these headphones as regular headphones with no active noise cancellation turned on.
Overall, I would say it has slightly emphasized bass. There is some energy in the upper frequencies.
Mids are well balanced. Nothing like overly emphasized or overly exaggerated.
In terms of the bass, these headphones do a really nice job. There is a little bit of nice bass extension, a little bit of bass emphasis. Mids still sound relatively natural and clean.
Male vocals sound a little bit fuller as a result of that bass emphasis. The highs are not too harsh or too bright. there is some good energy there and overall pretty good sounding.
Some songs will sound really good, especially more contemporary songs: electronic music, rap, hip-hop, etc.
Some instrumental songs will sound really nice and some, in my opinion, will not: natural piano, for instance, might just sound a little bit artificial and not so natural or clean compared to other headphones like the M50Xs in this price range.
Overall, they are pretty nice sounding headphones and I think that an average person will really enjoy the listening experiences these headphones get.
Overall, I would say in terms of the genres: these headphones are great for are certainly more contemporary music. You can use these headphones for jazz and classical but that is not their advantage. They do not sound quite as good with those genres but overall certainly do a respectable job.
Conclusion
Having said all these headphones different things now I want to say when such a purchase would make sense. Certainly the reason for getting these headphones has to do with the automatic noise cancellation.
If you really do not have a need for the noise cancellation and you are looking for the best sound quality there are several better headphones in this price range where you are getting more sound quality for your money.
Pros
Great fit, they are very comfortable.
Noise canceling works pretty well; passive noise cancellation is great.
The sound quality is perfect.
Cons
A real audiophile may find the sound a bit echoey when noise canceling is turned on.