(Last Updated On: December 21, 2017)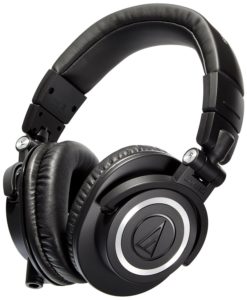 How to find the best headphones for guitar amps? Let's talk a little bit about this.
Headphones are to audiophiles what shoes are to, well, people who go crazy for shoes. To 'outsiders', they seem pretty similar.

Headphones play music, shoes are things you walk in. So then why are there thousands upon thousands of varieties? That's because each one is equipped to deal with different conditions.
That is why we prepared this list of the best headphones for guitar amps.
Why would you need headphones for a guitar amp in the first place? Isn't the idea just to shred away as loud as you can? That is but a dream for many guitar players, as we tend to have one thing in common. Neighbors (or roommates).
While a good set of headphones can cost you, it's cheaper than moving out and a whole lot less hassle than pissing off everybody around you. With the right headphones, you can jam until the early hours without annoying a single soul.
Top 4 Best Headphones for Guitar Amps: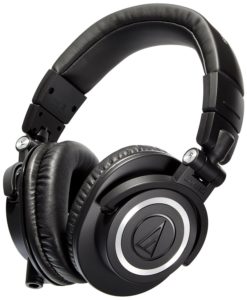 The ATH-M50x comes from a long line of best-selling headphones and is one of the favorites among audiophiles looking for reasonably priced excellence. Tastefully designed, these headphones look heaps more expensive than they are.
Not only do they look more expensive, but they feel luxurious and provide you with a comfort for the longest of sessions. A flexible, adjustable headband fits even the most awkwardly shaped head, whilst the ear cups are cushioned with soft leather and have a snug fit.
We're back to a closed-back design, so the ATH-M50x are great noise canceling / isolation headphones and perfect for critical listening or keeping quiet during practice hours. The earcups can swivel 90 degrees for one-ear monitoring and the cable is detachable, which we always like. A 3.5mm jack is standard and comes with a 6.35mm adapter.
At 38 ohms these headphones can be enjoyed at full capacity in a wide range of devices, but as always plugging them into an amp will let you enjoy the sound in its richest, fullest form. The ATH-M50x has a frequency range of 15hz to 28Khz, while it doesn't have the biggest range of the guitar amp headphones in this list, it covers all of the frequencies we're capable of listening so you likely won't notice the difference. Unless you're a dog.
The bass is nice and punchy, the highs are bright (but not too much so). But where these headphones really excel is in the mid-range, making these perfect for those who have a more aggressive or funky playing style.
Similar to the Sennheiser HD 598, you're getting high build standard with professional level sound for a price tag that generally reflects products of far lower quality. If you wanted the HD598 but didn't want the open back design, the ATH-M50x is perfect for you.
Pros
Design and build quality far exceeds price tag
Detachable cable
90 Degree swiveling earcups for one-ear monitoring
Excellent ambient noise reduction
Cons
Heavy for the size – 285g or 10oz
Slightly bass heavy for those looking for headphones with a neutral sound for analytical listening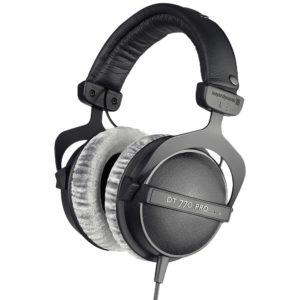 The Beyerdynamic DT770 are rugged, closed-back headphones that can handle lots of physical and sonic punishment. It's German-made, so what do you expect? Not only are the headphones made from durable materials, all the parts are fully replaceable without needing to buy an entirely new pair.
The DT770s have excellent noise cancellation, resulting in less noise leakage and a richer listening experience on account of less external noise coming through. These aren't the headphones you want to be wearing when you're expecting somebody to deliver a package, though.
This model offers great comfort. The ear cups are well padded but aren't adjustable – you can't turn them sideways or rotate them – but this doesn't affect the overall comfort and they fit well over the ear. A nicely padded headband distributed weight evenly and alleviates discomfort even when wearing for hours at a time.
They come in 32, 80 and 250-ohm models. 80 ohms offer the most versatility between devices and sound equipment. The 250-ohm model is virtually useless without a good guitar amp. The DT770s also come with a 3.5mm jack as standard and a 6.35mm adapter.
Possibly the best feature of the Beyerdynamic DT770s is how clear and realistic the sound is. Realism is what you want when buying headphones for guitar practice. You don't want to be hearing a different sound from the one you get playing without headphones as that'll give you the wrong impression of how you're playing.
With a frequency response of 5hz to 35Khz, you'll be able to pick up on the full range of sounds coming from your guitar.
Pros
Rugged with replaceable parts means extra-long life
Excellent frequency response
Great noise cancellation
Neutral sound – What you hear is what you sound like without the headphones
Cons
There are more comfortable headphones for the price
Ear cups aren't adjustable so you don't have as much flexibility over how they fit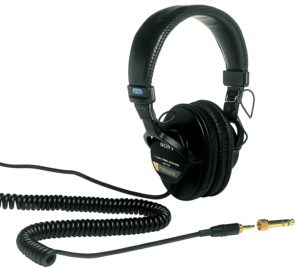 The Sony brand is usually a safe bet, especially when you dip into the lower price ranges, you can rely on them to deliver a quality product. The MDR7506 sets the industry standard and can be found in studios all over the world.
These aren't on the same level in terms of aesthetics as some of the other headphones on this list, but they are sleek and classically designed. Build quality is solid with 10 levels of adjustment for the headband, so these will be able to fit your head with ease. Even if it's huge.
The MDR7506 have excellent noise cancelling and isolation capabilities, although they are tight fitting around the ears. Even though they loosen up after some breaking in, I wouldn't like to wear these for more than a few hours at a time.
They come with a 3mm jack and a 6.3mm jack adapter, so connectivity is never an issue. The cable measures around 10 feet, making it perfect for guitar players but not as practical for outdoor or on-the-move use. A 10-foot cable generally removes the need for any extra adapters or cabling. Unfortunately, the cable is not detachable and this is one of the only downsides to the Sony MDR7506.
Even at 63 ohms, these still work perfectly if you want to connect them to smaller devices. With a frequency response range of 10Hz to 20Khz, you'll be able to experience pristine mids and highs, although the lows aren't as clear and you may lose some bass. Plugged into an amp, however, the bass comes alive and that's when the Sony MDR7506 really comes alive.
Pros
Solid build, will fit heads of all sizes
Industry standard headphones used by professionals worldwide
Even at 63 ohms, they work well with weaker devices
Widely considered the most reliable headphones you'll find within their price range
Cons
Cable isn't detachable
Can be tight fitting – and get uncomfortable after several hours

The Sennheiser HD 598s are the most comfortable headphones to wear on this list. With a design that reminds us of a classic car interior, this is also one of the best looking pair of headphones you can buy in its price range. Tastes depending. With a leatherette headband and velour covered ear cups, the HD 598s are cushioned in the right places to allow you wear them for long sessions.
The HD 598s will fit any size head thanks to the fully adjustable headband. They do have a tendency to fall off your head if you're somebody who likes to headbang or do other wild movements whilst playing.
The HD598s are the only open-back headphones in this list. This intentional design is a flaw if you're intending on using them for quiet practice or to take out in public, as they offer little isolation and noise cancellation so everybody around you will hear everything you play.
On the other hand, they offer a much more realistic in-room experience and open soundstage, making this pair of headphones a match made in heaven for guitar players.
Impedance is 50 ohms, so you can expect a full sound experience whether you're plugging into a phone or your guitar preamp. They come equipped with a 6.35mm jack and a 3mm jack adapter.
The Sennheiser 598s boast a wide frequency range between 12hz and 38.5Khz, so you'll hear every audible detail coming from your guitar. The mids and highs are crystal clear and although the bass isn't as rich as you'd get with closed back headphones.
These headphones are a little love-hate. If you're a guitar player who doesn't need to worry about disturbing those in your immediate vicinity, these headphones offer the most realistic listening experience of all the headphones on this list. But if noise cancellation is a priority for you, these are not the ones for you.
Pros
Nice design supported by high levels of comfort
Quality, durable materials stand the test of time
Open back design provides an open soundstage and more natural playing experience
Detachable cable
Cons
Do not offer the same thumpy bass than the other headphones in this list
Open back design results in noise leakage so those around you can hear
How to Pick the Best Headphones for a Guitar Amp
Buying headphones for guitar practice aren't like buying headphones just to play your MP3s. If the reason you're finding this article is because you've already blown a pair of headphones by pushing them too hard – shame on you. We'll discuss a few of the most important features to look for when buying your next pair.
Comfort
Ever sat on a hard surface for so long your backside went numb? Yeah, me too. Having an uncomfortable pair of headphones can do that to your ears. A comfortable pair of headphones should fit the ear well, have adequate cushioning so you can easily wear them for long periods of time and sit on your head without causing discomfort.
Impedance
Impedance is measured in ohms. It refers to the amount of power needed for the headphones to work. Headphones with low impedance (eg. Less than 25 ohms) will work well with devices that have weak amplification such as phones, MP3 players, and other portable devices. Headphones with low impedance are at risk of blowouts when using more powerful amps.
Headphones with higher impedance (25 ohms and over) need more power to deliver high levels of audio. These higher impedance headphones are protected against blowouts and are more resistant to sonic abuse.
Check the ohm output on your amp first, but anything between 25 and 80 ohms will handle most amps and still be able to be used with portable audio equipment. Headphones with higher ohms can help to reduce white noise and provide a richer listening experience.
If you're buying headphones with a much higher impedance of around 250 ohms and over, then you need to do more research into the equipment you'll be using them with.
Jack Size
Headphones have jacks in one of two sizes – eighth inch or quarter inch. Eighth inch (or 3mm) is the jack size that'll fit your PC, MP3 player, phone etc. Quarter inch (6.35mm) jacks are generally reserved for instruments like on guitar cables.
Most headphones you'll find for guitar practice will come with an eighth-inch jack with an adapter that turns it into a quarter inch jack, meaning you can use the headphones on a much wider range of devices. You'll be glad to hear that that jack size won't affect the sound quality.
Frequency and Balance
Signals made by your guitar aren't like signals coming from your MP3 player. They haven't been mastered yet so you'll want responsiveness over a wide range of frequencies to ensure clarity of sound. When your guitar amp is roaring at max volume, the wrong kind of headphones can crackle and cause noise distortion.
To avoid this you'll want durable, well-made headphones from a reputable brand with a minimum range of 20Hz to 20Khz. This frequency range covers all of the human hearing spectra. Higher frequency response doesn't always equate to better sound quality, as bass below 20hz tends to be more felt than heard and treble above 20Khz is not always audible.
Noise Cancelling / Isolation
For critical listening, you'll want a pair of headphones that contains the noise you're playing, preventing any noise leakage, whilst simultaneously canceling out all the external noise around you. Closed headphones are better for those looking for complete isolation and critical listening. Open headphones provide less cancellation of outside noise and provide a more natural listening experience.
Cost
A pair of headphones for guitar practice doesn't need to cost as much as you might think. Headphones can easily cost you a thousand dollars if you want to spend that kind of money, although the increments in sound quality become smaller as you move up the price ladder. You can get a high spec pair for between $100 and $200. That's what we found "sweet spot" to be price-wise in regards to quality versus cost.
A good pair of headphones will last you a long time, so try to consider them an investment. Buying a cheap pair now will only have you itching for a better pair before long.
So now we know what makes up the best headphones for guitar practice I bet you're itching to know which headphones out there are worthwhile buying! We've spent the time researching while you've been playing to come up with 4 of the best pairs out there.
WINNER!
Let me tell you why we think these are the best headphones for guitar amps. On the outside, they're plush, durable and quite frankly, pretty sexy. An impedance of 38 ohms means you can crank your amp up without blowing them out.
The frequency range is more than enough for you to hear every detail of your guitar's tone and the closed-back design means you can shred away without fear or having your neighbors call the police.