(Last Updated On: December 21, 2017)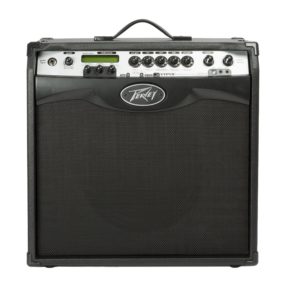 Why spend more money for something ridiculously expensive when you can get the best guitar amps under $300?
You don't have to go for expensive guitar amps to get the necessary thing you need.
We have been able to sort out a great deal of best guitar amps under $300 that can compete in quality and ruggedness with more expensive and bigger ones.
Hopefully, you have a good idea of what to consider when purchasing a new amp.
So take a look at some top quality amps under $300 as we weigh their strength and flaws.

Top 4 Best Guitar Amps Under $300:

VYPYR VIP is the world's first amp that contains bass guitar, acoustic guitar, and electric guitar amplifier modules. This amplifier is able to morph from a bass to an acoustic, to an electric amp.
It uses a combination of powerful 32-bit, floating point SHARCH processors and patented Transtube analog circuitry to create reliable sounding modeling amplifiers.
Features
Peavey Vypyr VIP is a 100W guitar, bass and acoustic amp with a bi-directional USB – Data – Midi – Audio output.
It has 12 amps accessible stompbox models plus delay reverb.
With a top notch amp simulation, it guarantees a clean sound than most line 6.
It has enhanced chromatic tuner, quality headphone output, and 12" speaker for a great sound experience.
It can give up to 5 effects simultaneously with optional Sanpera I or II.
Up to 10 instrument models including acoustic guitar simulators, 12 string guitar model, baritone model, electric violin, bass guitar models.
This amp can be used with almost any type of instrument, especially guitar, and guarantee an amazing performance. It delivers both electric and bass amplification with good sound quality. It is highly recommended for a bass or electric guitar player and it gives a nice rock rhythm as well.
Marshall MG30CFX Combo Amplifier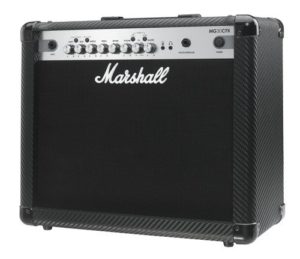 MG30CFX is a reliable combo amp with a programmable feature set using digitally controlled analog functions for precise adjustment of sound. This amp has a control for storing a preferred setting on each mode.
Features
30W, good sound combo amp
Marshall's innovative FDD (Frequency dependent damping) circuitry gives a good sound depth by using analog tube emulation between an all-tube power amp and the speakers.
The MG30CFX allows two simultaneous effects. The reverb and one of these four digital effects: chorus, phaser, flanger or delay.
This guitar amp combo has four channels (clean, crunch, OD1 and OD2). It enables easy switching between channels.
You can upgrade the rig with a stompware footswitch to switch between channels, foot control of the tap tempo delay, and a built-in tuner.
If you are seeking a combo amp for high gain tube sound, this is an affordable, attractive solution for your amusement. With proper adjustment, you should be able to get a loud and great sound.
Moreover, you could get a nice bluesy tone with proper adjustment of the reverb and other effects. By setting its channels right you should get a convenient sound output.
It is important to note that MG30CFX is an electric guitar amp and you cannot get a good sound from it using an acoustic guitar. Nonetheless, It is a reliable device for an electric guitarist.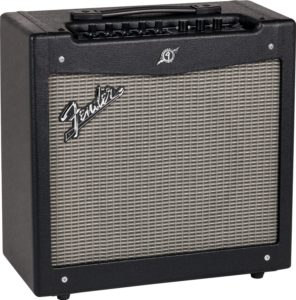 The Mustang I V2 amplifier is said to have an incredible fender tone driven by remarkably authentic amp models. The built-in effects, easy USB connectivity, and Fender® FUSE™ software are said to improve your musical creativity.
Features
Variability of tunes to choose from 17 amp models for a different genre of music.
Includes Ableton Live Lite 8 fender edition studio recording software compatibility with either MAC or PC to build songs.
Includes Fender® FUSE™ software which enables you to adjust effects such as reverb, delay/echo, tremolo, phaser and much more.
24 effects preset, onboard chromatic tuner, USB connectivity with a good sound output.
20W power.
1/8 headphone output jack, auxiliary input for MP3 player.
It has nice control with bright LEDs and sturdy buttons. It is a great piece for recording songs using the Ableton Live Lite 8 Fender studio recording software on a PC.
You can use the Fender® FUSE™ software to customize and tweak sounds and share settings between two amps. The high-gain models sustain beautifully even with the master volume barely at a whisper. The headphone sound is every bit as good as the speaker tone.
Research highlighted some limitations of this tube amp. If you are not good with the computer, you will find this amp a bit confusing.
But the ability to play different genres of music, produce good sound and record play makes Fender Mustang I V2 a very good electric guitar amp to get.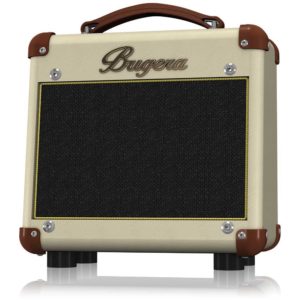 Bugera BC15 is a good guitar amp as it delivers real valve tone in a compact, 12-pound combo. This guitar amp comes with a variety of amazing features.
Features
15W, dual-channel guitar amp.
A master volume and 2-channel tube preamp with a wide range gain control for super-fat sounds with a lot of tonal options.
Gain button to activate lead/distortion channel.
Custom designed BC15 ports 8" Bugera speaker.
Extremely versatile amplifier with a hand-selected 12AX7 tube.
A headphone jack for a private practice session.
A 1/4 TRS jack for connecting external playback devices such as Mp3 player, tape deck, CD player.
This guitar amplifier is a small but wonderful piece with a vintage design and classic guitar sound. It should be able to give you an amazing sound with the 2-band EQ and mid-shift button. It is ideal for rehearsals, recording and for small gig performance.
If you want to plug a guitar and a microphone together to the BC15, this unit is made for one low-level input. However, if you are using a microphone like the Zoom H4n Handy Recorder, you can connect the guitar directly and feed the Line Output on the Zoom to the CD Input of the Bugera.
This will do what you want, if you have an external device that accepts the microphone, and amplifies it to standard high-level input.
Bugera BC15 is not suitable for electric bass guitar as it might distort the sound or even damage the speaker. It is really a good piece to get for $129.99 as it can meet a specific need.
What to Look Out For When Buying the Best Guitar Amp Under $300
Your choice of the amplifier should be based on the type of music you wish to play. Your local guitar dealer will let you test the different amplifiers they stock. It is advisable you go with your guitar to the shop, to be sure of the amplifier sound when you get home.It is a good idea to visit several dealers including pro-audio outlets to test amplifiers before committing yourself. You can try it and then order the same model at a more affordable price on Amazon 🙂
It is a good idea to visit several dealers including pro-audio outlets to test amplifiers before committing yourself. You can try it and then order the same model at a more affordable price on Amazon 🙂
There are generally three types of amps you need to know about when choosing a device.
Tube, Solid State, and Hybrid Amplifiers
Tube amplifiers
Tube amplifiers produce a nice tone that is popular with guitarists.
Tube amplifiers are usually more expensive than a solid state amplifier.
Tubes require a warm-up period before they reach optimum performance.
A tube is based on vacuum technology and requires more energy than a solid state amplifier with the same wattage.
Vacuum tubes are expensive and require replacement every one to four years depending on use.
Marshall and Fender are examples of tube amplifiers manufacturer.
Solid State Amplifiers
Solid state circuitry allows more volume to be applied to the output signal before clipping occurs. This makes the amplifiers suitable for jazz or acoustic guitarists who may wish to retain a clean sound at high volumes.
Solid state amplifiers are available at affordable price range.
A solid state amplifier requires no warm-up.
It requires less energy to power than an equivalent tube amplifier.
Solid state circuitry needs little maintenance and there are no tubes to replace.
They amplifiers are more robust than tube amplifiers.
Hybrid amplifiers
All amplifiers have a preamp stage which boosts the signal from the guitar and then send it to the power amplifier stage. Hybrid amplifiers are designed to utilize both tube and solid state technology and are available in the following configurations:
Tube preamp coupled with a solid state power amplifier which outputs a tube tone with a fast attack.
Solid state preamp coupled with a tube power amplifier that provides solid state high gain with the warmth of tubes.
Wattage Rating
The wattage rating is the maximum volume that an amplifier is designed to output. An amplifier in the 30 to a 50W range is loud enough for band use and home practice. If you are intending to buy a 100W amplifier you will need to consider using a rehearsal studio for practice. The list below outlines possible uses based on the amplifier's wattage rating.
Solid state amplifiers
10-30W – good for home practice.
30-50W – for band practice, small club.
50-100W – for a large venue.
Tube amplifiers
10-20W – for home and band practice.
20-30W – for band practice, small to a medium club.
30-50W – for small to a medium club.
50-100W – extremely loud in confined spaces though diffuse in large halls.
Final Thoughts
Research shows that Peavey Vvpyr VIP offers more functions than any other guitar amp at a very affordable price. Its ability to function with an electric, acoustic and bass guitar and yet produce a rich sound makes it catchy.
With Fender Fuse software, you can change the guitar amp using your computer via USB cable. You can also download beats and backgrounds to play along with which gives it an edge over most devices.
Bugera BC15 and MG30CFX are also among the best guitar amps under $300 and they possess good amplification functions. MG30CFX is good for an electric guitarist.