(Last Updated On: December 21, 2017)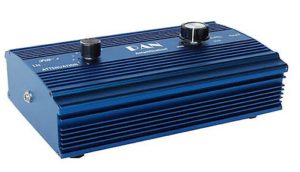 Are you getting complaints for being too noisy when you play your electric guitar?
Instead of having to turn down the volume, which can weaken your sound, you can use an attenuator to get a full sound from your amp without annoying your neighbors every time you practice.
Below is some useful information that can help you select the best guitar amp attenuator.
Top 3 Best Guitar Amp Attenuators: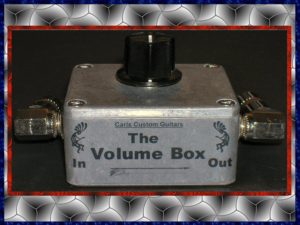 The Carl's Custom Guitars Speaker Soak attenuator is a guitar amp attenuator that can work on all 16-ohm amplifiers, 60 watts or less.
This amp attenuator may not look very attractive, but it may surprise you with its excellent sound quality and power.
It is specially designed to enable you to turn the gain to maximum level without producing an unpleasant screaming sound.
It can be directly plugged into your amplifier's effects loop without any fiddling, tweaking, or modification, which makes it a very efficient piece of equipment.
With its low price, it is certainly one of the best guitar amp attenuators in terms of value for money.
The Carl's Custom Guitars Speaker Soak attenuator measures 4.5 x 3.5 x 2 inches. It is made in the USA and comes with a full money-back guarantee.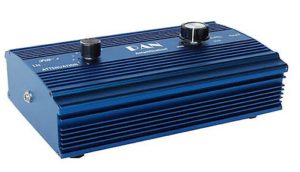 The KLD/PAN PB1 attenuator is a studio quality guitar amp attenuator that is meant to be used with tube amplifiers with a watt rating of up to 100. It features a simple design with just two knobs, which are an attenuation knob and a level knob.
The attenuation knob offers five different settings, ranging from true bypass to 7.2-decibel attenuation. This unit is ideal for you if you need to fine-tune sound on the stage.
If you play your guitar in a studio or practice room, you can use the level knob. This knob has a rheostat that provides attenuation of up to 30 decibels.
The PB1's aluminum alloy casing is able to disperse heat more effectively than most resistance load amp attenuators. Also, it can be matched with speakers with any impedance rating.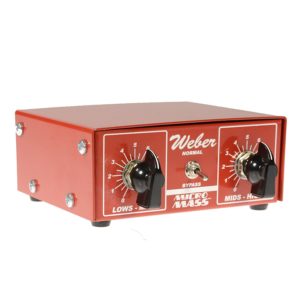 The Weber MicroMass Attenuator is a reliable 15-watt attenuator that can be used with 4-ohm, 8-ohm, and 16-ohm amplifiers.
It has a low-mid knob and a mid-high knob. The former is used for controlling the master volume, while the latter adjusts the treble to warm up or brighten the tone.
This unit offers complete control to an attenuation of -50 decibels. A speaker motor is used for the load, allowing the attenuator to interact more with the output circuit of the amplifier and resulting in a more realistic load.
This ensures that tone loss will be minimized at all attenuation levels. Similar to other Weber attenuators, this attenuator can be turned into a dummy load for testing if the attenuation controls are set to minimum.
Weber is a trusted brand in the guitar equipment industry. The MicroMass attenuator reflects their commitment to producing the best musical equipment.
Now that you know what to look for in a guitar amp attenuator, you can start doing some comparison shopping to find one that offers the best value for your money.
How to Choose the Right Guitar Amp Attenuator
Presently, there is an extensive selection of guitar amp attenuators available in the market, and it is difficult to know which one is most suitable for you.
In order to make the right buying decision, you need to have some knowledge of attenuators. Here are a number of things that you should consider before you buy.
Passive or Active Attenuator?
There are basically two types of guitar amp attenuators, and they are passive attenuators and active attenuators. A passive attenuator does not need to be connected to an external power supply.
It usually has a network of high-power resistors. It also may come with bulbs and fans that are powered by signal from the amplifier.
An active attenuator, on the other hand, requires an external power supply, because it has an amplifier stage. When the amp signal detects a dummy load, a small portion of it is transmitted to an onboard amplifier, which in turn feeds the speakers.
The main benefit of an active attenuator is that it can be used to increase or decrease the signal that is being transmitted to the speakers.
So, besides taming the amplifier, it can also boost the volume level of a small or medium-power amplifier, making it a useful gigging tool.
Power-Scaling
Power-scaling functions by changing the B+ voltage in the amplifier. It enables the maintenance of full heater voltage at all settings. One of the advantages of power-scaling is that it can extend the life of the valves.
Reliability
Attenuators are sometimes seen as the cause of amplifier failures. However, it should also be noted that they enable amplifiers to be run flat out for a long time.
If you use your amplifier continually at or close to its limits, it is only logical that it is more prone to breaking down.
Impedance Matching
Impedance matching can have a significant effect on reliability. When you are buying a guitar amp attenuator, it is essential that you make sure that its power rating matches your amplifier's power rating.
Bear in mind that the maximum power of an amplifier is always greater than its stated power. So, if you match a 100-watt attenuator with a 100-watt amplifier, you can expect it to blow up.
Conclusion
When you are purchasing a guitar amp attenuator, your first considerations should be impedance and power handling.
Also, you have to decide whether you prefer a stepped attenuator control that has preset increments or a continually adjustable control that gives a finer range.
Some other features that you may find useful include impedance switching and equalization controls. It is also a good idea to get a guitar amp attenuator that comes with dummy load switching.
Dummy load switching can silence your amplifier safely and route the direct output to a power amplifier for re-amping.