(Last Updated On: December 21, 2017)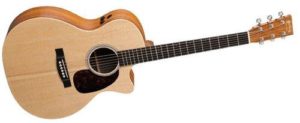 Looking for the best fingerstyle guitar? You are in the right place.
Fingerstyle guitarists have shaped the world of music for the past several decades. Tommy Emmanuel, Andy McKee, Don Ross, and other legends have contributed to the growing popularity of this style of playing.

If you're looking for the best guitars to play using the method of fingerstyle, you've come to the right place. Read through this article and learn more about what kind of guitar is right for you. You'll find the best fingerstyle guitar on the market. Let's dive in!
Top 5 Best Fingerstyle Guitars: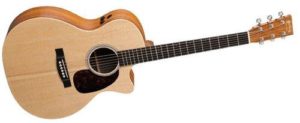 Pros
Comes Tuned
Both Electric/Acoustic
Great Action
Few Negative Reviews
Cons
Expensive (But On The Lower End of the Martin Spectrum)
Case Sold Separately
Overview
Well, most people say you can't go wrong with a Martin and in this case, most people are right. This beautiful low action guitar has a unique Koa that highlights the spruce top with matte finish. To say that this guitar stands out in a crowd is an understatement. GP means Grand Performance. C stands for "cutaway".
PA stands for Performing Artist. 5 meaning the 5th tier and lowest expense. "K" means Koa pattern. The Koa pattern is placed on layers of pressured wood that help prevent scratches and dents. It could be the best fingerpicking guitar among the five listed.
Performance
This guitar can be described as having a range of bass and treble but lacks the kick many rockers adore. What it lacks in that kick it makes up for in the regard of the level of difficulty to play. Any beginner can pick up this guitar and have a good time with it.
If you're an expert and decide to pick this up, then your skills of fingerstyle might overwhelm the construction and materials of the guitar. The Fishman's F1 analog does a very good job filtering out the feedback going to the amp. It does not take much effort to create good sound from this guitar.
Features
Fishman's F1 Analog technology allows the player to change volume, tones, and even phase as well as a chromatic tuner. The phase control can improve the bass response at low volume and suppress feedback at high volume. A few tuner knobs can manipulate phase control. You can manipulate your mid scooped tones of you want a more "messy sound between the bass, mids, and trebles.
Common Questions
What is "Koa-patterned high-pressure laminate"?
It's wood dust particles that are pressurized into a shape. Then it's covered with the Koa pattern veneer to make the appearance look like it's solid. This helps with production expenses and helps to prevent scratches and dents.
How is the bass response?
This guitar is designed to make a rich and clear sound. It's an electric/acoustic and too much bass response will create feedback on the amp. It doesn't lack bass, it just might not hit the lower frequencies that a standard acoustic might be able to.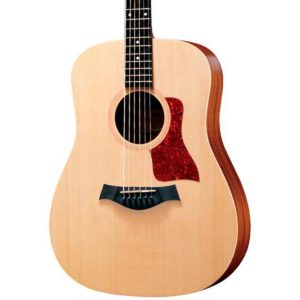 Pros
Relativity Affordable
Great Sound Quality
Easy Playability
Come With Gig Bag
Cons
Not The Best Sound Projection
Lacks Finish (Which Means Susceptible To Scratches)
Overview
The action (distance between the string at the 12th fret) is much simpler than other beginner guitars which means your fingers have a much easier time reaching.
Taylor describes it as a "travel companion" but the guitar is almost as big as regular guitars. It has a signature arched back that strengthens the guitar and layered wood prevents problems that could arise from changes in temperature or humidity.
Performance
Although there is the lack of finish, it is manufactured this way on purpose. You can't have a good sound if your guitar is finished with thick and hard polyurethane. You can find those guitars under $100 somewhere else and trust me you will be disappointed. This guitar is especially compatible with the fingerstyle method.
Features
The body type is a dreadnought 15/16th scale cutaway. There is no top wood but there is a beautiful layered sapele bracing pattern. The solid sitka spruce top soundboard helps to create the rich sound quality. The neck attaches to the body in an unorthodox way. It helps your finger reach the higher register so if you're a beginner, you'll be very thankful.
Common Questions
Is This A Full-Size Guitar?
Taylor claims it to be 15/16 size dreadnought guitar. It has a 15" top, 4" deep, 25 ½" scale. Most would say it is a little smaller than a regular sized guitar but very similar.
Does It Come With A case?
Yes. It comes with a beige bag with a front compartment as well as straps with leather grip handles.
Why Does It Have That Arched Back?
The arched back provides a strong neck and also contributes to total tonal output.

Pros
Stays In Tune
Consistent
Rich Sound
Good Action
Cons
Overview
Cosmetically, this is a very good looking guitar. Laminated mahogany with scalloped X-bracing is quite a sight to see. With a built in tuner, it's very easy to adjust the tone and volume. The cutaway body creates a comfortable feel in any playing position. The rounded neck creates comfort in any sized hands.
Performance
This guitar has a rich sound that compared with the Martin we talked about earlier. Compared to the Martin, this guitar can project the sound while still having the sound quality. The all-mahogany body creates a subdued timbre like no other guitar on the market.
Features
It comes with a hard case that you can be sure won't collapse. The all-mahogany body and neck create a unique tone that other guitars made with different materials can't produce. A compensated bridge and diecast tuning technology create high-quality intonation. The glossy finish and rosewood fretboard just make this guitar look absolutely beautiful. Any experienced guitarist can't deny that the design is admirable.
Common Questions
As A Beginner, Is The Action Too High For Me?
For a beginner, the action is a little high. But, fortunately, you can easily lower the action on it and this would make playability a heap ton easier for a fingerstyle acoustic.
Does It Have A Slim Neck?
Well, if you have small hands you might want to consider another guitar. But most people do not have any issues. The adjustable action is a big help and you can buy thinner strings that would help as well.
Pros
Warm tone
Very Comfortable
Durable
Satin Smooth Finish
Cons
Case Not Included
No Cutaway
Not The Best Beginner's Guitar
Overview
This acoustic guitar has a thinner neck, which means the playability is pretty easy for someone just starting out with fingerstyle. But at the same time, there is no cutaway, so that can make it a bit difficult.
No one said buying the guitar right for you was easy. It has a solid cedar top/mahogany sides and back. The split-saddle design helps with playability as well. Chrome diecast tuners combined with pearloid dot inlays make this guitar a real beauty.
Performance
The mahogany is a special type of tonewood that creates a warm and rich tone. The dreadnought style gives out great lows. The bridge houses a two-part saddle and gives the highest two strings their own segment. This allows for high-quality intonation.
Usually, with guitars at this price range, when you strum the strings hard they'll lose its tone quality. This guitar is an exception to that standard.
Features
The Takamine has the traditional dreadnought body style. There is no cutaway, and although that might make you shy away because you're interested in fingerstyle, you can't find sound quality and durability in a guitar at this price anywhere else.
It has a solid cedar top with mahogany back and sides. The quartersawn X-bracing gives it a bit of flare combined with the rosewood fretboard and dot inlays.
Common Questions
Will Playing Without a Cutaway Be That Difficult?
If you're a beginner, then yes the cutaway issue might affect how quickly you can progress with fingerstyle. If you're experienced, don't worry about the cutaway unless it's a personal preference.
What's the Nut Width?
It's 11/16 inches, which also makes finger picking a little easier.

Pros
Loud
Maintains Tone Quality With Volume
Protective Finish
Rosewood Bridge System
Cons
No Cutaway
Tuning Head Aren't Durable
Overview
There are a lot of similarities between the Takamine and the Washburn. Both have a dreadnought style and a mahogany back and sides. Both have the rosewood fretboard. The manufacturer says that with age, the tone will improve because of the spruce top. Honestly, based on reviews and common questions, these guitars are neck and neck.
The only negative review on this guitar says that the tuning heads are made cheaply. Once again, for the price, this is defiantly a bargain and a great beginner guitar for finger stylists.
Performance
This guitar noticeably projects the sound it creates. Soft and mellow tones somehow create a seriously loud sound from minimal effort. Simply put, it's a loud guitar. Usually, with a loud guitar, the tone becomes distorted. But sharp and clear tones stay intact and don't lose their integrity. For fingerstyle, the low action it really helps you out.
Features
It's low action, which is great news for the beginner finger stylist. It has a solid spruce top and dreadnought body style like previously mentioned. The gloss and matte finish is beautiful cosmetically, and help preserve and protect the guitar. The neck is on a scale of 25.6 inches.
Common Questions
Does It Come With Steel Or Nylon Strings?
It comes with steel strings. Even though nylon is easier for fingerstyle playing, steel strings just take more practice
Which is Better; the Washburn, or the Takamine?
They're pretty darn close. But the Washburn has a low action that can help with fingerstyle. It depends on which one you think looks better and your expertise level. They both are unique in sound and difficult to compare.
Best Fingerpicking Guitar Buying Guide – Basics
Most guitars are not designed to play fingerstyle, so it's important to understand the basic qualities a fingerstyle guitar should have. This buying guide will help you get a decent understanding of what a fingerstyle guitar should have, as well as help you find out what your personal interests are. Below are the essentials you need to know when shopping for your guitar.
What Is Fingerstyle Exactly?
Fingerstyle is different than the traditional flat picking (plucking notes alone within a spectrum). In fingerstyle, the guitarist uses his/her's fingertips, nails, or picks attached to fingers to pluck the strings directly. Fingerstyle is the same as "fingerpicking" and is often used to play blues, country, and folk.
A melody played using fingerstyle is distinctly different regarding the sound the guitar makes. Chords accompany each other and can contribute to different elements of a song at the same time. Fingerstyle players have up to five surfaces striking the strings and other parts of the guitar independently compared to flat picking which can hit strings both up and down simultaneously.
Fingerstyle is usually played on acoustic sand with nylon strings. The nylon is easier to strum using your fingers when compared to thick gauge steel ones for heavy metal rockers.
A List Qualities To Pay Attention To
Mid Scooped Tone
Ok, so simply put, the mid scooped tone has to do with how the bass, mid, and treble sound together. Some people like them to blend and create a little feedback in an amp, while others hate the blend and want the three frequencies to be completely separate from each other. Usually, people who have an interest in metal like scooping. Some guitars have the ability to change the tone while others do not.
Phase Control
Acoustic guitars project sound waves in their own unique phase. If you have an acoustic that can be plugged into electric, then it's important to know that you have to have your amp "in phase" with the guitar's acoustic sound waves.
Action
The action is described as the distance between the string and the neck at the 12th fret. For beginners. In other words; the space between the strings and the fretboard. Playing fingerstyle with a large action is more difficult compared to one with a low action. Be sure to look at if the action on a guitar is adjustable. That way you can adjust it with your expertise level.
Cutaway
A cutaway body enables you to hit higher notes near the neck of the guitar. This can be very helpful with fingerstyle and you should look if the guitar you're interested in buying has it.
And The Winner Is…
Although these guitars are all unique to themselves, the winner would have to be the Martin GPCPA5K. Martin has always been renounced for quality and this guitar is no exception.Its beauty combined with its features and sound quality make this the best bargain among the five listed.
The electric/acoustic technology, low action, and overall quality are the best for fingerstyle. Remember, your choice is based on your interests and skills, but the Martin won't disappoint. Hands down, it's the best fingerstyle guitar on the market.