(Last Updated On: December 21, 2017)
The envelope filter pedal came to the fore in the early 80's, though they'd existed since the 70's, and provided a disco-funk tone to guitarists who were exploring more creative effects than ever before.
Prolific artists such as Jerry Garcia popularized the tone which still holds its place as one of the coolest modifications for guitarists today.
Popular modern guitarists such as John Frusciante in The Red Hot Chilli Peppers and John Greenwood from Radiohead use envelope filters as part of their FX rig. They offer a great alternative to wah-wah pedals, to which they're often compared and confused.
Top 4 Best Envelope Filters: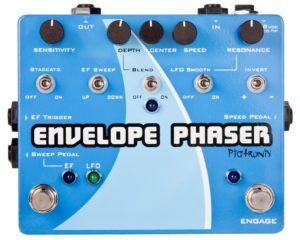 This is a seriously feature-packed envelope pedal. Its large housing requires a DC power supply and is colored to mirror its funky internals. It's suitable for guitar and bass and supplies da funk in ample helpings.
Features
LFO modulation with speed, depth, and center
Intelligent envelope response
Combines LFO and envelope signals
Envelope up or down settings
Side-chain trigger for beat sync and triggering with external source
Invert switch for + or – phase
Compact aluminum chassis
True bypass switching
Assignable resonance kill switch
Expression pedal inputs for Sweep and Speed
Pigtronix 18V DC power supply included
This pedal creates everything from space-age soundscapes laser FX to deep, funky and weighty tones which get your taste buds going. It has unique settings such as the 'Staccato' setting which enables filtering suitable for fast picking and tighter control.
You have manual control over filter sweeps and the speed. The LFO resonance can be smoothed for tighter low-end control. If you're looking for a monstrous box for all manner of radical filtered FX then the Pigtronix has been developed for many years and is sure to satisfy.
The things that set this apart is its side-chain input which allows you to take an input from another source, say a drum machine, and use it to control the dynamics of your effected sound. You can achieve cool syncopated effects using these controls.
The LFO features will work very well on bass guitars and allow you to build some truly electronic tones which transform your bass in a 21st-century sub-cannon.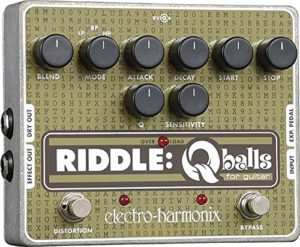 A step down in complexity and price, but not in performance, the Electro-Harmonix Q-Balls has a tailored frequency response for guitar, complete with toggle-able analog distortion.
With all the controls you'd expect to control your filtering, START, STOP, ATTACK, DECAY, Q, MODE, SENSITIVITY and BLEND, you can customize any number of cool FX and apply them with optional expression pedals. The engineering in this pedal is excellent and it features analog circuitry for a true-to-vintage sound.
Features
80 Hz to 5 kHz frequency response tailored for guitar
Switch selectable analog distortion designed for guitar
Low Pass, Band Pass, High Pass filter select
Separate Dry and Effect outputs
9.6VDC 200mA power supply included
Once you've got it set up, dialing in sounds will bring you no end of satisfaction. As a made for guitar model, this pedal brings out the best in tone from your equipment.
It's a simple pedal but the diversity of envelope filters are easily tapped into and it's not necessary to have an exceptionally complicated pedal in order to achieve a desirable tone. It's got a great analog quality that gives it some attitude that other pedals don't bring to the table.
Cheaper, simpler, fatter, gutsier. This pedal is the product of EarthQuaker's long-standing involvement in forging new tones for guitarists. There's a personalized feel to this pedal; they're hand made in Ohio.
Features
Switch to index through Up, Down, and Sample & Hold
Range knob: In Up/Down modes, it controls the width of the selected envelope and the sensitivity to input dynamics. In Sample & Hold, it controls the speed of envelope changes.
Filter knob: Fade between high-pass and low-pass frequencies.
Resonance knob controls the amount of filter feedback, adding more resonance.
True Bypass
With fewer knobs, it still provides a tremendous palette of funky sounds which go low and gutsy in the sample & hold modes to really bring out a circuit-y character full of characterful liveliness.
You can crank the knobs down in down mode to get a gurgling fatness and of course, achieve the Garcia gleam with satisfying filtering FX.
It's great that you can cross-fade between the different filter types rather than needing to choose one or the other. This is a unique control for this pedal and separates it nicely as a typical EarthQuaker odd-ball.
This is a proper funk box which has earned its place as a ubiquitous envelope pedal with all the attitude you could squeeze into its simple UI. It has your 3 main filter modes; low-pass, hi-pass and band-pass as well as a mix mode which blends band passed signal with unprocessed signal.
Speed, decay, intensity and response controls top off its fully controllable envelope filter FX. It has a boost switch which fattens up the signal considerably pre-filter. The hi/lo range knob allows you to select vowel-like gurgles and smooth, deep filter FX in the low position or high, bird-like overtones in the high position.
It provides a full range of frequency responses so is suitable for guitar and bass.
Features
Switchable boost control adds gain to your signal before the filter
Selectable up/down filter sweep direction
4 filter modes including lowpass, bandpass, highpass, and mix (bandpass blended with your dry signal)
The pedal reportedly responds very kindly to your dynamics and allows you to tap into a plethora of envelope filter fx and wah-wahs which will keep your tone fresh for as long as you like.
It's got a 'proper' envelope filter sound that is simple to dial in, providing that familiar funk which will get you smiling when you realise what you've been missing!
Buyer's Guide: Choosing the Best Envelope Filters
Most envelope filters are easy to use and don't overwhelm with a number of controls there are. However, overall they are some of the more confusing guitar effects on offer and many will stay clear of them because of their complex looks.
The truth is though, that the controls are creative and easy to mess about with for all sorts of effects, from the recognizable to the damn right mashed up!
Don't be scared! There are many possibilities out there for manipulating guitar sounds and envelope pedals are a great way of gaining great musical results.
Difference between Envelope Filter and Wah-Wah Pedal
The difference between the two is simply that a wah-wah pedal is operated by a pedal. It governs how the filter is applied to the input through foot operation. An envelope filter, however, is mostly set and forget – you dial in your settings and the dynamics of your playing control the dynamics of the filter, instead of a pedal.
Some envelope filters do have foot switches though for turning them on and off, but the application of the FX is still always governed by your playing and not the on/off switch. Envelope filters are more directly glued to your dynamics than wah-wahs.
All filter pedals more or less use this process to apply their color to your tone – they take the amplitude of the note and apply effects proportional to this so you get a dynamic, manipulative sound that techno-colours your tone back to the 80's disco. Funky!
Envelope filters are based on some simple mechanics:
Filters
They firstly filter the input. In envelope filter pedals there are 3 main types of filter:
High-pass which cuts low frequencies and allows highs through
Low-pass which cuts high frequencies and allows lows through
Band-pass which allows a midsection of frequencies through, cutting highs and lows
Envelopes
An envelope is a small section of sound. So in the context of envelope filters, this is a pluck, or striking of a note which creates a clear waveform, almost a small enveloped package, which contains a voltage which can be processed.
On an envelope filter pedal, the attack and decay settings control how quickly these envelopes are created from your inputs.
Processing
We can then take these enveloped 'bits' of sound and process them using various controls. You can control the resonance of certain frequencies, adding bias into some frequencies to fatten them up.
You can sweep the enveloped sounds up and down, down will suit bass guitars to fatten them up into a subby, spacey, suction sound. Up will add flickering highs into your guitar tone to give it a funky glimmer.
With envelope pedals, bassists and guitarists alike can achieve all sorts of choppy, percussive, smooth or penetrating FX, with sweeps, phasing effects and more complicated LFO's for filtering madness! Below are 4 of the best envelope filters for guitars, with some that work for bass too.
Conclusion: What's the Best Envelope Filter?
There are tonnes of options when it comes to envelope filtering. However, they don't need to be precisely sifted through and set-up to gain cool, musical sounds that can brighten up your palette considerably.
Any of these pedals will satisfy a need for creative FX in your tone. So, it depends whether you want to side with the more complex pedals or the simpler ones in order to gain your desired effects. The decision is as always, yours.
The Electro-Harmonix pedals have a more recognizable, familiar tone which ties in with 80's funk records, the EarthQuaker provides quirks with simplicity and easily changeable knobs, and the Pigtronix provides full-board manipulation!