(Last Updated On: December 21, 2017)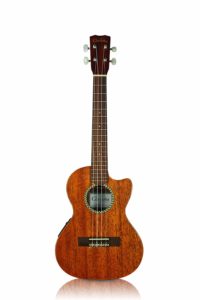 A ukulele has long been the most intriguing miniaturization of a guitar. They're compact and portable, and unlike electric and acoustic guitars, they have 4 classical forms. The are the soprano, concert, alto and tenor, with the largest ukulele being a baritone.
With a smaller size comes a smaller volume, and ukuleles are limited in a live setting as they are not easily audible over audiences and other instruments and are too small to mic up efficiently. To solve this, best electric ukuleles were invented to connect ukes to amplifiers in order to open up a new world of sonic possibilities.
Top 7 Best Electric Ukuleles: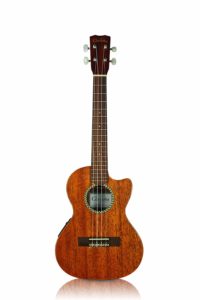 Cordoba have longed made acoustic guitars for which they're most often associated to, but they have a great line of ukes and electro-acoustic ukes which suit low to mid-range budgets.
Build
The 20CM-TE is a standard shaped tenor Ukulele with a solid mahogany build that feels tough and hard-wearing. The solid wooden top is a two piece build and has a pleasing grain. Overall, Cordoba ukes feel great with hardwood builds that offer value for money.
With Aquila nylon strings and gear tuners, the 20TE-CM is kitted out nicely and has an active pickup which uses a 9V battery to power it. The guitar is weighted towards the body which some will like.
The pickup control panel is situated on the body and treble and bass can be easily adjusted alongside the battery compartment. The uke is well joined throughout.
Tone
The tone of this uke is quite good. It's warm and sweet instead of muddy and flat. Fingerpicking strings hard results in poppy sounds which jump out of the mix. It's a great little electric ukulele that looks and sounds good at a great price.
Pros
Good wooden build with few pieces for a warmer tone
Aquila pre-strung
Warm and sweet tone is pleasing at the price point
Cons
Body weighted may cause issues for some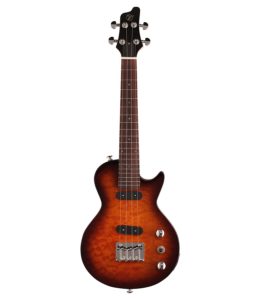 Moving from an electro-acoustic uke to an electric uke, we have the Vorson FLPUK2QM. It's a tenor length electric uke and some think it looks rad! It's part of a fairly small range of solid-bodied electric ukuleles on the market and its niche format has some unique offerings.
The action is smooth and slinky – it'll be pleasing to electric guitarists and ukulele players alike.
Build
It's a classic LP style build with laminate wood and two single coil pickups with a 3-way switcher. It gives you some great control over your tone.
Unusually it comes strung high-G and unwound steel strings which aren't great and many replace the strings with a low-G. You have to have steel strings and many uke players won't be used to that! They'll feel very sharp if you haven't adapted to playing steel string instruments before.
Tone
Whilst it isn't suitable for any traditional ukelele like playing, it is a fully credible little ukelele which can pack a punch when amplified with its two pickup setup. The pickups aren't bad – not too much hum and noise but a warm amp will get the most out of the guitar.
Pros
Design is undoubtedly original and cool
Capable of loud amplification
Cons
Non-traditional and has a high G
Cordoba 15CM-E Acoustic-Electric Concert Ukulele

Back to Cordobas now and at a lower price than the 20CM-TE, the 15CM-E is a concert sized ukulele with many of the same features as the 20CM-TE but with a passive Piezo pickup.
Build
It has an all Mahogany build, aside from the neck, and features an ivory style rosette to add to its neat looks. Cordoba guitars generally look great and this ukulele is not different.
It has a warm wood build which is varnished well and it appears soft and glowing. In its classic figure of 8 shape, it's comfortable to play and is light and maneuverable making it great for small-handed players.
The bridge is rosewood and couples well with the mahogany body to create a warm-toned instrument with some great full-bodied tones. The uke is well joined and the seals are good quality.
Tone
The piezo pickup is passive meaning you don't need a battery. The compromise is there's no treble and gain controls and you won't find this ukulele effective at high-gain playing.
The pickup transmits a warm but occasionally fairly muddy tone and you'll have to play quietly to keep the ukulele operating at the appropriate dynamics for amplified play. The frets are level and smooth, there's no grating feeling as you run up the fretboard.
Overall, it posts a great effort in the budget range of electro-acoustic ukuleles and will be easy to play whilst remaining functional and good looking.
Pros
Cheaper than the 20TM model
Great looks and solid build
Aquila pre-strung
Cons
Passive pickup has a flatter, softer response

This is a really cool product by Epiphone and for a Les Paul styled uke the Epiphone branding combined with the cheap price makes this an attractive product.
Build
The top is made out of good quality maple and the tuning heads are really well made with 1:14 tuning adjustment scale. The rest of the uke is made from mahogany and the ukulele is concert size for a slightly deeper and more full sound than a soprano. Opinion is divided on how the Les Paul uke looks, some think it's tacky and others think it's great – it's not a serious uke after all, but is more than a novelty.
Whether you like it or not, this ukulele has some attitude and the Epiphone brand supplies quality hardware at the price. It has a piezo pickup which is passive, requiring no battery. However, sound quality ultimately isn't great when it's amplified.
The neck is thin and particularly slithery, and the guitar can be played in quite a slinky way which is a lot of fun.
Tone
The tone is a bit one dimensional though and you wouldn't really want to bring this out gigging over other options on this list. It does, maybe, lean towards the novelty side of miniature guitars and Ukuleles.
Its passive pickup is as cheap as it gets and it does show – it's a shame, as it doesn't really allow any sort of loud, gutsy sound to come through.
Pros
Very cool little Les Paul design
Hardware is above average
With modification, has potential to be a great uke
Cons
Stock tone is below average
Some tacky elements out of the box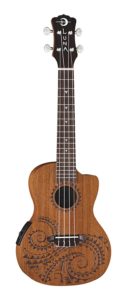 This comes at a low price, and looks cool, with a Hawaiian style top which is mahogany. The rest of the Ukulele is laminate wood.
Build
The build quality is reasonable, and it feels light but relatively solid. The top has an appealing design that gives it a visual quirk, but it is a cheaper model and the bridge in particular sacrifices quality. The bridge is partly glued and is known to come loose – nothing some more glue can't fix but not great.
The ukulele has sawtooth fret markers, but no side markers. The neck is smooth and thin. Playability is easy and the ukulele fits well into the hands and body.
Tone
The tone, however, is ultimately flat and fairly muddy. It's what you expect for the price though really, it's very reasonably priced!
If you want to experiment with electro-acoustic ukuleles then it's a good first option but even then, the general consensus is that other models from this guide play better.
Pros
Original looks
Reasonable sound at the price
Cons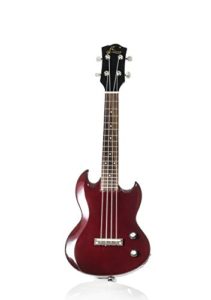 This sure looks cool – SG styling, solid body and no pickup in sight. This is because the Aileen runs a passive pickup. It's very cheap and SG owners will probably eye it up as something they need to add to their collection, especially at the price.
Build
It has nylon strings which are unusual for a solid-body and has volume and tone knobs. The pickup is passive and low gain, it's hard to crank a good amplified tone out of this without a very good amp.
Tone
At practice volume, it has enough clarity to articulate itself but the intonation with this ukulele generally leaves you wanting. Amplification creates some unwanted artefacts, and the tone is generally muddy and flimsy.
This ukulele looks the part, very originally styled and quirky, but at the end of the day, it doesn't weigh in as much of a genuine musical instrument and instead, many buy it as a novelty or as a gift.
At the price, it's what you expect it to be – a fun instrument that is great for beginners and children. The tone is bright enough but has many overtones and unwanted noise.
Pros
Has its quirks, some sound better than others – there's some of these which arrive with many defects.
Very cheap
Cons
Nylon combined with a solid body and passive pickup means very little definition in tone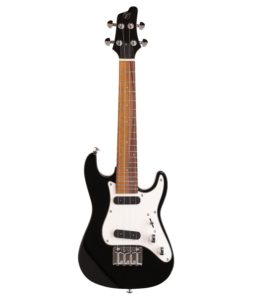 This Ukulele is priced very reasonably, and Vorson are well known at creating products which hit hard for the money. This is no exception, and for an ultra cheap electric ukulele, it's well worth a look.
Build
The front is made from nice maple, and it has level frets. The intonation is great and it's easy to tune. Some like to lower the action of the bridge and say that it really brings this cheap little ukulele to life. The Strat shape is cool and familiar. With decent geared tuners, it keeps its tuning for longer than many expect.
Tone
It has two single-coil pickups with a 3-way selector, and when cranked it really does sound like an electric guitar with satisfyingly trebley sounds that suit shreddy riffs and picked play. It has steel strings, so it conducts its tone with a bit of energy, though this will be hard to get used to if you're a nylon string player.
Pros
Vorson excel in these electric uke models, and it ticks similar boxes to the FLP QM.
Build quality is particularly good at the price
Cons
None really – feels good to play and sounds decent at the price
How to Select the Best Electric Ukulele
Types of Electric Ukuleles
Electric ukes allow us to connect our ukuleles to amplifiers, solving the volume issue as well as giving us an output for recording and effects. There are two types of electric ukuleles:
Electro-acoustic ukuleles. These, like electro-acoustic guitars, have the hollow body and either passive or active pickups for amplification.
Electric ukulele. These have solid bodies and look like mini electric guitars. These will more often have active pickups.
What Body Is The Best For Electric Ukuleles?
When shopping for any guitar or ukulele the different traditional wood types affect sound greatly, and the price too!
For ukuleles, Koa, Acacia, or Mahogany are the most common. Solid wood build have the best resonance, and the fewer pieces there are to your guitar's body, often the better it will sound.
Mahogany is a good place to start, it has a great resonant quality and is hard-wearing. Over time, humidity will warp hardwoods, but often wood will age well and the sound may even improve.
Laminate or plastic ukes are also popular as they're hard-wearing and cheap. Plastic is seldom a better option than wood though for musical instruments. Plastic's resonant qualities aren't as good as hardwood and plastic can still warp.
All ukes in this review and the vast majority under $200 are mahogany based builds. However, many more expensive than that are too. It's a great all round wood for instrument builds; it will provide that warm wooden tone to cheaper and more expensive ukuleles.
The big thing that affects tone within this is how the mahogany is assembled, and how well joined any pieces are. This is what commonly influences the tone of a ukulele even though many are made from mahogany – cheap and expensive.
What Strings Are The Best For Electric Ukuleles?
In terms of strings, steel strings are infrequently used on an electro-acoustic uke but more often on an electric one. Nylon is traditional and provides a fuller sound that best complements a uke's small body.
Tenor uke players sometimes choose to change the high G string for a Low G in order to increase the depth of the of the scale of the instrument. Aquila Nyglut strings are the traditional go-to and ship with many ukes.
Geared Tuners or Peg Tuners?
Geared tuners grip the string better than peg tuners, the strings are less likely to slip. They have a ratio of 1:14 to 1:18, meaning they're more accurate and allow tuning to conventional intonation easier.
The peg tuner is more traditional but is less linear for tuning to conventional intonations.
For custom tunings, the peg is better suited and more sensitive.
Most ukuleles use gear tuners for their effectiveness and ease of tuning.
Electric or Electro-Acoustic Ukelele?
The two kinds of electric uke are distinct from each other. The electric uke is a hard-bodied instrument. There's no hollow body, like a conventional electric guitar.
These will use active pickups more often and the solid body allows you to play pretty aggressively if you please. Shredding on a uke is just cool and fun for any guitarist!
You'll get less noise from the body and a more accurate, electric sound for loud amplification with a solid-bodied electric uke.
The electro-acoustic uke is what most people think about when thinking about a uke you plug-in to an amp. It has the same construction and body type as a normal acoustic uke but features pickups and an output for amplification.
You'll often find electric tuners and treble and bass settings. You'll either find active or passive pickups on an electro-acoustic uke. Active pickups require a 9v battery and are 'hotter' than passive pickups, as the signal is pre-boosted meaning high volumes are achievable when amplified. Passive pickups require no battery and are looser sounding pickups which are suitable for lower volume amplification.
So, now we've rounded off a few points about different types and parts of ukuleles, let's move onto the conclusion.
Conclusion: What's the Best Electric Ukulele?
It's a fairly diverse selection of electric and electro-acoustic guitars we have here, and they range from cool replica-like models based on the Fender Strat, the Gibson SG and the Gibson Les Paul to more traditional electro-acoustic true ukuleles.
Your choice will naturally depend on what you want within this selection, but for more traditional choices, the Cordobas must be recommended.
They're built with good faith to traditional designs and tone, are attractive, come with Aquila strings and you have the choice between a Tenor with an active pickup for hotter play or a Concert with a passive pickup for gentler play.
Out of the replica bunch, the Vorson pair really make a splash in the budget electric ukulele market. Their build quality is quite remarkable and they're gutsy little machines that pack a real punch at medium high volumes.
They'd be recommended over the Epiphone that rates as a more of a novelty addition to a collection than a serious instrument, and the Aileen SG where the quirky build can't compensate for its lacklustre tone.