(Last Updated On: December 21, 2017)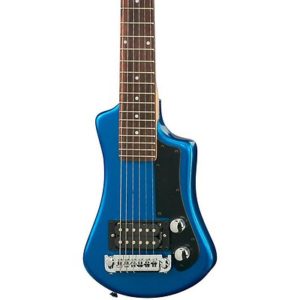 Guitars are operated by your hands, the single most important physical connection you have between you, your body and your guitar.
Guitars require far more of a snug fit to your physical attributes than many instruments, and how comfortable you are will depend on your hand size, height, shoulder positioning and postural form.
If you have large, spindly hands like the late great Allan Holdsworth then you have more flexibility when choosing a guitar. However, for those who have small hands, it can be very difficult to find the perfect fit and some thick-necked guitars will be very difficult to play.
Small handed players encounter a number of challenges when reaching chords, gripping the neck and moving their thumb around the fretboard, short arms make it harder still to reach frets and reach over the body. These obstacles can be hurdled though! Especially these days, with vast selections of guitars that cater to each and every individual.
Top 4 Best Electric Guitars for Small Hands: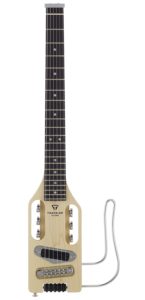 You'll either think this is an ugly beast of a guitar or beautifully innovative. Upon looking at the guitar you'll immediately notice how the machine-heads are relocated to the body, so they are tucked out of the way when traveling. They perform identically to machine-heads mounted on a headstock and it's a visual quirk that some may like.
The guitar features a full sized neck, which doesn't have a particular thickness to it, feeling quite nimble and easily operated by those with smaller hands. It's 28% shorter than a full-size guitar and an amazing 68% lighter! This is great for those who struggle to carry the weight of a full guitar, whether they're transporting it or are on stage.
It has a removable lap rest which makes the guitar easy to play when seated, a 1/4 inch standard output and a good quality dual rail humbucker which has a good level of gain for recording or amplification.
There are no tone and volume knobs on the guitar, which does make it more of a travel guitar than a guitar for smaller handed operation, though, but aside from that, it's body size, weight and removable lap rest make it a great solution for smaller people.
Pros
Tuning lugs tucked out of the way
Removable lap rest
Very light and much shorter than full-size guitars
Cons
No volume or tone controls
One dual rail pick-up

This is an acoustic-electric version of the previous guitar. It's even smaller though at 31% smaller than a full-size acoustic guitar.
It features the same lap rest, internally positioned machine-heads, full wooden body and full-size fret, but has a hidden piezo pick-up that sits under the guitar body for electro-acoustic amplification.
It reportedly has a low action, which improves its playability for small-handed players. You can purchase it in left and right handed versions and like it's electric brother, comes with a high-quality gig bag.
Both traveler guitars really do make excellent solutions for the traveling guitarist, they're extremely light and many find a certain quirkiness to their feel, with nimble necks and small bodies. This may suit you perfectly if you're in the market for a particularly small guitar and don't find what you're looking for.
Pros
All wooden one block construction
Internally positioned machine-heads
Very, very light and transportable
Cons
Single shadow pick-up isn't very flexible or loud
No volume or tone controls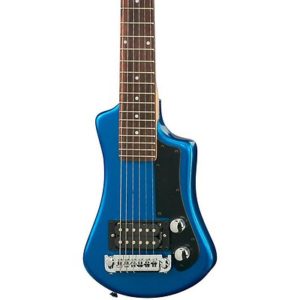 The design of the Hofner Contemporary Shorty is world famous and unmistakable. They look great! The original 'Shorty' was designed in the 1980's and was an instant hit, and they've been faithfully improved upon to this day.
It has a solid body, full-size machine heads, and a full-size neck. The neck feels slinky and waxy, providing a great experience for those with small hands, and it sounds slinky too, with a quirky groove that you may find you love.
It has a Hofner open humbucker which adds a certain quality to the laid-back and compact nature of the Hofner Shorty. It's quite full and natural for a small bodied guitar. However, it stilll has a hotness which helps the Hofner hold it's own in a live situation.
Unlike other small guitars, the Hofner has volume and tone control, so it isn't compromising on features. This is great for those looking for a fully featured guitar that is small and easily played if you have small hands.
They come with gig bags and in multiple colors. These guitars also are very well priced, by the far the cheapest guitar in the line-up. They do reportedly vary a fair bit, it would be recommended to try a couple at your guitar store if possible.
Pros
Cheap, stylish, functional
Quirky sound that some rate highly
Cons
Models vary, try before you buy if possible!

We all know about Fender and Squiers, and their Strat's need no introduction. A shortened version of the Stratocaster, this is a 'proper' guitar in every aspect other than size.
This guitar does have a shorter scale length, at 22.75 inches in oppose to 25.5. This results in less string tension and shorter length between frets. For those with really, really small hands, this is a godsend, as it enables quick movement over the neck.
If you feel inhibited no matter what full-size neck you try, then mini guitars such as the Strat Junior may cure your problems.
It has a thinner classic C-shaped body and is decked out with 3 single-coil picks ups, and volume and tone control.
This guitar is the least compromising of full-size features in the line-up. It has a fixed non-tremolo hard-tail bridge and five-way pickup switch. So unlike the other more travel orientated guitars here, it offers flexibility and features.
Well priced, well sized and well featured, this guitar clones a famous design and puts it in your smaller hands for a proper guitar playing experience. The guitar is also reportedly easily modified so you can bring it up to a high spec with aftermarket parts.
Pros
Familiar Stratocaster design
Fully featured guitar
Easily modified
Cons
Buyer's Guide: How to Find the Best Electric Guitar for Small Hands
There are two considerations to make when choosing a small guitar. The first is the length of the whole guitar. A shorter model allows those with shorter hands to reach the top frets without stretching. This is why we've included travel guitars in this guide. They provide a full neck but are shorter with a shorter body. So you should be able to wrap yourself around the guitar more easily.
The second is neck size. A thicker neck will make it much harder to play if your hands are small. You'll find yourself clawing around the neck and straining your fingers.
After a while, it will ache! Some guitarists that switch between neck styles never knew the benefits they might get from a slimmer-line neck. Don't be one of them and experiment to find your perfect neck!
The action also matters, as a lower action (height of strings from fretboard) means there is less travel when fretting. A higher action means you have to press more and extend more towards the fretboard, which makes a difference.
Many small-handed players are forced into a corner where they have to compromise on neck size, some buy junior guitars. However, today, we have many travel guitars that offer a perfect full-neck solution in a compact package that shaves off less crucial dimensions to offer a guitar which is portable and ideal for smaller players.
Conclusion: What's the Best Electric Guitar for Small Hands?
There's certainly some cool options here. Quirky traveler orientated guitars provide ultra-small designs with great original features, clones of famous guitars offer features and familiar functionality of their bigger models.
As with any guitar purchase, trying before buying is recommended as you may just love one of these. The travel guitars in this line-up are often in receipt of glowing reports about their unique playability.
Overall, the Hofner must be one of your first considerations, its cheap, looks great, and has a uniqueness to it which other guitars can't match. It will suit small-handed players and those who are shorter or don't want to carry a full guitars weight.