(Last Updated On: December 21, 2017)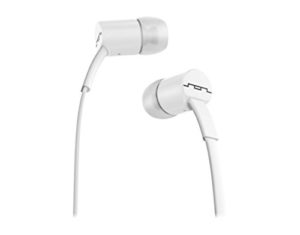 Looking for the best earbuds under 100 dollars? You are in the right place.
We reviewed a huge number of best sounding earbuds under $100 and filtered them based on specifications, our own opinion, and user reviews.
All the earbuds on the list below cost $100 or less on Amazon.com when we found them first and added to the list.

Top 5 Best Earbuds Under $100: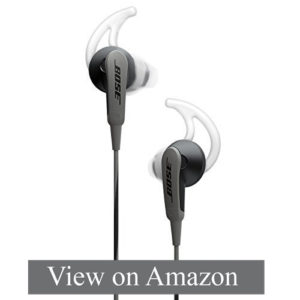 Pros
Comfortable
Sweat Resistant
Great For Running
Cons
Not Great for Nosier Environments
Are Not Durable
Sound Quality Doesn't Last Forever
A Bit Expensive
Description
With a sporty and sharp design combined with a convenient mic and remote, the Bose Soundsport In-Ears are a great bargain. There are two models; one for iOS and another for Android so be sure to pay attention to which ones you're buying. Both cost the same price and are equivalent in sound quality.
For working out, these would defiantly be one of your top picks. Whether you're on a run or doing intense lifting the sweat resistant technology and in-ear design would be a perfect fit for an athlete. One major thing you should know is that there is no volume control on the wire itself. Look below under "common questions" for more information.
Comfort
There is not a great seal on the ear canal and while some may want a better seal others may want to hear other noises in their environment. If you're running in the road you'd need to hear the cars around you. If you're in the gym, there is still a tight enough seal to block out the TVs or music around you.
Three different types of silicone earbuds come with your purchase (small, medium, large). Most of the time people use the large because it tightens the seal pretty well and ensures that they won't fall out. The buds themselves are not invasive at all. They still go into your canal but nearly as much as other in-ear headphones. They still are not flat like standard apple headphones, though.
Sound Quality
Although it does not have the strongest bass, the vocal and high frequencies are clear as day. Like most headphones, you'll find a lot of opportunity costs. For these, you get to enjoy high quality mid and high frequencies during your workout with no issues. They won't fall out of your ear and are defiantly comfortable.
But… the bass lacks the vibrating umph many audio enthusiasts love. There is not the best noise isolation because of the "half" in-ear design but this is intentional. If you're an athlete and love to have intense workouts, then this would be for you. If the lack of bass is a deal breaker then the other two reviews below might interest you a little more.
Common Questions
Do these allow you to change the volume from the headset?
No, they do not. You can purchase a similar model of the same headphones for a high price ($129.95) and there will be volumes controls.
How can I get more noise cancellation?
Many people buy these headphones and then buy replacement tips from Bose for Sound true ultra. This improves noise cancellation bigtime.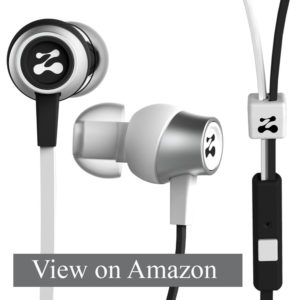 Pros
Great Bass
Volume Range
Tangle-Free Technology
Sweat/Water Proof
Microphone
Cons
No Cord Clip
No volume Control On Wire
Careful With The Zipper
Not The Best Mic
Description
Well, if you are looking for the best sound quality and don't have the money to buy anything too fancy then these are the headphones for you. The tangle free wires are a huge plus for this product. You can pull it out of your pocket and listen without any hassle.
The Zipbuds are made with high-grade fibers that help them last longer in tough conditions. The durability and tangle free combo make these headphones a bargain at the price of $59.95. They're durable, convenient, and have above average sound quality.
The zipper that separates two cables to the ears can get worn out over time especially if you're violent with it. If you're careful, you won't have any problems but if you're constantly adjusting aggressively you might notice some wear and tear.
Comfort
Most reviews say they are very comfortable. They come with three different silicone tip sizes (small, medium, large) and don't fall out of your ear unless you are on a long run. They do not have the in ear wrap around design like the Soundsports and do not have the best seal. Many reviewers say they feel very light and no suction -cup like in the ear. Some people like the super tight suction seal while others don't. It's a personal preference.
Sound Quality
If you're an audio fanatic, you'll notice that the frequency range is not that impressive, but the volume range it can handle is. The bass is more powerful than the Soundsports and most reviews say the bass is noticeable but not overpowering. If your main focus is on those really low frequencies then these might not be the best fit for you.
Highs are crisp and vocals have above average quality. The seal of the bud itself inside the ear is not the best. Some outside noise can interfere but not nearly as much as the Soundsports. Regarding sound distortion, there is barely any. At all volumes, the headphones do a great job at provided a clean sound.
Common Questions
Are These Running Headphones?
The way the ear bud itself is designed does not provide the best results when running. There are many reviews that say although they are a comfortable fit and do stay in place for the majority of a long run, they do fall out occasionally. It doesn't help that there is not a clothing clip to prevent bouncing. Plus there is not volume control on the wire itself.
How Long Is The Wire And Does It Come With A Case?
The cord is just under 48" and no there is no case provided.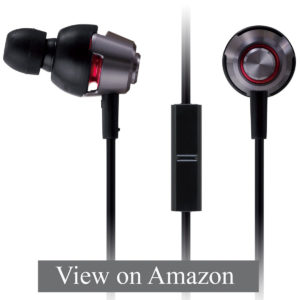 Pros
Powerful Bass
Aluminum Housing
Noise Isolation
Comes With Case
Cons
Not The Best For Working Out
Bass Might Be A Bit Overbearing
Volume Range doesn't produce Consistent Quality (See Below)
Bulky
Description
If you are looking for some heavy base and love to crank your favorite songs, then these are the headphones for you.
There are some problems that arise from the bass, though.Many reviewers say unless the volume is on high, the bass overpowers the mid and high range frequencies. Some people like a more noticeable bass and this combined with the noise isolation gives your listening experience a serious upgrade.
They are a bit bulky and heavier than other earbuds but as long as you are not working out with them you probably won't notice the weight on the ears. These do not have volume control on the cord itself but it does have the mic so you can make and answer calls. You'll defiantly find these are the best bass earbuds under 100.
Comfort
The case comes with three different sized of ear buds to ensure there is a proper seal in your ear. There is no curved piece like the Soundsports that ensure they stay in your ear. If you're looking to go for a run using these then you might not have the best time.
The reason why they are a little bulky is because they are made with high-grade material that helps durability and sound quality. Since they are on the heavier side, some reviews say that after a period of time wearing them they can get a bit uncomfortable. When I say heavy, it's just relative to the other two headphones above which are designed to be light weight.
Sound Quality
At a high volume, you'll find very good sound quality and the frequency range is very broad. At lower volumes, you'll find the bass is a bit overbearing and can drown out the higher frequencies (vocals, guitar). Rap and hip hop will sound great and you won't have any complaints.
The aluminum housing and rubber buds direct the music straight into your ear with minimum distortion and the environment around you get completely drowned out. It's all about your preference; if you want a powerful bass and to be able to drown out your outside world then these headphones would be for you.
If you want an athletic pair for workouts and average noise isolation then get the Soundsports. The Drops 360 is defiantly a good bargain. At 69.95, you'll get great sound quality, durability and a bass that'll knock your socks off.
Common Questions
Can I Run With These Headphones?
These are not the best workout headphones. They're not sweat resistant and completely block out the outside environment. Also, they would not stay in your ear for long when you're bouncing up and down.
Is There Volume Control On The Wire?
There is no volume control on the cord itself. There is a mic, though.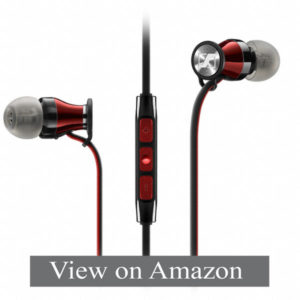 Welcome to my review of the Sennheiser Momentum in-ear headphones.
There are a lot of options to choose from at this price point (under 100 bucks and less) but these in-ear headphones represent one of the better choices available for anyone who enjoys a bass leaning sound signature.
These very affordable earbuds do sound great especially if you enjoy a full and well-executed bass.
They will not be ideal for everyone, though, which I will cover in this review as well.
Currently, these earbuds cost about $70-80 depending on a store.
What Is In The Box?
There are four sets of silicone ear tips included with the Momentums.
A zippered hard case includes a plastic insert which basically acts as a cable winder.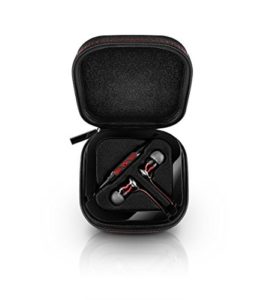 The case is well-built. It is low-profile and excellent for portable use.
There is an excellent attention to detail in design and the quality of construction is quite good. These earbuds look great and have a contemporary build.
The external housing is plastic while the sound tubes are stainless steel.
A unique wire guard is used to prevent damage from any pulls or tugs to the cable.
The cable itself is decent quality. It is fairly tangle-resistant and terminates in a 3.5-millimeter right angle plug.
You also have an in-line microphone for phone calls, a cable clip, and a three-button remote.
Call Quality
Call quality is excellent and mostly free from any cable noise even if it is moving around while you are talking.
Comfort
The listening experience is crystal clear in terms of how comfortable these earbuds are to wear. They feel really good in the ears while providing a snug fit with a decent level of noise isolation.
What contributes to how comfortable these earbuds are is the smooth curves of the plastic housing. The slim and angled nozzles are extremely light, and as a result, you can easily wear them for hours without any discomfort.
Sound Quality
Overall the sound signature is V-shaped and slightly warm with a little more emphasis in the bass and extra energy in the treble.
The bass is seriously good even if it is a bit generous in this department.
The quality is so good that, in fact, it feels very warm and smooth on your ears. There is some well-extended sub bass that has a nice rumble to it.
You also get a nice mid bass punch. Though there is a good deal of bass it does not feel overwhelming but comes across like it belongs. The bass is so well executed that it feels natural.
As a result, the more you listen to these earbuds the easier it becomes to forget how much extra bass there really is. That is until you switch to a more neutral sounding pair of earbuds.
The mids are assessed but tuned well in order to give more power to the bass.
Even though mids are more laid-back they come through smooth and clear.
The main complaint of the mids is that they sound so good you sometimes wish for a little more of it. Then as you get into the upper mids you start to feel more energy which continues.
As you get into the highs they sound clear and detailed without getting too harsh or analytical. They strike a really nice balance between brightness and warmth vocals sound relatively natural.
Male vocals in particular come across with a little more authority as a result of the extra bass emphasis. The treble is on the bright side but not to the point of being fatiguing. The additional energy in the highs is not equal to the emphasis given to the low end.
The soundstage has a very nice width and depth which can almost sound 3D at times depending on the song you are listening to.
The Momentums work well with all genres of music and are relatively forgiving even when you are listening to lower quality MP3.
In comparing the in-ear Momentums to other earbuds it is interesting to see how they hold up compared to the well-known and, in my opinion, highly overpriced Beats by Dre Tour 2.0.
The Momentums pretty much blow these headphones away. The Beats do have more bass but it is flabby bloated and boomy by comparison.
The additional bass emphasis muddies up the mids of the Beats whereas even though the mids on the Momentum are more recessed they sound much clearer and more detailed.
Ultimately the Beats just sound dull compared to the refined bass better treble energy and more balanced sound of the Momentums.
Pros
Extremely full and rich bass, sharp mids and crystal clear highs.
Overall, amazing sound quality for a very affordable price.
Top-notch design for people who just love beautiful things.
Perfect comfort and fit.
Very comfortable for everyone.
Cons
There is too much bass for somebody who does not like low-end nuances in music.
They are not designed to be worn over or around your ears.
Conclusion
Even though the Momentums sound great especially in the bass department, there are few reasons you might want to go with something else:
If you do not enjoy a sound signature where the bass is generously emphasized or where the mids are more laid back than the Momentums probably will not be a good choice.
If you are looking for a design that allows you to wear these earbuds over or around your ears the Momentums are not designed for that.
The bottom line is that the Momentums are one of the best sounding earbuds under $100.
Whether or not they are the best choice for you or not will depend on your bass preference because what sets the Momentums apart from the competition is their ability to provide a generous amount of high-quality bass without going too far and becoming a bass monster.
There are enough clarity and detail in the mids and plenty of energy in the highs without going overboard and becoming too analytical and harsh. And, of course, the added effect of great vocals and a superb soundstage make for a very fun and engaging listening experience.
If these earbuds represent the qualities you appreciate or are looking for then you will love the Sennheiser Momentum In-Ear headphones. They are definitely one of the best in-ear headphones under 100 dollars and I can highly recommend them to anybody.

Before I get into this review let me just say that if you are a pure audiophile and you can only listen to balanced earbuds then you probably want to stop reading this review right now.
Anybody else, stick around because I think you are going to find this particular model to be pretty interesting.
This particular model is the one with the one-button remote. They retail for about forty dollars and you can find them from twenty-five to thirty dollars on Amazon or somewhere else online.
It is a really reasonable price for earbuds. You can also get them with the three-button Apple Remote. I found that those are about twenty dollars more than the one-button remote.
What Is In The Box?
The only real accessories they come with are just 3 different size ear tips: small, medium and large.
Build Quality and Comfort
My ears are pretty average and I chose the medium-sized ear tips.
The earbuds are really comfortable in my ears. They are very lightweight.
They are so light that you hardly even know they are there in your ears. The silicon tips are also very comfortable. These headphones are really comfortable to wear.
The build quality on Sol is actually really good for the price.
They do have a flat cable, which is really nice because the reason that I got these earbuds is because I needed some that I could just throw in my pocket, some that were not very expensive.
I did not have to worry about them getting damaged too much and some that I could just have on hand if I wanted to take a phone call and not have to hold the phone up to my ear or if I just wanted to listen to music if I am out somewhere.
If listening to music is not my number one priority, I do not just have this, so I can sit for an hour to read and listen to music, I think Jaxs are a really good choice.
I also needed a pair of earbuds with a microphone. I am going to be referencing in this video to my Dunu DN-1000s which are really high-end earbuds, especially for the price, they are awesome earbuds.
But usually, when you get higher-end earbuds you do not get a microphone. Most audiophile type headphones or earbuds do not have a mic built-in.
There are times when I just really have to have a microphone because I do not like holding the phone up to my head for a long period of time. That is really one of the main reasons I got a pair of these earbuds.
Another thing that I like about them is the 90-degree jack and it does not sit very high on your phone, which is great especially if you are throwing the phone in your pocket and you get caught on something or you are sticking to the side of your pants.
It also does a good job of going into a deeper case. Sometimes the jack of headphones cannot be hindered by a thick case. Actually, this case is not too thick on this phone but with my Moto X I had a pretty big case and I had no problems with the jack going into the receiver.
I did mention that this is the single button remote which works really well with my iPhone and it would work also with any Android phones. You just would not have the volume control that you'd have with a three-button.
The button is in the middle, and the microphone is actually on the back. So just normal typical functions: play and pause by pressing once, answering a call pressing once, rejecting a call, holding it down, hanging up a call, holding it down for a couple seconds. Just your standard single-button type operation works really well with these earbuds.
It is got a pretty wide opening which I think helps with the bass which I shall talk about below. But one caution with them is that you can get some pretty good wax buildup inside. If you get a pair of these earbuds it is good motivation to keep your ears clean because you will get them dirty easily.
The silicon tips pop off really easily so you can clean them fairly simply. But you want to keep an eye on that because if you get a lot of wax on that screen, the buildup every time, it will really reduce the sound quality. If you get too much wax buildup then it is really hard to get it off. Just be aware of that.
Noise Isolation
The other thing I did not mention is the sound isolation which is superb. I really like blocking out a lot of noise when I listen to music and the earbuds do a great job of it.
Call Quality
I have not had any complaints from people on the other end not being able to hear me. When I am talking to someone I can hear them very clear. I do pick it up and hold it up near my mouth sometimes when I am talking quietly but no complaints from people on the other end.
Sound Quality
We are going to the sound quality and this is why I say that these earbuds are intriguing headphones because the amount of bass that comes out of these earbuds is absolutely stunning.When I first put these in my ears and listened to them it was shocking with the amount of bass that you get out of these. It is more so than any
When I first put them in my ears and listened to them it was shocking with the amount of bass that you get out of these. It is more so than any other earbuds with good bass I've ever listened to even.
That is why I said if you are pure audiophile the bass is going to be too bloated for you. However, if you do love a ton of bass and you do not want to spend a lot of money on a pair of earbuds these are your earbuds right here.
The thing that is nice about the bass is even at higher levels it is not rumbled or distorted. It hits some pretty good sub-bass and the mid-bass is strong, really strong.
Some earbuds I listen to always put pressure on eardrums with the bass. These earbuds do not. Even though the bass is extremely prominent it does not overpower the music and it is not too loose or distorted.
The other thing that is nice about them: even though the bass is strong they still have pretty good mids and highs. Some earbuds are just so muffled with the amount of bass that mids and highs are just not present. These earbuds are not like that and it is got a pretty decent amount of clarity in the mids and highs.
Compared to really high-end earbuds like the Dunu DN-1000s it is going to sound a bit muted, particularly in the highs.The Sol Republic Jax will not have the just clarity and sparkle that you would get with the Dunu DN-1000 or any kind of really high-end earbuds. They, by the way, are about $200 earbuds, triple driver, it is got two balanced armatures and one dynamic driver.
The Sol Republic Jax will not have the just clarity and sparkle that you would get with the Dunu DN-1000 or any kind of really high-end earbuds. They, by the way, are about $200 earbuds, triple driver, it is got two balanced armatures and one dynamic driver.
With the Sol Republic Jax you will not have that just really high-end clarity and detail but for the amount of bass that you get it is livable, especially for the money. The sound quality is pretty decent.
Another unique thing about the sound quality of them is the richness that you get with the music. With a really good bass and sub-bass in a pair of earbuds like this, it adds a rich tone to the music.
Guitar strings or even piano, things like that, a lot of notes need a full range of tone to make it sound pretty accurate. Because of the deep bass, it just gives a richness to the music.
Pros
The outstanding amount of bass.
Call quality is pretty good.
Extremely lightweight.
Very comfortable for everyday use.
Convenient 90-degree jack.
Cons
For pure audiophiles, the bass may seem a little bit bloated.
Conclusion
That will wrap up this short review of these great bass earbuds. The people that I would strongly recommend these earbuds to are bass lovers. Especially, if you do not want to spend a lot of money go on and grab a pair of these.
If you need a pair of earbuds that you are going to be out about, you may want to listen to some music, if you are going on with your friends and family maybe just sitting around, just want to pull a pair of earbuds out of your pocket and listen to some music then these are good for that.
That is even more true, if you need a microphone like me. Some of your earbuds or headphones do not have a mic. There are times when you really you need a microphone.
These are comfortable earbuds. It is one that is not going to set you back on a lot of money, the microphone works well, the sound, the call quality is good.
I hope this helps you if you are interested in that, not very expensive earbuds. They are very fun earbuds if you just want to you listen to a lot a bass if you are not worried about having super high-end mids and highs or super clear mids and highs. Then these are really good headphones for it.

How to Choose the Best Earbuds Under $100
You'll want to know a few things before purchasing the headphones you want to buy. Below are the essentials you should know about when viewing the different types of earphones you look at. Let's get started!
What Purpose Do You Want Your In-Ear Headphones To Serve?
Are you looking for the best sound quality in a pair of earbuds? Maybe you want the best for running so they stay in your ears on your morning jog. Do you want a stylish brand or a convenient and simpler style? Are you interested in wireless or Bluetooth? Don't be overwhelmed with options, everything below will help you find what you're looking for.
Features You Should Know About
You should know there is a difference between in-ear headphones and earbuds. In-ears are actual buds that enter your ear canal and provide a tight seal that helps with sound quality. Earbuds are like the standard Apple headphones that do not provide noise isolation and can be a bit hurtful at times.
These often fall out but are cheaper than the in-ear headphones. Sound isolation plays a huge part when purchasing your headphones. The extent of sound isolation depends on how your ear canal is shaped and the material the bud is made from. You could even consider noise-canceling technology. This tech combats the outside world around you for the best listening experience possible.
An In-Depth Look…
Let's expand your audio vocabulary! Don't worry, there is not so much you need to know except the following: Impedance, Sensitivity, and Frequency Response.
Impedance is the effective resistance of an electric circuit or component to alternating current. It can be described as how "clean" the music sounds. It's described in the unit of "ohms". The higher the number of ohms there is, the cleaner your music will be.
Sensitivity is related to how much control you have over your desired volume levels. High-quality headphones allow you to have more control of this. Sensitivity is described in "decibels".
Frequency Response measures how high and low a frequency the pair of headphones are capable of. This is measured in "hertz". This regards how low your bass can go and how high your pitch can go.
One Last Thing…
Just because you see certain brands more often advertised than others, it doesn't mean that they're the best out there. Yes, Beats has its commercials and athletic sponsors, but there is a lot of hype involved. If you want to purchase style, your wallet might be empty at the end of the day.
If you want to buy for quality, you must research companies and the reviews yourself. Below, you'll find the reviews of some of the best earbuds out there. Just keep in mind, you are unique in your preference. See which brands match with your own interests and you'll be satisfied with your purchase guaranteed.
And The Winner Is…
The Bose SoundSport In-Ear Headphones is the winner. Although they lack a powerful bass, the sound quality is the best among the others. They're light, water resistant, and you can take them everywhere. Although they are not tangled free, the athletic use you can get out of these is incomparable. When it comes down to buying for a bargain, these are the best earbuds under $100.