(Last Updated On: December 21, 2017)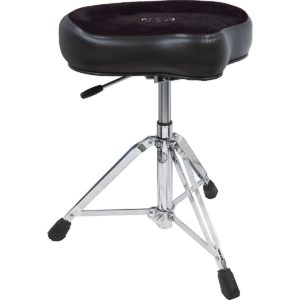 What is the best drum throne?
Few things are more important to drummers than where they sit.
Sure, the quality of the snares, cymbals, toms and kick are all integral to being a good drummer but don't underestimate the seat. Being comfortable and flexible while you drum is key.
There are a lot of things to hit, and it's normally happening for a long time, so finding the best stool or seat possible should be high on the list for every drummer.
As the king of your drums, use this guide to find yourself the best drum throne.

Top 4 Best Drum Thrones: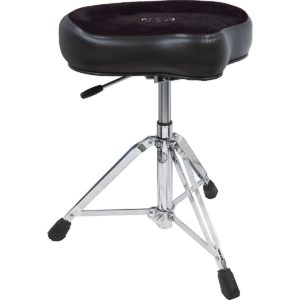 The ROC-N-SOC Nitro Throne is a very comfortable and practical drum seat. It's well made and is designed so that you can spend a ton of time on it. It has a cloth top that makes the seat feel good, but it also provides some breathing room while you sit on it as well.
The Nitro throne holds its height very well, so much so that it can be compared to a very nice office chair. The air-driven hydraulic pump makes it easy to move up or down at will, and once you settle in on a height the throne is not going to move on you.
Speaking of, it's built with a nitrogen gas shock absorber, so when you're really rocking out the seat will bounce a bit with you, almost like having shocks in a truck.
It features a three-legged stand that is very stable and sturdy, and large, rubber feet.
Positives
Nitrogen gas shock absorber
18″ to 24″ seat height
Bicycle design
Heavy bracing
Available backrest attachment
Negatives
As with any three-legged seat, it doesn't have 100-percent balance. Especially when utilizing the shock absorber, you'll have to make sure to keep yourself in control.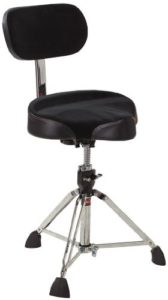 The Gibraltar 9608MB is a bike seat style drum throne that is great for drummers looking for something extremely solid. It has double braced legs – three – which will make sure that it doesn't move around on you while you're playing. And if that doesn't do the trick, the heavy-duty rubber feet on the bottom will keep you grounded.
As an added bonus, this seat has an attached backrest, so especially if you're playing a longer gig or perhaps just need the support, you'll get the backrest as part of the purchase and it's part of the seat. The nicest part about the backrest is that it swivels with the chair, so it's like you've got yourself a nice big desk chair to use while you're playing the drums.
This throne does have memory lock height adjustment, but there have been some complaints about it not going high enough – so if you're tall that's something to consider. There's also some concern about the ultimate comfort of the backrest.
It doesn't cover a ton of room on the back, and most drummers don't necessarily lean back while playing anyhow (they lean towards the kit). With only three legs, heavy duty or not, you're probably not going to be leaning into the backrest often.
Positives
Cordura/Vinyl Seat
Double braced legs
Huge rubber feet
Memory lock height adjustment
Attached backrest
Negatives
Limited height adjustments
Backrest doesn't cover much room and may be too far back
The 700 Series Drum Throne is what it is, and it's not trying to be anything more than that. Perhaps that's a good thing, depending on what you're looking for, and checking in at just under 50 dollars, you're not going to break the bank with this seat.
And that's exactly what it is. Throne is probably too strong of a word for this product because it's simply a drum stool. It's affordable and exactly what you'd want to buy for a beginner or a kid. It has solid padding and non-skid rubber feet, so it will get the job done, but at the end of the day, it's just basic.
If you're playing long gigs, look for something else. If you are a beginner who wants a decent drum seat that does adjust – although with a bolt – collapses and doesn't take up a lot of room…this is a nice seat for the price.
Positives
Affordable
Good for beginners
Medium-sized round seat with solid padding
Can be used for things other than playing drums
Double-braced legs that fold
Non-skid rubber feet
Ideal for kids or students
Negatives
Height adjusts with a bolt
Not a ton of support
Not ideal for long gigs
Not ideal for novice to expert drummers
Not ideal for bigger people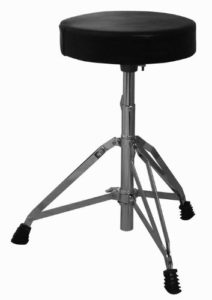 The Cannon UP197 is basically the 700 Series' cheaper cousin. It's a little less flashy as well. It appears to have less padding on the seat and less stability, but again, it's all about what you're looking for.
This is certainly a cheap seat. For the price of a few lattes, you can get yourself a good beginner stool with adequate padding and decent stability. If you're playing long gigs or really like to get into your drumming, stay away.
But if you're buying for a kid or a student, or someone who's simply looking to explore playing the drums, this is a good starter.
Positives
Cheap
Small footprint
Good for kids
Negatives
Instability
Lack of quality cushion
What to Look For When Buying A High-Quality Drum Throne
Comfort is Key
Comfort is absolutely the No. 1 thing that matters when it comes to picking up a good drum throne for yourself. It's called a throne for a reason – you're supposed to feel like a king when you sit on it. That means quality matters. That means details matter. Everything from the way it feels when you sit on it to how it handles when you play matters.
In fact, almost everything underneath this point can really be rolled up into the category of comfort, because it really is that important.
Remember, as a drummer, most of the time you're not going to sit down for a quick song, get up and move on with your day. You're going to be spending a ton of time on the seat, whether it be practicing, jamming or playing a gig, so you best find yourself a seat that's comfortable and that you like sitting on.
Nothing else is as important as that. You have to feel good when you sit on your throne. You have to feel like it can support you when you're sitting, reaching, pounding, crashing and yes, sometimes even dancing.
It all boils down to comfort. Can you spend hours – and hours – sitting on your throne?
If you can't answer yes to that question, it's time for a new drum seat.
Support
Listen, it's okay to admit that you need some support once in awhile.
Musicians aren't generally world class athletes, but they don't get their fair share of credit when it comes to appreciating the physicality that goes into it – especially drummers. People don't realize that sitting and playing drums for hours at a time can be taxing on the body. Not only is it a workout – you're probably going to sweat – but it can be hard on the back.
The young guns out there may not have to worry about this as much, but certainly, for older drummers, there's no shame in looking into support.
A good backrest is becoming more and more common in drum seats, so if you need one, go ahead and get one. It can add minutes if not hours to your set, and it could perhaps even add some time onto your life.
It's not just the back, though. You want to make sure your throne can actually support you.
If you're a bit on the bigger side, make sure that you can jam out on your seat without it wobbling on you or feeling like it's going to snap in half. If you're a bit smaller or shorter, does the seat adjust high enough?
And if it does, does it have a hydraulic pump, or is it the type of seat that has a manual spindle? How much effort are you willing to put into going up and down? That's another question you have to ask yourself.
How many legs does your throne have? Maybe you want something sturdier, so you're going to have to look for more legs, or at least pay attention to how they're made. The more legs and structure they have the harder they are to move around, though, so that's another factor to keep in mind as well.
Move down to the feet and realize how important those are. You want feet that grip the ground with their treads because the last thing you want to be doing is slipping around your practice area or stage.
Lastly, consider the seat itself. That's where you're sitting, so this it's where you need to turn your focus. There's so much variety in drum seats, but lately, the saddle style seems to be popular. They're a bit more comfortable than the classic circle or bike seats, and they add a bit more support.
Durability
You're a drummer. Let's face it, you like to make noise and smash things. What does that mean for your drum throne? The more durable it is, the better.
Ideally, you want your seat to last far longer than any of your drums or cymbals do. Those are the things that get pounded on every day by you, so your seat should have a far longer life than they do.
For the traveling drummer, durability is even more important. Whether it's being loaded up into a tour bus by your roadie or into the van by your mom, you want a seat that's going to be able to take the wear and tear of belonging to a musician on the road.
Set up, tear down, pack away and do it again. Throw in the wear and tear of the seat being sat on hundreds upon thousands of times, and there's definitely wear down to consider.
The better the brand and the higher the quality, the better.
Portability
Speaking of traveling, if you do plan on hitting the road or at least taking your drums out of your room, make sure that your throne can come with you. Sometimes it's as simple as making enough room in the back of the van, but some thrones have compressible legs much like a music stand, and that will make it much easier to get from Point A to Point B.
The last thing you want to be doing is using a folding chair for your gig because you couldn't fit your drum throne.
Design
Musicians want to sound good at all times, but we all know they want to look good as well. Being a musician is just as much performance as it is art, so why not take a minute or two to consider the design and look of your drum throne?
Does it look like it belongs at the front of a high school teacher's science lab? Perhaps it's time to upgrade to something a bit sleeker.
What's it made out of? Memory foam is pretty popular nowadays, and there's sure nothing better than sitting back down on a seat that remembers how to fit with you.
And of course, there's the actual design. Most drummers like to keep it simple, but there are so many ways you can spruce up your throne. Maybe it's a custom color scheme or a different texture? A pop of velvet or leather on top of the seat would look pretty cool, and how about having a holster for your sticks or refreshments?
The long and short of this point is simple: You don't have to have a boring old seat. If you're going to go all out for a drum throne, make it a throne.
The Takeaway: the Best Drum Throne
The ROC-N-SOC Nitro Throne is really fit for a king and it wins our title for best drum throne. You're going to spend a bit of money on it, but everything from the cushion to the nitrogen gas shock absorber is worth it.
It doesn't come with a backrest, but again, those can sometimes be restricting and/or irrelevant for drummers. But if you do need one, there is an attachment available, so all-in-all, this is a great product.
As a bonus, if you're choosing between the two cheaper seats for a kid, beginner or student, go with the Pacific Drums and Percussion 700 Series Drum Throne. It knows what it is and it's solid and what it does. Plus, it's only 10 more dollars than its competitor on this list, and for that, you get a bit more quality and comfort.