(Last Updated On: December 21, 2017)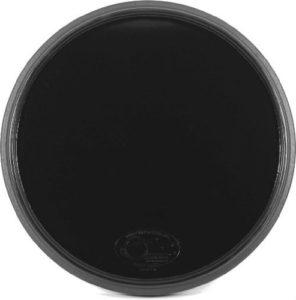 One of the main headaches of starting out as a drummer is having a million new techniques and rudiments to perfect.
Yet between tiny apartments and sensitive neighbors, it's impossible to practice on a snare, never mind a full kit.
Enter the drum practice pad.
Top 4 Best Drum Practice Pads: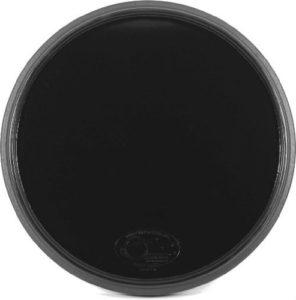 Offworld Percussion has been around since 2008 and is heavily endorsed by professionals in the drumming community.
They advertise their "Invader" pad as sporting an "other-worldly design like no drum practice pad on the planet".
As one of the more expensive pads on the market, let's take a closer look.
Sporting a gray rim and jet-black playing surface, the "Invader" weighs in at 4.8 pounds, and measures 14x14x2in. The rubber-like playing surface is made from Offworld's own proprietary and highly regarded "Dark Matter" formula. It also has a 360° rim for practicing rimshots and sidestick routines.
Pros
The highly durable "Dark Matter" playing surface is extremely articulate and provides superior rebound to most rubber pad surfaces.
In addition, the pitch-perfect rim adds to a remarkably realistic snare drum experience. It plays a lot quieter than other available pads, making it perfect for young beginners and their long-suffering families.
Cons
The "Invader" is noticeably more expensive than its competition – coming in at double the price. As the 360° rim is quite thick, users will need to get used to playing the snare at an accurate angle.
This is a learning curve which the Invader's competition does not require. The "Dark Matter" surface also does need regular maintenance with a preservative that is provided with the product.
Conclusion
The "Invader" is highly regarded and justifies its high price bracket with an unmatched playability, accuracy, and innovative surface material.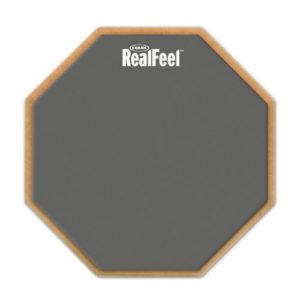 Evans are a company with drums in their DNA. Their founder Chick Evans invented the plastic drumhead back in 1956. Clearly, Evans feel this pad is a continuation of their proud legacy, with the surface proudly bearing the tagline, "RealFeel".
First, the specs. As per the name, the pad is dual-sided. The first side is constructed from gum rubber for a realistic rebound action.
The second side is made from neoprene and is advertised as ideal for practicing playing endurance and clarity. The octagonal pad measures roughly 12x12in and 1.25in thick and weighs 3.5 pounds. Evans market the playing surface as being resistant to wear and tear.
Pros
This is an attractive practice pad. With rounded edges and a sanded MDF wooden frame, Evans have made it easy to return to this pad time and time again. It's playable either on a snare stand or any flat surface without any slippage or noise pollution.
The 2 different surfaces really help you practice a variety of techniques. The rebound of the gum surface is enjoyable, while the neoprene side is useful for tightening up routines. It really lives up to the "Real Feel" tagline.
Cons
The MDF wooden frame isn't as durable as some of its competition. It can be prone to serious cracking if dropped. The pad can be quite heavy and tiring to play on the lap. The octagonal shape makes it slightly more awkward to carry on the move. After a few years of use, the gum surface gives off an unpleasant odor and loses its bounce. It also lacks a rim with which to practice rim shots.
Conclusion
An attractive, playable practice pad which will enhance the user's playing with its dual sides. Great feel and sturdiness and you will want to return to it. However, there is some concern about the quality and durability of its build.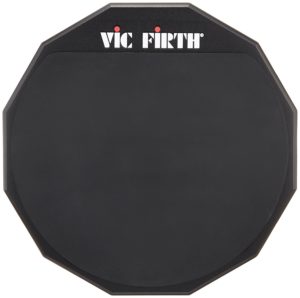 Any drummer, beginner or pro, should be no stranger to the Vic Firth name. Their brand has been synonymous with quality drumsticks since the Sixties. Let's take a look at their double-sided practice pad.
This practice pad is a dodecagon (12-sided shape) measuring 12x12in. It's slimmer and lighter than its competitors, being only 0.5in thick and weighing 3.2 pounds. It's encased in a dense wooden frame, and also features soft and hard sides for variety of practice and volume.
Pros
Being a Vic Firth-branded pad, no surprise that the rebound action and feel are extremely realistic. The softer side creates a bouncy feel that is a joy to play. The harder side is ideal for practicing speed and control.
Despite its slim width and relatively lighter build, it's still heavy enough to not feel flimsy at all. Both sides are still quiet and appropriate for indoor use without disturbing neighbors.
Cons
No rim to practice rim shots. The pad tends to leave black marks on tables and kitchen counters. You may, therefore, need to put a cloth on the surface before you place the pad down to start practicing. A few users have reported the corners of the playing surface come unglued after a while.
Conclusion
Great dependable practice pad by a trusted brand of the drumming community. It's easy to use, enjoyable and sturdy. However, it lacks the "wow" factor of other pads to draw you in as a user.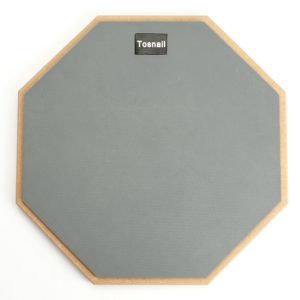 Tosnail is not a recognizable brand within the drum community and there isn't much information available on the company.
Nevertheless, they have a range of low-cost musical accessories such as drummer gig bags, guitar capos, and keyboard stands. This appears to be their first foray into the drum practice pad market.
This single-sided practice pad comes in the industry standard measurement of 12x12in and is an inch thick. It weighs in at an 8.5 pounds, significantly heavier than its competitors. The octagonal pad is a playing surface (available in blue or gray) encased in a wooden frame.
Tosnail market the playing surface as environmental and odour-free. The pad has a sponge base to prevent slipping and reduce noise. The pad comes pre-packaged with 5a drumsticks.
Pros
The cost. Tosnail has announced their entry with a price point lower than most, if not all of the competition. This makes it a very tempting purchase for families on a budget or young children trying to save up for a practice pad and sticks.
The customers will be rewarded with a playable pad with decent rebound action. While there is no rim, the solid wooden frame can be hit to mimic a similar rimshot effect and is highly durable. The sponge base leaves no marks on any surface it is placed on.
Cons
The cost means that Tosnail appears to have taken a no-frills approach to the design. The pad is adequate but doesn't compare to its competitors in fun, feel or attractiveness. The bonus drumsticks provided are also quite mediocre. The weight of the pad rules out lap-playing.
Conclusion
The price-point and additional sticks make this an extremely attractive option for young beginners. However, any serious drummer requiring a realistic feel to hone their skills may be underwhelmed.
Buyer's Guide: How to Find the Best Drum Practice Pads?
Can You Hear Me?
Noise is the number one hurdle to any regular and effective practice. So when choosing a drum practice pad, it should be your first consideration too.
You can safely assume that the pads would cause significantly less noise than an actual snare. However, they are still hard percussive surfaces by nature, so noise or floor vibrations have to be factored in. If your neighbors can hear constant thumping when you practice, this won't go down well.
Pay attention to the material used in the pad and whether it's built to dampen the noise or vibrations.
What Are You Practicing?
The next step is to figure out what exactly you are trying to practice. This has an impact on the type of drum pad you need.
If you are a drumline/marching band drummer, then you need to perfect your routines, rudiments and stick handling until they become muscle memory.
This means the make or break factor to you will be the bounce of the pad's playing surface. You'll want to look at the quality of material the surface is made from.
However, a beginner jazz or rock drummer will need to master a different set of techniques over a full-size kit. He or she would need to learn limb independence as well as playing on multiple surfaces at once.
Such a drummer would need a surface that feels more natural and as close to the feel of a real drum kit as possible. You may want to keep an eye out for brands with proven ties to the drumming industry.
As you will likely need a number of pads to mimic a full kit, you may even want to consider double-sided pads for increased realism. You could then use the tighter side for your snare sound and the looser side for your toms, for example.
Portability
How easily can you travel with your drum practice pad or practice on the move? This is an important factor to consider.
Practice pads are portable by nature. Yet their weight and shape will actually play a role in where and how long you get to practice.
If you are carrying your pad in a stick bag or backpack, will its shape make it an awkward fit? Is the pad light enough to place on your lap, or will its weight become tiring during a long journey?
Does The Practice Pad Have A Grip?
Beginner drummers may not necessarily have thought of where they are going to place the practice pad. Some already have a snare basket from an existing drum kit, but some may not have a kit available.
This means they will rest the pad on coffee tables, worktops, and carpeted floors. This could result in the pad sliding with every hit.
The best practice pad for you will have sturdy grips or other methods to hold itself in place. It will do so without damaging the surface it is placed on.
How Does It Look?
Superficial it may be, but an attractive practice pad means you are more likely to practice. While a plain practice pad may be more cost-effective, it could end up in a corner gathering dust.
We all live busy lives and finding time and inspiration to practice basics is often tough. Yet sometimes that inspiration can be as simple as seeing something cool and remembering how fun it is to use. If you are a visually-driven creative, then factor this into the type of pad you choose.
Final Verdict: What's the Best Drum Practice Pad?
All four entries had their strengths. We had innovation vs. ease of play, brand-recognition vs. cost-effectiveness. Despite such tough competition, the winner goes to….Offworld Percussion's Invader V3 pad.
Despite its significant price-point, the Invader brought it home through the realistic playing action of its innovative surface material.
The fact that Offworld also had the forethought to provide materials to care for the playing surface made it easy to justify its price-point.