(Last Updated On: January 23, 2018)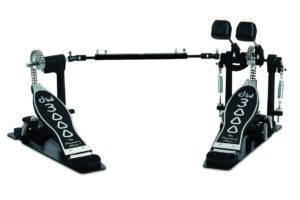 As certain styles of music grow more and more extreme, demands get higher on the speed and precision of the drummer. It is clear how crucial the bass drum is for music, it provides the steady beat and the constant bass hits that make music feel as good as it does.
But, a drummer with less-than-stellar equipment is limited by the hardware so, where do you put all that hard-earned cash? A good start to staying competitive as a drummer in extreme or heavier styles of music is investing in a good pedal, but good comes expensive.
The question is, what pedal is the best investment? What is the best bass drum pedal for the money?
Top 5 Best Double Bass Pedals: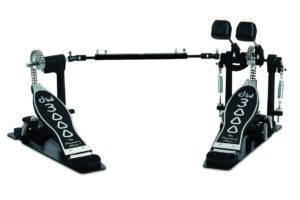 Perhaps one of the best middle-of-the-road double pedal offerings comes from one of the most renowned high-end drum manufacturers in the world. It is no surprise that DW has achieved a level of notoriety when even their middle-budget pedals are this good.
The 3002 features a double-chain drive design that is smoother than a lot of top-range pedals from other manufacturers (ahem, Iron Cobra?) The all-metal design insures durability and weight underfoot. Furthermore, the beaters feature a few different sides for different tones.
On top of this, DW has a reputation for producing incredible pedals and this one is no excuse. The 3002 includes all essential adjustment factors including spring tensioning with high-quality springs, throw distance adjusting, beater height adjustments, a drum key holder.
The off-set cam design is engineered to translate the maximum amount of your foot's energy on the board into beater impact energy so that even when playing fast, power is less likely to be compromised.
Furthermore, the dual spring bearing rocker system provides as smooth a ride as the 3002's older brothers are known for providing.
The 3002 also packs other niceties in at this price point including an adjustable toe clamp. This may seem like something that is silly to consider an "added feature" but when sweat or beer or water gets on your pedal at a gig and you have the 3002's toe clamp making sure that your foot is not flopping around quite so much, you will know who to thank: the DW 3002, easily the best pedal for your money this year.
There are, though, a few cons to this pedal. These pedals are NOT longboards, they are normal size pedals. So, heel-toers may want to look elsewhere if they believe that longboards are essential to their technique.
Furthermore, DW does offer pedals that are even more rock-solid and reliable so maybe a little further saving can get you a pedal that will last a lifetime.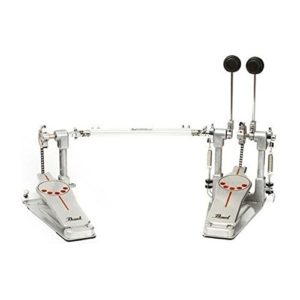 The Pearl Demonator series has gotten a reputation as the pedal for speed-kings who don't have an Axis Longboard. Unlike the 3002, these pedals are longboards. They also feature a sleek, all-metal aircraft aluminum design.
Where the 3002 pedals feel heavy because they are heavy, the P932 is deceptively lightweight while being almost as sturdy.
The P932 is an incredibly well-built pedal making few sacrifices to put it in this price range. The pedal is machined out of aircraft-grade aluminum and features the iconic design of Pearl's recent pedals that is simply incredible to behold and drummers across the room will know what you are playing.
The biggest sacrifice made here is the presence of the single-chain. For some, like myself, I actually prefer the single-chain or strap-drive systems but for most people going for speed and power over finesse and accuracy, the single-chain is just a little bit weaker and a little bit more liable to break and not provide maximum returns on footspeed investment.
Other than that, the pedal carries a lot of top-quality features including a Powershifter design with interchangeable "circle" cam (oldest-school design Pearl offers, trying to translate directly between foot stroke and beater strike) and an "eccentric" cam (trying to enhance the power in the backend of the beater's path). Describing it with words will make very little sense.
Suffice to say that the "circle" cam will accurately reproduce everything you do while the "eccentric" cam translates the motion to add a little bit more power at the cost of a little bit of smoothness.
The fact that you can change out the cams on this pedal gives it a little bit of an adjustability edge over the 3002, but all things considered, the P932 may be a little less satisfying to the moderate to advanced double pedal bass drum player due to the lack of a dual-chain drive.
However, for anyone seeking an ultra-lightweight pedal the P932 may be the best of both worlds: high-quality construction and design features and lightweight yet sturdy.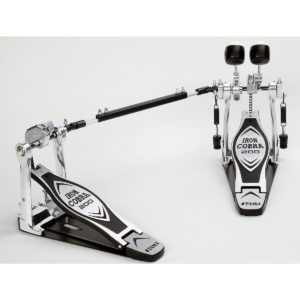 The Iron Cobra brand by Tama Drums has been bringing great pedals to the market for many years that feature an exquisite design with the black and silver color scheme along with great features for a new double pedaller.
The Iron Cobra was a brand of pedals that was at the forefront of the "pedal" race. In 1993 when the first Iron Cobra was introduced, there was not much that could touch it in terms of speed and power but most importantly durability.
The durability of the Iron Cobra brand is the reason I would push any gigging drummer to seriously examine this pedal. This pedal is not a cutting edge Iron Cobra, but it does fine in terms of speed and power.
However, it does carry on the tradition of Iron Cobras being nearly impossible to break because of their heavy-duty metal construction.
Durability aside, the features of this pedal are as required. It features an adjustable beater length, adjustable throw distance, adjustable spring tension; everything you need to be able to dial in your feel. Also, it features a dual-chain design contributing to the speed and durability.
The Powerglide technology in the cam is much like a lot of cams today, it is designed to straddle lightweight action and powerful impact force. It used to be cutting edge but with this being a lower-end Iron Cobra it is a Powerglide and only a Powerglide.
Anyone new to double pedals or seeking a pedal that is quick and durable will be pleased with the Iron Cobra, but it is not much to write home about when it comes to cutting edge features. What it has going for it is great playability and durability.
It is an older design without the features of its older brothers like the Iron Cobra 900 so it is not the fastest pedal or the smoothest, but it is sure to last a long time while providing good performance.
Mapex P500 TW Double Bass Pedal – Best on a Budget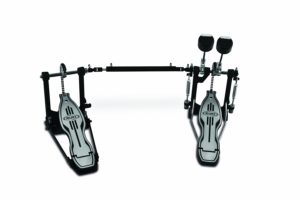 I can only recommend this pedal if budget is your absolute number one concern, bear that in mind as this section goes on. Mapex is a well-known company offering mid-to-upper quality drums at affordable prices.
Its top-range drum kits and hardware are nice for the working musician with a budget, but they are not the best equipment money can buy.
The P500TW is a double pedal made by a budget company for budget-conscious consumers. It is the most useful, cheap double bass pedal.
If you are purchasing a double bass drum pedal for a beginner drumset player, look no further. But, if you are an advanced player looking for value, I would recommend looking at any of the above three pedals.
The P500TW features some essential configuration settings like adjustable throw distance and beater height, spring tension, etc but none of these feel the most rock-solid.
That can be said for the whole pedal itself. Something that was especially questionable in my mind was the quality of the springs and cam.
An additional plus that is added that is not typical seen in budget pedals are the retractable floor spurs meant to help the pedal from sliding during play. The rest of the pedal is thoughtfully designed likewise to provide the beginner with the best possible playing experience.
The P500TW will offer beginners a nice introduction to double bass playing. It is lightweight and the build quality is passable. It offers some necessary adjustment features for configuration purposes to help the beginner feel comfortable during play.
Overall, I cannot recommend the P500TW to anyone but beginners. For beginners, it is a great value and I would not point you anywhere but to the pedals above if your budget could stretch.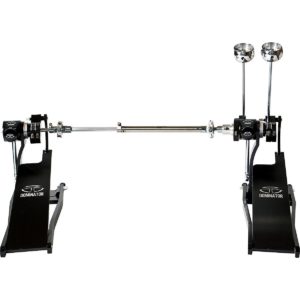 Trick is a custom drum company out of California that revolutionized the double bass drum pedal, in the eyes of many, when they released the Pro 1-V system a few years back.
The Pro 1-V has, rightfully so, been decried as being massively overpriced for what you get and out of the range of any drummer who isn't famous. The Dominator is an attempt to bring that technology down to a slightly lower price range.
Unfortunately, what you get is comparable to the 3002 or the Pearl Demonator. You also are not getting a long board in this pedal.
You are getting a decently fast direct-drive pedal. If you wanted a direct-drive, here's one for almost triple the price of the others on this list.
As far as adjustability goes, there is nothing special here. It has everything you want, which it better for $600 USD. The description shows that there are "universal zero-backlash free-floating joints" which are of Trick's own design.
These are among a bevy of features that are pretty meaningless.
I have never struggled with joints being not…"free floating" on a mid-to-top tier pedal from any reputable manufacturer. In other words, this claim from Trick is not worth almost a $400 premium over any of the other pedals on this list. It is not worth more than any other top-end pedal on the market.
If you are looking for top-end pedals for speed, look no further than Axis Longboards which, even at their professional prices come in cheaper than this supposedly more budget-friendly oriented version of the Pro 1-V.
If I have to pick a reason to pick this pedal, it is purely one of luxury. It is a nice pedal, there is no denying that. But, is it worth $600? The short answer is, I do not know if there is a pedal that is worth $600 USD.
Bass Drum Pedal Drive Types
Bass drum pedals come in three major drive types: direct drive, chain drive, or strap drive. Each of these feels slightly different than the other and each is really about personal feel preference.
We are going to spend hours adjusting our pedals to feel like we want them, it is an important decision to make when deciding drive types because certain drive systems feel a certain way and that feeling cannot be replicated on the other two types.
Strap drive pedals tend to have a slightly relaxed, buttery smooth feeling to them. Strap driven pedals have been around for a very long time and favored by drummers who don't necessarily need split-second accuracy coupled with intense power returns.
Strap-driven pedals are a good balance between the speed of the chain-drive and the power of the direct-drive styles and offer perhaps some of the more precise response times out of all three drive types.
Chain-drive comes in two variations: single chain and double chain. This delineates the number of chains connecting the footboard to the cam and beater apparatus.
Single-chain is less durable but possesses response times closer to the strap-drive systems whereas the double-chain offers the maximum power out of all three types of pedals.
Finally, direct-drive is the most difficult to get used to but the most rewarding in terms of speed. For most players, it is recommended that the direct-drive system is not the first system played on as it requires more intentional playing and muscle memory that can only be developed through practice.
Once one is skilled enough on either a strap or a double-chain configuration and they desire the most speed possible out of a pedal configuration, they should consider moving to direct-drive.
What Adjustments Are The Important Ones?
A lot of beginner pedals are very basic in terms of adjustability. There is a fine line that must be walked between adjustability and out-of-the-box playability especially for working drummers with limited budgets.
This portion of the article will break down a few different, important adjustment types to make sure you are getting the best bass drum pedal for the money.
It is important that your selected pedal offers adjustable throw distance. The space that the beater travels from resting position to the drum head can be too far to be efficient or too short to offer any power.
Having adjustable throw distance is a simple way to make sure that your technique is getting maximal payouts when it comes time to play.
Just like when you play a drum with sticks, there is a portion of the drum head that produces the best sound when hit. The same is on larger drums like the bass drum.
The ability to adjust the beater height allows you to locate the location on the bass drum head where the best sound is produced. If you do not have the ability to accurately adjust and insure that your beater is hitting the head at the optimal location, you cannot insure that your bass drum is producing the best sound.
Finally, it is important that there is an effective mechanism for adjusting the spring tension on the pedal. Additionally, high-quality springs are extremely important.
Bass drum pedals are converting your downward motion into lateral-ish motion and the springs make sure that the energy is accurately transferred.
The tension on the spring can make the pedal a bit stiffer under your foot, requiring more power and precision to stroke the bass drum or it can be adjusted all the way down to loose and floppy depending on your desired feel.
Conclusion: What's the Best Double Bass Pedal?
The 3002 by Drum Workshop offers the best in value and playability. You are truly getting a professional pedal at a budget price. It is, though, quite heavy duty and quite infinitely adjustable.
I would recommend this pedal over all the others but that recommendation carries with it the caveat that it is only for someone serious about double bass.
Perhaps it is a great upgrade from an Iron Cobra or the P500TW! The P932 is very similar in adjustability to the 3002 but features a lightweight and eye-catching design.
I think it suffers a bit having a single-chain but the interchangeable cam system is something to consider. The Iron Cobra is a great durable pedal for someone going for a double-pedal that is reliable and not the flashiest.
Finally, the P500TW would make a great purchase as a first double bass pedal.