(Last Updated On: December 21, 2017)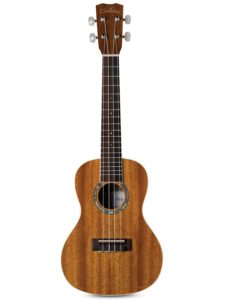 For a lot of musicians starting out, there are two major hurdles. The first is the size of an instrument and the second is cost. Why would you spend hundreds of dollars on a piece of equipment that you may not even enjoy playing?
The smart answer is, you would not. Additionally, how can a younger person effectively play an instrument that is built for someone multiple times their size? The answer is, they can't.
A great starting place for any musician looking for an unintimidating first step into playing music should definitely consider trying out the ukulele.
For $100 you can get a lot from your ukulele, but what is the best concert ukulele for under $100?

Top 7 Best Concert Ukuleles Under $100: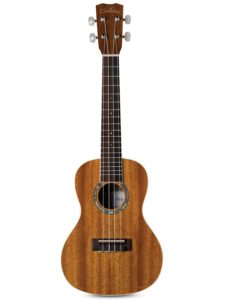 Starting off perhaps with one of the household names in entry level ukuleles, I can heartily recommend the 15CM Concert by Cordoba if you are looking for a concert uke.
Setup
It is crafted from quite beautiful laminate mahogany in China. This Uke features a nice satin finish with a gorgeous inlay around the sound port. It has chromed tuning knobs which complete the look.
Size and Sound
The 15CM is 22″ long and has the standard concert ukulele dimensions.
The ukulele sounds great. It has that exact "Hawaiian" sound that so many beginning uke players desire. There is not really a downfall to the sound of this instrument.
Now, some reviews have mentioned difficulty with the sound because of poor setup or unstretched strings, make sure that you properly setup your ukulele and you should be off to the races.
Pros
The 15CM is a great looking instrument, it does not look like you only paid $100 for it.
It sounds great for a highly affordable instrument
The mahogany wood is reliable and durable.
Cons
Some reviewers have complained about string quality.
Verdict
If you are looking for a quality, long-lasting ukulele at a very friendly price, the 15CM is a fantastic choice that will serve even an intermediate musician quite well.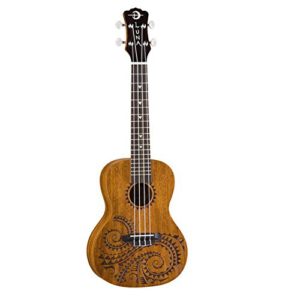 The Luna Mahogany Series Tattoo ukulele is a beautiful instrument probably ideal for a young girl or a boy to play. The design on the body of the instrument will be highly attractive to some.
Setup
This is a typically sized (23″) concert ukulele. It has mahogany sides and back with a solid spruce top. The result is an instrument that sounds quite good in its price range. It also has chrome tuning knobs which are always a pleasant touch.
Sound
This ukulele, with the mahogany and spruce body and neck, sounds really good for such a low price. Like the 15CM, these instruments are highly affordable forays into ukulele playing that provide a lot of value.
Pros
Great price to performance ratio
Good looks
Very affordable yet good quality
Cons
The design is not for everyone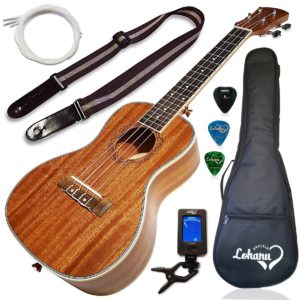 This bundle sold by Amazon is perhaps one of the most valuable ukulele packages available today. The price compared to the quality of the instrument and the number of accessories and extras included is something to consider.
Setup
This is a typical concert ukulele with mahogany/sapele sides, back and front paired with a rosewood neck and chrome tuning knobs. The quality of the materials is something to take note of. Interestingly, it also comes with the strap buttons pre-installed to go along with the included strap.
This package is a little bit different from the first two ukuleles discussed because this is, so far, the only "ready to play" package on the list and it is priced $10 less on Amazon than either 15CM or the Tattoo. Included in the package are the previously mentioned strap, a tuner, some picks and a gig bag. The inclusion of these extras really ups the value of this as an entire package.
Sound
This is a typically sized concert ukulele. The sound on this thing is quite good for a sub $90 instrument. There is no buzzing from the frets, it stays in tune and it provides the iconic ukulele tone at a very attractive price.
Pros
Simple look
Quality materials
Very nice sound
Cons
Does not sound quite as good as a 15CM
May include things you do not need if you already have picks or a tuner.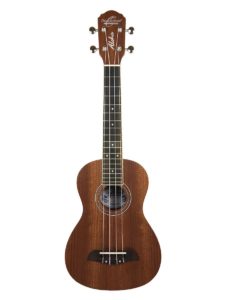 This is another solid looking package deal, it comes in at $10 less that the previous bundle, which is a plus for some people.
Setup
Outside of a few reported problems with the craftsmanship, this uke is pretty well suited to any beginner. I hesitate to place this ukulele in the same category as the previous models because the price is really taking the quality of the materials and the craftsmanship down. That being said, the instrument has a great potential for the beginning musician just starting out and looking for something respectable and very affordable.
Sound
For all reviewers, the issues with the instrument appear to only be skin deep. That is, there is not really an issue with any important aspect of this instrument's sound. The issues are cosmetic which should be relief to anyone looking for a very affordable package.
Pros
Lots of interesting and handy accessories
Good sound
Very affordable
Cons
Problems reported with the craftsmanship of the instrument.
Let me say one thing about this particular instrument…it is gorgeous. I am a real sucker for dark wood finishes on an instrument and this thing hits it out of the park.
Beauty, in this instance, is not only skin deep. Let's read on to find out more about this very affordable instrument.
Setup
Just so you know, this is not a bundle package. Only the uke itself is included. With that out of the way, we can begin to discuss this absolutely gorgeous instrument. Other than that, this thing is a bog standard concert ukulele featuring the chromed tuning knobs.
The thing, as I have said before, that really sticks out about this instrument is the finish. The dark wood looks great and really can convince that you are playing a much more expensive instrument. For a beginner, that can be a real confidence booster.
Sound
I have read that some players report problems with the stock strings. If it is the case that your instrument came with some less-than-stellar strings, it may be a good idea to purchase some more.
Other than that, the consensus with this instrument is that it is widely thought to sound quite good at such an affordable price range.
Pros
Sounds good
Classy finish
Decent construction
Cons
Stock strings may sound bad
Some reviewers complain that the finish on some models has a good amount of blemishes that may distract from the playing.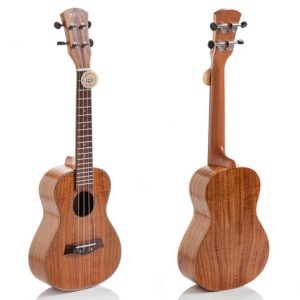 This particular ukulele really fits into a "not bad but not great" category. At such a low pricepoint, I am not sure that you can expect anything different.
That being said, this uke sounds good and looks good doing it. I am sure that for most beginners this ukulele will not go unplayed for long, which is what is most important.
Setup
Standard concert ukulele size and dimensions. The koa wood looks very classy and like the previous instrument really adds a touch of class.
Around the body of the instrument and the sound port, there is some nice design work that makes this instrument slightly more appealing than just bare wood. If you are not looking for an instrument that has any design on it, this may not be the one for you. But, if you are looking for some added interest this could certainly be something for you to consider.
It does have chromed tuning knobs but the actual knobs themselves have interesting rubberized handles that actually seem like a really good addition to me for preventing any visible wear on the chrome.
Sound
This instrument, as the previous, is not the best instrument that money can buy when it comes to sound. It is solid, but nothing more. There will not be any overtly annoying fret buzz and the instrument plays in tune pretty consistently, but after listening to the instrument play it does not have a tone that really "wows".
Pros
Nice looking finish
Solid sound
The rubberized tuning knobs are an interesting addition
Cons
Sound leaves something to desire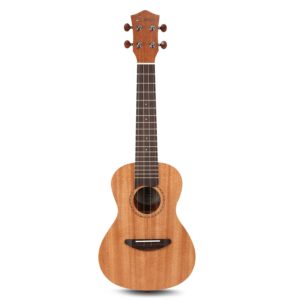 This is the cheapest instrument on the list, but it is not automatically the worst. In fact, if price is your ultimate concern this is the instrument that you should buy.
Setup
This is another bundle including a gig bag, a tuner, a strap and some extra strings. I don't think that any of these items are the highest quality, but they are necessary and they will get the job done for a beginner. The instrument also features some nice tuning knobs that actually match the wood finish of the rest of the instrument.
The included ukulele is beautiful. It has a nice wood grain and comes in at the usual concert ukulele dimensions. It does have some subtle design work that is not at all distraction or even really attention grabbing — it sits in the background and when you notice it you will be momentarily pleased.
Sound
Unlike some of the other super-affordable ukuleles on the list this thing sounds GREAT and packs some very interesting features that make me think that this instrument is completely comparable with the Cordoba 15CM that clocks in at almost $40 more and this instrument includes some high-quality accessories.
The sound, otherwise, is great. The compensated bridge means that you will stay in tune up the neck. The geared tuning knobs help hold the strings and keep the instrument in tune. The quality mahogany wood makes sure that the tone of the instrument is true and sounds just like you would expect.
Pros
Compensated bridge and geared tuners are very interesting features at this price range.
Great looking
Good materials
Nice accessories
Cons
At this price, I don't think you can go wrong.
Essential Features of a Ukulele
I believe that there are a few areas that you do not want to compromise when purchasing a new ukulele.
You want your instrument to be made out of a wood of some sort, preferably a wood with a reputation for making good musical instruments. A good wood would be maple or oak. A bad material would be plastic or carbon. A $100 ukulele made out of wood can get you very far in the musical world, which is one of the great things about playing the ukulele.
You want to know what key the ukulele you are purchasing is. Some ukuleles are very small (soprano) while some are quite large when considering ukuleles (baritone). Besides just the physical size constraints, the instrument sounds very different at these different sizes. It is important to know what your goals are with the instrument when purchasing one.
Sound, sound, sound. Of course, you want to make sure that your instrument provides the best possible sound for you. Some may think that in this price range sound has to be compromised, but the following reviews will show that nothing could be further from the truth.
Conclusion: What's the Best Concert Ukulele Under $100?
The best concert ukulele under $100 on this list is the Cordoba 15CM. If you have the $100, you need to get that ukulele. That will last you a lifetime and it is priced in a very affordable range. But, if you are looking just to play a uke or maybe see if someone has an interest, the Donner bundle that is last on this list is the absolute way to go.