(Last Updated On: December 21, 2017)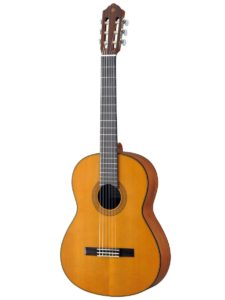 A classical guitar can be a beautiful thing. From the nylon strings to the oftentimes intricate design and craftsmanship, classical guitars are both a blast from the past and a way to bring pure, crisp acoustic sound to life.
Classical guitars deliver a clean, natural sound, and they're often times a bit easier to pick up for beginners thanks to the softer strings.
And yes, sometimes they can be extremely expensive but you don't necessarily have to break the bank in your quest to become the next Andrés Segovia.
Top 5 Best Classical Guitars Under $500: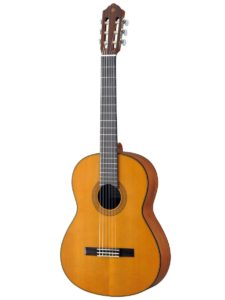 The CG122MCH may be the best guitar in its price point. It's not a cheap toy you can pick up at Walmart for 100 bucks but it's not going to cost you thousands of dollars. Checking in around the low-200's, this guitar brings tremendous sound at a tremendous price.
It would be good for a beginner or novice because it comes with soft tension strings, which are easy to play with, and it's very easy to get high-quality sound from the guitar without trying hard.
The cedar top delivers the nice warm tone that you come to expect from acoustic and classical guitars and it resonates up and down the fretboard and on all six strings.
The one thing you may notice is that the actual quality of the finish isn't up to par with more expensive guitars, but for the price, this guitar is very hard to beat.
Positives
Cedar top
3-ply neck construction
Rosewood fingerboard and bridge
Negatives
Matte wood finish isn't high quality
May be prone to cracking or warping in the body. The neck should be fine due to 3-ply.

The Fender FC-100 is a great beginner guitar that you can find for close to 150 dollars, which means it's a tremendous value for a classical. The thinner nut width makes the guitar easier to play, especially for beginners or people with smaller hands, and the same thing can be said for the nylon, which is easy and soft on the fingers.
The spruce top is going to give you really nice tone and the "ring" that people are looking for out of acoustic and classical guitars. You'll be able to strum it once and hear it reverberate afterward thanks to the top and the mahogany back and side pieces. This size of this guitar is perfect for beginners because it's not huge, but if you're someone who has big hands it may be a bit too small.
For someone just looking to learn guitar and who wants to start off with a classical, though, this is a great fit.
Positives
Thinner nut width (1.73 inches)
Fender strap, electric tuner and gig bag included
Resonant spruce top
Negatives
A bit on the smaller side, so people with big hands or non-beginners may feel a bit cramped on the fretboard
Lower strings can be dull
This guitar starts in the mid-200's so you're going to have to pay a bit more, but it's well worth the price. First of all, it has preamps onboard as well as a tuner, so you'll be able to plug in and play. Again, that usually important for gigging musicians, but if you just want to play at home or in a small venue with a mic giving you sound, it may not be as big of a deal.
It's a compact guitar that's very easy to play — especially if you want to do some fingerpicking. It gives out great tone both unplugged and through an amp, and it looks as good as it sounds. It has a really nice finish and the addition of the onboard tuner will allow you to make sure that it's always playing in perfect tune.
Look good, sound good. For a pretty reasonable price, this classical guitar has two very important qualities.
Positives
Preamp with onboard tuner
OutputRosewood Bridge
Mahogany Body
Negatives
May sound "cheap" to the discerning ear. This is a negative for people looking for concert quality sound out of their guitar, and if that's the case, it's probably best to spend a bit more money.

The C7 is right near the top of our 500 dollar budget, but there's a reason why. It's a high-quality classical guitar made with a cedar top and rosewood everywhere else. It features what they call a "fan bracing pattern", which means it's going to be louder and have a more defined tone because the soundboard has more room and area to respond to what you're doing on the strings. In fact, the tone of this guitar is one of its best qualities.
The frets are a bit wider so if you've got bigger fingers or aren't a beginner, this guitar will likely be very comfortable for you. You're going to get great sound and great tone that could be mistaken for a much more expensive guitar. So if you're on a budget or simply don't want to break the bank by buying a truly classic classical guitar, the Cordoba C7 is a solid option.
There have been some complaints online about the saddle being loose or even falling off, so that's something to keep an eye on if you've got an attention to detail and like to fiddle around with your machinery.
Positives
Cedar Top
Rosewood back, sides, bridge, and fingerboard
Includes gig bag
High gloss finish
Negatives
Upper frets may buzz a bit due to high action
Potentially loose saddle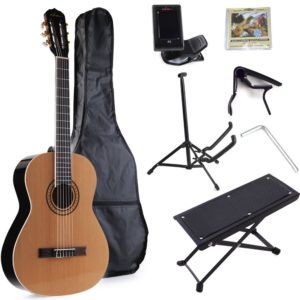 This guitar is the cheapest on our list, checking in under 100 dollars. It's a good beginner guitar because they can mess around with it, it comes with a ton of stuff to help the beginner get started and it looks a bit fancier than it really is. For being as cheap as it is, the ADMJC613-YW has nice, loud acoustics.
It's not going to confuse anybody for a classical guitar worth thousands, but for what it is, it gets the job done. Again, this is definitely a beginner guitar.
Positives
Spruce top and decorative binding
Rosewood fingerboard and bridge
Gold hardware
Dual-action truss rod
Includes nylon strings (plus extras), footstool, stand, CAPO and tuner
Negatives
Soft case
Wide neck
Beginner guitar
How to Find the Best Classical Guitar
With that in mind, here's a guide to help you find the best classical guitar under 500 dollars.
Size and Shape
When it comes to buying an acoustic guitar, which is normally bigger than its electric brethren, you have to have a sense of yourself. Guitars come in all shapes and sizes and that's for two reasons.
Different shape and size mean different tones and sounds
Different shapes and sizes for different people
If you're a small-bodied person with small arms and hands, perhaps you shouldn't go out and buy the biggest hollow body you can find. Remember, you want this to comfortably sit on your lap, so you don't want it to be too big. You also want to be able to reach all the way up and down the fretboard, so make sure you can reach.
If you're a bigger person, you don't want to cramp your style by having to curl in on yourself to play your guitar. So get a bigger bodied guitar and rock out.
There's also skill level to consider. Veteran guitar players have spent years stretching, bending, hammering and pulling their fingers and hands, thus a bigger fretboard with more room to cover between strings isn't a huge deal. Beginners will struggle with thicker, larger fretboards because they deal with all of the opposite mentioned above.
It takes some time to figure out how to line things up on the fretboard, press down where you need to and do so with enough strength to have it sound good — especially if you're playing chords.
The size and shape of your guitar are vital to your long-term ability to play it, so don't overlook it.
Playability
How does the guitar play? No, we don't mean "can you play the guitar?" That's a completely different article.
What we mean is: Literally, how does it play?
If you can, give the guitar a whirl and check out its features. How do the strings feel? Do you have to press down too hard to get the tone you're looking for or are the strings too loose for your liking? Of course, strings can be changed, but generally, a guitar is going to hold any type of string the same way based on the size and tightness of the nuts on the bottom as well as the quality of the tuners.
With that in mind, check out those tuners. If they're soo tight that you're going to have to fight to tune up your guitar? On the plus side, it may not fall out of tune as much. If they're too lose you're going to have to constantly be checking up on your tune, so look for a middle ground.
Feel out the fretboard for any bumps, cracks, dips – anything that can throw you or the quality of your music off. Also, consider that the body of the guitar can play a huge role in what it sounds like, and that includes what it's made of. Different woods produce different tones, and generally, higher quality material produces higher quality sound.
Listen to the tone and "ring" of the guitar. On acoustic and classical guitars, the tone, volume and lasting ring of the acoustics come from the sound hole. Most are pretty classically shaped, but that's not always the case, so that's something else to consider.
Harmonics
A great way to test the overall quality, pickup, and tone of a classical guitar is to play a quick round of harmonics. Lightly touch the strings on the fifth, seventh, 12th and 19th frets. Don't push down on them to create the full note, but lightly press and then pluck with your other hand.
The notes should ring out and sound, well, harmonic. All guitars will do this if strung correctly but test different strings out to check for quality.
This will give you a sense of the guitar as a whole. You'll get a good feel for the action of the strings, how tense or loose it plays and how the sound hole reverberates and amplifies your sound.
Electric Capabilities
This doesn't matter for many classical guitar players, but some want to actually plug in and play through an amp or over a set of speakers – especially if they're playing a gig.
Not all acoustic guitars and especially not all classical guitars are made with electrical plug-ins, but some are. So if that's something that's important to you as the classical guitar player, you best make sure that your guitar can plug in.
High-quality electric-acoustic guitars will have onboard pre-amps, perhaps an onboard equalizer and many have onboard tuners as well. Having a tuner actually in the guitar is a huge plus because you can always make sure that your in-tune, and it saves you from having to carry around an electric tuner at all times.
The Takeaway
You don't have to spend thousands of dollars to find a good classical guitar. Concert musicians or enthusiasts may want to stay away from this range and build up to something bigger, but if you're a beginner or simply a hobby classical guitar player, there's not much reason to spend over 500 dollars.
At this range, you're still getting a quality instrument and in some cases, it's made some very impressive material. Tone won't be a problem and in at least one of the guitars above, you can plug in and play.
With that in mind, in our opinion, the best classical guitar under 500 is the Yamaha CG122MCH.
It will satisfy both beginners and serious classical guitar players with its tone, sound, and quality. It's not too cheap and it's not too expensive, which makes it the best classical guitar under 500 dollars on this list.