(Last Updated On: December 21, 2017)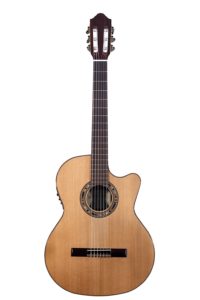 Classical guitars, known for their crisp, clean and yes, classical tone, are extremely popular among guitar enthusiasts and beginners alike.
They're generally easy to play because of their nylon strings, and they sound terrific.
There are few things that can match the beauty of a classical guitar – especially if you're willing to spend a bit of money.
So if you're looking to spend some money, but not too much money, you're in luck. We'll help you find the best classical guitar under 1000 dollars.

Top 5 Best Classical Guitars Under $1000:
Kremona Verea – the Best Classical Guitar Under $1000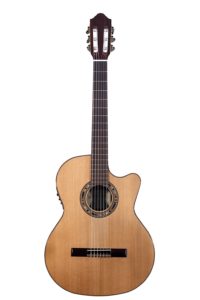 The Kremona Verea is truly a beautiful classical guitar that just may check off all the positives boxes for those looking to get that non-traditional classic feel out of a guitar that looks incredible.
This guitar is handcrafted in Europe, featuring a clasSolid red European top as well as Indian rosewood back and sides, a Honduras cedar neck and a wood binding rosette.
This is a guitar made with excellent material and detail, and the rosewood and cedarwood combination allow it to sound incredibly crisp and clear in its tone. Throw in the rosewood fingerboard and bridge, a Venetian cutaway and the gold machines, and it's very tough to beat the quality of this guitar for the price.
It's around 800 dollars, but it's well worth the few extra bucks.
The non-traditional feel comes from the 48mm nut and the radius of the fingerboard, which feels a bit more like a traditional steel-string acoustic. This is a perfect guitar for those used to acoustic or electrics because you'll still get that feel without losing the classical sound.
Finally, what allows the Kremona Verea to stand out is not just its pickup or onboard tuner, but the three EQ bands. You'll be able to equalize and specifically pick out the tone of your guitar when playing it through an amp or speaker, which gives you, the musician, so much control over the sound, tone, and quality.
This guitar really has everything that the modern-day classical guitar player looks for.
Positives
European spruce top
Dual-source Fishman Presys Blend system
Narrow Neck
Made in Europe, by hand
Electric capability
Three EQ bands built in with onboard tuner
Gig bag included
Negatives
Plays more like an acoustic, so fans of pure classical guitars may be thrown off a bit.

For around 780 dollars, you're getting a lot out of the Cordoba Fusion 14. First of all, it's an absolutely beautiful instrument. The Indian rosewood bridge, binding and headstock overlay are sleek and easy to look at, and the guitar is made with excellent craftsmanship. Need an example? Consider this: the rosette was made by hand using maple and rosewood rings.
You're going to get comments on this guitar because it looks like a million bucks — just like you would expect from a high-end classical guitar. The great part is you only spent under 800 dollars for it.
For as good as it looks, the Fusion 14 also sounds great. It has a very warm sound, and it also has electric capabilities, which means you're going to be able to plug it in and show it off in public if you want to.
For those used to playing electric or acoustic guitars, which means they're used to playing with steel strings, this guitar will be a treat. It boasts hybrid style nylon strings, so though you're still getting that classical feel, it won't be like jumping into the deep end right away with nylon — which can be an adjustment.
If you can get over the narrow neck and don't mind that the frets can be a little rough, this is a tremendous guitar. Especially for those looking to cross over into the world of classical guitars from electric or pure acoustic, this guitar is the real deal.
Positives
Indian rosewood top
14 Frets
Fishman Presys Blend electronics
Onboard tuner
Hybrid style nylon strings
Comes with gig bag
Negatives
Narrow Neck
Rough Frets
Tuner lacks sensitivity

There's so much to like about the Yamaha NTX900FM, and that's including the price. For just under 700 dollars, you're getting a tremendous instrument that will provide you with versatility, quality and a ton of enjoyment.
This classical guitar has electric capabilities thanks to its A.R.T. 2-way pickup system and it sounds great when it's plugged in. You won't lose that classical sound, but users who are used to playing an electric or steel string acoustic will still feel comfortable because of the thinner, fast and narrow neck. It makes it easy to pick and solo.
There have been some complaints about the strings that come with the instrument. Because of the low tension, they may tend to buzz, so be prepared to switch out and soon as you can with your favorite nylon strings. For many, changing out strings to something more comfortable or familiar is a right of passage when it comes to buying a new guitar, so that shouldn't be a huge deal.
The NTX900FM produces rich sound and it has excellent workmanship. It features an Engelmann spruce top, flamed maple sides and back, and a rosewood fingerboard. Users who are used to steel string acoustics may be a bit underwhelmed by the unplugged depth and sound of the guitar, but that's only because of the narrow body. If you want to play loud, simply just plug it in.
This is a guitar that can hang with much more expensive brands and instruments, which makes it a steal in this price range.
Positives
Engelmann Spruce Top
Sides and back made of flamed maple
Rosewood fingerboard
A.R.T. 2-way pickup system
Gig bag included
Negatives
May take some time to break in tone-wise
Thin body may reduce amplification if playing without an amp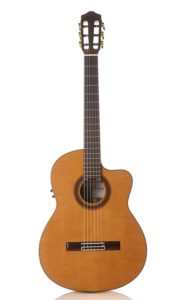 The C7-CE is basically the same as Cordoba's C7 model, but it's more expensive and there's a reason why. They cut out a space for the Fishman Presys blend pickup and the onboard tuner, so unlike the C7, this classical guitar has the ability to plug in and impress people not just with its look, but with its sound as well.
The cool thing about the C7 brand is that it features a "fan bracing pattern", which allows the tone and sound of the guitar to come across louder and more defined. The soundboard has more room to pick up and respond to your playing, so even if you're not plugged in, the C7-CE is going to have plenty of volume and definition.
If you plug it in, though, you're just going to get that much more of the tone and sound you're looking for. In fact, there's a good case that can be made that the C7-CE can compete with brands like Taylor or Martin, which are much more expensive.
The Cordoba C7-CE feels good to play and it has a bit wider of a neck, which is good for people with bigger hands or more advanced players who want the room to move around.
For the price, this is an extremely high-quality guitar.
Positives
Canadian cedar top
Indian rosewood back and sides
Rosewood bridge and fingerboard
Electronic capabilities
Onboard tuner
Includes Cordoba gig bag
Negatives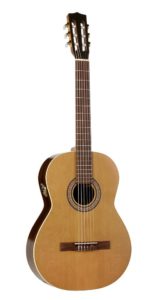 For those wanting to get into a higher-priced and higher-quality classical guitar but not necessarily wanting to break the bank, the La Patrie Presentation QI is a nice option.
It's a classical, nylon-stringed guitar that looks really good for the price and plays nice. It has low action, which along with the soft strings, makes it a very easy play. The tone is warm and soft, which may be an issue if you're looking for something that booms a bit more. But for those really wanting to hone in on the classical sound, this will provide the mellow tone needed.
Plus, it has plug-in capabilities and an onboard tuner, so if you really want to get loud, just plug it into a speaker system or amplifier. It will sound good when amplified.
The cedar and rosewood help create a very nice subtle tone for this guitar. They also make the guitar look really clean and sleek. You're not going to pay a ton for the La Patrie Presentation QI, but you might be able to convince some people that you did.
If you really want a ton of volume and body from your classical guitar, this one isn't for you. But for finger pickers and fans of mellow, soft classical music, the Presentation QI is a tremendous pick.
Positives
Radiused fingerboard
Solid cedar top that has passed a pressure test
Double function truss rod
Tusq nut and compensated saddle for better intonation
Price
Clean, classic look
Electric capabilities, built-in tuner
Negative
lacks in sound compared to some classical guitars, and especially when compared to a steel-string acoustic
What to Look For When Buying a Classical Guitar For Under $1000
Craftsmanship
If you're paying over 500 dollars for a classical guitar, you need to expect a certain level of elite craftsmanship. Of course, these guitars may not always match up with the Taylors or Martins of the guitar world, but you're going to want your guitar to be made up of high-quality wood and the attention to detail needs to be stellar.
Most good classical guitars look very clean and sleek, and outside of the rosette, there shouldn't be much flash — but that's why people love them (outside of the sound and tone).
Pay attention to the woods. Cedarwood is very popular for the tops and rosewood is often times a feature on the back, sides, bridge and fingerboards. Those two kinds of wood play off each other well and create a warm, mellow tone that classical guitar players love.
Strings and Neck
The strings and neck width are also important. Nylon strings are much easier to play, and a smaller neck makes an easier transition to classic for those who are used to playing acoustic or electric guitar. Soft nylon and a smaller neck also make it easier for beginners.
For those who are drawn towards a pure, classical guitar feel, though, looking for a wider neck makes more sense. It gives the musicians more room to operate and especially for those with big hands or big range, it feels less cramped.
Strings should be soft with low action, but not too soft and low — or else you'll start buzzing.
Don't be afraid to change your strings if the guitar doesn't come with the kind you're used to, but keep in mind, not every set of strings will work best with a guitar.
Electric capability
Unless you're looking for a really classic, classical guitar, at this price point you should really expect the ability to plug in and play. At the very least, you should have a built-in pre-amp, but onboard digital tuners are pretty standard in this price range as well.
Not everybody cares about being able to equalize their tone onboard, but if that's something that's important to you — and control is important to most musicians — it's worth paying a bit more for the option to EQ your sound straight from the guitar.
Keep in mind, most classical guitars are meant to have a softer, warmer feel to them, so they may not back a bunch of punch when it comes to volume and acoustic ability straight from the guitar. So especially if you're a gigging musician who is planning on playing some big or even medium sized rooms, if you're paying for a quality guitar — make sure everybody can hear it.
The Takeaway
When trying to find the best classical guitar under 1000 dollars, there are a whole bunch of factors to consider, as you saw above. Quality and craftsmanship are vital, because you're paying a lot of money, but so is tone, clarity and the ability to plug in and play your guitar for a whole host of people. The more control you have over that tone the better, so for our money, there's only one guitar that stands out above the rest.
The Kremona Verea is the best classical guitar under 1000 dollars, and it's not even close. The craftsmanship is unmatched, it sounds like you would expect a classical guitar to sound, and you're able to plug in, tune and EQ your guitar all onboard.
For just under 800 dollars, tremendous quality meets a tremendous deal in the form of the Kremona Verea.