(Last Updated On: December 21, 2017)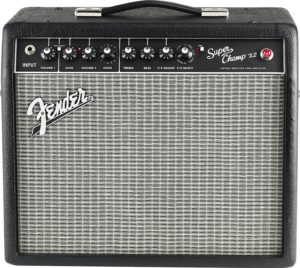 Based on wattage alone, many guitarists are quick to disregard cheap tube amps, assuming they lack power.
You won't be headlining a festival with a 5-watt amp, that's for sure, but you can still enjoy great sound at modest volume levels perfect for practicing at home and even small gigs.
Check out our reviews of the 5 best budget tube amps on the market right now!

Top 5 Best Cheap Tube Amps: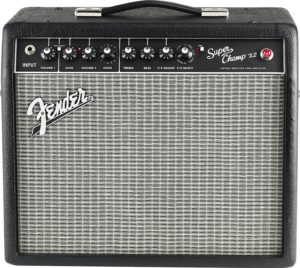 Unmatched in a recording environment, the Fender X2 offers guitar players a wide range of effects and features in an affordable package, as well as in-depth tweaking to explore a wide range of great sounds.
Features
The Super Champ X2 has two channels. The clean channel produces typical Blackface tone and has one volume control.
The drive or 'dirty' channel has gain and volume controls, as well as a voice switching knob which allows you to switch between 16 different voicings. There's a wide range of classic, popular amp tones here, such as vintage, modern, American and British.
An FX knob offers up a choice of 16 distinct effects, with an adjust knob to alter the effect level. You can select the delay time or modulation rate with a handy tap button, too.
There isn't a lot going on when you look at the rear panel, but for a relatively inexpensive amp, we don't mind.
You'll find one speaker outlet, a line-out for connecting to PA or recording equipment, and a jack to hook up the optional two-button footswitch. The USB port allows you to directly connect it to your PC/MAC to use Fender's FUSE software.
With Fender's FUSE software you can change the defaults of preamp voices and effects, alter amp parameters and stream audio from the amp directly into your computer/DAW.
In-depth editing of certain effects allows you to really get your hands dirty and start tweaking/experimenting with different sounds.
Sound
Channel one or the 'clean' channel gives your guitar the same sparkle that made the Fender 'Blackface' amps of the 60s loved by thousands of guitarists worldwide.
A smooth bass response and nice mid-range make the clean channel well-suited to playing rhythm parts.
All of the voicings offered by channel two are highly usable and responsive. We found some of the heavier metal tones had the tendency to fizz a little but were more than satisfactory for such a cheap amp.
Each of the 16 effects are simple, sound great and don't over complicate things with too many parameters. All you need to do is select your effect and tweak it using the FX adjust knob to fit your tastes.
Although there are no presets, the Super Champ X2 remembers your last settings from before it was powered off.
Overall
Using the FUSE software, this budget tube amp is the best choice for home recording guitarists.
Not only does it have a wide range of genuinely useful and great sounding features/effects, it's light enough and packs enough punch to use at small gigs. A highly versatile amp, virtually unbeatable for the price.
Pros
Lots of voicings and effects to choose from lets you experiment with different sounds
FUSE software allows for in-depth tweaking and makes the X2 excel in recording environments
It's a Fender, so you know it has been built to high standards
Cons
Doesn't come with a footswitch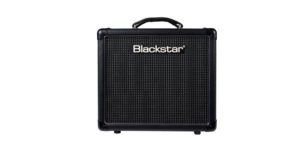 While a single watt of power might not seem like a lot, the tiny Blackstar HT1R still manages to deliver exceptional sound, great for low-volume shredding at home.
You'll still be able to capture the essence of that powerful riff, only you won't piss off the neighbors.
Features
The HT1R has two channels to choose from. Clean mode is there for when you need those sparkling, bright tones, while the dirty channel is ready to raise some hell.
In overdrive, you have access to gain and master volume knows, as well as the patented ISF EQ controls.
There's a master reverb control added to the HT1R (hence the 'R') and a couple of other useful extras. An emulated/headphones out port lets you connect silently to either a mixing console or soundcard for recording.
If even at low volumes, people are still complaining about the noise, you can use this feature to practice silently. An MP3/line input is there if you want to jam along to music stored on your portable music device.
Keep in mind that the single 8-inch speaker isn't going to blow you away.
Connect this amp to an external speaker using the 8-ohm speaker output. When connected, it silences the internal speaker and directs all sound to the connected one.
The HT1R sounds incredible through bigger, more powerful speakers.
Sound
To get good volume from the clean mode, you'll have to crank up the master volume. With only 1 watt of power, you won't shake the foundations of the house.However, even at normal volume, you'll still be able to
However, even at normal volume, you'll still be able to out play the TV. We found that the HT1R has very limited clean headroom – to get the best out of this small amp you'll need to use overdrive mode.
That's not a bad thing, though, the HT1R does overdrive very well.
Overdrive mode brings with it a significant increase in volume, as well as a ton of extra gain. Blackstar's overdrive is very smooth, with great note separation and not too much harshness.
It's great for melodic guitarists, but those with a more aggressive playing style, the HT1R will probably fall short of what you want.
You can play around with the ISF control to start tweaking and fine-tuning your desired tone. Expect to be able to get a variety of different sounds, from punky mid-range frequencies to classic Fender 'Blackface' tones.
For a budget tube amp, the HT1R features one of the best sounding reverbs we've ever heard. Digital reverbs often sound clunky, but the HT1R's reverb sounds authentic – just like a classic long-tank spring reverb.
Overall
The HT1R sounds bigger than you would ever expect from such a tiny amp. If space is a concern and you want something for practicing at home which is lightweight, simple-to-use, and has great reverb, look no further than the HT1R.
Pros
The HT1R mirrors the sonic profile of a 100-watt amp, just at a much lower volume
For a budget tube amp, it has the best reverb we've heard
ISF can significantly alter the EQ to produce dramatically different tones
Cons
Limited clean headroom
The backing track line is underwhelming, as it's played through a single 8-inch speaker. When possible, we'd recommend connecting a bigger, more powerful speaker.
Vox AC4TV – Best Portable Tube Amp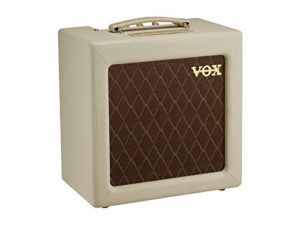 This is one of the most versatile small amps we've seen.
The ability to switch between 4 watts, 1 watt and 0.25 watts of power is priceless, especially when noise levels are a concern.
You'll be able to get that fat all-tube sound, even at low volume.
Features
The three-way power attenuator is a home guitarist's best friend. Play according to the level you're allowed to by switching between 4 watts, 1 watt or a quarter-watt.
Among the budget tube amps, the Vox AC4TV offers the greatest versatility in terms of power we've seen. You'll never lose that all-tube tone, even at low volume levels.
Controls are stripped back and simple. You get one channel with a volume and tone control to tweak that signature VOX tone, known for having a distinctively British top-end.
There's a 16-ohm speaker output for connecting to a meatier 12-inch cabinet. The speaker the AC4TV comes with is a 10-inch Celestion VX10.
Sound
Played at top whack (4 watts) the neighbors will be coming round to ask you to turn it down. It's generally too loud for playing at home but perfect for recording and small, solo gigs.
Unless you have the AC4TV connected to some more powerful speakers, you would struggle to be heard in a band setting.
The sound is a little on the boxy side. But, from a small cabinet, we expected it to be. It has a strong, prominent mid-range for that authentic rock 'n' roll sound and the closed-back design helps the low tones stay nice and tight.
Knocking the attenuator down to 1 watt further limits headroom, allowing you to achieve drive at a lower volume level. Going down to 0.25 watts does the same again.
Using the lowest wattage you can max out the volume and tone, getting a level of distortion that'll remind you of a 50-watt AC30 cranked all the way up.
Overall
If you're on a strict budget or need something incredibly portable, the AC4TV is perfect. Able to deliver those authentic tube tones at a range of volume levels, nobody will believe you when you tell them it's a 4-watt amp.
Pros
Thick all-tube sound at low volume levels
Outputs to connect to other cabinets mean you can use this amp as a head
Incredibly stylish, vintage design
Lightweight and portable
Cons
Very limited clean headroom
Doesn't have the power to be heard in a band setting, but works great for solo performances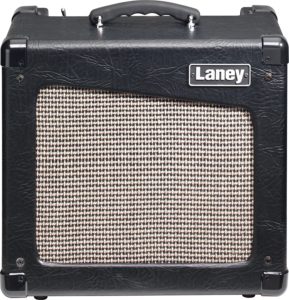 This no-frills budget amplifier provides little in the way of extra features but provides more clean headroom than other amps at this price.
Features
The CUB10 is back-to-basics. Three knobs let you control the tone, volume, and gain, as well as a high/low input.
Despite not having the extras of other budget amps like the Fender Super Champ X2, you'll still be able to enjoy a wide range of tones by fiddling around with the different controls.
The external speaker-out jack is an excellent addition, especially in a small, budget amp.
The CUB10 houses a 10-inch Celestion speaker, but could easily drive a 4×12 half stack.
You won't find any FX loop or reverb on the CUB10, however, users report this tube amp to work seamlessly with pedals. Our only complaint is that we'd have love to have seen a headphone jack and a direct output for recording.
The CUB10 is classically designed, back to basics and incredibly light for a tube amp. You won't find any FX loop or reverb on the CUB10, however, users report this tube amp to work seamlessly with pedals.
Our only complaint is that we'd have love to have seen a headphone jack and a direct output for recording.
Sound
The CUB10's tone is very warm and clean. Using the gain controls you'll be able to take the tone into mild overdrive, in Fender fashion, to achieve a bluesy or crunchy tone.
The thing we loved most about the CUB10's sound is that it provides significantly more clean headroom than any other budget amp we tested, providing emphasis on the pristine clean tones.
It's far easier to make an amp sound good in overdrive, but not so easy to keep clean tones sounding good at higher volumes.
The Celestion 10-inch speaker lacks the high-frequency response of the CUB12, although the speaker-out jack lets you plug in a beefier speaker to really open this amp up.
Overall
If you're looking for an amp with warm, vibrant tones that provides plenty of clean headroom, the CUB10 does the job better than any other low-wattage tube amp on this list.
It's super lightweight and durable, making this an excellent piece of kit for gigging in small venues.
Pros
Plenty of clean headroom
Small and lightweight yet extremely durable
The warm overdrive suits blues, jazz, and rock guitarists
External speaker output
Cons
No headphone jack
We'd have liked to have seen a direct line-out for recording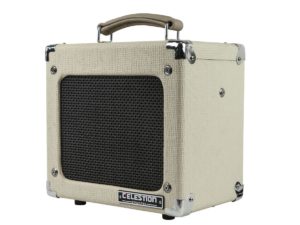 This is the cheapest tube amp on the list. If you're on a budget and still want that definitive all-tube tone then you'll love the Monoprice 611705.
Features
Similar to the CUB10, the Monoprice is a stripped back tube amp with few features, presumably to keep the cost down. The controls are very simple – just volume and tone knobs.
The tone knob is very responsive to small changes so you'll get more flexibility than you would think. The high input attenuates the signal by around 50%, while the low input is easier to overdrive.
It doesn't have a headphone jack or direct line-out for recording, but there is a speaker-out jack, which is a welcome feature. The Celestion Super 8 GBA-15 speaker provides more bass than you'd expect from a small speaker and we were impressed by it.
If you want to open up the tone and practice at higher volumes we'd recommend plugging in a 4×12, you won't regret it.
Sound
With 5 watts of power, you'll be able to get a fat tone at low volumes. Cranking the volume up, you'll be creeping up to neighbours-knocking-on-the-wall territory, but otherwise, it's great for home practicing.
Using the high and low inputs, as well as the tone controls, you'll be able to enjoy pristine clean tones to warm, overdriven tones.
We found that even when using the low input, you have to play hard and crank it up to get some serious tube distortion and overdrive. The Monoprice 611705 does provide lots of clean headroom, something that many low-wattage amps fail to do.
Overall
This grab-and-go budget tube amp from Monoprice is great for those on a really tight budget, being substantially cheaper than the other amps on this list.
It doesn't provide enough power for gigging, but for a practice amp, this more than fits the bill. It's cheap and basic but in a good way.
Pros
Cheapest tube amp on the list
Good clean headroom with warm overdrive tones
Celestion Super 8 GBA-15 sounds great
Speaker-out for connection to an external cabinet
Lightweight & portable
Cons
Need to play hard and crank up the volume to get good tube distortion
No headphone port
How to Choose the Best Cheap Tube Amp
This whole post is aimed at those looking for a solid, good quality amp that won't break the bank. Our buyer's guide will cover everything you need to know about what makes a great budget tube amp so you can get the best amp possible for the money.
Wattage
This is the first thing on many people's minds when buying a new tube amp. For people on a budget, you need to be realistic with the amount of power you can expect from an amp.
You won't be able to pick up a 100 watt Marshall half stack – anything from 1 to 15 watts is realistic.
It's important to know that a 100-watt amp isn't twice as loud as a 50-watt amp don't fool yourself into thinking a 15-watt amp isn't going to cut it.
Amps with lower wattage will be lighter, more portable well-suited to home practice. Since the power tubes will be pushed into clipping earlier, the amp will really get to shine at lower volumes.
If you had a 100-watt amp at home, you wouldn't be able to experience its full potential if the volume had to stay at 1 for the neighbors' sake.
Types of Tubes
Different types of power tubes each produce a particular sound. For example, a 6L6 power tube will produce tones with clarity, roundness. EL34s commonly have a prominent mid-range, bright highs, and tight low tones.
EL84s have a lower output and offer a similar level of harmonic distortion to the 6L6 power tubes – great for genres of music like blues that require fullness in the low end.
Clean sounding and with bags of low-frequency muscle, the 6550s and KT88s are big, powerful, and more expensive.
Multiple Channels & Other Features
If you'll be relying on one tube amp, it's a good idea to buy one that can provide varying levels of distortion. Even on a small budget, you'll be able to buy a cheap tube amp that offers multiple channels.
Amps with multiple channels offer far more flexibility, as you can use the independent gain controls for each channel and rely less on pedals for overdrive. Most tube amps have at least two channels clean and gain. Some have more.
As well as utilizing multiple channels, tube amps with reverb and effects loops will further help you shape your tone and allow for much greater tonal flexibility. Even the cheaper tube amps offer plenty of features to help you dial in that perfect sound.
Knowing what makes a great tube amp is one thing, but browsing through the hundreds of choices online is another. We've narrowed it down to our experts' favorite models to make your search much easier.
The Verdict – Best Budget Tube Amp
We've shown you that it's easily possible to pick up a cheap tube amp that still produces a great sound. Out of all the budget tube amps on this list, our favorite is the Fender Super Champ X2.
It provides multiple channels, voicings, and effects, giving the Super Champ X2 more versatility than the other cheap tube amps we have reviewed.
The clean tones are great, and the overdrive tones are even better.Being able to use the FUSE software for seamless recording and in-depth editing/fine tuning of the effects makes the Fender an amp you can rely on.
Being able to use the FUSE software for seamless recording and in-depth editing/fine tuning of the effects makes the Fender the best tube amp under $400 you can rely on.