(Last Updated On: December 21, 2017)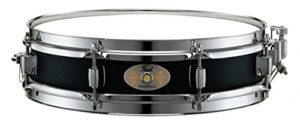 What are the "best cheap snare drums"?
Is there a definite answer for the best bang for your buck?
The answer is "yes", "no", and "sort of". 🙂
No, because different situations call for something specific.
A snare drum used for a live performance – one that the drummer likes and compliments the music/room – will most of the time be different than a snare for the studio, which will be tweaked and tuned to sound perfect in the recording.
Yes, the best bang does exist because a quality, cheap snare drum can sound good, with the right drum heads, proper tuning, and the appropriate situation.
Sort of, as some snare drums are universal – they will work well in the studio and live – and will not break the bank.
Top 6 Best Cheap Snare Drums: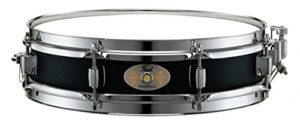 The Pearl S1330B is a 13" in diameter x 3" in depth steel, piccolo snare drum from one of the most reputable brands in the industry. Its tonal features include a quick response and bright ring.
Thanks to the steel shell and shallow depth, its metallic ring will cut through the mix and give it a sensitive response, making it great for rhythm & blues, funk, jazz, and even pop.
It is also versatile in its tuning range. Whether you need a low "smack", medium "crack", or a high "pop", this drum is sure to get the job done either in the studio or performing live.
Pros
Reliable manufacturer – Pearl is one of the biggest names in drums
Quality build – both the shell and hoops are durable. The lugs don't "clutter" the shell, one for only being 3" deep, and the throw-off will not slip
Price – at less than $150, this price is more than fair for the product
No generic tools needed – all adjustments for maintenance and replacing parts can be done with a drum key
Appropriate for the studio or live performance
Can be a good choice as a side snare
Cons
Versatility – the steel will ring unless muffled or dampened using an accessory. This could only really be applied to R&B, funk, jazz or pop.
Side-to-side throw-off – the style of throw-off that this drum has been known to slip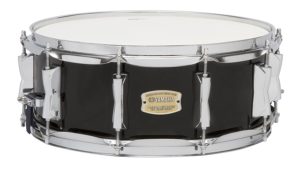 The Yamaha Stage Custom Birch is a 14" in diameter x 5.5" in depth snare drum, and probably the most well-known snare on this list. It is great for drummers looking for a "fat", "warm" sound.
The birch and deeper shell allow for a more focused attack from the wood, with bigger tone from the depth, and a more open response compared to the steel ring of the Pearl S1330B.
Its low tuning gives a "fat" thud while its medium and high tuning allows for a brighter response and nice "crack". This makes it perfect for rock, funk, pop, and both live and studio recordings.
Pros
Extended tuning range – most snares only sound good within a specific range, but this one can do it all
Price – like the Pearl S1330B, this one also rings in at less than 150 USD. "You get what you pay for" does not apply here
Good both for studio and live performance
Color options – because of the wood, there are multiple finish options to choose from.
No generic tools needed – all adjustments can be made with a drum key
Cons
Side-to-side throw-off – like the Pearl S1330B again, this throw-off style has been known to slip
Lugs – the choice of lugs make the shell look "buried" in the hardware
6 mm thick shell – with the shell being only 6 mm thick, projection of sound will be sacrificed for
Yamaha has been known to make lesser quality drums, compared to other manufacturers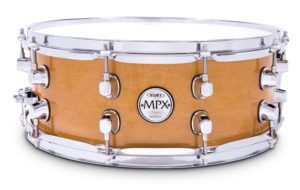 The Mapex MPX is a 14" in diameter x 5.5" in depth all-maple snare drum. The maple shell allows for a more "spread out" tone and with the same depth of the Yamaha, keeps the open response to complement the properties of the wood.
With similar tuning ranges to the Yamaha Stage Custom, this drum is perfect for drummers playing in any contemporary style of music, and, like both the Pearl S1330B and Yamaha Stage Custom, would also fit well in a studio session or live performance.
Pros
Finishes – this drum is available in multiple color options
Price – costs less than both the Pearl and Yamaha snares
No generic tools – all adjustments can be made with a drum key
100% maple – creates rich tonality
Can be used in the studio and for live performances
Cons
Tuning range – sounds "flat" in low tuning
Side-to-side throw-off – can slip
These final 3 I would consider almost a different category of snare drums.
In the music world, there are always companies that manufacture instruments that are not suitable for bands or recording, but rather for students or entry-level players looking for something to start.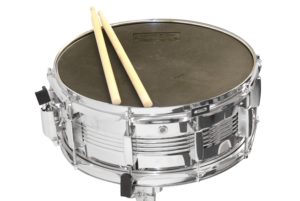 The GP Percussion SK22 is a 14" in diameter x 5.5" in depth steel snare drum. This snare is perfect for the entry-level snare drummer, orchestral band, or an individual who just wants something to be able to play at home.
The build quality and material are decent, but anyone looking to play seriously in live bands or studio sessions should look for something of better quality.
Pros
Price – under $100
10 lugs – tuning from lug-to-lug will be more accurate, which is needed for this type of snare
Chrome finish over the steel material
Cons
Build quality – the material looks strange. All hardware is the same color as the shell. Looks bland
Side-to-side throw-off – will easily slip on this particular drum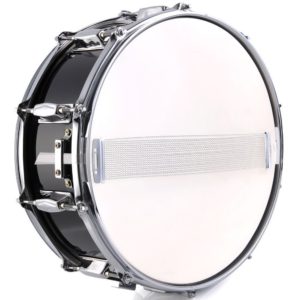 The ADM snare drum is a 14" in diameter x 5" in depth steel snare drum, like the GP Percussion snare, is perfect for the entry-level snare drummer, orchestral band, or something to use at home.
The difference is that this model costs less and the build quality is slightly improved to that of the GP Percussion snare. It also has a 0.5" depth difference, which will create a tonal difference.
As said with the GP Percussion snare, anyone looking to play seriously live or in the studio should save and go for better quality.
Pros
Build quality – the shell, hoops, and lugs all complement each other.
Price – more expensive than the GP Percussion snare, but "you get what you pay for" applies to these types of snares.
Lever styled throw-off – typically locks in place. Will not slip
Cons
6 lugs – this drum will be very hard to tune and the tension rods will have to be nearly stripped if a high tuning is desired
Tuning range – this drum will only easily support a low to mid tone.
Looks almost like a toy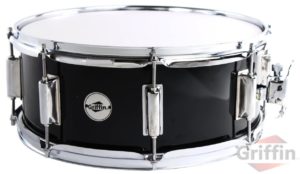 The Griffin snare drum is a 14" in diameter x 5" in depth poplar drum perfect for the orchestral snare drummer or student on a tight budget.
The poplar wood gives the drum a bright tone without the price tag of a birch or maple snare drum.
Quality drum heads and good tuning would both cost less than a better drum and at the same time improve the sound.
Pros
Good build quality for the brand and price
Decent quality wood that will mimic high-end wood (maple or birch) without sacrificing the price
8 lugs – easier tuning than 6 lugs and a better range of sound.
Colors – multiple finish options
Lever style throw off – will not slip
Cons
Screwdriver needed to change snare wires
3 ply wood – will not resonate as much
So, What Are the Best Budget Snare Drums?
All snare drums are different and have many variables to help get a different sound. Decisions arise when needing to pick a drum that will suit my needs, and these questions should be answered:
Is it within my budget?
Do I, personally, like it?
Will it fit my needs?
Is the quality good and will it last?
Will replacement parts be easy to din?
Before making a purchase, all of those questions go through my mind when deciding what to get. It ensures a quality product without my wallet suffering.
If there's availability, a local music store can answer any questions regarding the gear options in mind and what will be the best fit.
Generally, a well-built snare drum, no matter the price, will do the trick for both live performances and studio recording.
There are also accessories you can use to change the sound of a drum – gel, tape, different drum heads, snare wires, and hoops, just to name a few.
At the end of it all, it comes down to what the consumer likes and what they are able to afford. Knowledge of what the consumer wants, available budget, and versatility will help you to choose the best snare drum.