(Last Updated On: December 21, 2017)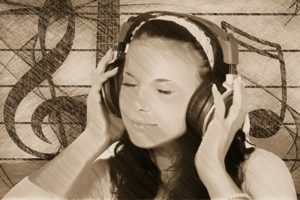 In this article, you can find all the best on-ear and over-the-ear headphones under 50 dollars and less thoroughly reviewed.
You can browse through our top picks in different categories:

If you need the reviews of the best in-ear-headphones for the money you may also find interesting our guide about buying cheap earbuds.
Top 5 Best Cheap Headphones:
Best Headphones Under 50 Dollars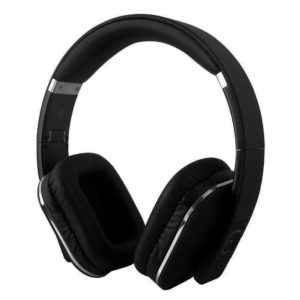 What Is in the Box?
These headphones include two cables: a micro USB cable and a 3,5 mm cable. You can use August EP650 as wired headphones if you wish which is a nice bonus.
A manual comes with these headphones to show you how to use them.
These headphones fold up, which makes them compact and great for portable use.
They do not come with any type of case or pouch, so you will need to find something else for them if that is important to you.
The headphones have a click adjustment on the side which works great.
Fit
The headband is a pretty thick, and it is quite comfortable. You do not get any hot spots on the top of your head or start to get uncomfortable over time. They give you a nice comfortable fit and you can really wear them all day long.
The ear pads themselves are also very thick: they have 12 mm of cushion.
The headphones also rotate a little bit side to side which really helps in getting a more comfortable fit.
On the side, you can find the buttons as well as the blue LED flashing light which helps you to know if the Bluetooth is on right now. It can be a little bit annoying in a dark room.
Comfort
What I liked is that the headphones have buttons both for volume up and down and track forward and backward, rather than trying to combine the two of them into one button.
There is also a multi-purpose button in the middle for turning Bluetooth on and off, and also for answering phone calls.
There is a micro-USB port on the bottom of the headphones. This is where you charge up the headphones. Charging time only takes about 2 (two) hours, which is pretty quick.
These headphones are designed to give you up to 10 (ten) hours of battery life. However, I found 8 (eight), 8,5 (eight and a half) hours is more accurate for the volume I would use these headphones at.
You also have a microphone for answering phone calls.
The call quality is good but nothing exceptional. I found when I was talking to someone else they could tell I was not on my cell phone. The conversation was still crisp and clear on my end.
Over another side, there is an input for a wired cable. As I said above, you can use August EP650 as wired headphones. This means that you do not need to have your battery charged in order to use them.
They feel amazingly comfortable when you put them on. Ear pads are very soft as well as the headband. My ears completely fit in the ear pads, do not feel any tightness or being pressed.
You do get some heat buildup after a while but not to the point where your ears are getting sweaty. Definitely, having all-day wearing headphones for less than $50 is pretty awesome.
Are They Good for Working Out?
Another question you might have is "can I use these headphones for working out?". Sure, you can, they stay on the head pretty well. you are doing something like pull-ups, push-ups or sit-ups and moving your head back and forth, these headphones should stay in your head just fine.
If you are doing something like pull-ups, push-ups or sit-ups and moving your head back and forth, these headphones should stay in your head just fine.
Please keep in mind that you are going to have some extra heat and sweat during your workouts which is why some people prefer sport earbuds instead of on-ear or over-ear models.
Noise Isolation
They also do a really nice job in terms of sound isolation. Depending on how loud you have your music turned up, you can block out a lot of ambient noise and not really hear a lot of what is going on around you.
I found that when I had them turned up, I did not hear anyone or anything. If you get into a super loud environment you may start to hear something but not so much.
You can use them on an airplane, on a bus or in office. Even though they are not active noise canceling headphones, they still block out a lot of noise.
Sound Quality
In my opinion, audio quality makes these headphones such a value because I was surprised how good headphones under 50 dollars can sound.
What you notice most about these headphones is a deep, rich bass. I mean, these headphones have a bass that definitely thumps. Anything with a good amount of bass (hip-hop, rap, etc.) sounds phenomenal on these headphones. Electronic music just sounds glorious.
As you start to get into other genres, classical music, for example, the detail, the naturalness of the music starts to get lost a little bit.
When you turn them up near all the way or all the way, you get something like thumping in your ears, that subwoofer effect. It is pretty cool if you like that. If you do not, you will definitely find that annoying.
I think you are going to be hard pressed to find Bluetooth headphones at this price point that sound as good as these ones do.
The only reason I would not recommend them to someone is that they just produce that extra emphasis on bass. If that is the case, I will definitely look at something else, but if you like extra bass or even prefer it, hands down: these headphones are a fantastic deal.
Pros
Deep, rich bass. The overall sound quality is amazing for such a low price.
Extremely comfortable.
Perfect noise isolation.
You can use them in both wireless and wired mode.
Cons
Some people may feel even a little bit uncomfortable with such amount of bass.
Conclusion
Comparing them to some other headphones which cost about twice as much, these headphones definitely hold their own.
Their bass is not quite as tight and refined as it is on some other, more expensive headphones, but please keep in mind that other headphones with good bass are usually bigger and much heavier than these ones are.
Overall sound quality is very good, especially with the mids and the highs.
At this price point, under $50, it is going to be really tough to find a better sounding pair of headphones, especially for extra bass if you like that.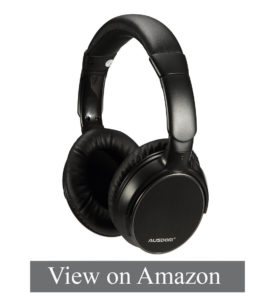 What Is in the Box?
I will start off by explaining to you what comes with headphones and then go through the features and design.
Included with the headphones are:
a micro USB charging cable;
a 3.5-millimeter audio cablea;
a user manual.
Overall, they are nice-looking headphones. They are very light wearing and have a plastic build which does contribute to the fact that they are so light and comfortable to wear.
Bluetooth functionality
The headphones pair easily and work really well through Bluetooth: they give you a range of about 10 meters or 30 feet and I found that to be pretty consistent.
You do not get any disconnects, pauses or skips the way you can with other Bluetooth headphones in this price range. This is definitely a strong feature of these headphones.
If you ever run out of battery power you can always use them as wired headphones as a backup. The left ear cup has the audio port for a wire in this case.
Battery life
Battery life will last you up to 20 hours.
I found it really varies on what you are listening to and how long you are listening to it at. 12 to 15 hours might be more realistic, depending on how loud you are listening to your music.
Call quality
Another nice feature is the ability to use these for hands-free calling.
They do have an included microphone and the overall call quality is okay. It is slightly muffled sounding but it certainly works.
Design and build quality
There is a click adjustment for the headband on the sides and it works really well.
There is a protein leather wrapped around the headband and it feels quite comfortable. They do a nice job and have held up well.
As I mentioned earlier, they a plastic build but still are quite durable. They do not feel like cheap plastic headphones at all.
Comfort
The headphones are extremely comfortable. You can put them on you and just forget you are wearing them. They do not compress very strongly the head which also helps with the comfort.
There is enough of a grip that if you wanted to use these for working out or something like that you can certainly do that as well without a problem: they are not going to shake free from your head.
The padding that they use gives a very comfortable feeling. It has a good amount of softness to it. I would not say it is plush feeling like the feeling you get with them more luxurious, more expensive headphones but still very comfortable.
The padding on the headband does not cause any hot spots up on the top of the head. That can be fairly common even with more expensive headphones so I really like that feature.
One thing to be aware of though is just with the ear cups themselves. They are not overly generous on the inside.
It is kind of both a pro and con. The benefit is it just adds to the overall fact that they are such a light wearing headphones. They are not really big on the head; they are very comfortable and very light wearing.The downside is because these are not overly large on inside you will feel or you can feel depending on the size of your ears them on the insides of the earcups just a bit.
The downside is because these are not overly large on inside you will feel or you can feel depending on the size of your ears them on the insides of the earcups just a bit.
I did not notice that that caused any discomfort though so it is kind of a mute point but just something to be aware of if your ears are more sensitive about touching ear pads from other headphones.
Overall, these headphones are extremely comfortable. You can wear for extended listening periods without any problem at all.
Sound Quality
These headphones do a really nice job in terms of sound quality, especially for the price point. Overall they are rich and full sounding headphones with slightly emphasized lows and mids.
The bass is really engaging, it is punchy though slightly muddy, but there is enough to bring movies and music to life.
They are definitely good for contemporary genres of music: anything like rap hip-hop, dance, and electronic. All of that sounds really nice on these headphones.
Although there is a slight emphasis on bass it does not overwhelm the mids or highs. There is also some nice sub bass as well.
Mids have some good detail but like the bass, they are slightly muddled just a bit.
Vocals still come through with enough clarity and detail. They sound surprisingly natural and lifelike for headphones in this price range.
With the highs, there is enough detail to really enjoy your favorite music. But classical music, in particular, lacks some of that extra bit of crispness in detail. Violins, as an example, can sound slightly veiled.
The benefit to this type of sound signature is it is very non-fatiguing. You can listen to them for hours and hours without any listening fatigue.
Also, if you like listening to your music at louder volumes you are not likely to damage your hearing the way you can with other headphones that are sharper sounding in the treble region.
There is also a really nice soundstage. For example, on some tracks of music that are known for the particularly wide soundstage, it sounds like the instruments being played are way off to the side of your head.
That is a great feature for gaming environments as you get a great the sense of your special environment that way. These headphones are surprisingly good in the soundstage department.
This same feature also makes them work really well for movies because of the nice wide open expansive almost a surround sound kind of a feeling. It really lends itself to a movie so you feel like the action is happening all around you. It really brings you into the experience a little bit more.
Pros
Extremely lightweight.
Great sound quality.
Modern and nice-looking design.
Both wireless and wired modes are possible
Extremely comfortable.
Perfect choice for gaming and watching movies.
Cons
Not the best choice if you want more neutral and flat sounding headphones.
Conclusion
If you are looking for a pair of Bluetooth headphones that are extremely comfortable and light wearing and also give you lot of versatility in the sense that you can use these as Bluetooth but also as wired headphones, they have above average battery life, you can get a lot of use out of these before you need to recharge them.
From a sound quality standpoint, you are looking for a more fun and engaging sound you like a little bit of an emphasis on the low end. But you also appreciate great sounding vocals so really clean, clear sounding vocals with good detail then I think you will be really happy with these headphones.
You can really listen to any genre of music on these headphones and it will sound good. However, the headphones certainly are best suited for more contemporary genres such as dance/pop, house, rap, electronic, and so forth. Listening to those genres on these headphones really brings some delight. They sound quite nice especially for headphones at this price. Actually, they sound surprisingly good.
They are among some of the other louder sounding headphones. If you like to listen to your music loudly you will definitely appreciate them.
Best Headphones Under 40 Dollars
Avantree Jogger Review (Extremely Lightweight)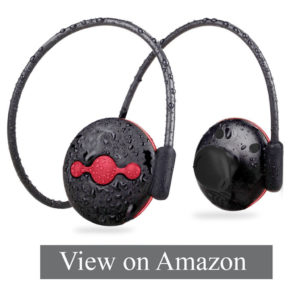 Weight
Usually, I do not concentrate on this specifically but the weight is the main feature of these headphones.
One of the first things I noticed about them is how light they are. Their weight is just 0.88 oz (about 25 grams).
That is a half as light as the next lightest pair of headphones I have tried recently (1.5 oz). The other ones weighted even more – 2-2.5 oz (75 grams)
So the weight of these low-priced running headphones is from a half to a third of the weight of the other wrap-around-the-neck style Bluetooth headphones.
And you feel that! Or you do not feel that, I should say because they are so lightweight.
Comfort
They sit rather comfortably. You do not have a lot of touching (your ears with some other ones do).
For Bluetooth connectivity, it also did a great job when I was doing my test; I was disconnecting ones and reconnecting.
Fit for working out, running, etc.
If you have worn earbuds before, and you just do not like the way they feel, you are probably not going to want to put them in your ears. It does not feel comfortable for some people.
But if you do not mind earbuds, you will maybe even prefer them and may find this helpful.
They are sweat proof and splash proof (is it even a word…). If you are going for jogging in the rain, they should be OK.
If you are just sweating a lot when you work out, you are fine. This is an advantage over some other headphones I tested in this price range.
The cable is so thin that when it goes around the back of your neck you are not going to feel that pressing out the way you would with some cheap headphones.
Sound and Call Quality
When it comes to sound quality, it really depends on how you are wearing them.
If you are wearing them in the way I do, just letting them slightly sit in your ear canal or just touch it, you get a thin sound. It sounds OK, but not great. It is certainly fine, e.g. for audiobooks. When you listen to your music you really going to miss out.
However, if you get them further into your ear canal you will notice the sound comes alive, it becomes more natural, not so thin, and, actually, pretty good.
The low end is the weakest part of them, but overall it is still very nice sounding at this price range.
For call quality these did fine; I would say, nothing special. People could certainly understand what I said.
Pros
Excellent for working out, running, etc.
Extremely lightweight.
Very comfortable, till the point where you almost do not feel them on your ears and your neck.
The sound is really good for such a low price.
Cons
The sound quality is ok but only in "earbuds" mode. If you do not like a feeling of something inside your ear and want perfect sound quality you definitely should go for something else.
Conclusion
If you are looking for cheap Bluetooth headphones for running, working out, etc. Avantree Jogger earbuds are going to be great.
Also, get the benefit of knowing you can sweat a lot, and you are not going to hurt them. They are really designed for that; so that is a definite benefit.
I would consider looking to get something else if you do not like the idea of having something in your ear.
If you'd rather have something that you can use for a workout and get much better sound, I would definitely recommend JayBird Freedom earbuds.
Otherwise, I think these nice, lightweight inexpensive headphones could be good too.
Best Headphones Under 30 Dollars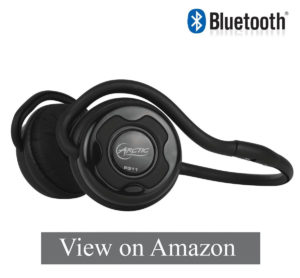 Comfort
Comfort feel will really vary with the type of head you have.
For instance, some people with a bigger head are not going to have this little bit of a gap like I have. It is about fingers width between the back of the band and the back of my neck. Others may not have the same issue.
But the biggest thing I noticed is right on top of the ears, where you feel it when you first put them on. Actually relatively comfortable but I found after that thirty-minute to ninety-minute mark they get more and more uncomfortable.
So, consider how you are going to use them. I think that the best way to use them is working out, maybe, for thirty minutes to hour workouts.
I think for most people it will be fine.
Sound Quality
These headphones sound just good, not excellent but fine for the majority of people.
What do I mean? You can start comparing them to other much more expensive headphones and then you are going to see the difference.I have, for example. the ATH-M50s, quite expensive ones (about 100 bucks) and they sound great. In my opinion, to compare them is not a good idea just because they are just not the same league.
Listening to them I found they still sound nice. The biggest thing that stood out in a bad way is just the bass. It is not quite as present as much as I would like.
But keep in mind that at that level, this is actually pretty impressive sound.The bottom line is these headphones do a good job. The biggest thing is just the low end. Low-end is a bit soft.
In terms of Bluetooth connection, they have a hiccup here and there but that is maybe once every 30 minutes or possibly once an hour, it may not even happen at all during the day. You barely notice, if even notice it at all.
Call Quality
These headphones work great for taking phone calls. People think you are just on your cell phone and they do not even believe sometimes that you are on a pair of Bluetooth headphones.
That might vary of course with your phone service and things like that. Generally speaking, these cheap headphones do a great job.
Comparison to Other Headphones Under $50
So I want to wrap up with my final thoughts, the recommendation regarding these particular Bluetooth headphones.
I am going to say it will depend on a bit of what you are looking for. If you know someone who has a pair, you know what you are getting, you maybe have used them from someone else, etc. it will definitely be a great buy.
I can confirm with the many other reviews that it is good sound quality, good Bluetooth connection, good for taking phone calls, great for working out. They do a nice job isolating and canceling out noise. They have a lot of great features and are definitely a great value at this price.
If you want the best deal possible and like "I can save a few bucks getting basically the same thing I am for" then like I said I definitely would consider the Sound Bots and you can check out my review on these in the same article.
If you are someone who sweats a lot and you like to go for jocks in the rain I would consider the Avantree Joggers that are designed that way. They are also much lighter. Joggers are only 0.88 oz (about 25 grams), these are 0.27 oz (about 75 grams). You definitely feel that lightness or do not feel I should say. It does make a difference. They sound, I think, a little bit better for sound and are just a little bit more expensive.
Finally, if you are just like "Hey I just want actually better sounding headphones" then look at more expensive models (August EP650 or Ausdom M06).
Pros
Good sound quality for this price range.
Very comfortable
Good call quality
Perfect for working out
Cons
I would not recommend sleeping with them on because you could get tired because of this plastic band issue mentioned above.
Best Headphones Under 20 Dollars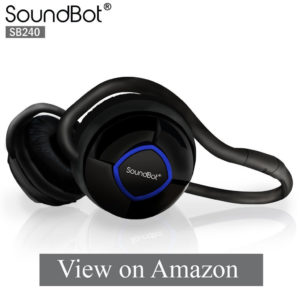 Design and Comfort
Some people talk about these giving you that princess Leia look. 🙂
What I found is in about the ninety-minute mark they start to get uncomfortable and I feel like I want to take them off.
Think about that for yourself in in terms of how long you see yourself using them: is it maybe just for a workout (workouts maybe 30 minutes to 1 hour), I think these headphones will be fine.
However, if you are trying to use them to do something really relaxing like maybe just sitting and reading a book then I could see where the discomfort factor would be more noticeable. Just take that into consideration.
Sound Quality
I have read some reviews and some people say these headphones sound awful or they are sound too thin, where is the bass, etc.
You have to keep into perspective how much you are paying for them and especially the fact that they are Bluetooth headphones.
At the end of the day, I want just to give you my honest opinion: they do sound good.
When it comes to the voices they sound nice. You get a nice natural engaging experience with them. Put these on, listen to your favorite songs and enjoy.
I would say that in the bass department they are a bit soft. If that is something that is important to you, like really important, I would probably consider something else. Overall, I think most people will be really happy about their sound quality for such a low price.
For the Bluetooth connectivity, they did a great job. Occasionally you might get that split second or either disconnect or items like pazz, like a tiny bit of static, just something where there is a small blip.
I found it was not to the point of being annoyed like it might be once every half an hour, once every hour, may not have even happened at all. But it did happen on occasion so I wanted to point that out.
Are They Good For Working Out?
For working out these headphones do a great job of staying on your ears, and not going anywhere else. When I am out running, going for a jog they are fine, I can turn your head left or right. They were great.
These headphones also work fine when you doing something like insanity workout: a lot of movements, balancing up and down, etc. They are staying on great. It is definitely a good solution for that.
Another nice thing is the way that they sit on your ears. They do a pretty good job creating excellent noise isolation.
Pros
The cheapest from all Bluetooth headphones with decent sound quality.
Perfect for working out.
Nice modern design.
Cons
Feel a little bit uncomfortable after 90-minute wearing.
The bass is soft and these headphones are definitely not for real bassheads.
Conclusion
If you are using them for working out and your workouts are anywhere from 30 to 90 minutes I think you are going to be fine.
Sound quality is great. They are the cheapest pair of goog sounding Bluetooth headphones I have ever tested.
So if you are someone who really likes a great value getting the most for your money these are going to be an awesome choice.
Are Expensive Headphones Worth The Money?
So, to keep long story short there are some main points about the topic:
The difference between cheap headphones under $50 and high-end headphones in the $300-500 range is really huge and anyone can feel it.
Every 50 bucks mean something in terms of sound quality, durability and comfort but from about $30 it becomes complex to feel the real difference between a good feature and some marketing BS.
I will share below my thoughts about specific issues you may have with cheap headphones below but you always need to remember that there is a big difference between a better quality and a better marketing.
A good example of this is highly overpriced Beats by Dre which became a synonym of quite mediocre sound quality and other features. "More expensive" always mean "better".
Difference in Sound Quality Between Expensive and Cheap Headphones
The sound quality is a bit subjective and controversial topic but there is a clear difference between headphones with different price tag in this case:
First of all, note that you do not feel a big difference in the sound quality with low-quality audio ripped at 96 or 128 kbps. You need high-quality audio to enjoy expensive audiophile headphones
The improvement in sound quality is getting less than price increase when you are moving up from the cheapest headphones to top-notch guys which cost about $350-500.
However, the majority of people hardly ever notice any difference in sound quality after $150-200 price range.
It is also quite dependent on the sound signature you want. If you really want to feel the difference in bass, nuances of mids and treble you need something that may produce this difference.
Cheap headphones frequently destroy the bass, have muddy mids and unclear treble. That is the best case. In the worst case, the bass on low-priced models kills everything across the range.
Bottom line: the main part of the money you pay is for the better clarity and balanced sound.
It is not about hearing something better than sound engineers planned to give you. It is more about clear hearing both loud and soft sounds at the same time with the decent amount of clarity and detail.
Difference in Comfort Between Expensive and Low-Priced Headphones
Cheap headphones are usually much less comfortable.
This means that after 60-90 minutes of use you can "feel" them on your ears or your neck and this feeling is getting gradually more and more annoying.
Durability of Low-Priced Headphones
The built quality is also different and low-priced headphones are less reliable in terms of durability. This difference is especially perceptible for in-ear headphones (earbuds or earphones) but low-priced over-the-ear models are less durable too.
I have tried a lot of ridiculously cheap $5-15 headphones in the past. Some of them were even not so bad from the sound quality point of view. But they always stopped working at some point and this point was always unpredictable. Do not repeat my mistake.
Specific Types of Expensive Headphones
If you just need some music booming in your ears you may need no expensive headphones.
However, here is just a short list of possible things you may want from your headphones for some specific purpose:
Bluetooth (wireless) headphones are usually more expensive than wired ones.
Noise cancelling headphones which block almost all ambient noise rarely cost less than $200 and a normal price tag for them is about $300-350.
There are some affordable waterproof headphones but if you need good ones with a built-in waterproof MP3 player they tend to cost at least $80 for a good pair.
DJ headphones are usually cheaper than the best audiophile ones but still tend to cost more than $100.
Good audiophile headphones tend to cost from $300 and everything you get under this price is usually can be considered as just "decent" but never the "best".
Etc.
The Bottom Line
Usually, if you need something really special you need to pay more for this and you always get what you paid for from your cheap headphones in terms of sound quality, comfort and durability.