(Last Updated On: December 21, 2017)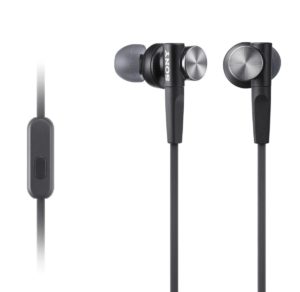 In this guide, you will find a list of the best cheap earbuds present on the market at the moment.
You can browse through top picks reviews in different categories:
…or just check a comparison table of all the cheapest headphones reviewed and choose the best one on your own.
If you want to check more expensive models our article about best earbuds under $100 may be useful for you too.
The real quality of all cheap in-ear headphones reviewed in this guide is much better, and their value is much higher than their price. We tested them regarding sound quality (including bass and noise isolation), comfort, durability, and several other criteria explained below.
All models from this guide are similar to more expensive alternatives from this point of view and can successfully compete with them.
Top 9 Best Cheap Earbuds:
Best Earbuds Under $50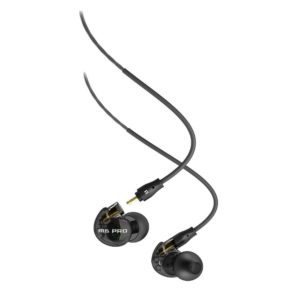 The MEElectronics M6 PRO is the low-budget in-ear headphones perfect for any audiophile. It features a spectacular sound that has a well-defined bass and professional design that is true, as the manufacturer says it, 'perfect on and off the stage'.
What's in the Box?
The MEElectronics M6 PRO headphones come with a set of M6 PRO In-Ear Monitors, a pair of Comply memory foam ear tips, and six pairs of replacement silicone ear tips.
Also, there is also a gold-plated ¼" (6.3 mm) stereo adapter, a headset cable, an additional stereo audio cable without any buttons, two shirt clips, and a user manual.
All of the materials can be enclosed for travel in an included protective case. M6 PRO headphones come in two selectable colors: clear and smoke. Both versions show the circuit boards inside of the earbuds and wire, though the smoke version is more opaque. The earbuds come with a one-year manufacturer's warranty.
Durability
The M6 PRO headphones have a detachable cable for additional durability when compressed. In my honest opinion, the wire is not extremely durable and can fray after heavy usage. However, the headphones have an overall lasting plastic build design and material.
Comfort
The M6 PRO headphones have lightweight wired earbuds with in-ear monitors wrapped over the ear. M6 PRO is specifically designed for musicians and people interested in listening and performing with high-quality audio.
These earbuds are not optimized for fitness. However, they are sweat-resistant and are a great fit for the average user. You can definitely use them for running or working out but in my opinion, there are much better models for this on the market.
The M6 PRO uses the headphones' flexible wire and additional pairs of silicone earbuds for a personalized fit. The M6 PRO Comply memory foam ear tips are designed for maximum comfort.
These earbuds include a built-in microphone, remote and volume controls on the length of the cord. Also, the headphones support connectivity with mobile devices, enabling the user to accept calls.
Sound Quality
MEElectronics M6 Pro In-Ear Monitors provide a noise-isolated experience with a studio-tuned sound quality. The sound quality is tailored for professional musicians but can also be for the avid music lover who is interested in a fine quality sound.
With its specialized Comply memory foam ear tips, the headphones' audio is designed to have no noise distractions. The audio precision comes from a 5-micrometer driver and an aluminum voice coil. The headphones use a deep bass for a more precise and dynamic audio.
Pros
Surplus amount of accessories provided
Amazing sound quality with no noise distractions. Noise isolation feature is perfect: the earbuds block even 18-24 dbs noise.
Designed for heavy duty music for professional musicians
Perfect size and construction for portability and performance.
6 (!) pairs of silicon ear tips give you a huge choice of different sizes depending on the form and width of your ear canal.
One additional cable is included.
The good plastic builds for durability. Wires of these earbuds are made of thick plastic and are very durable.
The good material also makes them almost impossible to get tangled.
Cons
I love this model of earbuds so much that it is quite hard for me to find any real disadvantage. However, this may be:
Their not so low price: these earbuds are the most expensive from all affordable models reviewed in this article.
Earbud wire can fray after heavy wear.
Comply memory foam ear tips may not fit all people.
Best Earbuds Under $40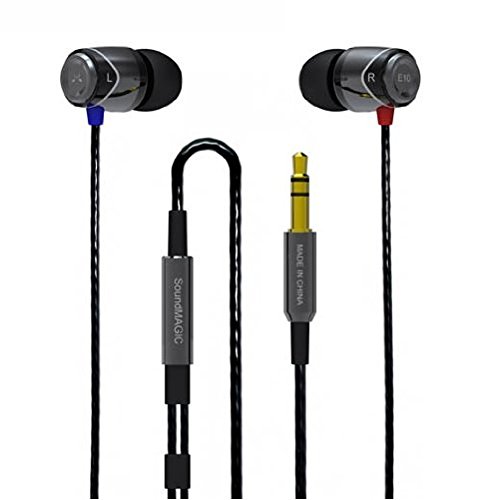 SoundMagic is one of the best manufacturers of affordable, well-designed and good sounding earbuds.
In the search for a quality headphone for a fairly reasonable price, the Soundmagic E10 headsets are one of the best to opt for. The E10 can stand among the best earphones.
What's in the Box?
It comes with a nice pouch, a PC adaptor and 3 pairs of ear tips, and also with a clip to help make the cable well positioned. The cables are in different colors varying from red and silver, black and gold, black and red, purple and black, and so much more.
Comfort
Each end is made from a piece of metal, which distinguishes it from most headsets which have their ends made with plastic. This balances well in the ear, whether the cable is hung round the back of the ear or not.
Sound Quality
The sound quality of this headset is great. It has the treble and midrange features that make the E10 stand out; it produces a loud volume when setting to the highest. I think no other headphones at the price range of the E10 can compete with these regarding this.
The headphones produce moderately high and clear sound which makes it a good choice for music lovers all over.
Noise Isolation
The shell consists of varying drivers with an opening to allow the reverberation of sound. This feature enhances the production of an overwhelming bass sound, allowing the reverberation of the bass strings. This feature also ensures that the headphones do not allow the passage of sound into the outer space which consequently helps to put noise pollution in check.
Durability
The box used in the packaging of the product is made from high-quality materials which enable maximum protection. The headset is made from very solid aluminum pieces. This gives the earbuds a very good tensile strength. Also, the point where the cable splits is protected by a metal covering which helps to withstand the frequent use from time to time.
Water Resistance
This headset has the ability to resist water when it comes in contact. It helps to greatly increase the lifespan. It boasts of a certified IPX5 sweat and water resistance ability. IPX5 is rather a strong rate in terms of water resistance. These headphones are not totally waterproof, but you can get much more from them than from average pair of normal earbuds.
Pros
These earbuds are characterized by metal backings with a variety of healthy range with one of the best basses you would get out there.
A superb quality of treble and bass.
Surprisingly good quality of materials used: metal for all important parts.
Cons
The cables used are a bit stiff and short which makes them inflexible. A modification would have made this model of earbuds lovelier.
In conclusion, the E10s are a very nice choice when the relationship between the quality and price is considered. The overall finish is something great and worth considering. The only downside to this headset is the type of cable used in the production. It would have been nicer if the cable was lighter, but then, this amazing piece is a nice pick anytime!
Best Earbuds Under $30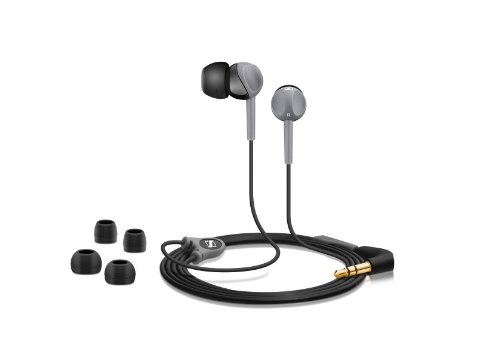 These ultra-compact in-ear headphones feature an innovative finger-shaped design in profile for easy adjustment and comfort in the ears.These are one of the best headphones you can get at an affordable rate. I strongly recommend this particular model of earbuds for your listening pleasure.
These are one of the best headphones you can get at an affordable rate. I strongly recommend this particular model of earbuds for your listening pleasure.
What's in the Box?
Besides Sennheiser CX200 earbuds themselves, you can find the box ear adapter set with different size variations (S/M/L) and warranty.
Durability
The earbuds robust enough to withstand your everyday routine, irrespective of your daily activities.
Even if the phone or any connected device falls accidentally, the earbuds will remain firmly unplugged with no damage to the wires at the connections. The earbud casing is built to withstand several conditions.
Comfort
I have come across numerous mobile accessories having one side of the earbud cord longer than the other side and it usually makes me (and not only me!) crazy.
In the case of Sennheiser CX200 the right and left earbud cords are of the same length of 1.3 feet (0.4 meters), and the total length of these earbuds is almost 4 feet (1.2 meters).
The headphones are very comfortable and fit into most ear sizes with the special ear tips sitting well enough inside. This enables sounds to be sent directly into the inner ear.
Its casing is light, having a total weight of just 5 grams. This allows you to listen to music comfortably for over ten hours with no sign of pains in ears.
Please note an important thing: Sennheiser CX200 is not a headset: these good sounding earbuds are of the 'listen only category' which is why they have no built-in microphone.
Water Protection
Sennheiser CX200 is designed to work perfectly during different workouts. You can easily run or jump with them on.
Noise Cancellation
These earbuds send sounds straight to the inner ear. This helps to annul noise while you can enjoy your music and enables them to be used even in a quite busy and noisy environment.
Sound Quality
I've enjoyed using these earbuds and the sound quality seems pretty good for its price. The bass tones are prominent and clear; it is of a powerful bass-driven sound.
The frequency response is about 20 – 20,000 Hz. The impedance of about 16 ohms. A sound pressure level of about 110 dB. Having a THD (Total harmonic distortion) less than 0.2% it is arguably the best you can have at the price rate.
Pros
Powerful, a bass-driven stereo sound of a high passive attenuation of ambient noise.
Innovative holding system (twist-to-fit) which ensure best possible fit
Small weight
Durable and long-lasting cord
Cons
SoundPeats is a relatively underground company but with their QY7 model displaying a modest price, people are left wondering how good are these earbuds.
With multiples convenient functions these headphones enable you to listen to music while working out or pick up a call from your friend in a second. Flawless noise reduction technology for a relaxing audio experience makes SoundPeats' QY7 model the convenient fitness companion that is more than worth its price.
What's in the Box?
1x QY7 Bluetooth Stereo Earbuds
1x QY7 User Manual
1x Micro-USB Charger Cable
6x rubber earbud tips (3 different sizes)
6x ear lobe stabilizers (2 different sizes)
SoundPeats QY7 comes in 8 (!) colors:
Black, Black with Blue
Black with Green
Black with Purple
Black with Red
Black with Yellow
White with Green
White with Yellow
So you have some choice here 🙂
Durability
The QY7 has a rubber feel to the material that has a strong durability to wear and tear.
Comfort
SoundPeats QY7 have an ergonomic design shaped to them into your inner ear and a bulkier lightweight design at 3.18 ounces (about 90 grams). The earbuds also have a built-in microphone for calling and are wireless headphones connected with a rubberized wire to be behind your neck to ensure the earbuds are in near accessibility.
SoundPeats QY7 features minimalistic buttons for controls:
left button for powering on/off, answering/rejecting calls, pausing/playing music
the right button is a rocker button for increasing/decreasing volume and moving forward/backward in audio tracks
There is also a charging port on the left side of the earbuds.
Noise Cancellation
SoundPeats QY7 features Innovative Pure Sound technology with CVC 6.0 which provides enhanced noise reduction to offer an optimal listening experience.
PureSound blocks and drastically reduces white noise and listener fatigue.
Water Protection
QY7 earbuds are also rated IPX Level 4, which means they are certified to be sweat-proof.
Sound Quality
SoundPEATS QY7 utilizes a lossless output for a maximum audio immersion and an incredibly refined treble and dynamic bass. The bass is well-heard in the earpbuds' audio. Advanced SignalPlus technology allows for a skip-free audio experience anytime, designed as a fitness companion.
Pros
Easy to use and accessible controls
Impressive audio quality that compares favorably against more expensive earphones
Fast, reliable wireless connectivity with multiple devices
Long-lasting battery up to 8 hours for calling and 6 hours for music, with a 1-2 hour charging time and a 145 hour standby time allows for hours of usage without interruption.
Advanced Bluetooth 4.1 technology that connects in less than 5 seconds
Compatible with iOS, Android, and Windows mobile devices, and supports connection with two devices at the same time
Cons
Ear lobe stabilizer is not extremely sturdy and can fall out when used during vigorous physical activity
Ear lobe design blocks ear canal and can be a little uncomfortable for some people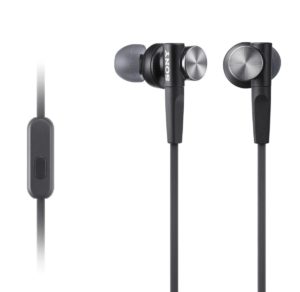 In my lifetime I have gone through many headphones. What I've noticed is that it is the headphones that come with the best package last the longest. So what is the box?
What's in the Box?
In the Sony MDRXB50AP Extra Bass Earbud Headset, there are many perks that go beyond just listening devices. Such as the cord adjuster and carry pouch which will keep your earbuds safer from tearing, getting wet, etc.
You get an owners manual which would be very useful in understanding all the bonus features with these headphones. Some of those features include an omnidirectional microphone along with control button with multiple functions.
Why? The omnidirectional microphone will always be a major plus for walking and talking on the go.
That feature shares space with a controller button for your phone which makes life much easier for swift moving and enjoying whatever it is you are listening to/watching.
Sony Extra Bass Earbud Headset also comes with 8 ear buds, 2 for each size there is. Having multiple earbuds with different sizes may seem like a waste until you have a size that is uncomfortable because they are either too big or too small.
There is also the matter of having doubles of all the sizes is spectacular when you think of it hygienically or if a pair gets lost you'd always have a replacement.
Durability
An interesting point about these headphones is that their wires themselves are much easier to untangle than most other headphones, which again is superb when you consider how irritating, time-consuming and how bad being tangled really is for the cord.
Comfort
This particular style of earbuds plug straight into the ear, and it has a custom fit to keep yourself well comforted. The earbuds are made of hybrid silicone and this gives a better feeling than most other earbuds would have. A better feeling and fitting earbud mean a more overall comfortable experience.
Water protection and noise cancellation
This particular model is sweat proof along with great noise cancellation. An incredible feat indeed considering how important it is for your headphones music to be heard by you and not everyone else nearby 🙂
Sound quality
The reliable sound is one thing all headphones must have because without that comfort and durability means nothing. The sound quality of the Sony Extra Bass Earbud Headset is another reason to buy this quite solidly made product. The sound these earbuds make is crisp and clear.
The bass is absolutely crazy and is much better than you can get from the standard iPhone EarPods. These headphones could easily be included in my list of the best bass earbuds. You can't get the same sound quality as from full-size on-ear headphones but sound quality and noise blocking are really good.
The bass is deeper than you can normally expect from earbuds at this price and, what is even more important, it does not overpower music experience. Of course, it strongly depends on a type of music but these are the best choice if you need both affordable and powerful in-ear headphones.
Pros
A durable cord that allows cords to last longer and alleviates stress.
Modern futuristic design.
The cord is much longer than usual and has a nice length 3.9 feet.
A variety of different colors and most importantly great sound quality.
Extremely loud so try to be cautious.
An omnidirectional microphone.
A nice multifunctional button.
Their strong advantage is also a really nice fit because of great choice from 4 different sizes of ear tips.
Cons
These earbuds look slightly larger than normal ones and sometimes feel as pretty heavy. This is the natural consequence of their high sound quality, though.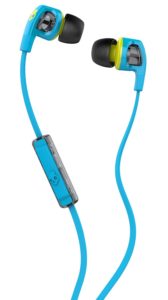 Pros
This model is absolutely exceptional in terms of blocking outside noise. You can hardly hear a thing, especially at higher volumes. That is the main reason why I included them in this guide.
These earbuds come with a convenient black plastic case.
Cons
In-line volume control is not built-in. You can do just some basic things (play/pause/answer a call).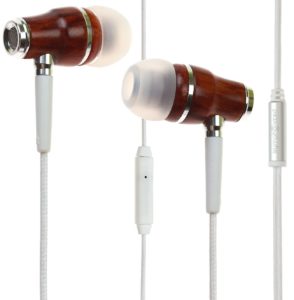 Pros
A pretty nice small carrying bag is included. It is not a case and it will not protect them from any serious damage, though so I would recommend to buying something more solid.
What I like about these earbuds is an excellent nylon cord. It has some interesting features comparing to traditional wires: a) it is more flexible than rubberized wires; b) This cord is much longer (about 6") than general models; c) It rarely get tangled, and it is much easier to untangle it even if this happens.
The bass is deep, 7 out of 10, I think.
The earbuds look pretty solid and much more expensive than they are. Wood even creates some elegance.
These headphones are considered to be noise canceling, and they are at full volume. However, some sounds can penetrate at a mid or low range.
These earbuds are sweat resistant.
Cons
This might not be the best choice for running, jumping or working out. They are made from real wood, and this is their advantage for some people, but you should remember that wood can be easily and irreparably affected by heavy rain. They are lightweight and are ok for walking (and some sweating, yep), though.
The earbuds have no volume control, just a simple play/pause function.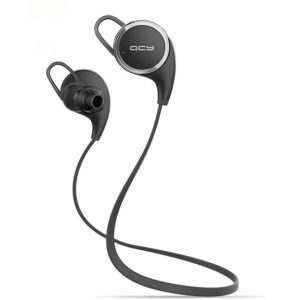 Pros
These headphones can be connected with two devices, e.g. iPhone/iPad or iPhone/Mac, simultaneously. The way to do this is a little bit tricky: a) you have to turn off headphones and Bluetooth on the first device after the first pairing; b) then connect and pair the second device; c) then turn earbuds off one more time; d) after restart (and first device too, of course) this function is going to work fine.
The battery life is ok: you have all 7 hours promised by the manufacturer.
They appear to be durable according to numerous reviews on Amazon.
The bass is amazing for such a low price.
They have special neat and well-done ear hooks which are supposed to keep them on your ears.
They fit so tight in the ear that can block unwanted noises even when Bluetooth is turned off. The manufacturer even says that they are noise canceling, but I would not dare to confirm or deny this without more thorough tests.
Bluetooth range is 30-35 feet outside which is a real success for such an affordable price.
Cons
There is no way to know battery power consumption in a particular moment.
I do not know even if it is a drawback… They have one multifunctional button which makes everything: turns them on, turns them off, pause audio, changes volume and language. If you get used to dealing with iPhone's Home button it will probably cause no problem.
Best Earbuds Under $20
As many of you know, I am a big fan of good sound quality and it is incredibly hard for me to recommend something really good in the category "under $20". I do not think you need any reviews for the majority of such devices.
Yes, you can still listen to low-bitrate music with no problem and they are usually good enough to stay alive for several months. However, you can expect neither decent quality of bass nor normal durability from the models made of low-quality materials.
Several short reviews of some interesting models I found in this category are listed below.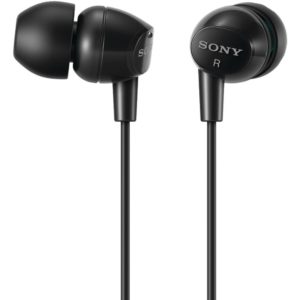 Welcome to my review on the Sony MDR-EX10 earbuds. If you're looking for the great sounding and super comfortable earbuds under $20 then these might be a perfect choice.
That being said there are some reasons you may want to consider something else which I'll cover in this review as well.
What Is in the Box?
I'll start off by giving you a closer look at these and then walk you through the design and features.
There's three different sized pairs of silicone hybrid ear tips, a few pieces of documentation, and that's about it.
Regarding the design, this model does not have an inline mic and remote but there is a different model of these same earbuds which does include that for a few dollars more.
The cable is 1.2 meters long and terminates in a 90-degree jack that fits in even the thickest smartphone case. The cable is light, thin, and is a bit on the fragile side so for anyone who's hard on their earbuds these might not be the best choice.
However, one benefit of them being so light is that they're also extremely comfortable to wear as you hardly notice them. With three different sized ear tips to choose from, I found it easy to get a nice comfortable fit as well.
Another thing I like about the fit is you never feel as if something's tugging on your ears. Unlike other in-ear headphones, these don't have a deep insertion which means you don't have to feel afraid to put these in your ears. And as a result, they're easy to wear without causing any pain or discomfort. So these are perfect for anyone needing earbuds they can comfortably wear for several hours or even all day long.
Regarding noise isolation, these do an above-average job. Just wearing them in your ears sounds become quite well muffled and then when you start to play music all the environmental noise around you fades away now. Things like cars and trains can still be heard or those louder outside environmental noises but otherwise these do a nice job blocking that outside noise around you.
Sound Quality
Next, I'll talk about the sound quality which is totally awesome considering how much these cost. The overall sound is warm, relaxed and polite sounding but not to the point of being dull or boring. Sony strikes a great balance here in giving you a pleasing sound signature that you can listen to all day long without any peaks or sibilance.
There's still plenty of detail to keep the music alive and engaging. The bass is full-bodied and will suit any musical genre including bass heavier music like rap or dubstep.
For bass heads, though, these it may not be the best option as they have more of a mid-bass emphasis rather than sub-base. For example, on the track "Don't Hate the Player," the bass does get some punch but it never really rumbles the way it would with more sub bass.
The mid-bass on these is fairly punchy but the relaxed nature the sound adds to a slight sense of looseness to the bass. While it sounds nice on tracks like "Hey There Delila" by The Plain White T's it doesn't sound as good on faster more intense tracks like "Countdown" by Hardwell. Most of the time this isn't a problem but on faster tracks, you can start to notice the slight flabby-ness of the mid base.
Going up to the mids things do get even better. They're nice clarity and emotion to both male and female vocals and you can easily distinguish what people are saying during a song or movie. There's nothing harsh, aggressive, or annoying about mids. And while they're laid-back sounding they're also never dull or lacking energy.
The treble region is also nicely detailed without being too harsh or bright. Again, these earbuds are definitely of a laid-back signature which means that even though they do have good detail retrieval they won't sound as engaging to treble heads.
Don't let this give you the wrong impression, though: they certainly have enough treble energy to let you hear things you've never heard before. For example, in the song "Within" by DaftPunk, the symbols, and occasional sparkle are easily represented without any compromise.
Also, delicate stringed instruments are presented equally well. As another example with the classical piece Canon in D minor, the strings at the beginning can clearly be heard. Whereas with lower quality headphones or earbuds, the strings are typically washed out or just can't be heard that well.
Like the mids, the treble on these is never painful or fatiguing. So if you're using these in noisy environments these won't tear your eardrums out. Basically, what you're getting is a nice and relaxed but detailed treble response.
When it comes to soundstage imaging these are the biggest weak points. For example, on a classical recording like "Tales From the Vienna Woods," these sound especially stale and lacking depth. Recordings like these were meant to be heard through speakers or open headphones. Listening to it through these makes the recording sound tinny and lifeless.
Dynamics do a much better job though handling most things pretty well. But the speed of the sound isn't anything remarkable as the laid-back signature makes the sound somewhat slow.
So overall, these Sony earbuds deliver an incredible amount of good sound quality especially considering their price. The bass, mids, and treble are all handled well. It's the soundstage that may be a problem for some. While these have the detail to portray classical music correctly they lack the soundstage to make it sound more realistic. But for every other genre except super heavy bass music, these perform wonderfully.
Pros
Great sound quality, maybe the best for such a low price.
Really comfortable.
Extremely lightweight.
Cons
Seem a bit fragile to me.
The Bottom Line
That being said these earbuds are such good all-rounders at both sound quality and comfort that I can easily recommend them even without knowing what someone's sonic preferences or listening preferences might be.
These are one of the best all-rounder's for the under twenty dollar price tag. I love that they're detailed without being fatiguing, they're laid back without being dull, and you can wear these comfortably for hours or even all day long.
So ultimately if you're looking for the best value for a light and comfortable pair of earbuds that will sound good with anything you throw at them then these would be the ones to get.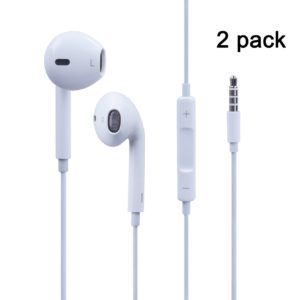 Pros
You get two pairs of earbuds in one package.
The sound is loud and crisp and I would rate them 8-9 out of 10 comparing with well-known Apple EarPods in terms of sound quality in total. I compare them with Apple headphones because they look almost the same.
I am not a big fan of so ridiculously cheap earbuds but even the bass was surprisingly good.
They will work with any normal headphone jack.
The manufacturer provides one year guarantee which is quite important because they look a little bit fragile.
Remote buttons work fine. It is a big deal because my iPhone 6S Plus becomes sometimes capricious with budget headphones.
They support even old iPhone 4/4S and all modern Android smartphones.
Cons
Noise isolation is rather weak and without loud music you can hear almost any sound nearby.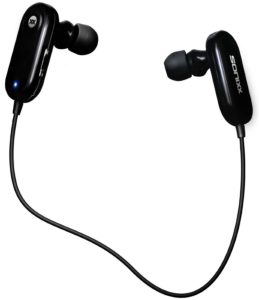 I rarely review the cheapest of earbuds, at $5-15 price range. Their build, fit, sound quality and other important features are usually so bad that I normally do not want to waste my time in saying anything about them.
But this particular model is an exception, and I hope you will agree with me when you read my notes. They sound amazing, and they work really well as sports earbuds. I'll be talking about that as well as the features and comfort, and then give you my overall impression on these earbuds.
What Is in the Box?
There are lots of different accessories out there. Of course, you have a very thorough manual which is great and in several different languages as well.
You also have a hard shell case, a micro USB charger and then you have three different sizes of ear tips to actually fit in your ear (small, medium and large). So you can easily find a size that fits most comfortably for you.
You also have two additional ways to get a more secure fit; you have two pairs of ear fins: the on-ear type and the over-the-ear type.
A charging cable is also included. The first time you charge these up it will take about two hours, and then you get at least six hours of use. After that, I would say it takes between one and two hours depending on how drained they are.
These items work in such a way that all the controls are located on the right side. You have your volume up and down; you also press and hold that down to advance to, track forward or backward, and then you also have your power button which you can hold down for pairing.
Also with the cable here you can see this is where the adjustment happens. You can just slide that forward and backward to get a more comfortable fit.
Comfort
These earbuds are actually surprisingly comfortable. Either when you're wearing just the cushions themselves, or you're wearing them with the ear hooks.
The ear hooks are great. Like I said, I don't even notice they're there. It's pretty amazing.
The fins I do notice, especially over time. If I'm doing an activity where I'm moving around a little bit more, when I turn my head and probably tug the wire occasionally, it creates a little agitation in the ear.
For me personally, I find that the agitation can build up over time.
In terms of getting the most secure fit, you'll want to use the fins. I have to say that these do not go anywhere. I could not get these to fall out of my ears for anything.
Whatever you're into; gymnastics, parkour, anything that involves you moving around a lot. Inverting. These are going to be perfect for you that way.
With the ear hooks, these also seem totally secure to me, like they're not going anywhere. I was unable to shake it loose, but on they're not quite as secure as the fins. Again if you want the most secure do the fins. If you want something maybe more comfortable but still secure, go with the ear hooks. Try those out. Like I said, they are very comfortably. Finally, if for some reason the ear hooks do bother you, it's fine. You can remove the ear hooks and just have them sit by themselves. They still work really well that way.
I really like their wire. I mean it's this thin material. It works really well. I don't even notice it's there, and it's super light.
Comfort wise these are great. Like I said, I was pleasantly surprised. I'm not normally an ear bud or ear type of person. These worked really well. Also, you have three different sizes, so you can find a size that's going to work best for you.
Sound Isolation
Regarding the sound isolation, it's going to vary depending on what size of cushion you're using in your ear. Now what I found was when I chose the most comfortable size, which for me is the smallest, there is still some noise coming in.
For example when I went for a jog on a trail, where part of it took me right by a highway, I could still hear the highway noise. It wasn't completely blocked out. However, the good news is I could definitely hear what I was listening to as well.
At the time I was listening to an audio book which is important I'm able to hear all the words, and if I'm using headphones or earbuds that don't have good sound isolation, what would have happened is that I miss some of what's being said. But with these, I could definitely hear everything that was being said, perfectly.
Even though I could hear that outside noise because it wasn't completely drowned out, I could also hear perfectly what was being said and didn't miss out on anything.
If you want to increase the sound isolation, what you can do is to actually bump up the size of the ear cushion you're using. If you're using a small go to a medium, if you're using a medium go to a large, and that way you'll get a more snug fit. It will help to block out more sound that way for you.
I think something that's really important to ask about sports headphones or earbuds, in this case, is how water resistant they are, and also how sweat resistant they are. These do an incredible job. You should be totally fine, whether you're jogging in the rain or you just sweat a lot, these are going to hold up just great for you.
Call Quality
Next, I want to talk about the call quality, which is really cool that it's included as a feature of these and it's becoming more normal with Bluetooth headphones.
What I found is that the call quality was great. I could make and receive calls just fine, and people could hear what I was saying. I could hear them really clear.
On their end, it wasn't quite crystal clear, but they could definitely hear what I was saying just fine. I would say ultimately the call quality is really good, and you can certainly use these to make and receive phone calls just fine.
Bluetooth Pairing
As far as Bluetooth pairing and connectivity is concerned, these did an excellent job. I had no problem pairing them with a multitude of devices. My android devices, my PC devices, and my Apple devices all worked great. The only thing I noticed is that this doesn't have a battery indicator the way some other Bluetooth devices do.
What I mean by that is when it's paired, you don't get that little small battery icon showing you how much battery life is left. In my mind, not a big deal, but it's just something to be aware of.
Sound Quality
I was pleasantly surprised by how well they sounded. When it comes to sports headphones, oftentimes I think the priority is using them for sports other than for a great sound quality. That's often the case as I've seen that time and time again.
I've tried and tested a lot of different sports headphones. But with the Sonixx here, the sound quality was really good. The lows, the mids, and the highs all sounded really nice. I'm surprised at how nice the bass, the low end actually sounded.
Oftentimes, with ear buds at or around this price point, that's one other area that can be a little bit soft. It's not to say that these are thumping ear buds or they're going to rattle your ear drums with bass, but there's certainly enough there to really round out the whole listening experience.
It's not a hard-hitting bass and there's not a ton of a bass but enough there to enjoy your music, movies or whatever you're listening to. Likewise, with the mids and the highs, there's enough detail; there's enough resonance, and there's enough clarity to really bring the music alive.
Overall, these sound much better than other earbuds at or around this price point. Definitely getting a good value in the sound quality department here.
If sound quality is important to you in your earbuds, or you've been disappointed in the past, I think you'll be really happy with these.
Pros
Sound quality is great: very clear and with a lot of bass
Three ways to wear
Perfect for any sport activity
Sweat-proof
Call quality works very well
Super comfortable
Cons
No cons for such a low price. Seriously, they are absolutely amazing for $10.95 purchase.
Conclusion
I'll go ahead and wrap things up with my final thoughts and recommendations regarding these ear buds.
What stood out to me most about these is how nice they sounded. Like I said, I was pleasantly surprised when it comes to the ear buds at around this price point. I'm usually not expecting you to know anything great.
The sound quality was actually great with these. It was very good. It was pleasing. It was enjoyable, and it makes music and movies fun to listen to. The detail is there so even if you listen to something like an audio book, you can really hear what's being said and it's very clear. Well articulated. Sound quality was very good with these.
Also in the comfort department, I love the fact that they give you basically three ways to wear these. You can just wear with the sports cushions by themselves, you can wear them with the fins, or you can wear them with the ear hooks. I was really impressed by that. In fact, this is the first pair of sports earbuds I've come across that gives you three options like that. On top of that, I like that these are actually comfortable.
Bluetooth pairing and connection was strong, that also worked really well. Finally, I love the fact that these are very moisture resistant that you can go jogging in the rain. You don't worry about sweating so much that you're going damage these. That's huge. I think with sports headphones that is an important feature to have.
The bottom line: if you're looking for a great pair of sports Bluetooth ear buds that are less than $50 that sound phenomenal, that are super comfortable, that are very moisture resistant, then I would encourage you to get these. They're such a great value and honestly I think you'll really enjoy these.
Best Earbuds Under $10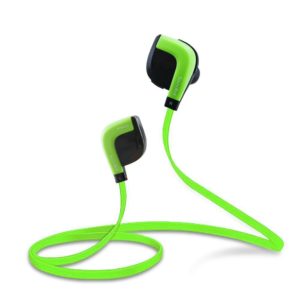 Welcome to my review on the SoundBot SB551 Bluetooth earbuds. I consider them budget-friendly Bluetooth earbuds.
I will be talking about the sound quality, comfort, features of these earbuds and also comparing them with more expensive earbuds, to give you a sense of whether it makes sense to upgrade and spend more money or not.
Obviously, that will depend on your situation and what's important to you. I want to give you some perspective on that today.
What Is in the Box?
I will start out with the included accessories.
Of course, you have a user guide, the charging cable, ear fins.
Of course, the earbuds themselves and three different ear cushions.
Regarding the buttons and how they work on one side. You have the volume up and down which also gets used for the track forward and backward.
Up at the top here you have your multi-use button.
Then on the other side, you have the charging port used to charge up the earbuds. When the earbuds are on you will notice a blue blinking light.
To put on the ear fins, all you do is slide them over your ear cushion. Then you can also adjust them by moving them to the left or right to make sure they get a secure and comfortable fit inside your ear.
They have a Bluetooth range up to 30-33 feet right around 10 meters. Regarding the battery, charging time takes about one and a half hours.
You can get a talk time of up to five hours and you can use these for listening to music or movies for up to four hours. It's really going to depend on what you are listening to, and how long you're listening to it.
I found that to be pretty accurate, though. I would say you can expect to use these for at least three to four hours depending on what you're listening to.
They're also sweating resistant, and include a mic for hands-free talking.
If these earbuds aren't paired with a device for 10 minutes, they will automatically turn off to save power.
You also get a battery life indicator that will show up on your paired Bluetooth device.
Comfort and Fit
So next I want to talk about the comfort and fit of these earbuds. I want to start off just by giving you an explanation of how they work.
You have ear fins that basically go on the outside. They help you get a secure fit. One downside to these is you get one size of ear fins only. It is one-size-fits-all.
I'm a little bit surprised they did not include at least two other common sizes to accommodate a different ear size. That is one thing to keep in mind about these earbuds.
Wearing these earbuds is as simple as basically just sliding them in your ears. However, I find I really have to be careful about pushing them and moving them around a bit, in a bid to really try to get a decent more secure fit, and make sure they don't just pop out of my ear. It is what it is.
Thus standard ear fins did not work for me. If you meet the same problem, you can easily fix this issue by using ear tips from any other pair of earbuds or Comply Foam Tips (I prefer "Comfort" ones).
From a comfort standpoint, I'd say they're reasonably comfortable. I can wear these definitely for an hour or two without any fatigue.
After that, they do start to get a little bit uncomfortable. It's mostly from the way the fin "secures" in the ear. I find it's just not as comfortable as the Sonic XFit for example. They're okay, but just not great.
It is going to depend on you obviously. Your ears might be different, and I am the type of person who normally have some issues with ear tips all the time.
The fact that they're at least reasonably comfortable is a good sign. I think most people would find they can wear these earbuds for at least an hour or two comfortably.
Beyond that, I think it will just depend on you and your sensitivity to earbuds.
But the bigger issue in my mind is the fit standpoint. That is their ability to stay secure in your ears. If you're doing any type of activity where you're moving your head around a little bit more, then I think you may find that they don't stay as secure as you like.
If you're doing more straightforward activities like maybe just lifting weights, you are not moving your head around a whole lot like when you're walking on a treadmill, or even going for a jog.
You're not moving your head around checking out the site. They will probably be okay for such activities.
Bottom Line
I think the biggest issue you may have is in getting a secure fit. They just don't seem to stay in the ears as well as other more expensive earbuds. That's one of the trade-offs price wise, and that is something you will want to think about for yourself.
Would you rather spend twice as much and have something you do not have to worry about popping out of your ears? Or having a tweak with it to make sure it is sitting in there securely.
Or would rather save the money. You might occasionally have to adjust these earbuds or tweak them to get them securely in your ears. That is going to be up to you.
Call Quality
In terms of the call quality, they certainly do a decent job. I am able to understand someone pretty clearly.
Although they get some occasional pauses or some muffled sounds, you can still easily have a conversation with someone.
But I wouldn't call it a crystal-clear conversation.
Bluetooth pairing was pretty smooth, but just not as smooth as with some other more expensive earbuds or Bluetooth headphones I've used before.
They actually paired and connected really easily with my iPod Touch. With the iPad Mini things did not go so easy, and I actually had to shut it down and restart it.
I was able to definitely get it connected just fine at the end. It just took a little bit more work.
Bottom line, I think it is not going to be an issue for you but just something to be aware of. You may have to tweak it a little bit more to initially pair and connect successfully.
Sound Quality
Next, I want to talk about the sound quality of these earbuds.
I would compare them to the sound quality you get with the Apple earbuds, the free ones they give you with like an iPod Touch or something like that.
They definitely do a decent job but just not a great job. I think it's what I consider fair for the price.
Bottom line: from a sound quality standpoint I wouldn't expect anything exceptional here. It gets the job done.
If you are more particular about sound quality being able to have a more balanced sound at the lows, the mids, and the highs, good amount of detail I would definitely consider spending a little bit more money.
That's one of the trade-offs.
However, when you're looking at budget-friendly earbuds such as these ones, I just do not want you to have high expectations in the sound quality department.
Pros
The price tag is ridiculous and you are not going to find something better just for $9.99 (current price on Amazon). They are definitely the best Bluetooth earbuds under $10.
Built-in NFC for easy pairing and AptX codec for better sound quality.
Multi-point connectivity which can support two devices simultaneously.
Pretty comfortable if you do not move around too much.
They are sweat resistant and can be used for biking or some other sports activity where you do not need to move your head too much. Running and working out are not sports I am talking about now.
Cons
Do not fit properly for me. Just one pair of ear fins.
Sound quality is ok for such a price but it is flat and I normally prefer to pay more for better sound, especially bass.
Conclusion
Finally, I want to go ahead and wrap things up with my final thoughts and my recommendation about these earbuds. Certainly, they work great as a budget-friendly pair of Bluetooth earbuds.
But there are also some reasons you may want to consider upgrading and getting something a little bit nicer. I think there are two things you really want to think about.
One is, of course, the sound quality. As I mentioned earlier, you really want to make sure you can hear the low end.
If you want to be able to hear the bass more, feel a little bit more of the beat, then definitely consider something like the Sonics X-Fit. They're about twice the price, but the sound quality is more than I would say, and twice as good. You're getting a great value from that standpoint.
The other reason would be a comfort and fit reason, particularly the fit. Although these earbuds are reasonably comfortable to wear, I think the biggest issue I found is that they didn't stay put in my ears as well as I would have liked.
For instance, if you were to upgrade to something like the Sonics X-Fit, you're spending twice as much, but you're not having to worry about them popping out of your ears. Not only do they stay in your ears and stay put literally.
You can do any type of activity and they're not going anywhere. But they're also more comfortable to wear for longer periods of time.
That's the trade-off. Is it worth spending twice as much to get a more secure fit to have a more comfortable pair earbuds? That's going to be up to you.
Certainly, these work and they're comfortable enough to wear. But realize you may have to tweak them a little bit more to get them to stay put your ear. Or you may turn your head too much and one of them may pop out and you have to put it back in. That's something to think about for yourself. How much of a bother that would actually be or not.
If those issues really don't sound like much of a bother to you, then I think these could be a great fit, especially considering that you're not spending a lot of money.
You can use these for sports. They're sweat resistant, which is great. They have of course a good Bluetooth range and a decent battery life. They're pretty easy to use. They're reasonably comfortable and they make for certainly decent sport Bluetooth headphones.
As long as you don't mind the issues I spoke about earlier, if that all sounds good to you and you love the price point, then I think you will actually really enjoy these, and they could be a great purchase for you.
FiiO EM3 Review (Best Sound Quality & Comfort for Money)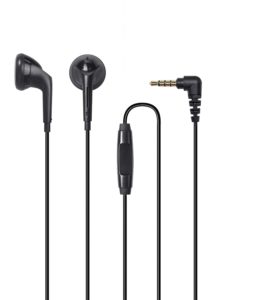 FiiO EM3s is my favorite pair of inexpensive earbuds. I am always a fan of any audio product that delivers a lot of sound quality and comfort for your money and these really affordable earbuds are definitely an example of that.
Currently, these earbuds have a ridiculously low price tag – just under ten dollars.
Accessories, Design and Build Quality
There are some foam covers included with these earbuds which do take a little bit of effort to slide.
Regarding the design, these wired headphones are not inserted into your ears the way some other earbuds are. They just rest on the outside.
The benefit of this type of design is that these earbuds are often more comfortable to use compared to some in-ear headphones. The downside is they provide very little noise isolation, which means you will be able to easily hear any noise around you even when music is playing.
These headphones do include an inline microphone which you can use for phone calls.
The build quality of them is not super tough but it is not cheap either.
You also have a reinforced 90-degree angle plug and there is even a bit of extra protection where the cable leaves the earbud. The earbuds seem rather durable.
Comfort
The comfort of this model of very affordable headphones is amazing and it is one of my favorite parts about these earbuds.
I find them extremely comfortable to wear, as I can wear them all day long without a problem and the headphones actually "disappear". I don't even know to notice I'm wearing them until a tug on the cable reminds me that they are in my ears.
There are actually two ways to wear them which can affect the comfort. You can use these earbuds with the phone covers or without. The benefit of the phone covers is that they do make a difference and help the earbuds stay in your ears.
Personally, I find them more comfortable feeling this way as well. However, if you don't like the feeling of the phone covers these earbuds still work just fine without them. The earbuds can fall out of your ears a little bit easier.
Sound Quality
The sound quality is surprisingly good, especially considering how inexpensive they are.
What I love is that you actually get a hi-fi type of sound that is actually quite satisfying to listen to.
The low end, though, is the weakest part of the sound signature. The sub bass and deeper bass notes are noticeably missing from the sound.
Even though that is to be expected and while there is a bit of mid-bass these earbuds are still very light in terms of the bass.
Overall if you are expecting a full or satisfying bass response you will probably be disappointed.
However, they are still quite enjoyable to listen to because these do such a good job with the mids and highs for such low-priced earbuds. As an example, vocals come through with great clarity and there is a good amount of detail as well.
The treble is a bit laid-back, but that also makes these great for longer listening sessions.
What I found interesting is that because these give you a taste of a hi-fi type sound, contemporary music is still fun to listen to. Even though the bass is a bit lacking, music is still presented with enough detail and energy to make songs quite engaging.
Overall you have a sound signature that is light on bass, slightly forward in the mids and a touch laid-back in the treble.
Comparison to Other Cheap Earbuds
While these budget earbuds certainly are great with all genres of music, they do sound best with tracks of music that do not require a strong bass presence to sound good.
Even though you can't beat the sound quality of these earbuds for the money there are still a few reasons you might want to get something else.
First, if you are not a fan of the way earbuds sit in your ears then you probably will not find these particular earbuds any different in that regard.
Also if you are after good noise isolation then these earbuds would not be a great choice because you're still able to hear a fair amount of environmental noise around you. For example, these earbuds are not ideal to use in noisy places like a subway where you have to really turn up the volume to be able to hear your music.
Finally, if you primarily listen to music that depends on a good strong bass response then you might not like these earbuds as they are light in terms of the base.
Otherwise, the strengths of these earbuds are that they deliver a lot of sound quality and comfort for the money. As you probably know there are plenty of cheap earbuds or earphones that sound cheap but FiiO EM3 are low-cost earbuds that actually sound quite good.
Pros
An unbeatable combination of quality and price.
Sound quality in terms of the mids and highs is amazing.
Very lightweight – just 0.5 oz (about 15 grams).
They are extremely comfortable for earbuds under $10 and from this point of view they can be compared with much more expensive models only.
Cons
Weak noise isolation.
Bass is not their main advantage.
Some people may dislike the on-ear style of these earbuds.
Conclusion
Whether you are looking for a pair of earbuds to replace the stock ones that came with your phone or maybe you are looking for a nice but inexpensive gift to give someone, either way, you will definitely feel you are getting a lot for your money with these earbuds.

Is There Any Difference Between Cheap and Expensive Earbuds?
I want to cover one more topic before reviewing the best models of cheap earbuds. Why does the prices of different earbuds vary in such a wide range and what makes a real difference between budget and high-priced headphones?
Yes, there is a great variety of ridiculously cheap wireless earbuds on the market, and even for $5 you can find something more or less decent. And it is ok to be curious what is wrong with your choice when you are paying $5-10 instead of $199 (yeah, these big companies love such tricky prices) for a new pair of good-looking earbuds?
I personally do not recommend to use earbuds under $10 just because in my opinion it is impossible to make something good for such amount of money. None of these models is (and never will be) reviewed on our website.
However, is there any real difference between a pair of $5 and a pair of $200 headphones?
That is a tricky question and in this article, I will share my humble thoughts trying to explain what is right and what is wrong with cheap headphones.
Inexpensive earbuds are usually made of low quality and fragile materials and their main drawbacks are usually their bad sound quality, low noise isolation, and poor durability.
It is unfair to say that all cheap earbuds are bad and provide you with disgusting sound quality. Nope.
It strongly depends on specific circumstances which are normal for you regarding listening to audio files. For example, you will see almost no difference listening to low-bitrate streams and even having the cheapest models you can sometimes listen to music without annoying noise and crackling.
However, at the end of the day, only expensive models provide you with crisp and crystal clear sound without muddy bass and harsh highs and mids.
Top-notch headphones give you a possibility to feel as if you were on a real concert where you could hear real musicians and distinguish even individual instruments.
Anyone, even an amateur will notice a HUGE difference between expensive and cheap earbuds.
So this is more about the good sound quality of expensive models than about the bad sound quality of cheap ones. And it is likely that you defend your low-priced earbuds just because you have never tried something better.
My main criteria for choosing good and affordable earbuds are:
Durability
Comfort
Water protection
Noise isolation
There is a plenty of other criteria but these 5 are the most important ones for the best budget earbuds.