(Last Updated On: December 21, 2017)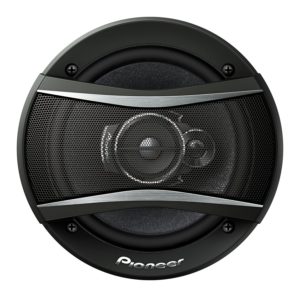 Cars are great places to listen to music. But we tend to put up with a quality of sound we wouldn't tolerate at home – factory-fitted speakers just don't make the cut!
If you're looking to upgrade your car audio system and you're on a budget, look no further than our best car speakers under $100.
Here are the 5 best budget car speakers on the market right now.

Top 5 Best Car Speakers Under $100: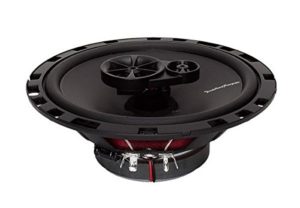 They're sleek, stylish, and only cost about $30-35 for a pair.
On design alone, they look nicer than some $120 speakers we've seen.
As one of the most frequently and positively reviewed speakers around this price range on Amazon, it's easy to see why.
Sound
These inexpensive car speakers are built with surprisingly high-quality materials. The rubber surround is durable, great for overall sound quality and a huge step-up from OEM speaker surrounds.
As well as the rubber surround, there's a polypropylene woofer cone, one of the best materials for maximizing bass response.
Budget car speakers tend to suffer – either at the low end or the high end of the frequency range. The bass with the Rockford speaker was flawless considering the price, the mid-range tones are great, but the highs are average at best.
An impressive frequency response range of 52Hz – 20Khz makes this speaker able to handle pretty much any song you can throw at it and the 3-way setup really helps produce a full, clear spectrum of tones.
Power
At 4 ohms of impedance, these budget speakers will have no problem pulling enough power from even an OEM head unit. Even though they can pull enough power, the biggest downside to the R165X3 is the power handling.
With 45 RMS watts of continuous power and 90 watts peak power, you won't be able to crank these speakers up to blast-the-windows-out level without heavy distortion and damaging the speaker. But for around $30 a pair, they do the job.
Verdict
The sleek, black design makes these speakers look like a premium pair without the price tag. They perform fairly well across the lows, mids, and highs with distortion only at high volume levels.
If you're looking for a modest upgrade from your factory system without spending too much, these are perfect.
Pros
Great design
Solid build quality – feel more expensive than they are
Excellent bass, good midrange, and average high tones
1000 4-star ratings on Amazon – one of the most popular speakers for the price
Cons
Poor power handling makes them unable to perform well at high volumes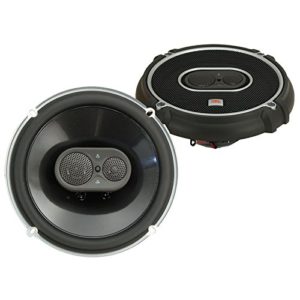 JBL is a brand synonymous with affordable, high-performance audio systems. You can expect the same great quality in these GTO 638 car speakers.
Sound
The Patented Plus One woofer cone has 25% more surface area than any other competing model in this price range, coupled with a durable rubber surround, you'll be able to experience an audible improvement in bass response.
Being a 3-way coaxial speaker, there's a Mylar-titanium alloy tweeter (which the manufacturers say is home theater grade), and an adjustable super tweeter in there, too, extending the range of high frequencies the JBL GTO638s can handle.
Another nifty piece of tech included in these speakers is the built-in crossover network. It allows for seamless transition between the woofer and the tweeters, giving the midrange a natural sound.
You wouldn't be crazy if you had to double check to see whether Jay-Z was actually sat in your passenger seat.
Power
The My-Ti alloy significantly improves power handling, giving these speakers 60 watts of continuous RMS power and 180 watts of peak power.
You'll be able to crank these far beyond what is considered socially acceptable without experiencing any distortion. With only 2 ohms impedance, these will pull more than enough power from any head unit or amplifier you may be using.
Verdict
With budget speakers, there are lots of brands who skimp on quality to lower the cost. The JBL GTO638s are still packed with the same kind of technology their other sound systems are famous for.
Highs, mid-range, and lows can be reproduced with ease, and, thanks to the efficient power handling, the JBLs can be enjoyed at a reasonably high volume without distortion.
Pros
Full of audio-enhancing JBL technology
High-quality drivers deliver great sound across the board
Adjustable tweeters
Good power handling
Cons
Tweeter can be too bright at times
Pioneer TS-A1676R – Best Car Speakers Under $100 (Editor's Choice)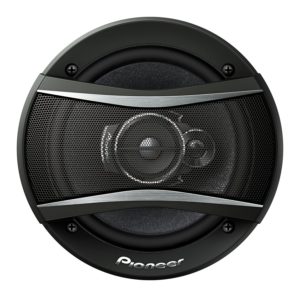 Pioneer's TS-A range features some exciting next generation technologies.
Huge players in the audio world, Pioneer have brought that same great quality and packaged it into an affordable, impressive pair of speakers suited to those on a budget.
Sound
The speakers in the Pioneer A-Series are made with a Multilayer Mica Matrix Cone structure, designed to improve midrange response and provide smooth, deep bass.
An added midrange driver makes the Pioneer TS-A1676R stand head-and-shoulders above the competition when listening to guitar riffs, drums and bass lines which wouldn't be picked up by lower quality speakers.
Pioneer's dome tweeter picks up on the high-frequency details to bring a little extra sizzle to your songs.
Power
The Pioneer TS-A1676Rs are incredibly efficient and have great power handling. The continuous RMS power is 50 watts, while the peak power handling is 320 watts, giving you plenty of power to work with.
You'll be able to enjoy a high ceiling in terms of volume if you're the kind of person who loves to crank up their favorite tunes. Let's face it, who doesn't?
Operating with 4 ohms of impedance, you'll be able to get far more from these speakers if you use an amp.
Verdict
These 3-way coaxial speakers from Pioneer really push the boundaries of what you can fit inside a $30 speaker.
Able to handle high volumes and reproduce frequencies effortlessly across the board, the Pioneer TS-A1676R is a great choice if you're looking to build a car audio system and need some great speakers that won't blow your entire budget.
Pros
High-quality build materials – durable and long-lasting
Well balanced, flat sound signature
Excellent mid-range frequency reproduction
Can handle high volumes without distortion
Cons
These speakers benefit strongly from an amp. You'll still get a big improvement from your factory speakers without one.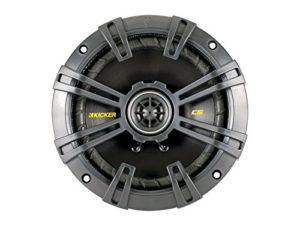 Kicker manufacture some of the toughest, coolest looking speakers on the market. These budget speakers will allow you to experience details in your favorite music that your muddy-sounding OEM speakers couldn't pick up.
Sound
These affordable speakers from Kicker get their low-end from a solidly build polypropylene woofer, with a polyester foam surround which will last for a long time.
Foam isn't as good as rubber, but still, provides a significant upgrade from stock surrounds. A ½" PEI silk dome tweeter brings the vocals and fine instrumental details of your favorite tracks to life.
Power
Armed with 100 watts of RMS continuous power and 300 watts of peak power handling, these speakers can be cranked up high before you start experiencing any distortion.
In fact, one of the most frequently mentioned things from users is how loud these budget speakers can be turned up before compromising sound quality or the speaker itself.
With 4 ohms of impedance, they'll sound great with a stock or aftermarket head unit, but you'll be able to take them to the next level with an amplifier.
Verdict
This affordable pair from Kicker doesn't provide quite the same clarity and depth as some other speakers around the $50 range. However, they make up for that with exceptional peak power handling. If in doubt, just crank up the volume!
Pros
Durable, hard-wearing speakers
Edgy design makes them look more expensive
Exceptional peak power handling
Cons
The lower and higher frequencies don't pack as much punch as some other $50 speakers.
JVC CS-J620 – Best Car Speakers Under $30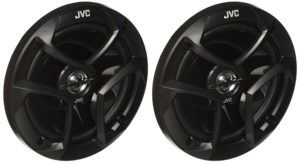 These JVC speakers aren't going to blow your socks off, but offer a quality upgrade option to anybody looking to replace their OEM car speakers. They are the cheapest ones in our list.
You'll be able to enjoy long-lasting speakers with improved sound quality for around $20 – well within even the lowest budget.
Sound
These JVC budget speakers feature a Mico Cone with a rubber and cloth surround to allow the CS-J620s to pick up frequencies as low as 35Hz, adding depth to the lows and more precision to the mid-range frequencies.
A 1" Poly-Ether balanced dome tweeter can bring out details that factory-fitted car speakers are unable to do, by extending the higher frequency range to 22Khz.
Working together, the drivers and intelligent choice of materials allow you to enjoy a full-range sound that feels like an instant upgrade from OEM speakers.
Power
They can handle up to 30 watts of continuous RMS power and have a 92 dB sensitivity rating.
Even though the peak power handling rating is 300 watts, the same as some of the more expensive speakers on this list, the lower continuous power rating will prevent you from cranking these speakers up too high.
Verdict
These aren't going to satisfy your sonic needs if you're looking for a major upgrade. Rather, these are designed to be a modest step up from OEM speakers. They'll breathe a little fire into your music and you'll certainly be able to notice an improvement.
You won't be able to reach window-shaking volumes. But for the price of a romantic dinner for one, who's complaining?
Pros
Extremely cheap
Provide a modest improvement from OEM speakers
Cons
By spending a little extra you'll be able to get significantly better speakers
Crackling and distortion at high volume
How to Choose the Best Cheap Car Speakers
There are a few things to consider when shopping for new car speakers. Our guide will cover everything you need to know so you can get the most out of your budget when the time comes to buy.
Budget
In this review, we're focusing on inexpensive, good quality speakers under $100. While high-end speakers can easily cost more than $1000, it's important to know that there will still be a big difference between a $20 speaker and a $100 speaker.
When possible, always buy the best speakers your budget allows you to. Not only will you be able to enjoy higher quality sound, they'll last you much longer.
Size
It's an obvious – and surprisingly overlooked – thing to consider when buying a car speaker.
There's nothing worse than unboxing the speaker, getting excited and then realizing the speakers don't fit when you come to install them. Save yourself a headache and buy the right size.
2-way vs 3-way
2-way speakers are easier to install and the most popular option, especially for people who want to do the installation themselves.
You get just one built-in tweeter, but the sound quality it provides would still blow your factory-fitted sound system away. With 3-way speakers, all three frequencies are handled individually by a woofer, tweeter, and super-tweeter.
Most of the time, it's down to personal preference, neither is fundamentally 'better' than the other.
Coaxial or Component?
Coaxial speakers are the more popular choice, containing multiple drivers to produce a wide range of audio frequencies.
Component speakers only contain one driver, allowing them to produce either highs, mid-range or lows. Unless you're custom building a performance car audio system, make it easy and choose a coaxial speaker.
Sensitivity
Measured in dB, sensitivity refers to how much power your speakers require to deliver a particular level of volume. Speakers with higher sensitivity need less power to produce high volume sound.
If you're working with a low-end or factory head unit, you'll want to buy speakers with a higher sensitivity level.
Build Quality
Many stock speakers are made with poor quality materials that degrade quickly over time. Even budget car speakers provide a significant step-up from most OEM speakers.
That's why, even if you leave everything else alone, investing in a new set of speakers can dramatically increase the quality of your car's audio.
Rubber surrounds are durable, last a long time and produce great sound
Foam and cloth surrounds are less durable than rubber, but still a huge improvement from foam and paper
Now you've seen that, even with budget car speakers, there's still a lot to consider. Cheap speakers are a huge market and there are thousands to choose from. However, many of them are poorly made and don't perform as well as you want.
Overall – Best Budget Speaker Under $100
Now we've seen speakers covering a range of different budgets, from $20 to $80, it's time to decide which one offers the best value for money.
In our opinion, the Pioneer TS-A1676R is the winner today. Costing around $35, it's only $10 more expensive than the cheapest speaker on the list – the JVC CS-J620 – but provides a far greater upgrade in comparison to OEM speakers.
Not only can you enjoy a well-balanced, flat sound signature, these can be cranked up high without damaging the speaker and work fantastic with an amp. If you don't want to use an amp, they'll still sound great with any aftermarket or factory-fitted head unit.
For those on a strict budget, it's important to get the most bang for your buck possible. We think the Pioneer TS-A1676R offers that. We just wish it had a shorter name.