(Last Updated On: December 21, 2017)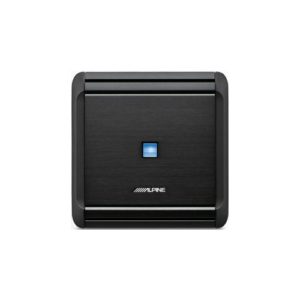 Amplifiers are one of the best and most cost-effective ways to improve your car sound system. The good news is that great amps don't have to be expensive. You'll be able to beef up your car's audio system even if you're on a budget.
Don't want to drop a whole stack of money on upgrading your sound? No problem – enjoy our hand-picked selection of the best car amps under $200!
Top 5 Best Cheap Car Amps Under $200: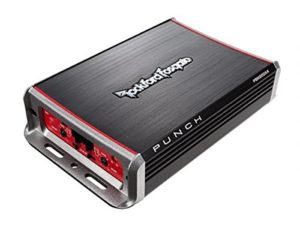 Maybe you don't have space for a big amp. Or, perhaps you just want something that you can install out of sight.
The Rockford Fosgate PBR300X4 is a budget-friendly, ultra-compact amp that packs a punch way bigger than you'd expect, considering the size.
This 300-watt, 4-channel budget car amp provides 75 watts of RMS power to your front and rear speakers. By adjusting the gain you'll be able to get crystal clear sound from the PBR300X4.
The frequency response range of 20Hz to 20kHz is perfect for bringing out clarity and presence in the mid-range frequencies.
With 4 ohms of impedance and both preamp and speaker-level inputs, it's a versatile little amp which will be compatible with aftermarket and factory head units. Our only complaint is that you can't bridge the connections.
The Punch EQ on-board EQ circuit has selectable low-pass and high-pass filters. When set to low-pass, the amp will give more emphasis on the bass, with the high-pass filter giving more boost to the mid-level and high frequencies.
Having the amp on all pass operation, you'll get balanced amplification across all frequencies.
The PBRX300X4 includes their award-winning DTM cooling system. Rather than concentrate the heat dissipation in one spot, as some other amps do, the heat is dissipated equally across the amplifier.
You'll find the amplifier gets warmer overall, but with no dangerously hot spots.
Overall
This is a small amp capable of powering an entire speaker system – both front and back. You can install this in a variety of incognito places and don't have to sacrifice usable space in the car.
Well-built and reliable, this is a favorite amp with motorcyclists and car-users alike.
Pros
Great heat management
Small enough to install just about anywhere in the car
Can power both the front and rear speakers
High and low-level inputs
High-pass, low-pass and all-pass settings
Adjustable gain
Cons
Non bridgeable
Don't have full control over the crossover frequencies (just the HP, LP and AP settings)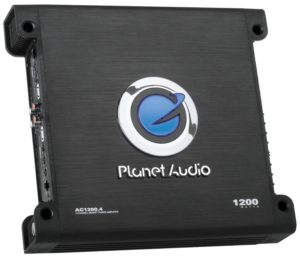 This amp shouldn't even be in the under $200 category, it belongs in the under $100 category! If you're building a new sound system on a really tight budget, the Planet Audio ANARCHY is a great piece to that puzzle.
With 4-channels, 1200 watts of RMS power and a MOSFET power supply, the ANARCHY can easily power your entire sound system – your speakers, subwoofers, or a combination of the two.
Using 4 channels you'll get 225 watts x 4 RMS at 2 ohms stable per channel. By bridging, you can get 450 watts x 2 RMS at 4 ohms stable, giving you a significant increase in power output.
Using the variable low pass crossover, fixed high pass crossover and bass boost you can have a decent amount of customization options available, especially when you consider that this is a very inexpensive amplifier.
We noticed that the gain is very sensitive. You should take extra care not to crank it up too high and risk blowing your speakers.
High and low-level inputs give the Planet Audio ANARCHY extra compatibility when it comes to connecting to a head unit.
Overall
You get a hell of a lot of this amp for under $100 – 4 bridgeable channels and enough juice to power all of your speakers, as well as a healthy variety of customization options.
Whether you just need an amp, or you're trying to build a new sound system from the ground up on a budget, you can't go wrong with the ANARCHY.
Pros
4-channel, bridgeable to 2-channel
Capable of powering your entire sound system
Small enough to fit under the seat
High and low-level inputs for extra compatibility
Cons
Very sensitive gain – turned up too much can cause damage (and even death) to your speakers. However, get the gain just right and you'll get loud, clear sound.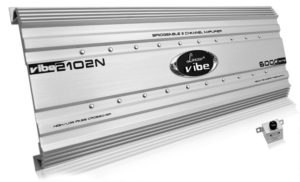 This 4-channel budget amp is for those looking for more power and flexibility. You'll get a lot of clean power for your money with the Lanzar VIBE452N and it is capable of being the driving force behind your entire car sound system.
This amp produces a whopping 6000 watts of power. For around $130, that's a lot of bang for your buck. The amp provides 4 x 1250 watts RMS power at 4 ohms, or 2 x 3000 watts max at 4 ohms when bridged.
So you have the choice of powering your whole speaker system or just one pair if you'd rather the extra power. Both stereo and line inputs allow you to connect this to any head unit.
The VIBE's frequency response is impressively wide, ranging from 10 Hz to 40 KHz, giving it more capability in the low-end frequencies than many other amps at the price – perfect if you love loud bass.
There are variable input levels for each channel. You can adjust the high and low pass crossover frequency, giving you a fairly high degree of customization to get that perfect balance.
Overall
It isn't as small as the ANARCHY or the PBRX and will probably have to be installed in the trunk of your car, but with that extra size comes a lot of extra power.
You can customize the high and low pass crossovers, which is a great feature to make fine adjustments and optimize the amp for the speakers you're using.
This budget powerhouse will be a great addition to your system if you want maximum wattage.
Pros
Lots of clean power, especially considering how low the price is
Bridgeable at 4 ohms
Stereo and line inputs
Adjustable high/low crossover
Cons
Users have reported it getting very hot when used for long periods, although not to the point of the safety shutoff kicking in. Avoid pushing this amp to the limit for extended periods of time.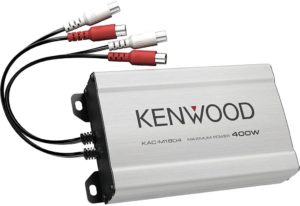 This budget amp is another that has a sub $100 price tag. The Kenwood KAC-M1804 is as rugged as they come, small enough to install anywhere and produces enough power to make it a solid contender in the category of best budget car amp.
The amp is built for both marine and car use. So you can be sure that the Kenwood KAC-M1804 is built to last. There are plastic covers to protect all the connections and features conformal coated circuits, protecting it from dust, salt, and water.
An extruded aluminum heatsink allows for more effective heat dissipation so you don't have to be concerned that this amp will overheat after long periods of time – a very common issue with many amps.
The channels are unbridgeable – you'll get 45 watts at 4 ohms x 4 RMS with a maximum power output of 400 watts. Capable of powering four speakers effortlessly, this budget amp doubles the power of most factory-fitted car sound systems.
By hooking each speaker up to its own channel you will further minimize distortion and guarantee clear sound. RCA connection is the only way this amp can connect to your head unit, so make sure it's compatible.
Overall
The Kenwood is an excellent amp if size and reliability are a priority. You won't get the same power as the VIBE but the KAC-M1804 will still provide enough extra juice to notice a big step-up in the quality of your sound system.
Built like a tank, this amp will probably outlast your car!
Pros
Small enough to install anywhere
Rugged and extremely – built for use in boats and cars
Extruded aluminum heatsink allows for extremely efficient heat dissipation – will not overheat
Cons
No extra features or additional controls to fine-tune the amp
Only has RCA input for stereo hookup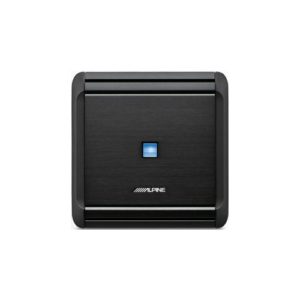 This stylish looking budget amp by Alpine can be installed just about anywhere in your car. Solidly built and very efficient at heat management, this amp provides consistent, reliable performance and puts quality first.
This 4-channel budget amp provides 50-watts of RMS power to 4 speakers or 150-watts for two channels with a bridged output of 4 ohms.
Each channel can deliver up to 50 watts to each speaker. You can switch between 2-channel and 3-channel configurations depending on what your particular needs are.
Preamp and speaker level inputs give you flexibility with head unit connections, while the variable high and low pass filters allow for some level of sound customization.
We found the Alpine to amplify bass frequencies especially well. However, the bass EQ switch doesn't make much difference to the original sound – we expected more.
Overall
With a built-in temperature monitor, this amp just wouldn't get hot – even when we pushed it hard. That's a good thing and shows how well-built and reliable this amp is.
You'll get good, clean amplification even in the lower bass frequencies. The Alpine is a great all-rounder, built to last.
Pros
Attractive design
Small enough to install almost anywhere
Excellent heat management system
Great amplification across all frequencies
Cons
We couldn't find any faults considering the price. No Amazon reviewers seemed to have any complaints, either.
How to Shop for the Best Car Amps Under $200
When buying new car audio amplifier, there are a few things to consider. Your amp will have to work with the rest of the sound system if you want to get the most out of it.
When you're on a budget, it's important to make every dollar count. Our buyer's guide will take you through the main points step-by-step, to make sure you get the most amp for your money when the time comes to put the money down.
Size – Will It Fit?
This might sound like an obvious one, but people can easily lose their common sense when they see that big, beefy amp for sale. Figure out where you want it to be installed – in the truck, under the seat, or anywhere else.
Then consider the kind of amps that will fit in your chosen space. Technology has come on leaps and bounds in the last decade. It's now common to see small amps that produce a lot of power.
Don't assume bigger is better, and make sure it'll fit where you want it to.
How Many Channels?
Amplifiers come in different configurations. The correct number of channels for you will depend entirely on how many speakers you have in your sound system, or how many you'd like to power with the amp.
Mono (single channel) amps are generally used to power one component of the sound system. This is usually the subwoofer. Your speakers will still work, they just won't get the extra juice from the amp.
2-channel amps are perfect for powering a sub and a pair of speakers – if you don't have or don't want to use the rear pair. A 2-channel amp will usually be cheaper than the 4+ channel models, making them a great choice if you're on a really tight budget.
4-channel amps are the best choice if you have the budget. Capable of powering a subwoofer and two pairs of speakers, a 4-channel amp will provide extra power to your entire sound system and give you the most dramatic sound upgrade. If you plan on only powering one pair of speakers, you can always bridge the connection and add a second pair later.
Wattage & Power
To get the most out of your car sound system, it's important that you avoid under powering your speakers to avoid distortion. That's why it's typically a good idea to choose the speakers first, and an amp with enough juice to power them second.
If you're using your factory installed speakers, take the RMS value and get an amp that can produce at least 100 to 150 percent of that number.
We would always advise you to buy an amp with more power than your speakers require, so you can keep your gains at the proper setting. Doing this will actually reduce the likelihood of damaging your speakers and make for better sound.
Head Unit Compatibility
If you're building a completely new sound system then we'd recommend buying a head unit with preamp outputs, and an amp with line level inputs, if it's within budget.
This will give you the clearest sound possible, as you'll be providing the amp with unamplified signals.
Most stock head units, and many aftermarket models don't have preamp outputs. If your head unit is one of these, you will need to purchase an amp with speaker level inputs.
It'll still give your sound system one hell of an upgrade, as well as saving you the hassle of having to mess around with extra wiring and adapters.
Verdict – Best Budget Car Amp Under $200
The budget car amp market is competitive, with some excellent models available – even under $100! Every amp we featured in this list is excellent value for money. No matter your budget, there should be one that fits your specific needs.
Our personal favorite was the Alpine MRV-F300. It's small enough to install almost anywhere in your vehicle, but it looks so good you'll probably want to show it off!
The premium look and feel are matched by the quality of its components. With 4-channels, enough power for your entire system, bridgeable flexibility, and excellent heat management technology, the Alpine MRV-F300 is the ultimate budget amplifier.