(Last Updated On: December 21, 2017)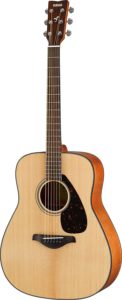 Have you been looking for an acoustic guitar that's affordable and still sounds great? These 4 guitars are among the best cheap acoustic guitars you'll find.
This article will explain important things to look for when buying an acoustic guitar. We also highlight the specific features of each of the 4 guitar models, making it easy for you to pick the one that's right for you.
Top 4 Best Cheap Acoustic Guitars Under $200: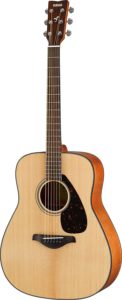 This is a beautiful dreadnought guitar in a natural finish from one of the most respected guitar manufacturers in the world. The 800 Series features a new scalloped bracing pattern that maximizes the acoustical properties of the solid spruce top.
The FG800 is made from high-quality wood you would expect in a high-quality instrument: solid sitka spruce top, nato back & sides, rosewood fretboard, and bridge.
Spruce is used for the top because its fine grain and lightness make it the superior wood for resonating musical vibrations. Rosewood is used for the fretboard and bridge because of its hardness and durability.
With its high-quality wood selection, it has a great, warm tone for the price. It sounds great plugged in or unplugged. It has adjustable relief as well as die cast tuning mechanism for smooth and sensitive tuning.
Pros
This guitar has a great, well-balanced sound and good volume. The lower notes are strong and robust without sacrificing the higher notes.
This is a fun, easy guitar to play. A guitar that is easy to play will get played more, and and the more you play the easier it gets!
It is beautiful in its natural wood colors and its workmanship, making it a good guitar for performers as well as anyone who enjoys aesthetically pleasing instruments.
Cons
While there isn't a strap pin near the heel of the neck, one can be added by a guitar shop for a nominal fee (usually around $5) or you can use the type of strap that ties where the head joins the neck.
Conclusion
This is one of the best sounding guitars in its price range, and an instrument worthy of experienced guitarists as well as beginners.
It comes from one of the best names in the world of musical instruments and represents their latest innovations for a quality guitar at an affordable price.

This is a beautiful guitar with a natural wood finish in the Jumbo shape but slightly smaller body than a true Jumbo. With a stylish cutaway for greater access to the highest notes on the guitar, it is quite a looker!
The S34C NEX features a laminate spruce top for greater affordability, coupled to sapele back and sides and a rosewood fretboard and bridge. It has a full 25 ½" scale length and a slim neck profile which makes it easy to play.
It uses scalloped bracing for maximum resonance, with the bracing closer to the sound hole for greater note clarity and a livelier, more open sound.
Pros
This guitar offers a lot of value and a good sound for the price.
Cons
It may need a little more setup work than a more expensive guitar. Things like filing down frets that are too high or adjusting the relief (the height of the strings above the fretboard) can be done at home with the aid of instructional videos, or at a guitar shop.
It may be lacking in volume, especially if you are doing finger picking style.
Conclusion
The Jasmine S34C NEX is a great value guitar for its price. It has a classy body style and the materials are good enough to make a nice sounding guitar at a great price.
From one of the best names in guitar manufacturing, this is a dreadnought shape guitar available in three colors: sunburst, ebony or natural. It is symmetrical, meaning it can be played by either right-handed or left-handed people.
It features a select spruce laminated top, mahogany body and a rosewood fretboard and bridge. Epiphone's iconic Sloped Dovewing headstock completes the look with die-cast premium tuners. It has a SlimTaper neck shape for easy playing.
Pros
This is a great sounding guitar for its price. It may be hard to believe that it is not a solid top guitar, the tone is so good. The laminate spruce top actually will vibrate easier and sound better the more years it is played.
Cons
The bridge pins may be harder than average to remove when changing strings, and other adjustments such as filing the frets smooth may be needed.
It does not come with strap buttons.
Conclusion
This is Epiphone's most popular and affordable acoustic guitar for a reason. It has the quality and sound you would expect from a revered old brand, but with an amazingly affordable price.

This is a classic dreadnought acoustic guitar from a great old brand, and it comes with everything you need to get started, and at a great price. The bundle includes gig bag, tuner, strings, strap, picks, instructional DVD and a polishing cloth.
It features a laminated spruce top, rosewood fretboard and bridge and a full-size dreadnought body with a vibrant tone, suited for all styles of music.
Pros
The price of this guitar and its accessories make it a great value for a beginner.
The tone and sound quality are reasonably good considering the low price.
Cons
These guitars sometimes have workmanship issues with the fret placement that cause buzzing or bad string noise. However, it comes with a one year warranty from Fender that should cover returning a defective instrument.
Conclusion
It's hard to beat the value and convenience that Fender is offering with this acoustic guitar bundle. It's a great guitar for camping and outdoor use where you would hesitate to use a more expensive guitar.
How to Choose the Best Cheap Acoustic Guitar
What Are Acoustic Guitars?
How they are made: Acoustic guitars have hollow bodies made of wood.
The carefully shaped, thin pieces of wood are engineered to resonate the music naturally, giving them a beautiful tone.
Acoustic guitars can be played with or without electrical amplification.
How Do I Find a Good Acoustic Guitar that Fits My Budget?
Several manufacturers make guitars that combine affordability with quality. You should look for the features that you would expect find in higher priced guitars, including high-quality materials and good workmanship.
The following will give you the important differences between cheaper guitars and expensive guitars, as well as the important things to look for when buying a guitar on a budget
What Are Some of the Differences Between Cheap and Expensive Guitars?
Material selection
Cheap guitars have bodies made of plywood and generally have cheaper hardware, bridges, lacquers and finishes. More expensive guitars use solid woods such as rosewood and spruce, which give superior tone and looks.
Workmanship
The quality and precision of the workmanship varies from one guitar manufacturer to another and is another difference between cheaper guitars and more expensive ones.
The workmanship affects how easy the guitar is to play, how comfortable the frets are for the hand, and how the guitar sounds and looks, as well.
Looking closely at the gluing and paint job on a guitar can reveal if the workmanship is sloppy.
What Are the Important Things to Look for in a Cheap Guitar?
Sound Quality
The sound of the guitar is the most important factor. The tone and resonance of a guitar are what makes each guitar unique. Different models and manufacturers have distinct tonal qualities.
Guitars from reputable makers will have good designs and fret spacing and use quality woods to produce a reliably great-sounding guitar.
Feel and Playability
The feel and playability of the guitar are also important. A well-shaped neck and cleanly laid frets help a guitar feel comfortable for the hand while sliding up and down the neck of the guitar.
Most steel string guitars have adjustable relief so that the height of the strings above the fretboard can be adjusted –higher if there is buzzing or lower if the strings are too far above the fretboard.
Looks
The overall quality and looks of a guitar are very important. How a guitar looks and how carefully it was constructed help make it something of beauty to the eyes as well as to the ears.
A guitar that was constructed with attention to detail will usually sound better for it, and be a joy to hold as well.
Should I Get A Laminate Or Solid Top Guitar?
Laminate top guitars provide good sound combined with affordability. Laminate top guitars are usually cheaper than solid top guitars because the solid top is cut from a single piece of wood, usually spruce.
Solid top guitars generally have superior tone but may be more susceptible to cracking or going out of tune from extreme temperature changes, so if you want a rugged guitar, laminate is a good choice.
Final Thoughts: the Best Affordable Acoustic Guitar
Now that we have reviewed the four best cheap acoustic guitars for you, you should have an easier time finding a good guitar that meets your needs and fits in your budget.
Thanks to competition and innovation, guitars in this affordable price range can be really good instruments and express the musical talents of a wide range of musicians from beginner to experienced.