(Last Updated On: December 21, 2017)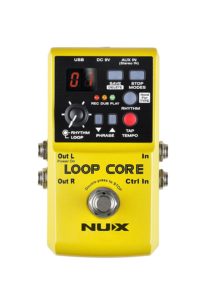 Loop pedals have gained vast amounts of popularity in the last few years. They've added another dimension to live guitar playing, often see in busking set-ups, but are also seen in studios and are great tools for jamming and practicing.
Their use for songwriters came to the fore with Ed Sheeran and KT Tunstall, who harnessed the loop pedal to take their live performances to the next level.
With tremendous usefulness in composition, practice, and performance, loop pedals can be used to essentially play guitar with yourself.
They allow you to loop chords or rhythm guitar parts so you can play the lead, or create harmonies, experimental FX, and layering, all sorts!
Loop pedals were always among the more expensive guitar processors as their function is fairly complex. They store a phrase which you play and loop it so it plays on an ongoing basis.
They can store a number of phrases for layering up. Some have built in loops and a tap tempo button, which allows you to tap to your loops so you can apply their tempo to other loops built-in to the device.
This allows you to quickly build a bank of loops from your guitar playing, combined with rhythmic parts built into your looper.
These days, there isn't a need to go large when buying a loop pedal. Many cheaper options offer an impressive array of functions for under $100.
Some budget loop pedals are rated very highly and offer a reliable, hard-wearing solution for looping phrases and playing along to pre-recorded samples.
Top 6 Best Cheap Loop Pedals: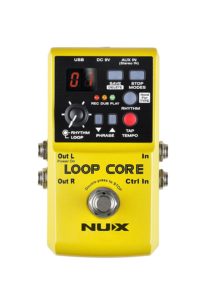 This pedal's features makes you go wow even before you look at the price. It's a very close re-model of the Boss RC-3 loop pedal which is more than double the price, offering all the same features and most of the same tech-specs.
The Loop core allows for up to 6 hours of recording time, which is more than you'll need, and allows continuous over-dubbing. You can playback multiple phrases and store up to 99 loops. These are even transferable to PC with its USB slot.
It has several settings to aid loop control. It can auto-detect when you start playing so you don't have to trigger it using the foot-pedal, and auto-detect when you stop playing to stop the loop.
The Loop core has an impressive set of drum loops, you can tap-tempo to change the tempo of these and even alter their volume independently of the guitar.
The loops aren't the greatest but they're great for practicing and add another dimension to an already feature packed pedal. It has stereo inputs and outputs so it can be used in-line with stereo FX, or with other stereo instruments such as keyboards.
Pros
All your loop controls with auto-detection
Can store 99 loops internally
USB port for PC transfers
Drum and rhythm loops with tap tempo
Cons
Sound quality is not up to today's spec, at 16it and 44.1khZ
Complex features are clunky to use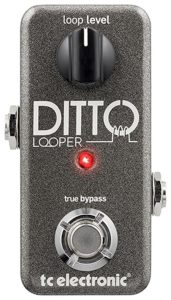 The Ditto is bullet-proof and bullet-size. Its main selling point is faultless function and construction and 24-bit high-quality output.
It's one of the best selling loopers ever and plays back many layers with high-fidelity quality which makes it a sure-fire choice for those looking for basic loop function without the frills but all the reliability and precision.
It has a true-bypass function so there is never a sacrifice in tone whether you're using the pedal or have it disengaged.
It has one knob, which is volume control, with 5 minutes of loop recording and an ultra small footprint for pocket portability. It's mono only, with 1 input and 1 output for ultra simple connection to your guitar and amp.
Described as an instant classic, the Ditto is essentially a pro level looping pedal that gets you every basic looping result you'll ever need.
Pros
Perfect quality and performance
Cons
None! But if you want more features then look elsewhere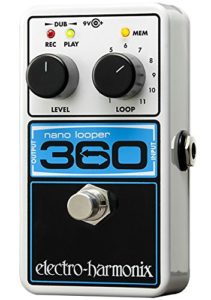 Electro-Harmonix like their simply constructed pedals and the 360 Nano is a stylish looping solution at an affordable cost with a rock solid feature set and performance sound quality.
It has 360 seconds of loop time, a quick switch for loop control, 11 slots for saving loops and 24-bit 44.1kHz sound quality which allows you to stack loops without degradation in sound quality.
It sports Electro-Harmonix' distinct styling in a road-worthy die-cast package and comes with the power adapter despite running efficiently on batteries.
Some may say this, like the Ditto, is too simple when compared to other products with more impressive feature sets but the truth is, you pay for the quality of these products and when you've got a lot of complex loops going on, you realize the extra work put into sound quality.
Pros
Nice looking, solid design
High-fidelity audio quality which doesn't degrade with overdubs
Cons
Lacking those extra features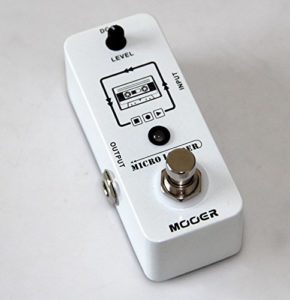 Another micro footprint pedal, the Mooer is particularly cheap, making a fine budget loop pedal for under $70. That is all it does though, loop!
It's a one-button design with a volume control button, 24-bit 44.1kHz audio quality, and true-bypass. That's all the functions of the Ditto. However, this pedal has 30 minutes looping time which means your overdubs can be stacked to ridiculous end if you please.
These ultra small designs are getting more popular and with good reason. The simpler the pedal, the smaller it is, the less there is to go wrong or break.
The Mooer fits into this hard-wearing category effortlessly, providing a looping solution at a cheap price which fits into the pocket and only costs pocket money!
Pros
Small, rugged design
True-bypass, good audio quality
Cons
Basic feature set, much the same as the Ditto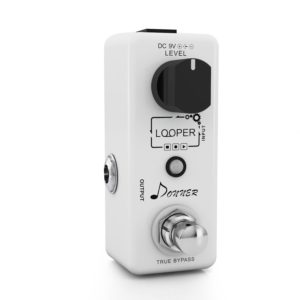 The third micro footprint pedal in the line-up, the Donner puts a ditto next to the Ditto's specs, in all but audio quality, where this gains a one up on its competitors by notching up the quality to 48kHz and 24-bit.
Looping is as easy as 1-2-3-4 with the Donner. That provides a faultless construction with 10 minutes of loop recording, unlimited overdubbing and a seamless button press that reportedly feels nicer to use than it's competitors.
It's cheap, looks appealing, and with flawless features offers itself as a more than worthy alternative to the more expensive Ditto, and the Mooer.
Pros
24-bit, 48kHz is a notch up from the other budget pedals
Small, rugged, functional
Cons
Not feature packed, but no cons other than that!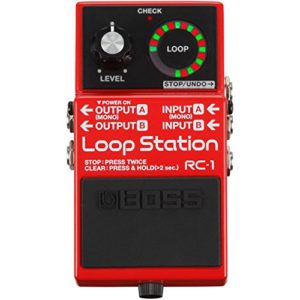 The Boss RC-1 also sits in the budget range. However, it has some extra juicy features which make it one of the more innovative pedals in the lineup.
The pedal has distinctive LEDS that form a circular pattern. These indicate the status of your loop and give you key information about its content like its timing.
The LEDs track the loop. You can visualize its timing and the position of its beats. This is particularly useful when you're stacking loops and can quickly check their timing by glancing at the LED meter and its tempo.
Other than that has all the features you'd expect, with 12 minutes recording time and easy control via the pedal.
Unfortunately for all, it's extra features, it does compromise on audio quality, with the slightly outdated 16-bit audio at 44.1kHz.
Pros
Classic Boss design
Intuitive LED tempo tracking
Cons
Conclusion: What Are the Best Budget Loop Pedals?
Here we have 3 tiny pedals, the Donner, Mooer, and Ditto which are closely matched. They are unbeatable for simple looping, with their small housings, high-quality outputs, and true-bypass features.
Among these, the Ditto is faultless but the other two are cheaper and come very close, if not level. The Donner pedal has a higher quality output than the rest of the pedals here. So, for that, it must gain a narrow vote.
The Electro-Harmonix is the odd one out, it has a conventional footprint, with high-quality audio and a storage bank.
It's the closest to the $100 budget. It's a high-quality pedal which has a slight edge on its nearest competitors that also feature high-quality outputs due to its memory bank which is great for when you record a perfect loop.
The other two pedals have more features, especially the Loop Core. It far exceeds other pedals in its price range by sporting a number of extra functions that are both useful and fun.
The Boss RC-1 has a cool LED indication system and both of these pedals are a clear cut above the rest in terms of their features. The downside is that their outputs are lower quality at 16-bit, and that does make an audible difference when overdubbing.
So it boils down to wanting a high-performance looper with simple features, or a feature packed looper with lesser performance.
So, if you want to practice and have fun, the Loop Core must be the recommendation.
If you want storage and basic functions, the Electro-Harmonix gains the vote.
If you want quality and simplicity, get the Donner, Mooer or TC Ditto.