(Last Updated On: December 21, 2017)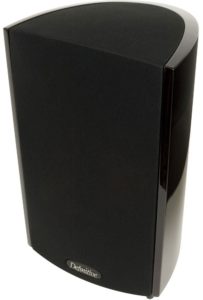 What are the best bookshelf speakers under $500?
Bookshelf speakers are highly popular due to their small size and ability to fill large spaces with rich sound. It's easy to grab an amazing pair for under $500.
They're perfect for gaming, home cinemas and experiencing your favorite tunes in their full sonic glory.
Top 5 Best Bookshelf Speakers Under $500: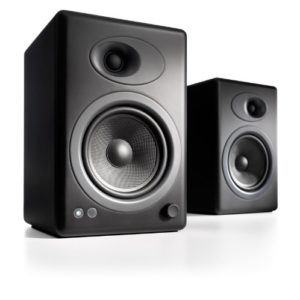 Design & Features
These speakers come in 3 distinctive designs. You can pick them up in a traditional, smooth black or white color, or if you'd prefer something a little different and don't mind paying the extra $70, they're available in a carbonized bamboo finish.
We personally loved the bamboo model as they added a lot of character to our space and stand out in a sea of black speakers.
They are larger than they look, at 7.8 x 7 x 10.8 inches but can still be placed on a desktop or table without taking too much space. We recommend spacing them at least 6 feet apart for optimal sound staging and make sure they have at least 6 inches of space at the back for the best bass response.
There's a nifty remote control included which you can use to change the volume and put the speakers to sleep.
On the back, you'll find a variety of different ports which makes the Audioengine A5+ a versatile pair of bookshelf speakers.
3.5mm inputs allow you to connect portable music players and your computer/laptop, a USB output for charging devices, RCA stereo input and an RCA variable output with built-in preamp so you can connect a subwoofer for extra bass response.
The heat sink on the side helps cool the speakers when you use them intensely for long periods of time. You know, when you're trying to irritate the neighbors.
Sound Performance
It's worth mentioning that the Audioengine A5+ speakers are not designed to be reference speakers, so we wouldn't recommend them for critical listening or music creating.
The bass response due to the 5-inch woofers is tight and dominant, with the option to squeeze even more bass out with an external subwoofer – which we found not to be necessary. The lows were a little too dominant for our liking, but are great for filling a large room or using for parties.
The smooth highs make guitar picks which should be crisp and clear sound soft and distant. The mid-range opens up after around 40 hours of listening but tends to get dominated by the bass.
The vocals weren't as prominent as we expected, however, Audioengine suggests a 60-hour break in period and we definitely began to notice an increase in clarity after around 40 hours of listening.
Conclusion
These speakers aren't as they seem. They look clean, elegant and reserved, yet the sound is anything but.If you like speakers with a lot of
If you like speakers with a lot of bass or need something to fill a big room, the Audioengine A5+ would be perfect.
They are fun to listen to and we enjoyed testing out different setups to experience optimal sound – once we found it we didn't want to put our headphones back on.
Pros
Elegant Design
Lots of connectivity options
Suitable for small or large spaces, from desktops to large living areas
Cons
Manufacturers recommend 60 hours of listening to break them in
Bass can be overpowering, mids and highs are weak in comparison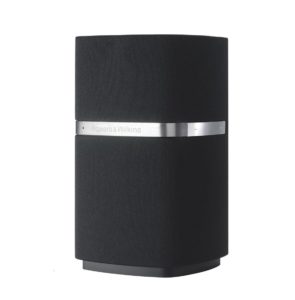 Design & Features
These sleek desktop speakers are made from a premium feeling cloth material with aluminum accents that give the speakers added character.The non-slip rubber
The non-slip rubber bass keeps the speakers from moving around when cranked up to maximum but they won't stay on your desk if you flip it over after a stressful gaming session. We tried.
The minimalistic design means that the Bowers & Wilkins MM-1 will look great when set up with a laptop or PC. Our desk looked like a professional space, rather than a mashup of contrasting hardware.
Unfortunately, ergonomics hasn't had the same level of thought as the design. The power button is located on the aluminum accent, and while it looks amazing, when you push the button you physically move the speaker unless you hold it with the other hand.
The headphone and aux port are on the back of the speaker, which again gives a cleaner look, but reduced functionality. You can get around some of the poor ergonomics by using the remote control included with the speakers.
Sound Performance
Considering the speakers' small size – only 6.7 x 3.9 x 3.9 inches – the low-end response is very impressive. It goes without saying that you could get far more low frequencies from a device with a subwoofer, but Bowers & Wilkins have endowed these speakers with plenty of bass for their purpose.
More importantly, the bass is nice and balanced and doesn't dominate the mids or highs. We did experience a little noise distortion when really pushing the speakers as loud as they would go. At reasonable volume, the speakers sounded fantastic on all levels.
You don't get any tinny noises like some smaller desktop speakers produce. That is likely on account of the MM-1s being powered by USB rather than the headphone jack as an output, as is the case usually.
What this means is that the speakers can bypass the PC or laptop's audio output, the signal is processed within the speakers themselves using a digital amplifier.
The 3-inch long-throw woofer delivers low frequencies with authority and the 1-inch Nautilus tube-loaded aluminum tweeter delivers crisp brilliant mids and highs.
Each speaker has their own dedicated drivers for low and high frequencies, resulting in a rich, balanced sound generally unheard of with speakers of this size and price.
Conclusion
These speakers would look great on any desk. With a premium feel, these look as though they cost more than they should.
Unfortunately, the ergonomics spoil them somewhat. This poor functionality can be overcome by using the remote control for power/volume controls
You'll forget those small issues when you listen to the MM-1s, as they deliver an excellent, balanced sound that is undistorted even at high volumes.
The MM-1s are best suited to be a desktop or laptop sound system and aren't the kind of speakers you could rely on for blasting out loud tunes at a party.
Pros
Premium look and feel
Excellent quality, balanced sound for a small pair of speakers
Cons
Not the most ergonomic speakers
Some noise distortion when cranked up really loud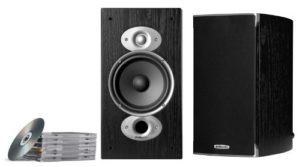 Design & Features
At 14.75 x 8.58 x 14 inches, these bookshelf speakers by Polk Audio are by far some of the largest I've listened to. At first, I thought they'd be too big for anything less than a huge living room, but I was surprised how well they fit in a small to medium sized space.
They come with a smooth, curved 6-layer DAHLI enclosure – five layers of MDF glued together to form a damping system – covered with a wood veneer of black ash or cherry.
What we loved about the RTI A3s is that the design wasn't just aesthetic, it improves the acoustics dramatically.
Sound Performance
A 1-inch silk dome tweeter and dual 6.5-inch polymer-composite mid/woofer drivers – which Polk say are Klippel Optimized and Dynamically Balanced – allow the RTI A3s to deliver a full, well-balanced sound across all frequencies. The mid/woofer drivers sit within their own internal enclosures to further enhance clarity of the mids and lows.
There is a range of cutting-edge sound technologies within the RTI A3s which indicate that we're getting a lot of bang for our buck here.
Patented Dynamic Balance technology weeds out distortions and resonances to deliver a consistent, first-rate sound.
Acoustic Resonance Control port technology works to reduce any internal resonances and the PowerPort Plus bass venting technology utilizes two ports – one in the front and one in the back – to reduce distortion and deliver a cleaner, more powerful bass.
The RTI A3 does well at presenting a large soundstage. We found 12 feet to be the optimum distance between the two, delivering a far superior listening experience than when they were too close together.
Conclusion
These powerful bookshelf speakers are for those who want a full-range, immersive listening experience. With the powerful 6.5-inch mid/woofer drivers you'll have no problem filling a large space with audiophile quality sound. We found a significant drop in sound quality when wall mounted or with little space at the back, so if you are considering these speakers make sure you have enough space to give them the breathing room they need.
Pros
Designed with acoustic performance in mind
Clean sound, no distortion or resonance
Can easily fill large spaces with audiophile quality sound
Cons
Large size – best suited for medium to large spaces
Significant drop in quality if wall mounted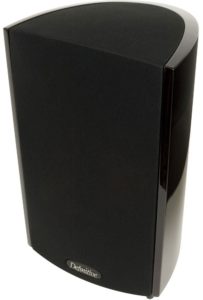 Design & Features
Definitive technology is a company known to give customers serious value for money. The ProMonitor 1000s do just that.
Marketed as a compact high-def loudspeaker, those are tough boots to fill considering the low price tag of $219 which lands the ProMonitor 1000s firmly in budget territory.
They're small, measuring at 6.25 x 6.5 x 11 inches and come in gloss black or white so you can choose a color that fits with the rest of your space. Because of their small size and sleek design, these will blend seamlessly with almost any house décor.
The ProMonitor 1000s are versatile speakers and come bundled with a tripod stand for tabletop mounting and threaded inserts let you mount the speakers to the wall or ceiling with ease. They aren't just eye-candy, though, and actually sound as good as they look.
Sound Performance
These compact loudspeakers boast an impressive frequency response range of 42 Hz to 30 kHz. Flaunting a 1-inch pure aluminum dome tweeter, you can enjoy crisp, crystal-clear highs.
The 5.25-inch BDSS bass/midrange drivers deliver prominent vocals and sounds across the mid-range, as well as rich, deep lows. Add a 5.25-inch top-mounted pressure coupled bass radiator and you've got a force to be reckoned with within the $200 price range.
These little monitors offer a smooth, open sound with an impressive soundstage when spaced at least 6 feet apart.
What surprised us was how powerful the bass could be and how loud the speakers could be turned up, especially considering their small size.
The bass had a tendency to be a little too boomy when tracks contained very deep notes, but that isn't an issue specific to these speakers, little speakers can rarely go to the extreme tonal depths of the larger models.
Conclusion
As a pair of speakers, the ProMonitor 1000s would be the perfect desktop sound system. Costing just a couple of hundred dollars each and offering table top, wall or ceiling mounting, you could pair four or five of these with a subwoofer and create an impressive surround sound experience in small to medium sized spaces.
Pros
Incredible value for money
Well balanced – sounds great across all frequencies
Versatile set up options – tripod stand (included), wall mount or ceiling mount
Cons
Struggles with very deep bass on account of the small size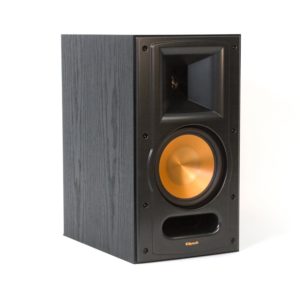 Design & Features
Available in either cherry or black woodgrain vinyl, the RB-61 II brings a timeless design into the modern age. Tastefully designed, they are striking enough without sticking out like a sore thumb and will add class to most spaces.
These hefty speakers weigh 22 pounds, measure in at 15.4 x 8.5 x 11.25 inches and are designed to fill large rooms with rich, full-bodied sound that few other mid-priced speakers can match. They can be used perfectly well in smaller spaces without the risk of your pictures vibrating off the wall.
The magnetic grill makes removal easy and provides you with a choice of how you'd like the speakers to look. Opt for the grill to remain on if you'd like a sleek, low-key design or remove it if you'd prefer the more aggressive look of the copper woofer, drive arrangement and set screws.
Overall the finishing is exactly what we'd expect from Klipsch – excellent.
Sound Performance
The RB-61 is armed with an arsenal of sound technologies that help provide a superior sound. A 1-inch titanium tweeter is mated to a 90×60 degree Tractrix Horn, the latest in a long line of Klipsch's horn loudspeaker technology.
Klipsch firmly believes that the less power a loudspeaker requires, the better. Why? Because less power means less amplifier effort, which in turn results in less distortion. In case you didn't know what horn loudspeaker technology is, it's comparable to cupping your hands over your mouth to amplify your voice.
A horn is attached to the front of a driver to amplify its output. This unique technology ensures that Klipsch speakers play loud and crystal-clear with little power required.
The RB-61's 6.5-inch woofer is made from Klipsch's own Cerametallic material (anodized aluminum with a ceramic coating) which, according to the company, gives the woofer a high stiffness-to-mass ratio and excellent damping qualities.
When arranged in a stereo format and mounted on stands, the RB-61 speakers boasted a wide soundstage with good depth. The high frequencies were crisp and pleasantly bright, although at times became just a little too dominant.
Transition into the mid-range was smooth, reproducing vocals and piano with incredible detail.
As with all bookshelf speakers, they struggle with lower frequencies compared to larger models. This shouldn't be considered a downside – the RB-61s handle the bass better than many speakers at this price range on account of their larger drivers.
Conclusion
A timeless design with the option to look a little more aggressive, these innovative bookshelf speakers are packed full of technology designed to deliver a superior sonic experience.
The Klipsch RB-61 boasts a wide soundstage perfect for larger spaces and can handle lower frequencies than many other speakers in this price range, making them excellent value for money.
Pros
Low power requirements so they sound great when connected to any device
No distortion regardless of volume
Designed from the ground up for superior sonic performance
Cons
Highs were too dominant at times
How to Choose The Best Bookshelf Speaker For You
It's no easy feat deciding which bookshelf speakers to buy, but that's why we're here. Before you head off and buy a pair driven by nothing but impulse and aesthetics, take a few minutes to get clued up on the necessary terminology.
Knowing what to look out for and will ultimately save you money in the long run, as you'll make the right purchase decision the first time.
Everybody has their own criteria depending on what they're looking for – we've covered the fundamentals so you can shop with some direction.
Watts, Hertz, and Decibels
These are the three main units of measurement and you need to consider these when buying a new bookshelf speaker:
Watts (W) refers to the amount of electrical power itself.
Hertz (Hz) is used to measure the frequency of sound waves and will determine the pitch of the speaker. The average adult can hear frequencies between 20 Hz to 16 Mhz, the lower number referring to the bass and the higher number referring to the treble. If a speaker doesn't cover a wide enough frequency then you may not get the rich listening experience you want.
Decibels (dB) govern the loudness of the sound produced. Put simply, the more decibels, the louder it can go. To put this into perspective, a normal conversation is around 60dB and a heavy rock concert can be around 115dB. Bookshelf speakers in this price range generally have a 90-100dB rating.
Drivers
They come in the form of tweeters, squawkers, woofers and subwoofers.
These are essentially the pieces of kit that provide the sound output within a limit range. Each driver operates within its own frequency range.
Full-range drivers can be standalone and reproduce an entire audio channel.
Coaxial drivers combine two or more of the basic types. I'll cover them in more detail.
Tweeters are responsible for covering the higher range of frequencies, generally between 2,000 Hz to 20,000 Hz. Mid-range drivers typically cover the 300 Hz – 5000 Hz range, and they're often referred to as squawkers.
Going towards the lower frequencies we have woofers – they reproduce the low frequencies between 40 Hz and 1000 Hz. Anything that is lower than this will be taken care of by the subwoofer.
Purpose
The first question you should always ask yourself is "Why am I buying this?"
It's one of the most important steps to guide you in the right direction. Are you buying them to blend in with your home décor and fill the space with sound?
Or perhaps you're fitting a new cinema room and want speakers capable of delivering theater quality sound?
Some speakers are generally more suitable than others for specific purposes, so it pays to ask yourself what that purpose is.
Design
The term "design" applies to a few things.
Firstly, everybody likes something that looks great. If the speakers will be on display, you'll want a pair that compliments the room and doesn't look awful against the rest of the furniture. Or maybe you don't care, it's your choice, but the way the speaker looks will no doubt influence your decision.
You need to consider the design of the space you're buying the speakers for, too. If you have a huge, spacious room then it's a waste of money purchasing some tiny bookshelf speakers that will sound like a mouse squeaking in the room.
Likewise, you don't want to purchase huge speakers with powerful drivers that might punch a hole in the wall of a small living space. If they're intended for gaming and will sit on a desk, you will probably want something that still leaves room on your desk for the rest of your stuff.
Budget
There was a day when bookshelf speakers were only affordable to those who had thousands to spend. Nowadays, there's a bookshelf speaker for any budget, from less than $100 to thousands of dollars. When it comes to purchasing sound equipment, whether speakers or headphones, buy the best you can afford within your budget.
That isn't to say that just because you don't have a limitless budget, you can't pick up a pair of quality bookshelf speakers. Many household brands such as Panasonic and Sony are catering to the budget speaker market and you'll be able to find a good pair that delivers a strong sound regardless of how much you can spend.
Sound Performance
We don't buy speakers to rest our coffee mugs on, do we? The main reason is that we want great sound, so it's essential to know the quality of sound you can expect from a bookshelf speaker.
Remember the terminology we mentioned at the beginning? Now is your chance to use it. Check the drivers, the size of the drivers, the decibel rating and frequency response range of the speakers within your price range to make sure you're getting as much sound for your dollar as possible.
So What Are The Best Bookshelf Speakers Under $500?
Definitive Technology ProMonitor 1000 are definitely the best ones.
We've had a look at five distinct models. Some are right on budget, some are way under.
It might surprise you that we picked the cheapest pair of speakers on this list as the best. The reason is twofold – price and versatility. These budget speakers deliver a sound unmatched by speakers in this price range thanks to their surprisingly large and powerful drivers.
If you have a small space, these compact speakers are more than capable of filling a room with full-bodied sound whether you're listening to music, watching movies or gaming.
You can purchase two pairs of these speakers for the same price as a single pair of some more expensive speakers on this list giving you the opportunity to connect multiple speakers together for a 360-degree listening experience.