(Last Updated On: December 21, 2017)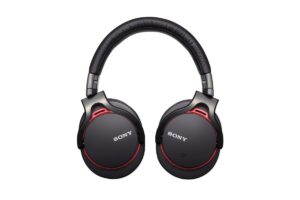 Here you will find everything you need to know about the best Bluetooth headphones and how to choose them from the crowd of suspicious knock-offs.
Please take into account that in this article we discuss and review only the on-ear and over-the-ear Bluetooth  headphones.
Best Bluetooth in-ear headphones were reviewed in another buying guide. I hope you will find both guides helpful.
So without further ado, let's discuss some important questions everybody asks about Bluetooth headphones and Bluetooth in general. Then we are going to jump straight to the reviews of the best wireless headphones available on the market at the moment.
Top 6 Best Wireless Headphones:
Sony MDR1RBT Review [Editor's Choice]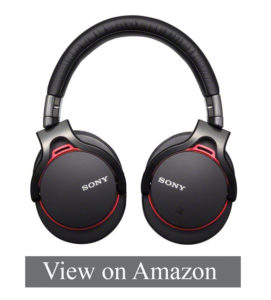 For this review I will be focusing on the sound quality, the comfort, and some basic features, how will they connect and pair with devices and also just give you my overall recommendation regarding these headphones.
Fit
So I will go ahead and start out with some first impressions of these headphones. One of the things I found is how comfortable these headphones are.
The ear cups are very supple and they feel great. I would compare that to a sense of pillows on your ears.
Also, they do a really nice job of passively cancelling out ambient noise. I found that when I had these headphones on, I really could not hear people talking around me. Someone had to either throw something at me or yell at me to get my attention.
These headphones are also easy to adjust. there are slight adjustments on the on the side with a one-click adjustment.
They look really great, and I think they are very attractive-looking headphones which is something I can't always say about all the other headphones I have tested.
Features
Beginning on the right ear cup there is a volume up and down, a power on and off, and then play, pause, advance, track forward, and backward buttons.
There is the power button on the left ear pad, a USB input, and then down to the bottom – a microphone.
To charge these headphones you use the included micro USB cable. Charging takes about six hours which is a quite long time. But the upside is you get about 30 hours of battery life out of these headphones.
Another really cool feature is they have NFC technology. If you have a phone that supports this technology then basically what you do is you just take your phone you tap it to the right ear cup and it will pair the device automatically. This works really well.
In terms of connectivity and call quality, these headphones did a really nice job. In fact, I would say of all the Bluetooth over-ear headphones I have tried, these Sony MDR headphones are by far the best for outgoing voice quality. People can't tell you are talking on headphones. You sound really good over these headphones. Also, the Bluetooth wireless range is outstanding.
Comfort
Next, I will talk about the comfort.
As I said earlier they are really comfortable headphones. The ear padding is very supple and very comfortable. It feels like nice cushy pillows, and that is not something I get to say too often about headphones.
They have done an exceptional job with making comfortable headphones. Due to the fact that this is a synthetic material, you do get some heat buildup but I found I was still able to wear them all day long and my ears did not get too hot.
If you need a good pair of comfortable headphones for work that you can wear all day long these ones would be a great fit.
From a build quality standpoint, this is a plastic build but its solid build quality.
I love the fact that you can pivot these headphones, you can move the ear pads up and down, you have both vertical and horizontal movement and that really helps you to get that comfortable fit as well.
Although this headband is not similar to high-quality leather-like and more expensive headphones, it is still very comfortable. It has a nice cushiony feel without being too bulky on your head.
This is a pair of headphones that you can feel confident they will last you a long time. They are designed to be a "lifestyle" headphones: they are designed to be something you can throw in your bag and wear all day.
Sound Quality
Next, I want to talk about sound quality.
I will start with the lows. The lows do a really nice job, you can definitely feel the bass.
It is tight and it is refined, it is not sloppy and it does not dominate the show. It is a mildly elevated bass so if you love bass songs you will really enjoy these headphones.
But even though it is a little bit elevated it is also still very well controlled. You get that tightly refined bass. Everything sounds really nice with these headphones.
The mid-range also has a very excellent fleshy presence and detail. Vocals come through really nicely, especially female vocals. The treble is nicely extended and refined. There is a lot of great detail that comes through in the treble.
For me, these headphones really earn a spot as one of the best Bluetooth headphones I have ever tested and particularly in this price range. Even though they are closed headphones you get a more open soundstage which sounds really nice
If you are watching movies and you want to feel like you are actually in the movie these headphones are for you. You are not just having sound coming at you through your left and right ear but you are hearing a bullet fly across you, you are hearing a helicopter coming up from behind, you are really feeling and hearing the distinct elements of the movie.
It sounds like they are at different parts around you and you are in the middle of it all. That is surprising considering these headphones are closed headphones that they are able to create that open soundstage.
I am really enjoying the music or movie experience with them and the fact I can use them as Bluetooth headphones is a very nice feature. It is not something that I can do with the ATM-50s or a lot of other wired headphones with the sound signature similar to these wireless headphones.
Overall, it is very excellent sounding, particularly as Bluetooth headphones. The fact that you can use them also as wired headphones just adds a tremendous amount of value to these headphones.
Conclusion
There is a lot of things I really like about these headphones given their functionality:
The fact that you can use them as both Bluetooth headphones and wired headphones
The fact that they sound really great
They look awesome
These headphones are great for just a walk around, for traveling, taking on the road
They have great battery life
The headphones are easy to pair with a variety of different Bluetooth devices.
I honestly love these headphones. They have now become one of my favorites in my headphones collection.
The downsides are really minor:
When you are using them passively or as wired headphones, you lose that remote functionality. It would be nice if they had found a way to include that.
I wish they would have found a way to include active noise cancellation with these headphones. That would have made these really the perfect pair of headphones.
They are still a top choice and I would strongly recommend them to anybody who is looking for an affordable and great sounding pair of Bluetooth headphones.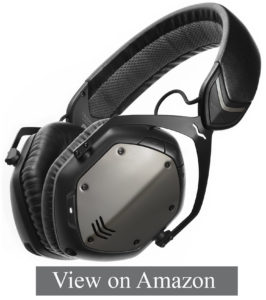 Here is a review of one of my favorite pairs of wireless headphones, the V-MODA Crossfade Wireless.
I am pretty sure you have heard of V-MODA before. They are a very popular and respectful headphone company well-known for their great sounding audio, all while staying true to their very unique and stylish looking headphone design.
So, as a pair of wireless headphones, how do these ones sound? Is there any sound loss or sound clarity difference compared to a wired pair? What is the design like, the pros and cons of their build? Are they comfortable?
I am going to give you guys all that in my review, a typical rundown of my thoughts and experience with these Crossfade headphones and whether you should pick them up if you are interested or not. So, let us start it off.
What is in the Box?
Right from the very beginning, during the unboxing experience, I knew it was going to be something special.
The box was designed very nicely. It was made of some high-quality material and as soon as you cut the ribbon and pop the lock to open it up, you will notice their V-MODA exoskeleton hard case shell.
This hard case shell is made out of rubberized material. It is going to do a great job protecting your pair of wireless headphones when you are transporting them or on the go.
It is going to prevent them from getting scratched up or banged up if they are in your bag with other things. Even if you drop them, no damage will be done. Definitely a high-quality case!
Opening it up will immediately reveal very nicely designed Crossfade Wireless headphones. My pair is in black but other colors are available as well.
Also inside the carrying case, you get a flat, tangle-free micro USB cord – for charging your wireless headphones, obviously.
You also have a little piece of velcro that is going to house your cables for when they are inside and you are on the go.
It also has a little carabiner there: you can throw them in your backpack or something like.
The AUX cord is braided; it is reinforced, so it is not going to tear or snag with a lot of bends.
It is versatile with all your iPads and iPhones and Windows and Android and Blackberry devices. It even has those in-line controls so you can do things like take calls, talk to people, skip songs, and stuff like that.
Design and comfort
Now, we are getting into a rundown of the design of these headphones. Like I said above, they are looking unique and that was apparent right from the very beginning.
The hexagon ear cups are housing the 50-millimeter drivers.
The memory foam leather ear pads are very soft and do a great job of not retaining any heat when I am wearing them for a while. They are going to be just extremely soft when they are on your head for an extended period of time.
On the right ear cup, we have a few things, mainly in-ear cup controls.
On the left side is your volume down, the right side is a volume up button, and that center button is to do things like switch modes, take calls, end calls, fast forward songs, rewind tracks.
On the bottom we have an on/off switch which also couples as a pairing device; so you could pair to different devices, up to two devices at once, actually.
On the bottom, then, you have a 3.5-millimeter headphone jack if you choose to use these headphones in wired mode. Say the battery dies and you can just plug them in and be good to go.
And the bottom of the other ear cup is your micro USB port for charging them.
The ear cups do rotate about 45 degrees, I would say.
The headband is made of metal. There is not a lot of padding on the top of the headband. You may think this is a bad thing, but it is really not because the weight distribution is great and when they are on your head, they feel a lot lighter. So padding is not an issue, at all.
You also get a very satisfying click when you go to adjust the headband and the ear cups, so you know how far or how low you want to adjust them on each side so they can fit your head.
Altogether, I think they fit a pretty wide variety of heads; I like to keep mine in the middle to fit the best.
This headband is probably the best I have ever seen in terms of durability, not breaking or snagging. The way they designed this is so you can pretty much do whatever you want to it and it will not break.
You can twist it, bend it, flex it, etc. These headphones will still stay true to their design and not break at all in the headband. So, big props on that.
Overall for its design, its build quality: definitely best of the best out there, it is made really great. I think, personally, these are some of the best-looking headphones out there, as well. I love this sleek, but kind of aggressive looking design to them.
When they are on your head, they are very discreet, they are not obnoxious; they fit the shape of your head very well which is very nice – I am a big fan of that.
The shields on the side of the ear cup, the plates can be swapped out. You can buy custom ones, make your own, get them in a ton of different colors to fit your sort of color preference.
Like I said, I do have the chrome ones, but they also included these 3D printed red ones.
Sound Quality
The most important part of these wireless headphones is the sound quality. These headphones use a very low powered Bluetooth connectivity to connect to your devices.
It can connect to two devices at once. I have used these headphones mainly with my PC for gaming and with my phone and laptop, listening to music.
If I had to give my completely honest opinion of how these headphones sound I would say they do not sound any different than the wired V-Moda Crossfade M-100s do, and that is incredible.
Usually, no matter what the brand, no matter what pair of headphones you are listening to, there is an audible difference between wired and wireless ones
There really is none. I was blown away at how good these headphones sound all around in every aspect. No matter what I was doing, music was amazing, gaming felt really great. I think it is all due to their unique signature sound that these V-MODA headphones all have.
There was much more presence in the upper mid-range or the lower trebles, versus the M-100 headphones. You can choose whatever you want based on your sound preferences, but I would prefer these headphones over the M-100s any day.
In my opinion, they sound more alive. The treble, I would say, sparkles a bit.
You get a different sound from them, not similar even to other headphones in their own product line, like the M-100s. I think that is a good word for it, sparkle, the treble really sparkles with these headphones.
The bass is very deep in signature sounding. Anyone who tried M-100 headphones in the past knows the deep signature bass that these headphones have. This particular model does not lack it in any way, even though they are wireless.
I also use this Bluetooth headset for gaming. I like to test my headphones on the things like Battlefield or Battlefront as well as GTA because you can get the overall ambiance of the living world, the music in the game, the sound effects from shooting and explosions.
The last note about this model: many DJs love them. So in terms of the level of sound quality they can be even considered as good DJ headphones which is great and gives you, I hope, a clear understanding what you are going to get from them.
Bluetooth Range
I also wanted to point out a few things about Bluetooth connectivity.
I do not have a given number on how far of a range these headphones have, but I went to the other side of my house and downstairs before it started to cut out.
That was between numerous walls, bedrooms, living rooms, and down a whole flight of stairs before the Bluetooth connectivity started to cut out. That was really great.
You can wear these headphones around the house, have your phone somewhere else, and not have to worry about not hearing your music.
Battery Life
The battery life is incredible.
The manufacturer promises twelve hours of listening. I usually wear them for an hour or two each time, but I would say it sounds about right.
Twelve hours or, maybe, ten to twelve on average is what you are probably going to get. Charging these headphones takes about two hours.
In total, you are getting great battery life out of them.
Pros
Amazing sound quality (almost no difference between wireless vs wired versions).
Cool modern design.
They are the most durable Bluetooth headphones reviewed in this article.
Perfect built quality.
Great long-lasting battery.
Cons
Ear cushions are a little bit thin. Not a big deal, though.
Conclusion
Altogether, the V-MODA Crossfade Wireless are absolutely great. They sound amazing, they look amazing, and the fact that you can use these headphones wirelessly over Bluetooth without losing any sound quality is remarkable.
If I had to give it a con or a downfall other than the pros being pretty much everything, the ear cushions are a little bit thin for me. I would have liked to see them a little bit thicker, but they do sell extra-large ear cushions that you can buy.
I probably will because I like extra padding on my ears. I like having that cloud of cushion on there but it is really not that big of a deal.
These Bluetooth headphones will probably be more than fine for anyone else since they are over-the-ear ones. It is a minor complaint on my end but it is really not even a big deal at all.
I would definitely recommend these headphones. If you are in the market for a new pair of wireless headphones, I would say "yes", take the plunge and try them.
The price point at three hundred dollars is kind of high, but those $300 will be spent on the high-end product. Trust me, it will definitely pay off in the end and you will be more than satisfied with that purchase.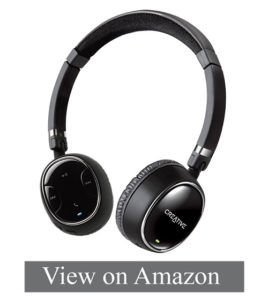 Out of about a dozen different reviews, I have been doing on Bluetooth headphones in the $100 dollars and less category these headphones actually sounded the best.
As far as comfort goes, they were up there as being one of the most comfortable headphones as well.
Features
I am really impressed with them. My first impressions of them were that they were comfortable and light. Also, I like the fact that the ear cups swivel, so when you put them on your head you can actually adjust them to find a more comfortable fit.
I found that was not very common with all of the headphones that I tested in the $100 and under price range. You have the ability, of course, to adjust it on the band. It is an incremental adjustment which is handy as well. When you are adjusting one side you can adjust the other side and make sure it is exactly the same.
As far as the controls go, there are a simple LED and controls on the other side which will be able to advance the track, take a call, play, and pause.
Comfort
These earpads are quite comfortable. I did find that after a few hours of having the headphones on my head, they did start to become uncomfortable. Thus, they are not what I would call extended wear headphones but more comfortable than most headphones I have tried in this price range.
When it comes to headphones comfort, though, keep in mind that this will vary head to head, person to person. If you have a smaller head, if are a younger person vs. an older person all of that is going to make a difference.
But generally speaking, most people will find these headphones very comfortable and most people would find that they can wear them for an hour or two hours and be pretty fine with that.
You can also pivot them side to side. This is something I wish more headphones would do as it really allows you to get a better fit and ultimately allow them to feel more comfortable.
If you are planning on working out in these headphones you certainly can do that. One thing to keep in mind is that it does get warm here and it can get sweaty.
If it is a bid deal for you may want to consider something like Jaybird Freedom in-ear headphones instead.
These wireless headphones have actually replaceable pads. You can actually just take them off and wash them, buy whole new pads. If they get sweaty and gross from working out, it is not a big deal just to replace them and get something else.
Ultimately it is tough to beat these headphones for the sound quality and comfort. That is why they are my favorite headphones out of this whole pack that I have been auditioning in the $100 and less Bluetooth category.
As far as Bluetooth connectivity goes these headphones also did a great job. They easily connected with my iPhone, iPod, MacBook Pro: tried them all and it all worked out great.
Also, call quality is fine. When people are talking to you can easily have a normal conversation and a lot of the time they do not even know that you are on a pair of Bluetooth headphones.
Another nice feature is the way the volume is situated on the bottom. It is really easy to feel if you are pushing the volume up or down. Some of the other Bluetooth headphones I have listened to it made this feature a little more difficult to find. You had to guess or push it to figure it out. With these headphones, it was really easy to find.
Sound Quality
They are my favorite pair of headphones in the $100 category in terms of sound quality. I tried a number of different tracks and a number of different types of music.
Let me start out by talking about the bass. One of the tracks I like to use for testing that is a song by Will.I.Am "That Power": at about the minute mark you get some really great, deep, throbbing bass and I always like to hear how headphones handle that.
Some headphones will be a little boomy, a little muddy in their bass but in this case, I found it was very clear, it was distinct, it was a very nice sounding bass.
You get the deep sounds of the lows but it is in a way that is very clear and distinct so very pleasing to listen to. It is not overpowering like some models of headphones where they are designed to play a lot of boomy bass.
If you are used to those other types of headphones you may be thinking you do not like bass when in fact you do: you just would actually prefer a higher quality of bass and that makes a big difference.
The mids and highs are also very beautiful. That is what really created the most engaging music listening experience out of all of the other Bluetooth headphones I tested in the $100 and under the category.
It was amazing, they actually reminded me of the ATH­M50's, which are one of my favorite pair of headphones to listen to.
They did such a nice job with the deep lows of the cello. I just loved it. I found I just wanted to keep ­these on my head and keep listening, they were that good.
I also really enjoyed listening to Lindsey Stirling. In her music you get this combination of the violin and dubstep together which is really interesting because different headphones handle that in a different way; they also did a great job. Very musical, very lively, very engaging.
The thing that I would say that really separated them from all the other headphones I listened to was the music, I would say, not so distant from you.
They really set themselves apart out of the headphones I listened to and became my benchmark as I was listening to other pairs of Bluetooth headphones.
If sound quality is important to you, definitely consider them as your go­to headphones.
Pros
Amazing, absolutely the best sound quality.
Very comfortable
Cons
Not comfortable for sports.
Conclusion
Out of all of the headphones, I tested here in the $100 and under price range, they ended up being my favorites for a couple of reasons.
One just for the price. In fact, they are about the middle of the pack in terms of cost but they are the top of the pack in terms of sound quality and also comfort. They are similar to a few others in terms of comfort but as far as sound quality goes, they were the best.
The mids, the highs, the lows – everything sounded better. Bottom line: if you are after sound quality and comfort, they will be the way to go for headphones under 100 dollars.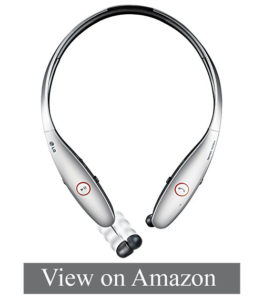 LG first launched the LG Tones back in 2012. Since then, this line has gone through several iterations and gradual design changes. When the Tones were first released, they were met with a bit of hesitation due to their interesting design.
However, they have easily become some of the most popular Bluetooth headphones.
They say that imitation is the most sincere form of flattery. Well, if that is true: LG should be pretty proud of hundreds of Chinese knockoffs, not to mention companies like Motorola, Sony, and even Samsung, putting their own spin on the tone design.
Price tag
Even a year ago you could ask a simple question: "Are they worth the staggering price difference, in comparison to previous models which you can find online, from anywhere between half, to even a third of the price of these headphones?"
And you were right, they had a crazy price tag (about $150) and that was not good at all.
Now you can find them on Amazon with a $77 price tag which is much more interesting and allows me to recommend them. 🙂
Design
If the box did not have it written on the front, you would still be able to tell that LG wants this model to be recognized as their premium, high-end headphones. Everything from their color choices to their presentation inside the box, scream, "I am valuable!"
They definitely accomplish that goal.
These wireless headphones come in two colors: silver and gold. I opted for the silver variant.
Upon first look, they definitely have a sleek and futuristic look. They look like some headphones you would expect to see in a TV show. That wants to be a TV show based in the future. 🙂
You have your play, pause and call button located on the top of the device. Fast-forward and rewind and your volume up, a volume down buttons are located on either side of the device. A micro USB charger port, LED notification light, along with a power on/off switch are located inside.
Comfort
Rather than relying on clips that eventually fall off and relatively weak magnets, this version of the Tones offers the best form of cable management to date.
The earbuds can extend about six to seven inches out from the device, without issue upon retraction.
Honestly, I am sure this was not an easy thing to include, but it seems like a no-brainer when you look at the design of these headphones, and I am surprised it took LG so long to add this feature to their device.
LG has also included a helpful little app that allows headphones to detect and to read your incoming messages, giving you the option to reply. Although the app does work with previous models of the Tones, there are some specific hardware features that give them a little bit of advantage.
The skip track toggles and the volume toggles also double as action buttons, allowing you to prompt the device to tell you are the current time, to read you your previous text messages, to turn on and off the vibrating notifications, and to alert you of your current battery status.
I did think it was really nice that the app supports multiple languages. However, I did not really find it any more useful than just using the built-in Bluetooth voice assistants, like Cortana Siri and Google Now.
One of the most noticeable differences of the Infitims, in comparison to previous iterations, is their rigidity; that band is solid, all the way through.
That is not necessarily a good thing in terms of handling and durability: you are definitely going to want to be more careful with them than  with previous models. No more balling them up and throwing in a pocket or bag. They are not flimsy in any way but just try to stay on the safe side with this model.
Sound Quality
These headphones do bear the Harman Kardon signature logo. For those of you who do not know, Harman Kardon is a company that is associated with extremely high-end quality audio devices. And the fact that these headphones have been stamped with their brand should indicate that the sound quality of this device is stellar.
I wouldn not really consider myself as an audiophile, but I do test a lot of headphones and I can really appreciate good audio quality. These headphones do produce a very pleasing listening experience.
I do not know how else to put it, other than the fact that the music just sounds clear. With some other Bluetooth headphones and previous models of the Tones, music can sound a bit muffled as if there is a thin layer of film between the earbud and your ear.
I really enjoy the listening experience produced by these headphones. The bass it solid, but not overpowering. You can really appreciate the fullness of the tones listening to things like vocals.
They are still Bluetooth headphones, and if you are looking for the absolutely clearest audio performance you might want to stick with wired headphones because they are always going to be better in terms of sound quality.
However, if you are interested in a good sounding pair of Bluetooth headphones I do not think anyone will be disappointed here.
The Infinims also do produce a slightly more controlled sound than previous models of Tones.
Bluetooth and Battery Life
If you plan using these headphones away from your device, you can expect to get up to about 20 or 30 feet before a connection becomes a bit troublesome.
Battery life on these devices is fantastic, going easily three to five days without a charge, depending on usage.
They are rated at 17 hours of talk time, 14 hours of music playback, 23 days of standby. And from my testing, that sounds about right.
Are they the best LG Tones yet? Well, it is hard to say but I think yes, they are better than any previous models.
Like I said above, they do sound a little bit better than the previous models, have some nice technical improvements and so on. You will also get improved audio clarity, improved battery life, and those awesome retractable earbuds.
Pros
Premium-looking design.
Excellent sound quality.
Long battery life.
Retractable earbuds.
Nice price tag for such a good quality
Cons
They seem not so durable as previous models of Tones.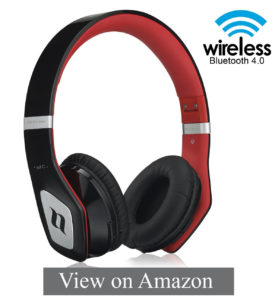 Design and Comfort
Let me first talk about the style of these Bluetooth headphones.
The overall style of the Noontec headphones, in my opinion, is really nice. They are advertised as fashion headphones and they look really good.
The Noontec products are kind of a knockoff of Beats, but I think they are a pretty good knockoff because, personally, I think they have a better sound signature than Beats and they still look really good.
They are an on-ear headphones. That means that they sit on top of your ears as opposed to an over-the-ear headphones like the Noontec Hammo S which go completely over your ears.
There are some pros and cons in using over-the-ear headphones. The advantages of over-the-ear headphones, like the Hammo, are that they have a little bit better sound isolation. Some people also might find them a little bit more comfortable because they do not push on your ears.
Noontec Zoro II are actually pretty comfortable headphones. They have really nice soft pads which do not have a really strong clamping force. In my opinion, the clamping force of these headphones is just right. They do not push too hard, but they do push down enough to give you some sound isolation.
The main advantage of on-ear headphones like these ones is that they are usually much smaller. A lot of people like to wear these headphones around a neck when they are not using them. They do not look too bulky. When you pack them up and fold them they are getting even more compact.
What Is in the Box?
They come in a pretty standard box with a tiny owner's manual inside. If you are over 40, you are not going to be able to read this print. 🙂
These headphones come with a cord. They could be both corded or wireless, but typically, if you buy such models, I think, you would use them as wireless headphones through Bluetooth.
You do get a decent box with a magnetic closure.
You get the charging cable. This is a micro USB charger and the charge port is on the right side of headphones.
They do have a single button remote, play/pause, pretty normal one.
You get a nice little travel bag, and the folded headphones go in the bag really easily. It does protect the headphones and it is actually rather small. I usually keep the cable in there just in case I need it.
Button placement on these headphones is pretty intuitive. They are placed in a location where you would naturally place your thumb.
They have a pretty simple and well-positioned button to turn headphones on and off on the left ear pad.
You have a small green light on the left ear pad which shows you when they are turned on.
Also, on the play/pause button, whether the headphones are on or off, you can double tap that and you would get a battery indicator, which I found extremely helpful. You got four lights on the battery.
One super positive thing about these headphones that their battery life is absolutely insane. I think they say you can get about 35 hours of battery life.
For example, my favorite Bluetooth earbuds model (Jaybird X2) has just 8 hours of battery life of constant listening. You can just compare these two models in terms of their battery life!
All the buttons have a pretty tactile feel. So there is a little click and you can definitely feel when you press the button which is nice.
The quality of build is very good. The hinges are pretty firm. The leather on the inside is very soft as is the leather on the headband.
They do have a plastic build to keep their weight down. Even though it is plastic, these Bluetooth headphones do not feel cheap at all. They do feel like a pretty good quality headphones.
You can get these headphones in different colors. I think the black and red looks pretty cool, but you can get a couple of different color options.
It is a pretty good build quality overall.
Sound Quality
Obviously, that is going to be one of the most important things for a lot of people reading this review. Noontec Zoro II are really good sounding headphones, especially for the average listener.
They are not advertised as audiophile type of headphones but they do have a really good sound signature.
I had reviewed the Hammo S before and they have really strong bass and really decent clarity.
Noontec has both wired and wireless options and I actually found the Zoro II (wireless version) to have a similar sound signature to the Hammo S.
These headphones have a quite a different sound signature of the wired Zoro IIs, and their bass is very strong. I would give the bass, on a scale of 1-5, about a 4.
It is a clear sounding bass, it is not muffled or muddy.
Clarity is something that I put a really high value on for headphones. I would give these headphones about probably a 3.5maybe a 4 in terms of clarity.
Its clarity similar to the Jaybird X2 which is pretty clear sounding headphones but Zoro IIs sound warmer.
The soundstage is pretty decent. Soundstage means how far the music kind of sounds spread out because on-ear headphones because they do not encapsulate your ears.
These headphones have pretty good isolation. They do really block out the sound.
The mids are pretty decent. They are not as clear as with, for example, Audio Technica ATH-M50s. ATH M50s are my gold standard in terms of clarity and some other important sound characteristics.
ATH-50s have a firm 5 in terms of clarity of the mids and highs, and probably a 4.5 on bass. Noontec Zoro II probably get about a 4 which is a pretty good result!
As I said above these ones are not audiophile headphones, but for the average listener who just wants music on the go, they would be a perfect pair of good sounding headphones.
The sound quality is very good at this price range and it is excellent for such affordable Bluetooth headphones.
What is interesting that I have not found a real difference in the sound quality between the wireless and wired versions of these headphones, which shows that the Bluetooth technology has really come a long way.
Some of the older Bluetooth headphones that I listened to sounded pretty bad. But these headphones have a very warm, very clear sound even without the cord.
Call Quality
You can hear a person on the other line very nicely with this wireless headset.
If you need to take a call, it is so easy just to take them up and put them on your head.
I also did a test where I called my voicemail. It was not quite as clear as if I talked directly into the phone, but still, it is clear and I have never had anybody complain about not being able to hear me.
So overall these Bluetooth headphones do a relly good job if you are someone who sits at a desk and takes a lot of phone calls throughout the day.
Bluetooth Range
I found their Bluetooth range pretty normal. You have 30-35 feet (10m), average for all Bluetooth devices.
I found these headphones to be the most useful doing things like working around the house, especially doing dishes or doing work in the garage, even getting out and walking.
In other words, in the situation when you are very active. I typically would use the Bluetooth headphones now, unless I am sitting in one place.
If I am sitting in one place and just listening to music at home, I would use my Audio Technica ATH-M50s.
But for being active, especially if you are traveling and you just want to take a pair of headphones and go, these make really, really good job, especially with the super long battery life.
You could fully charge these headphones, take them on a trip, and never have to charge them while you are on that trip unless it is a super long listening session. But the average person could go on a trip and never have to worry about charging them up.
Are they Good for Working Out?
I do not think so. If you are going to do some exercise where you are sweating a lot, I would not recommend just these headphones because the ear pads will get sweaty too easy.
Believe me, once you start sweating on these ear pads, they do not feel really great. So for jogging, running, working out in a gym I am going to recommend something like the Jaybird X2 or Jabra Rox. They are really good for being active.
Pros
Super long battery life.
They fit almost to everybody and are very comfortable to wear
They can be both wired or wireless if you want this.
Excellent sound & call quality.
Very comfortable and easy to use.
Cons
I would not recommend this model for sports.
Conclusion
So to wrap up this really long review, I would recommend these headphones to anybody who prefers headphones over earbuds the fit is pretty much standard. You do not have to worry about the tips and sizes of the tips and everything.
If you want a good pair of headphones for intense cardio type exercise you do not need them. I would recommend using a pair of durable and convenient earbuds for these kinds of activity.
But you just want to do stuff around the house, have good headphones for traveling, then I would highly recommend these excellent Bluetooth headphones. Having the cord as a backup, to me, is just icing on the cake.
Bose Bluetooth headphones are well-known in the world of audio professionals. Actually, Bose is the leader in almost every headphones niche category and they have some very good wireless models too.
We will take a look at the release of their Bluetooth Soundlink II model.
Soundlink II are over-the-ear headphones that have a modern everyday feel and universal look, which means you can wear them at home, in the office, etc.
Design and material
The build materials are almost the same as Bose uses for QC 25, which means they are really high-quality, scuff-resistant and mostly hard plastic and leather.
The ear pads are soft and moderately comfortable, in my opinion. On the outside of the right earcup, you can find all of the functionality buttons for power and hearing.
We have the volume, pause and play buttons on the backside. On the bottom, we have the micro-USB charging port.
There is also a microphone for voice calls with this mesh grill. The speaker is a lot larger than what I am used to seeing on headphones. However, it still does not take away from the overall minimalistic look.
The top of the headband is also really soft and comfortable for ears. The headphones rotate for better fitting but they do not collapse or fold.
It seems they are able to take a lot of pressure, a lot of twists and a lot of "punishment".
The comfortable factors are great except one thing. I felt that I could wear these headphones for a couple hours but could hardly wear them all day long. Well, at least not consecutively.
The thing I am really impressed with as far as design is actually the button implementation. Everything seemed really natural: the pause, the play, the volume, the pairing. everything seemed like it was in a place where it should be.
The buttons are also really tactile and they do not feel mushy or loose. I really like the quality and build of these Bluetooth headphones.
Sound quality
They are an interesting pair of headphones in terms of sound performance. You can put them on and listen to a song you have listened to maybe a thousand times, and then you hear something brand new that you have never heard before.
The sound is warmer than you can get from, for example, the Bose QC25 or the Audio-Technica ATH-M50x, but not as clear as either of them. The clarity is still good, though, mids especially.
I could even hear breaths on certain songs, mainly of the hip-hop genre.
The bass is good and deep. It is present and definitely noticeable. The equalizer settings could be used to enhance it to get that perfect tweak.
The highs are really good, and so are the mids. They are well balanced together.
Comfort
These headphones can be both wired and wireless, whatever you want. You can use them with a wire or through Bluetooth.
The Bluetooth performance is a little less satisfying than wired one, just tiny bit, though. You will barely notice it but "barely" is still a difference I need to tell you about.
Bose says that you get thirty feet (about 10m) of wireless range, three hours to a full charge and fifteen hours of playtime off of that full charge.
They also implemented the quick charge. Fifteen minutes of the charge will give you two hours of playtime.
The unit also has voice prompt when connected via Bluetooth.
The Bluetooth stability is a lot better indoors than outdoors. Outdoors it is still good but you may start experience chipping around twenty-three feet and more.
Battery life is actually great. The quick charge does work. Fifteen minutes does give you two hours' worth of playtime.
The unit also does not auto power off. It is pretty much static, so once you turn them on they stay on but the power management is great.
If you use them down to eighty-five percent and leave them on for a couple of days, they will probably be around eighty-three percent when you get back to them. I have experienced 2-3 percent lost over two days.
The voice prompts are probably one of the best things in terms of technology. The voice prompt advises you who is calling you, the battery percentage and what devices you are connecting to. This is a lot of functionality.
The unit can also connect to two separate devices at once. This useful if you want to connect your Bluetooth headphones to your laptop and your smartphone.
The transition is smooth and the one thing that is really cool is that it remembers the volume settings for each. If you listen to your volume settings on fifty percent on your phone, but eighty percent on your laptop, it can save you a lot of time and a lot of inconveniences by not having to volume back up and volume back down.
I always get the question, "Are these good to work out in the gym or for running?". I will be honest with you. These headphones are not my first choice to go workout or run with.
In fact, they are not that snug and not that well fitted.
Also, the ear cups are not that well ventilated. That means when you are generating heat on your body your ears will get sweaty. In my opinion, they are too expensive to get them sweaty.
But what they are good at is keeping on your head if you want to take a light jog or something like that. They can get this job done pretty well. But are they my first choice? Not at all.
Pros
Perfect sound quality.
Modern minimalistic design.
Excellent implementation of buttons.
Great battery life.
Cons
Too heavy for running or working out.
Ear pads are not good enough for really big ears.
Conclusion
Here are my final thoughts about these Bluetooth headphones.
I love the way they look and how they feel except this big-ears thing :). They feel very comfortable but I can not wear them all day. Sound performance is excellent. Bass took a little bit more of a hit than I am used to, but you can always upgrade that with equalizer settings.
The Bluetooth signal is actually great. The signal is really strong and you can get a decent Bluetooth range distance. Battery life is awesome as well.
Unless you have really sensitive or big ears I think these headphones would be the perfect, a lot of technology without sacrificing sound and moderately comfortable.
Pros and Cons of Using Wireless (Bluetooth) Headphones
4 Advantages of Wireless Headphones
Freedom of Movement. The normal range of Bluetooth headphones is about 30-33 feet (10 meters); sometimes you can get even 45-50 feet (15-16 meters). For instance, you can leave your tablet or phone and go to the kitchen still listening music.
Tangle-Free. Usually, Bluetooth headphones have no wire or just a short one. If you have no wire you will never get it tangled. 🙂
Hands-Free. You can live life on your own terms with Bluetooth headphones for working out. Running, biking, workouts in the gym, gaming – everything becomes much easier without a phone in your hands. You may need an armband for a phone while running but for gaming, biking or going to the gym you do not need even this.
No Cable Thump. When you are moving around the house or whatever you are doing with the headphones, if you have a cable, it can bump against your shirt, especially with earbuds and cause an annoying sound. No wire = no cable thump.
3 Disadvantages of Wireless Headphones
Sound Quality. Wired headphones still sound much better than wireless ones. Why? Without going into unnecessary detail: Bluetooth compresses sound before sending and it usually becomes flat after that. However, almost all modern smartphones support so-called AptX codec which almost solves this problem. Unfortunately, Apple does not support it on all its products (iPhone, iPad, etc.).
Price. Wireless headphones are usually more expensive than wired ones with the same level of sound quality, design, and durability.
Energy. Bluetooth 4.0 is not so energy consuming as its predecessors but it still needs some power to run wireless headphones. You always need to worry about chargers, sockets, etc. Good Bluetooth headphones usually work 8 hours without recharging, though, there are some champions with 15-30 hours of listening time on the market. Please note that in-ear headphones (earbuds) tend to have less working time than over-the-ear models.
How to Choose The Best Bluetooth (Wireless) Headphones?
There several simple rules you need to know when you are looking for a new pair of wireless headphones. The majority of them could be applied to any type of headphones but I concentrated my attention on the things connected with Bluetooth/wireless nature of a product.
The Price of Wireless Headphones
Is there any real difference between cheap and expensive wireless headphones?
I will answer this question below in more detail but the rule of thumb is pretty simple: high-priced headphones usually cause no problem while inexpensive ones always can surprise you at the worst possible moment.
How much do good wireless headphones cost? Well, it depends on a type of headphones, a brand, etc. However, wireless earbuds tend to cost cheaper than over-the-ear Bluetooth headphones.
Just to give you some idea, I would say that a very good pair of over-the-ear Bluetooth headphones normally cost about 200-300 dollars. You can get good ones for 80-100 dollars and decent quality for $50-80.
The main problem of Bluetooth headphones under 50 dollars is usually their build from cheap fragile materials. You still can get decent sound quality but such headphones are hardly durable.
Best in-ear Bluetooth headphones, e.g. Jaybird Freedom or Jabra Rox, usually cost about $100, good ones – about 50-80 dollars, bearable ones – $20-50.
Everything with a price tag under 20 dollars is suspicious although I know some interesting exceptions.
Bluetooth Range
30-35 feet (about 10 meters) is a pretty normal range for any Bluetooth headphones. If you get more on your headphones it is a nice bonus; if you have less I would recommend choosing a more expensive model.
The Quality of Bluetooth Pairing
Reviewing different Bluetooth headphones I always pay attention the quality of pairing. The majority of expensive wireless headphones cope perfectly well with this task while a pair of cheap Chinese knock-offs might stop pairing at any moment.
Always read reviews before a purchase and if two people mention some problems with Bluetooth pairing – stay away from those headphones.
If you are a lucky owner of an expensive Android device and good wireless headphones both these devices probably have built-in NFC (Near Field Communication) module.
This technology decreases a risk of unsuccessful pairing almost to a zero point. Manufacturers always include this information in the specification and user manuals.
Unfortunately, iOS devices support NFC for Apple Pay only. So NFC pairing of wireless headphones is not going to work for your iPhone or iPad.
Sound Quality Through Bluetooth
Most Bluetooth headphones still are weaker in terms of sound quality than their wired antagonists and you need to know this at the very beginning. You should accept it as is or use headphones with wires.
However, several years ago Qualcomm developed an aptX algorithm which allows some devices get the sound to headphones through Bluetooth almost without loose of quality.
Big digital guys like Samsung, Sony, Panasonic, etc. usually support aptX codec on their devices and can get excellent sound quality from your wireless headphones.
Although, there is always a black sheep in a flock. In this case, it is Apple (again!) which does not support aptX on its devices.
Type of Wireless Headphones You Need
There is no such a thing as only one "right" type of Bluetooth headphones. All people are different and everybody has his/her own preferences regarding the type of headphones.
For example, some people feel uncomfortable with in-ear headphones inside their ears. Other people dislike an idea of wearing heavy over-the-ear models. And so on.
I still can give you some recommendations even in this case:
If you are looking for the best headphones for running, working out or biking I would strongly recommend using Bluetooth earbuds. They are smaller, more compact, and do not cause so much sweat as over-the-ear and on-ear ones do.
If you are a kind of an audiophile and the sound quality is your main goal, you may prefer over-the-ear Bluetooth headphones.
If you love the comfort and like lightweight headphones, on-ear Bluetooth headphones might be the best choice for you.
You need to try different ones to understand what you really want and what works for you.
Popular Questions About the Best Bluetooth Headphones
Do Bluetooth Headphones Cause Cancer?
The short answer is "no". However…
This question may seem stupid but it is always better to be on the safe side.
I am not going to discuss here a question whether mobile phones or Bluetooth headphones can cause cancer or not in general. If you are still afraid of radiation you need to know some basic facts about cell phones, Bluetooth, and radiation.
First of all, Bluetooth signal is a radio wave as a signal from your mobile phone. However, Bluetooth signal much weaker than a normal radio signal from your phone. Phones have to transmit their signals to antennas that can be several kilometers away while Bluetooth headphones usually need to reach devices next to you or just 30-50 feet (10-15 meters) away.
Thus, it is much safer to have a good Bluetooth headset than any kind of wired headphones or even just a mobile phone itself. You can keep your phone far away from you and decrease even low-risk chances to get cancer from taking calls.
Is It Illegal to Wear Bluetooth Headsets While Driving?
This question is rather complicated one. The driving rules differ from state to state and it is hard to say clear "yes" or "no" sometimes. This topic is HUGE and I will try to cover just some basic things:
In the majority of states driving with headphones is legal.
There are just 4 states where wearing any headphones, including Bluetooth ones, is absolutely prohibited and illegal while driving: Colorado, Maryland, Louisiana, and Rhode Island.
In some states (for example, California, New York, Ohio, and Florida) you can only use your Bluetooth headset for just one ear.
 Using of Bluetooth headphones only is legal in some states; in others, you can use Bluetooth headphones only if they are built-in in your helmet.
In any case, I would not recommend using Bluetooth headsets when you are driving. It is understandably dangerous.
Why Bluetooth Headphones Do Not Work Underwater?
As I said above Bluetooth signal is just a radio wave. Water is a natural insulator and it blocks almost completely all radio signals. That is the reason why Bluetooth, Wi-Fi, mobile connection and some other technologies do not work underwater.
And that is the reason why a phrase "best waterproof Bluetooth headphones" does not make any sense. They can be either waterproof or Bluetooth. Or waterproof but stop working underwater. That is it.
Can I Use My Bluetooth 4.0 Headphones with Bluetooth 3.0 Smartphone/Tablet?
Yes, you can do this. All new versions of Bluetooth are backwards compatible with old ones. So Bluetooth 4.0 headphones are going to work fine with older Bluetooth modules on smartphones and tablets.
However, I would not recommend using any wireless headphones with Bluetooth version under 4.0.
Old versions of Bluetooth are very energy consuming and the battery of your wireless headphones is going to run out of energy too quickly.