(Last Updated On: December 21, 2017)

What are the best Bluetooth earbuds of 2017?
For this buying guide, we conducted extensive research, weighed the pros and cons and developed a carefully-reviewed list of the best wireless earbuds on the market.
Below you can find a table with our top picks, the full list of our criteria and detailed reviews of each model.

We based our opinion on our own tests and hundreds of customer reviews of the most popular and highest-rated earbuds found on other websites, including forums, expert websites, and online stores.. All winners were tested by a real guy in real combat conditions. Actually, here I am – Roman, the humble author of this buying guide, at your service.
Our handpicked models are quite diverse and range widely both in price and features. With so many variations and options to choose from, we are hoping that you will be able to use this guide to easily find the best wireless earbuds for you.
Please note that this guide reviews only in-ear Bluetooth headphones. If you prefer on-ear or over-the-ear Bluetooth headphones, please refer to this post – "What Are The Best Bluetooth Headphones in 2017?" where we cover such models thoroughly.
Additionally, models were not separated by price. For those of you searching for in-ear headphones in the $100 or less range, view our buying guide of best earbuds under $100. For even less expensive models (under $50), click here.
Top 5 Best Bluetooth Earbuds:
Jaybird X2 Review (Editor's Choice)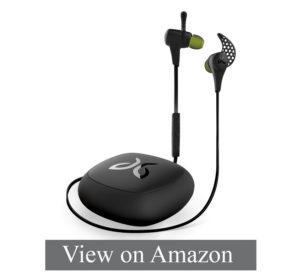 Battery Life
The battery life for this model is absolutely amazing. It doesn't die after 8 hours of continuous use and, if you use these earbuds for around 1-2 hours per day for running or working out, you only need to charge them once a week.
Sound Quality, Noise Cancelling and Noise Isolation
The bass is pretty good. It is not a pro audio quality for sure but these earbuds have a perfect bass and do not overwhelm the treble.
These earbuds do not have active noise cancellation but do a pretty good job in noise isolation. During the running sessions, you can hardly hear a thing.
Bluetooth Range
30+ feet (10m) is a normal distance for these headphones and is a great result for this particular class of earbuds.
Comfort
We found these earbuds to stay in pretty well. This model of earbuds gives you both in-ear and over-the-ear options, which is an important feature when it comes to workouts that require running, jumping or lifting weights. Using them over the ear for more stability and security is possible by wearing little ear clips provided by JayBird.
If you do everything right, these earbuds hardly ever fall out during sports activities. Prior to purchasing, we strongly advise you to Google some videos about the over-the-ear option.. It is critical to get the most from these earbuds.
Are They Waterproof?
These earbuds are water resistant but not waterproof, meaning that you can't expose them to a large amount of water. They are made for sports and are perfectly sweat-proof, but you may want to think twice about wearing these while running under heavy rain, jumping in the pool or taking a shower.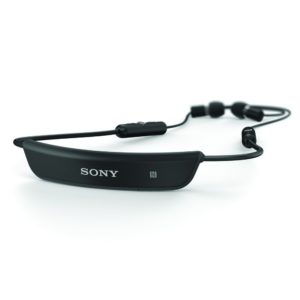 Battery Life
My personal record was about 6.5 hours of using them for music streaming, several phone calls, and videos.
Sound Quality, Noise Cancelling and Noise Isolation
I would rate them 7 (from 1 to 10) in terms of the bass quality. In my opinion, this is more than enough for Bluetooth earbuds.
This, of course, is subjective and really depends on the context, especially on the type of device and the level of outside noise.
This particular device is not the best if you are a real music lover and looking for good, deep bass. Its ability to provide you with good sound, however, is perfectly decent.
These earbuds do not have a noise cancelling feature included but the noise isolation is pretty good.
Are They Waterproof?
This Sony headset is perfectly ok for running and is sweat-proof, but you should not take a shower while having them on. Absolutely not. No way.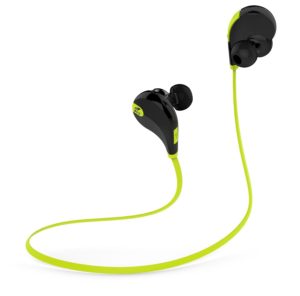 Battery Life
The battery of these headphones dies normally after 5 or 6 hours of intensive use and it usually takes up to 1.5 hours to recharge it and start having fun again.
Sound Quality, Noise Cancelling and Noise Isolation
Despite the modest price tag, these earbuds provide you with surprisingly clean-sounding bass. I was hardly able to hear anything besides my music during tests in a noisy gym. They are not necessarily noise-cancelling, but they do block outside noise extremely well.
Unfortunately, I would not recommend these headphones for big fans of bass. Why? They have really good sound quality given the price category, but they are not particularly outstanding. If you decide to listen to the most subtle shades of opera music, you should probably choose something more expensive. They are excellent in terms of bass for normal everyday use, but that's about it.
Are They Waterproof?
These earbuds can handle sweat and little amount of water only, so avoid any pool swimming or showers with them on. They are ok for running under the light rain, though.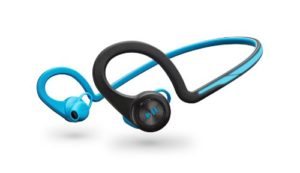 Battery Life
These earbuds provided about good 7 hours out of a single charge: I listened to music and made a few calls having them turned on throughout the entire day. If you normally run or work out 1-2 hours per day, it will take the whole week for this battery to run out.
Are They Waterproof?
My answer is… YES! The manufacturer says that they can "withstand fresh water up to one meter for 30 minutes," and I read several stories on Amazon from people who accidentally washed them with their clothes. While I do not think that it is a good idea to put your earbuds in a washer or dive deep into a lake and risk damaging the earbuds, it's nice to know that these earbuds can withstand more water than most. Try this, of course, at your own risk.
I am not such a big fan of rough experiments and crash tests with electronic devices, so I just tried these in the shower. They survived and worked pretty well.
As I said above real waterproof Bluetooth earbuds are rare and in my personal opinion BackBeat is an absolute champion in this important category.
Sound Quality, Noise Cancelling and Noise Isolation
Please note that this model, as well as several others from this guide, is made for sports, especially for running or cycling. Running and cycling earbuds are usually not meant to be noise cancelling because you need to be careful and hear people, cars and other "distractions" during your workout. Manufacturers want you to be on the safe side.
With that in mind, the sound quality of these particular earbuds is surprisingly good. Noise isolation is good enough, too.
Bluetooth Range
One of the many advantages of this model is a rather wide Bluetooth range. You can walk at least 30-35 feet from your smartphone before it starts breaking up.
My personal record was about 50 feet but I read a review of a person who managed to stay connected having 75 feet before his earbuds broke up. Well, not for long. I personally do not believe in such miracles but 50 feet is also a huge distance regardless.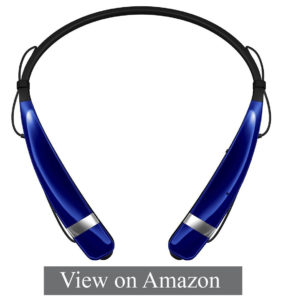 Let's go ahead and do a quick review and we'll talk about some of the good points and bad points of this headset.
Ok, first the good.
Comfort of Use
Like all wireless headsets, you get to do away with those pesky dangling wires that connect to the earbuds. You get tangled up in 'em, you pull 'em out of your ears and they're a just nuisance. That's the best thing about these headsets – you don't have to fool with the wired earbuds any longer.
This particular headset is lightweight, weighing in at only 1.21 oz. In my opinion, it's very well-made and it's well-designed.
It has an ergonomic shape, curved unlike some of the earlier models which were pretty much straight. These are curved to fit over the curvature of your neck and upper chest and that helps, both in term of comfort and in not poking out if you have clothes over the top of them.
Additionally, it also has helpful voice prompts and indicator lights as do a lot of these headsets.
When you first turn the unit on, a female voice alerts you that the power is on and gives an update on the battery level. If you have not already paired it with a device, she'll tell you that it's ready for pairing.
If you're using the headset and the battery is depleted, she'll tell you that you have a low battery.
This headset also features a small LED indicator light that tells you that your power is down, as well as indicating that it's ready for pairing. The light changes from blue (fully charged) to a violet color for partial charge and then red when the charge is depleted and it's time to recharge.
This headset is loaded with Bluetooth version 4.1 which I understand is the latest version of Bluetooth and, in my experience, has the best reception. It's advertised to have a range of 10 meters (about 30 feet) and, while I haven't had the chance to test that distance out, have had the headset on the one end of my house and my smartphone on the other end of my house and the reception was still perfect.
So, as far as I'm concerned, Bluetooth-wise and reception-wise, this headset is excellent.
In the same respect, this device pairs very easily and quickly with your smartphone, iPad or whatever device you're going to be using.
Some devices seem to have a really difficult set of steps to go through for pairing, but the particular pairing time of 30 to 60 seconds for this device is very easy to do.
Another good feature of this headset is its ability to work with voice activiation. If you have an iPhone, Samsung or any smartphone equipped with voice activation, this headset works incredibly well with voice commands. By pressing the call button one time, you can access these so-called personal assistants and perform functions including voice calling and it will easily go through. You can ask questions like what was the score in the Eagles game last night and get that right over the headset. It's pretty handy.
This headset seems to have decent battery life.
As for sound quality, which is at the top of the list for a lot of people, the quality is excellent. I'm not an audiophile, but as far as I can tell this has full, rich sound with good bass and treble response –you don't get any funky artifacts like buzzes or vibrations. For me personally, these are one of the best bass earbuds under $50.
As a bonus, you get three different options for equalizer presets.
There's the standard, which it comes loaded with or you can get enhanced bass or enhanced treble. In my opinion, the standard setting is the one that 90% people will use and it has an excellent sound.
In that same respect, the call quality is excellent if you're using it connected to a smartphone. I've had no complaints at all.
The little pinhole microphone used on devices like this always surprises me because it does pick up sound very well. People on the other end of calls have told me that they can't even really tell that I'm on a headset and not on my handset.
Ok, now for the not so good.
The power switch is a tiny little button located on the inside left portion of the headset. In my opinion, it seems to be a delicate little switch. I'm sure it is plenty robust, but it feels a little small and maybe even vulnerable. Time will tell whether that holds up well.
In the same token, the earbud wires that go from the unit to the earbuds are a really small gauge. The wires are thin and, while they do their job adequately for the earbuds, I'm afraid if you got one snagged or if you pull on it really hard it just might come loose. With that being said, I wish the wires were a bit thicker and sturdier.
This headset does not come with a charger adapter, an AC adapter or charger block. It does come with a USB cable which you can, of course, attach to your PC or your laptop and charge from there. Alternatively, you can use the charger adapter from your smartphone, iPad or tablet, assuming that it uses the USB cable, into the charger block itself. I went ahead and spent five dollars to buy a generic AC adapter just for the sake of convenience. If adaptors are an important part of your purchasing decisions, you may want to keep this in mind.
I think the manufacturer may have been a bit optimistic when they said that you could have 16 hours of talk time, 10 and a half hours of music or 23 days of standby time on a full charge. I haven't timed this, but in my experiences over the past few weeks, I feel that their battery time is a bit optimistic. Similar to many battery-powered devices, yourmileage may vary.
The volume, fast-forward, rewind, and job buttons on the sides of the unit, one on either side, are little round buttons that are spring-loaded. You push up or down to increase the volume,rewind or go fast-forward if you're listening to music. Some people like 'em, some people don't like 'em. I personally would prefer a toggle tap switch like we can find on most smartphones. I'm warming up to this kind of switch and I'm sure it'll work fine, but again you'll either be a fan or not.
The headset advertises that it has something called "advanced multipoint" which allows you to pair with two different devices, such as a smartphone and an iPad, two smartphones, or other similar combinations. Even while following the instructions step-by-step,I haven't been successful in doing that. Maybe you'll have more success then I will.
To me, it's not a big deal because I have separate headsets for myself and my wife and we don't use each other's, so it's not a big deal for me. If that's a big deal for you, you might want to try that right away when you get this headset and make sure that it's going to be able to do what you need it do to.
The microphone does not have noise cancellation. In my experience, that's not a big deal. I've used it in noisy situations, such as shopping malls and Wal-Mart, and it has not interfered in any way with my conversations, so I don't think that's a big deal.
The call, play, and pause buttons are little chrome strip-looking things on either end of the headset. They are very stylish but they don't give you any feedback to touch. They are mounted flush with the body of the headset, so it's really hard to try to use them just by feel.I wish they either were raised a little bit above the surface of the blue part of the headset in this case or that they had some sort of rough texture or something on them so that you could tell by feel that you're on that button. That may be one of the biggest complaints that I have about this headset.
I wish they either were raised a little bit above the surface of the blue part of the headset in this case or that they had some sort of rough texture or something on them so that you could tell by feel that you're on that button. That may be one of the biggest complaints that I have about this headset.
When I get a call, for example, I have to pull the left end of the headset down so I can see it in order to know I'm hitting that chrome button to answer the call. Maybe with time I'll get used to it and that won't be a problem, but for now, it's kind of a nuisance.
Last but not least, the earbuds are retained by small magnets at either end of the headset. I wish these magnets were a little stronger because sometimes just when the headset brushes against my shirt the earbud will fall out.
I thought about getting some of the little round, ceramic magnets and gluing them up into the ends of the headset, but somebody told me that the earbuds themselves use magnets and external magnets may interfere with the functioning of the earbud. I'm not sure if that's true, but for now I'm going to learn to live with the magnets that are in the headset themselves. They're quite workable,I just wish they were a little stronger.
Pros
Well-made and well-designed.
Excellent call and sound quality.
Voice prompts and lights.
Good Bluetooth reception.
Pairs pretty easily.
Siri/S voice access.
Decent battery life.
No more wires.
Lightweight.
Ergonomic.
Cons
Delicate power switch.
Delicate earbud wires.
No AC adapter.
Jog buttons imprecise.
Multiple pairing is fussy.
The Bottom Line
The product is perfect.
There are a few little minor shortcomings to this headset , but all in all, I'm really enjoying it.
These earbuds, like so many others, has freed me from those dangling wires that I have used in the past. In addition, they look nice and the sound quality is really good, so I have to give it two thumbs up. I'm very pleased with this headset and I think you will be, too.
Wireless Earbuds vs. Wired Earbuds
For advanced readers, we prepared a set of the most popular questions and answers regarding wireless earbuds. First of all, we want to help you understand the advantages and disadvantages of using Bluetooth earbuds:
Pros:
Wireless earbuds are absolutely indispensable for people who live an active lifestyle. They are much more convenient and give a much better level of flexibility for working out, running, biking, traveling, and even normal everyday wearing. Using wired headphones for sports can even be dangerous: there is nothing worse than tangling in wires during your workout.
No wires equals no tangled wires. Have you ever tried to pull your keys out of tangled headphones? Sometimes it seems that wired headphones are just trying to make your bad day even angrier.
The majority of the best Bluetooth earbuds have a built-in microphone. You can easily communicate with other people being hands-free. Running or cycling with normal wired headset can feel awkward.
Bluetooth technology is built-in on all modern devices: laptops, tablets, and phones. It is almost everywhere.
All modern models of wireless earbuds have volume switches.
Cons:
The main and almost only disadvantage of Bluetooth earbuds are their inability to be charged without a cable. You still need to charge them from time to time, and nothing can kill your energetic workout faster than a battery dying during your running session. Wireless chargers already exist but they are still too far away from our everyday use.
The sound quality of wireless headphones is usually a little bit lower. If you are a really big fan of the highest, purest sound quality, it is better to pick some headphones from the wired family.
Bluetooth earbuds used to be a little bit more expensive but this difference is almost imperceptible nowadays.
How To Choose The Best Bluetooth Earbuds?
We used several important criteria to determine "quality" for our top picks:
Price
It really depends on your needs and financial possibilities. There is a great variety of affordable Bluetooth earbuds in the range of $10-50, but there are also several top-notch models in the range of $50-200 which have been added to the list.
Sound quality, Noise Isolation, and Noise Cancellation
One of the most important factors to consider when you are choosing earbuds is their ability to protect your ears from unpleasant sounds coming outside.
The sound quality of the majority of wireless headphones is slightly worse or much worse than those you can expect from wired models. The reason is simple: Bluetooth compresses sound and it does obvious harm to it.
However, some smartphones support a modern aptX codec from the CSR company which allows a reduction in the damage of compression as well as a decent quality using wireless earbuds. It is important to note that aptX technology should be supported by both your smartphone and your Bluetooth earbuds.
Bluetooth earbuds are strongly associated with an active lifestyle. Sweating is inevitable during good workouts; rain is also a frequent companion of sportsmen. The factor of water resistance is extremely important to consider when you try to find new earbuds.
There is a common misunderstanding when people call some wireless headphones/earbuds "waterproof". Sometimes this is caused by incorrect usage of labeling. So, what is the difference?
Genuine waterproof earbuds are almost impervious to water. This means you can easily take a shower, swim and do other similar activities having them on. Unfortunately, waterproof is a pretty strong term and the absolute majority of wireless earbuds are not waterproof.
What makes me even sadder is the fact that these rare wireless waterproof earbuds usually do not support Bluetooth technology and work as a compact MP3 player with swimming earbuds connected.
Most good Bluetooth earbuds are rather water resistant. This means they are able to resist penetration to water to some degree, but not entirely. They are made in such a way that it is more difficult for water to get inside of them during light rain or an intensive workout.
Waterproof earbuds have their own pretty interesting pros and cons, and I hope to have some time in future to write a separate article about this topic entirely. If you have no time to wait,check out the Sony Walkman NWZW273S
Battery Life and Charge Time
Normal battery life for the majority of modern wireless earbuds is about 6-8 hours before recharging. Some expensive models can even work up to 40 hours without recharging.
Please note that a battery life is strongly related to volume and a more expensive and long-lived model is needed if you are a big fan of loud music.
Some models are provided with a charging case which allows you some extra hours of battery life.
Usually, it takes about 1.5-3 hours to recharge a battery depending on your particular model.
Bluetooth Range
This is an interesting question: What is the average range of Bluetooth? There are several different classes of Bluetooth devices:
Class 1 has a range of about 330 feet (100 meters). This looks good but please remember that if you connect class 1 earbuds to class 2 smartphone (see below) you are able to get just class 2 range.
Class 2 is about 33 feet (10 meters). The majority of Bluetooth earbuds and smartphones are class 2 devices.
Class 3 is only 3 feet (1 meter). This class is usually used for mice and keyboards only and I personally do not know any earbuds which support it (so just forget this information :)).
There are many factors at play, but usually you are still connected having no more than 30-32ft (10m) between you and your mobile device. There are several types of Bluetooth devices which have up to a 300ft (100m) range, but they are usually much more expensive.
Compatibility
The first and often most important question is, "Are these Bluetooth earbuds compatible with my phone, laptop, tablet or MP3 player?"
Bluetooth 4+ is the most advanced version of this technology and all best wireless headphones are compatible with any modern Bluetooth device, including all Apple family devices (iPhone, iPad, iPod, Apple Watch, Macbook) and modern Android/Windows laptops, phones, tablets and MP3 players.