(Last Updated On: January 23, 2018)
What is the best beginner mandolin?
Mandolins are not all created equal. Many mandolins for beginners are priced within reason, while top-of-the-line models fetch more than a $10,000 price tag.
American Blues Legends, as well as Bluegrass and Folk musicians, have played the mandolin since its resurgence in the 20th century after a near century of little use.
Beginner mandolins differ in quality and price slightly, yet all have one thing in common: they are designed for those just starting out playing the mandolin and are looking for a solution.

Top 4 Best Mandolins for Beginners:
Pros
Adjustable reinforcement truss rod within the neck prevents warping
Specially laminated
Durable nylon construction
Built to last
Great reviews
Cons
Case is not the same as indicated
Slight tuning needed
Overview
A great value for beginners in this price range. Great to take cross country and a case is well-made. A remarkably beautiful and high-quality instrument. This mandolin is ready to go out of the box (double-walled special shipping box) with maybe only slight tuning necessary. Complete satisfaction is likely with every facet of this instrument.
Performance
The action and intonation are perfect, and there is no buzzing on the frets. Great performance is typical with excellent sound quality. There are no problems or issues usually and the experiences and the mandolin performance is surprisingly superb.
Features
A-Style mandolin with high-gloss Sunburst finish. Completely laminated on all sides. Complete with reinforcement truss rod which eliminates any warping of the neck over time, unlike most mandolins which become useless due to this factor. Contains two F-soundholes.
Common Questions:
What is a truss rod?
A truss rod prevents the warping that most mandolins will undergo because they reinforce the narrow small neck and make it strong, preventing this type of damage.
What is lamination?
Lamination is a layering of materials that provides a smooth surface for the instrument and creates a beautiful appearance. A laminated surface is durable and well crafted.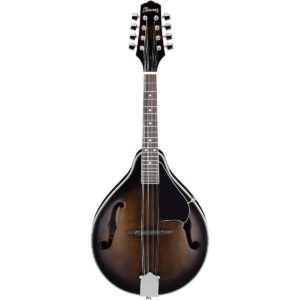 Pros
Well built/high quality
Great tone
Consistency
Quality parts and materials
Cons
Mixed reviews
Not ready to play, needs adjustment/tuning out of box
Overview
The Ibanez M510 mandolin has high standards when it comes to tonality and craftsmanship. This mandolin is a high-quality model at an affordable price.
It has a clear sustain with crystal clear clarity that Ibanez mandolins are famous for. This model does not come with a case, cases are sold separately.
Performance
You will probably need some professional adjustments and tuning. Consumers should be impressed and satisfied with the mandolin.
It is comfortable, easy to play, and loud enough to play to an audience. Typically the overall feel and appearance are typically pleasing, and it is a good value for the price. The sound of the instrument is excellent.
Features
This model of mandolin has many different features.
These include an A-Style body type, mahogany neck, back, and sides, a rosewood fretboard, chrome tuners and hardware, 20 frets and 8 strings, a Rosewood bridge, and a Spruce top
It comes with a high gloss finish that makes for a very attractive appearance.
Common Questions
What is tonality?
The tonality of an instrument has to do with the tone and sound quality. This mandolin has an excellent sound and is a great instrument for beginners who don't want to sacrifice performance and quality for a lower price tag. Consumers report the sound is great.
What is A-Style body type?
Mandolins come in either an F-Style or A-Style body type and this particular type is A-style, which is rounded and whole, not one-sided or shaped like an F, like F-Style types.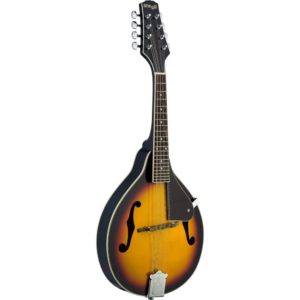 Pros
Great tone
Wonderful appearance
Nice sound
Mostly positive reviews
Cons
No truss rod
Has to be restrung/tuned frequently
Overview
This is an excellent beginner mandolin, with a fine sound quality. It is most likely a user would a positive experience with the instrument, and be satisfied with their purchase. This mandolin has a beautiful appearance and it is less expensive than most mandolins.
Performance
Generally, the mandolin plays very well, with an excellent sound and great tune, although many users reported that they had to either tune or have the mandolin restrung before using. Also, this instrument usually has to be re-tuned periodically for optimal use and enjoyment.
Features
This mandolin which has basswood back neck and bowl-shaped sides comes with the rosewood fretboard and an adjustable Maple Bridge. It also comes with a nickel tailpiece and nickel plated tuners. It has a violin burst finish that is exceptionally attractive.
Common Questions
What about a truss rod?
Mandolins without truss rods tend to warp significantly over time which is a drawback to this model, however with proper care they can last a long time and are good value for the price.
What is restringing?
Some mandolins require that the instrument is restrung prior to use, which is that new strings are installed and that the mandolin is professionally tuned and fitted.
Quality strings are important to sound quality even if they do not come with the original model.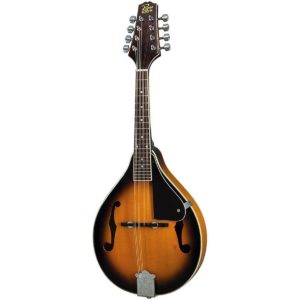 Pros
Gorgeous finish
Traditional style
Well manufactured
Great quality
Majority positive reviews
Cons
Somewhat metallic Echo
Needs to be restrung upon delivery
Overview
This mandolin has provided many positive experiences and is a good value. A great starter mandolin with a good price, it is easy to play with a good sound quality overall.
This instrument is said to be perfect for beginners who want to play bluegrass for other styles of music in are just learning how to play the mandolin.
Performance
This mandolin has an impeccable, immaculate workmanship and emanates a very bright tone complete with excess bark. The high-quality sound of this instrument makes it a very good value.
Users should be very pleased with the way that this mandolin plays, and it is easily tuned and restrung.
Features
This beginner mandolin has an adjustable compensated rosewood bridge and rosewood fingerboard, and a maple neck. This model comes with a 12-th fret neck joint, and sports nickel-plated frets.
Also featured are chrome tuning machines and this mandolin has F holes. This instrument also has a high gloss finish that is beautiful to look at and hold. It does not come with a case, that is sold separately.
Common Questions
What are Chrome tuning machines?
Tuning machines are used to keep the instrument playing in tune, and these machines are made out of chrome that comes with this model.
Best Beginner Mandolin: Buying Guide Basics
It's important to know what a beginner mandolin is all about, so this buying guide will show you the basics of mandolin features, and explain what you should know about these instruments.
Many different areas about mandolins are covered in this guide and the reviews tell you what you can expect from the different models featured.
You will be able to have a good basic understanding of beginner mandolins after using this guide, and there are several reviews worth looking at for various models that are excellent.
What are Mandolins Exactly?
A Mandolin is a musical instrument similar to a small guitar or violin that plays music when the strings are plucked. Chords are used to create melodies and rhythm can be used to accompany the songs that are played.
Mandolins have been in use for ages, but the common use now is for modern musicians. A mandolin has a sound that can be adapted to many different types of music.
Mandolins are an excellent choice for musicians who want to broaden their horizons or for those who are just looking for a hobby and want to take up music for enjoyment.
List of Qualities to Pay Attention To…
Tonality – the sound of the instrument is largely based on the tone that it creates. Tonality is important with mandolins it is one of the primary considerations when choosing an instrument.
Clarity – mandolins that have a clear sound to them are preferable to those without this quality, and several of the models in this guide have a crystal clear clarity that makes the music created from them wonderful to listen to.
Ring – when the music registers when it is played, the quality of the sound that comes out of the mandolin is known as ring. A good mandolin will have a solid ringtone when being played.
Resonance – the effect of the music sound that strikes chords deep within the listener with lasting qualities that they can physically feel in their senses is known as resonance. The best beginner mandolins have a deep resonance that magnifies the overall sound experience.
Final Thoughts
There are good qualities in each of these choices, but it is obvious that of the four mandolins being reviewed, there is just one clear winner.
The GWMA-2 Mandolin is the best of the featured instruments based on quality, performance, and the fact the mandolin features a truss rod which prevents warping and ensures long life.
This mandolin is the best one offered here for beginners.