(Last Updated On: December 21, 2017)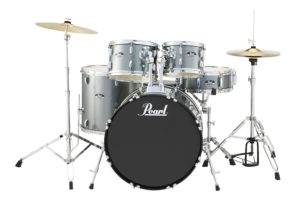 When we talk about a beginners drum set we talk about a regular five-piece set. Five-piece sets include toms, snare, bass, cymbals and a hi-hat.
In reality you will have three toms, a snare, a ride/crash, a bass drum and a hi-hat. That's all you need as a beginner, you can always add a China Splash or anything else.
Musical instruments contribute heavily to self-expression and creativity whilst allowing the player complete freedom and an outlet for emotional expression.
A drum set is an essential framework for most music, aiding concentration and coordination in daily life and working as an excellent stress relief.
Your choice of an instrument as a beginner can heavily influence your speed and ease of learning, either heightening or hindering the experience.
Each drum set featured in this article has its own individual features and positive/negative aspects to be considered when determining the best starter drum kit for you.

Top 5 Best Beginner Drum Sets: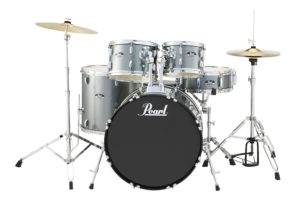 This set contains absolutely everything you need to get started in one box.
Features include 9ply, 7mm poplar shells and 1.2mm Triple Flanged hoops, 22×16 bass drum, 1×8 tom, 12×9 tom, 16×16 floor tom, 14×5.5 snare drum, 162 brass crash-ride, 142 hybrid hi-hats. There are also cymbal stand, hi-hat stand, snare stand, bass drum pedal, throne, 2 tom holders, chain-drive bass drum pedal and geared locking stands making it a fantastic bargain for the asking price.
Available in four set-ups and finishes, this set is both versatile and moderately professional whilst maintaining an ease of use for beginners!
The tone is fantastic; featuring a powerful and depth wielding voice whilst maintaining a friendly and non-intimidating feel. Hi-hats are crisp and punchy, with just enough volume. In fact, volume for this kit in its entirety is fairly controlled, making it perfect for an at-home practice.
What I like most about this set, is that it perfectly bridges the gap between beginner level and next-level playing, light-level gigging etc. This kit is far more likely to survive a move than many of the other kits out there and may be of far better value in the long run.
As far as musical styles go, the intended playing style advertised is 'fusion', but any style could work well because the set-up is so versatile.
Durability, great cosmetic detail, and versatility are what really sell this set for me.
Pros
Absolutely fantastic value for money
Large set, but only contains what you need
Ideal for beginners of all ages
Easy to tune and set up
Ideal for controlling practice noise levels
Cons
Cymbals sound thin and are of poor quality in comparison to the rest of the set
Drum throne squeaky and uncomfortable, squeak can be fixed with grease however
Good looking set, but poor cosmetic finish up close
This complete set-up features cymbals, hardware, sticks & throne, at a very consumer friendly price. Perfect for beginners! It's cheap, cheerful and contains everything needed to play straight from the box, making it the perfect gift for any occasion.
This product is targeted towards children but can be used by beginners of all ages. At first glance, this kit does not particularly resound with an implication of quality, yet quality is what you receive for the price.
The cymbals included don't quite match what is demonstrated in the rest of the set-up, but this could be due to drum manufacturers tending not to include cymbals on higher end kits. These are sold separately. However, the cymbals in this set can be replaced completely or simply replaced with the included hi-hat which holds a decent tone of its own.
When purchasing a beginner set, extreme durability is not necessary. This drum set is adequately durable for a starter level and holds itself together well considering the low-end price tag. However, the heads may require replacement after a few months of heavy use.
As previously mentioned, assembling and disassembling a cheap set is not to be recommended as low-end kits are prone to damage when moved too frequently. This is absolutely the case here.
Finally, in regards to cosmetics it's not an overly professional-looking piece of kit, but the quality of play is of higher value here! At the very least you will be sure to appreciate the colors (black, pink, or blue) and the high gloss finish is aesthetically pleasing.
A useful beginner practice set available in bright and vivid colors, I would recommend this product.
Pros
Bestselling drum kit on amazon
Great quality for the price
Spare hardware parts included
Clear instructions for easy assembling
Cons
Reports of hardware problems (dependant on usage)
Snare is of poor quality
Essential to tighten the tom and snare mounts or they will move when playing
Snare stand and stool not overly sturdy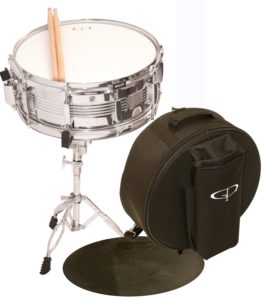 This set is advertised as a complete kit, but I have my doubts.
Featuring a 10 lug 5.5'x14' metal shelled snare drum, double brace stand, case, drum key, practice pad and drumsticks, it contains far less variety than the other product reviews and narrows playing style down from limitless to very, very limited. It's cheap, but you get very little for what you pay for here.
Considering the kit consists solely of a snare drum, you would expect the quality of said snare drum to be of a relatively high standard. It is average at best and has a flat, hollow edge.
The drum also losing tuning quite easily. However, it's a useful first purchase to make if determining whether drums are the instrument for you, simply because it's cost-effective and non-space consuming. So, whilst a good first buy, it might not be a viable option if you are looking for the full set-up experience.
Pros
One stand-alone drum makes it easy to learn and practice simple rhythm techniques at a beginner level
Easily transportable, can play with ease anywhere without much set-up
Very affordable compared to other sets available
Cons:
May not satisfy a keen drummer due to very limited playing style
Stand is too low
Poor quality, particularly the case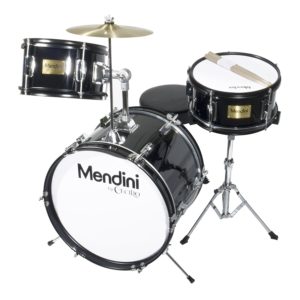 A promising set, this kit includes a 16" x 11" bass drum, 10" x 6" hanging tom, 10" x 5" snare drum with accompanying stand, an adjustable throne, 9.5" cymbal with bass mounted holder, pedal, drumsticks and comes in a wide variety of colours to suit all preferences.
The product is recommended for children between 2.5ft and 5ft, making it unsuitable for adult use. Better variety than the snare kit and only differing slightly in price (making it a much better option if the beginner is a child), but it does lack the fulfillment of the first two products reviewed.
Reliability does weigh in on the choices here, and a one year warranty against any manufacturer's defects does make it a safe first buy for your little beginner. The simple twenty-minute (on average) assembly was one of my favorite features. It is very useful in a gift-giving situation and for those who know little about drums or the set-up process.
The sound quality probably lacks the most on this set, short sound lacking heavily in reverberation, yet perfectly adequate for a child. Hi-hat is not included but isn't needed.
Pros
Eye catching colors guaranteed to catch your child's attention
Small, neat set
Includes a throne and drumsticks
Cons
Only designed with young beginners in mind
Instructions aren't brilliant (but product is easily assembled anyway)
Screws included can be wrong in sizing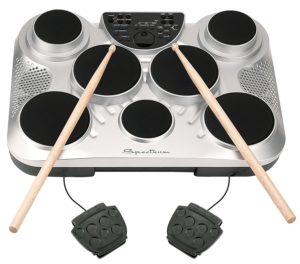 This electronic drum kit comes with an adjustable stand, pedals, sticks and an AC adapter. It also includes an adjustable drum standard making it perfect for sitting or standing, and instructional video download.
Seven assignable pads, 20 preset kits. 215 voices, 10 user kits and 1 demo song make this kit particularly feature heavy and a great introductory experience for any beginner.
These additional features make it far more accessible, and working with the presets available makes it a simple business to start creating music right away. Out of all the sets reviewed, I would highly recommend this product to anyone deeply concerned about noise levels.
Note: you will require stereo headphones or an audio jack adapter. Realistically imitating a regular drum kit, the experience provided is much the same, without the noise! Portability and battery operation makes this product particularly useful for aspiring drummers on the go.
A USB port feature means simple recording for computer use, which works well for beginners wanting to record their progress and music.
It's a tough job replicating that traditional drum sound to the point of a rich and realistic experience, but this kit manages it well. The depth and quality of the sound are dynamic overall and despite not quite matching the real thing, does its job well.
Ideal for an aspiring music producer due to the voices, presets and ability to custom create drum kits. Producing has never been this easy!
Pros
Suits any beginner of any age
A strong compromise when worrying about noise levels
Smart interface, well designed
Cons
Instruction manual is difficult to follow
Cheap for an electronic kit but costlier than many beginner drum sets
How to Choose the Best Starter Drum Set
Budget and Try-Before-You-Buy
When learning a new instrument, it is of great importance to remember that some simply aren't for everyone. It's completely normal for interest and commitment to discontinue after a short period, so a cheaper budget kit which doesn't compromise too much on quality may be of initial preference.
Establish a budget beforehand and try to stick closely to it. Naturally, higher quality tends to come with a higher price tag, but the right beginner drum set will combine adequate functionality with a budget-friendly price, it absolutely does not need to be highly specialized.
The difference between a beginner set and a professional set is that advanced sets are normally a combination of various drum parts. A starter set will include everything you need to play right off the bat.
If buying online, shop around and make sure to read reviews for each set you are considering. If buying from a shop, find out if you can play before you buy and sample the set before purchase. This will give you a good idea of tone and potentially the durability of the hardware.
Requirements for the Best Beginner Drum Set
Tone. A decent tone which sounds precise, of at least moderate quality and has fair dynamics. It doesn't need to qualify for professional sound, but you do want a fair sound which motivates you to keep playing. Smaller sets are perfect for any beginner, and they tend to demonstrate a clear and articulate note. However, do keep in mind that a stronger striking accuracy may be required to maintain a pleasant sound. A larger set with slightly larger toms produces higher dynamics, in turn generating tone which contains far more depth. Their ability to naturally produce a stronger sound makes them perfect for large, high-noise rock venues. At a beginner level, a smaller set would be far more suitable.
Hardware. Super sturdy hardware is not essential for a first kit unless you plan to gig eventually without upgrading your set. Assembling and dissembling a cheap set is not recommended, due to the hardware generally being constructed from weaker materials (hence lower price tags).
Utility. As a beginner, you will be looking for the complete setup, which should include at least two toms, snare, hat, kick, crash and ride. If looking to play metal you may need a separate double-pedal kit, but this is unnecessary at a starter level. If you feel the need for additional equipment, consider purchasing it later when you have some experience under your belt.
Musical style. Consider the style of music you wish to play. There are different drum set sizes available to suit a variety of musical styles, ranging from a quieter end of the spectrum through to heavy rock and metal. It is important to remember that in the first stages of learning, a smaller kit will most probably suffice. Metal is an extremely physical and challenging genre for drummers, and not usually one to begin with. However, if you are looking for a long-term investment, purchasing a larger set would be far more practical if after a heavy rock and metal or contemporary style.
Cosmetic detail. Your priority as a beginner should be the above points and not aesthetic detailing. However, if appearance is very important to you do consider self-customisation as a more affordable and practical option than buying an expensive kit simply for a high gloss paint job.
Wood Choice for the Starter Drum Set (Advanced)
Did you know that wood choice also influences the tone, dynamics, and depth of your sound too? Many beginner sets are made from cheap Luan wood or plastic and metal. However, if you are interested in the varied tonal characteristics and frequency response between wood types, read on
Maple – Often used for high-end drums, very warm and well-balanced tone, slightly boosted lows, smooth mid and high frequencies, very attractive finish
Luan – The softest wood and least attractive, inexpensive, usually used for low budget drums, often covered in plastic, low-end version of birch
Falkata – Like maple but less expensive
Birch – Tough and dense, brighter sound, often used for recording due to its extreme clarity, Reduced midrange with enhanced highs and lows, vintage characteristic, produces more high-end than maple
Oak – Powerful sound, bright, similar to maple
Basswood – Good and less expensive alternative to birch and maple
Poplar – Similar sound to mahogany and birch, low-cost alternative to birch and maple
Consider Your Environment for Drum Practice
If noise is an issue for neighbors, housemates or family members, would you consider an electronic drum kit?
With some brands closely imitating that of a proper set, they are ideal for beginners and experienced drummers alike. Why? They can be used with headphones to suit homes where noise levels must be closely controlled, and are perfect for beginners unnerved by learning an instrument where others can hear.
Consider Additional Equipment for Your Drum Set
So now you know exactly what to look for when purchasing your first drum set, it might be worth considering any additional equipment you may require.
Drum stool is not essential if one can be substituted with a chair, but recommended for a comfier practice
Drum sticks
Practice pad
Additional drums and cymbals (not necessary if full start-up kit is purchased)
Metronome
Music stand
Headphones
Music books
Final Thoughts
What is our favorite item featured in reviews? The Pearl RS525SCC706 Roadshow 5-Piece Drum Set
Why? It contains absolutely everything you need to get started, without throwing you into the deep end. For someone who learns quickly and won't stay in the beginner stage for long, it is the perfect long-term investment.
Although not the cheapest product featured, it is well worth the price. For any age, this is the perfect starting point for a lifetime of drumming and, definitely, the best beginner drum set at the moment.