(Last Updated On: December 21, 2017)

What is the best banjo for beginners?
Perhaps you've chosen to master playing the banjo, or maybe you've had a few lessons and have decided that owning your own banjo would help you get in a bit more practice.
If you've clicked to read this, you've probably figured out by now that deciding on your first banjo isn't all that easy.
Do you want a 4-string or maybe a 5-string? A closed back or open back? What the hell is a geared 5th string? Should I get one with a tone ring?
Many questions but never fear, this is the guide to help you on your way to banjo domination.
Top 4 Best Banjos for Beginners:

The Epiphone MB-100 is a beautiful banjo with a very simple, understated design.
Its lovely warm sound is a joy to hear and the fact that there is no resonator makes it a lightweight banjo to travel with. It's not very loud, which is to be expected with an open back but the tone is very pleasant.
Unfortunately, it doesn't have a tone ring which might not bother the traditionalists out there, but for me, it's a negative.
A geared fifth string would also need to be added to avoid constant retuning. I think it's a shame that this isn't standard on all banjos, considering how little it would cost.
Overall it's not a bad banjo. It's well made with quality parts from a name that can be trusted at a fantastic price.
The neck appears to be one piece mahogany and seems stable, although a little on the slim side which may be a struggle for those of you with larger hands.
The rim is also mahogany and helps to deliver that lovely warm sound although a tone ring would no doubt brighten things up a bit.
Pros
Elegant looking banjo
Good value, with quality parts
Good tone
Low weight, great for traveling
Cons
No tone ring
Low volume (although this makes it great for practicing without disturbing the family)
Fifth string isn't geared.
 No resonator

The Oscar Schmidt OB5 is a nice banjo that is packed with features for a fantastic price. This banjo is a closed back beauty with a geared fifth string and a cast aluminum tone ring.
The OB5 may not be as pretty as the MB-100 but it is still a fantastic looking banjo. The tones are bright and punchy and the geared fifth string helps the banjo hold its tune.
The neck size is a little on the small side (as it is on the MB-100), so those of you with larger hands may struggle, although this is a real plus when buying for a child.
The OB5 has a mahogany (removable) resonator and a nato neck (nato wood is considered closely comparable to mahogany), which when set up correctly will give fantastic sound.
Unfortunately, the build quality could be better and for those of you who like to order on-line, the internet is littered with reports of faulty units being shipped to customers.
Some customers have also found that pressure on the neck during play can cause the banjo to flex which affects the tune.
Pros
Low weight, great for traveling
Bright punchy sound
Aluminum tone ring
Cons
Build quality could be better
Neck flexes under pressure
Geared fifth string
Low weight. Great for traveling (even with the resonator on)
Removable resonator
Quality materials

The Jameson Guitars 5-string Banjo is a first-class, stunningly attractive banjo for a ridiculously low price. It's well made with high-quality materials such as a mahogany neck and resonator, and a three-ply maple rim.
The removable resonator really adds to the banjo's versatility. This banjo handles anything you throw at it, from Bluegrass to jazz and even rock.
On top of all that it's by the far the sharpest looking of the bunch. From the rosewood fretboard with nickel plated armrest to the mahogany resonator, it really is a thing of beauty that should last many years.
The only thing missing is the addition of a tone ring, but to be honest, the sound from this banjo is already so lively and bright, I'm not convinced it's needed.
In the search for something negative to say, there have been limited reports of the geared fifth string tuner not being set correctly, so if in doubt, please have this checked by a professional prior to the first tune.
Pros
Fantastically bright and lively sound
Removable resonator back
Lightweight
Holds tune well due to geared fifth string
Well made with quality materials
Looks amazing
Cons
Geared fifth string tuner has been reportedly set incorrectly on some, models, please check before tuning
No tone ring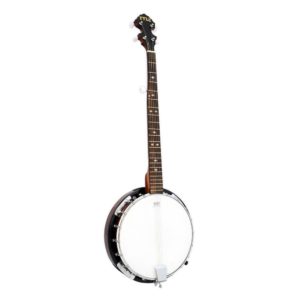 The Pyle-Pro PBJ60 is not a bad banjo but it's not great either!
The build materials are reasonable quality with a mahogany neck and back but the performance and sound are just a little underwhelming. The poor fifth string friction tuner makes it an effort to tune the banjo and even then it doesn't stay in tune for long.
The build quality, in general, is very poor and from reports I have read, it is very common to have to return the unit for replacement sometimes more than once!
Those problems aside, the PBJ60 isn't terrible it just isn't as good as the other banjos here, sure it could be improved without too much of an investment and certainly most first time players will be more than happy. The question is, why bother?
Pros
Mahogany neck and resonator back
Very low price
Cons
Low build quality
Neck bends with limited pressure
Fifth string tuner is not geared and often not fitted correctly
Best Beginner Banjo Basics
Types of Banjos
In the last few years, the banjo has been making a comeback, which has upped the interest and led to more and more people wanting to learn to play. There are many different types of banjo out there and the whole thing can be a bit daunting for someone new.
It's important to say that the first banjo you acquire will almost certainly not be the last. It's very likely that you will experiment with lots of different styles of play and a banjo that is versatile is therefore very important.
A quick search on Google will communicate that there are banjos with 4, 5, 6 or even 12 strings; closed backs, open backs, and removable backs.
Plenty of people gets hung up on the number of strings a banjo should have and are often pushed into a playing style to suit the banjo. Sure 4-strings can be easier to play but 5-string banjos are more versatile and like I said versatility is key for the aspiring banjonista.
But let's break things down and talk about some of the differences.
Main Banjo Features
There are many features and materials which combined make the perfect banjo. Understanding these features is an important part of choosing the perfect banjo for your budget.
Below are details of some of these features, which should assist you with your decision for the perfect banjo:
Neck
The neck of the banjo or fretboard is generally made of wood. It is important that the neck of the banjo is rigid, so that pressure on the neck doesn't cause movement which, in turn, can affect the tuning. For this reason, on higher-end banjos, the neck is usually made from one piece of wood.
The lower-end, cheaper banjos, on the other hand, have a neck generally made using laminated pieces of wood. This does not necessarily pose a problem but it is important to ensure that the neck of the banjo doesn't flex too much.
Resonator
The resonator is simply the back of the banjo. You will often hear banjos described as either open or closed back. If a banjo is open backed then it doesn't have a resonator or back plate behind the strings. If a banjo is closed backed then it has a resonator. Seems obvious enough!
The resonator, however, affects the tone and volume of the banjo and acts as a reflector, which forces the sound from the strings directly towards the audience – or in the beginner's case, towards your reflection in the mirror!
If a resonator hasn't been fitted then some of the sound will be lost and absorbed by the musician's clothes and body, rather than projected towards the audience.
It is often said that resonator banjos are more suited to Bluegrass style. This is certainly true. It is important to remember that any musical style can be played on any 5-string banjo.
You will also find that lots of "closed back" banjos have removable backs and can, therefore, give either option. Some prefer the open back simply because of the reduced weight.
Tone Ring
A tone ring is a metal ring that is fitted to some more modern banjos and changes the tonal quality of the produced sound. Banjos with tone rings fitted are generally preferred by musicians who want a brighter more modern, lively sound.
Rim
The rim of the banjo is the main assembly part of the body and is usually made of multi-ply wood. Together with the tone ring, the rim is a major part of the sound from the banjo.
So, What is the Best Banjo for Beginners?
I'm sure it won't surprise you to find that my winner is the Jameson Guitars 5-string Banjo. It surpasses its competitors.
The construction is solid and beautiful with real attention to detail.
The sound is bright and lively with a tremendous tonal quality. The removable resonator back is elegantly implemented and really adds to the banjo's versatility. It is a fantastic banjo for beginners but one you won't outgrow for some time.
I have already mentioned I'd prefer a tone ring but the banjo sounds just fine without one, so, if it ain't broke……
It should also be noted that the Oscar Schmidt OB5 is a great banjo if you get a good one! Unfortunately, the many negative reports from customers receiving faulty banjos just can't go unnoticed.
If you're really desperate to get one of these, I would either order online – ready to use the returns process or buy from a store where you can inspect the banjo prior to purchase.
Personally, my thought, for the price the Jameson Guitars 5-string Banjo can't be beaten and it's the best beginner banjo at the moment.