(Last Updated On: December 21, 2017)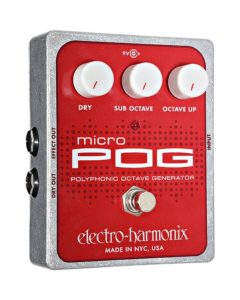 If you are looking to establish the bass as a more prominent instrument in your music, perhaps lay down a few solos, or completely take the lead à la Royal Blood, the octave pedal is an essential piece for your board.
Octave pedals work by playing a synthesized note an octave above or below the note you play, which can create a bigger, fatter sound and add a lot more versatility to your bass.
Top 4 Best Bass Octave Pedals: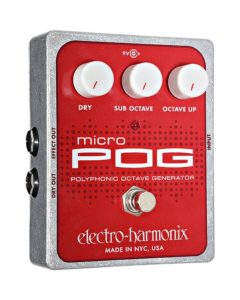 The Micro POG hits you first with its brilliant red design. This pedal is simply gorgeous. Plug it in and it hits you again. In this case, it's okay to judge a book by its cover. The Micro POG is beautiful in body and sound and easily one of the best quality bass octave pedals on the market.
The Micro POG features a simple, easy to use interface with three dials: dry, sub octave, and octave up. It only goes one octave up and down, but that's generally ideal for bass anyway.
Pros
The Micro POG takes all the best things from Electro-Harmonix's POG 2 and packages it in this slim frame that's perfect for most bassists. For those who really appreciate the smaller things in life, Electro-Harmonix makes an even smaller version, but unless your setup is really hurting for space, the Micro is the way to go.
With its racecar red façade, stainless steel trim, and clean design, there really is not a more stylish pedal out there.
There are two outport channels, one for dry sound and another for the effect in case you want to channel through different amps, which is a nice touch.
Includes polyphonic capabilities to give more control over the effect.
The very high-quality pedal that produces a clean organic sound—something other pedals can struggle with. It's great at giving that big orchestral roar and, really, that's the most important thing.
Cons
Without enough dry, the Micro POG can sound a bit too metallic for our tastes, but pair it with a distortion pedal to rock with an extra punch. We also enjoy the funkier effect of an envelope filter pedal added to the mix.
The Micro is not the most versatile pedal ever. If you're looking for more versatility within the POG family, you'll have to upgrade to the POG 2. That said, most bassists never need anything more than the Micro.
Finally, there's the price tag. It's definitely on the higher end, but if you're willing to drop a few extra bucks, the Micro POG is well worth the investment.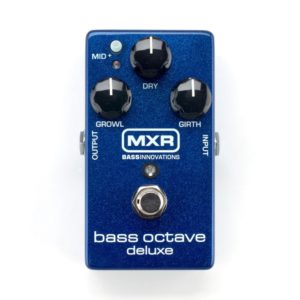 Whether you're rocking out or liberating France from Nazi occupation, you are going to want this pedal, because it's a tank. As with any MXR pedal, the M288 is built to last and it sounds great too.
While the M288 doesn't have any heavy artillery, it does fire a big, clean sound and features a simple interface with three main knobs that control the dry sound as well as low and midrange frequencies.
Pros
The MXR M288 excels at producing a nice fat tone and it's decently versatile and sounds good on almost every setting.
This is a well-constructed pedal with a durable design that's made to rock hard.
It has decent tracking, it may not be the best out there, but there's a lot of octave pedals that can't quite seem to get this right.
While the M288 is specifically designed as a bass octave pedal, we're told it works as well on guitar as it does on the bass.
It may not be the cheapest pedal on the market or the most extravagant, however, it is one of the best octave pedals in its price range.
Cons
As with many bass octave pedals, it can sometimes get a bit muddy on the low end. It definitely sounds great on the higher strings, though.
It's definitely fun to play around with, but it is sometimes hard to produce the exact sound you're looking for if you're not familiar with the pedal.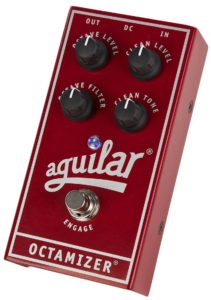 The Aguilar Octamizer is ideal for producing that classic analog sound. For those looking for a more natural sound from an octave pedal, the Octamizer is the clear winner.
In its recently improved casing, Aguilar has packed a beast of a pedal with four knobs to control the octave effect and the clean sound with complete precision.
Pros
The Aguilar Octamizer produces a beautiful natural sound that's consistent and never too over-powering.
The controls on this pedal are easy to use and very precise making it possible to find the exact sound you're looking for.
It excels even at the lower end with minimal muddiness.
Overall, the Octamizer is easily one of the best analog pedals out there.
The tracking is decent and comparable to MXR M288.
Cons
The Octamizer is a pretty basic pedal without a lot of extra fluff, but it doesn't need any extras — it does what it's supposed to do and it does it well.
The price is a bit on the higher end. While the Octamizer runs for about the same price as many other octave pedals, those pedals often have features you might find necessary. It's still a solid pedal, but it depends on what you are looking for.
There are some people who have allegedly received defective products or products that aren't quite up to par. We can't verify that, so keep an eye out.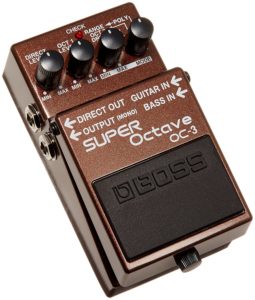 The Boss OC-3 is one of the more popular pedals of its kind and advanced players will really appreciate what it has to offer. It's a very versatile pedal with four knobs giving you control over a ton of extra features including a polyphonic mode, which allows you to add the effect to specific notes and a Drive Mode that adds distortion.
Pros
This pedal is a must have addition to the board of any advanced player. The versatility and extensive capabilities of this pedal make it a great tool for those looking to dive into the more experimental end.
It includes separate outports for guitar and bass and it works great on guitar as well. Guitarists are able to take it an extra notch to two octaves down.
Overall, the Boss OC-3 produces excellent, clean sound.
Finally, the price is very reasonable, it's usually one of the inexpensive pedals on this list and, for this level of quality and capability, it can't be beaten.
Cons
The Boss OC-3 doesn't go up an octave, but it goes as far as two octaves down. Not that you'll want to go that low, the lower end can get pretty muddy on even the first octave down.
Probably the most complicated pedal on this list and it might take a bit of playing around to produce the sound you're looking for if you aren't already familiar with the pedal.
We've heard of some people reporting deterioration of sound on the lower frequencies over long periods of time, we can't verify that and it doesn't seem to occur to every product, but it's something to consider if you're the type who has to smash everything on stage at the end of every show. The Boss OC-3 is certainly a pedal you'll want to take good care of.
How to Choose the Best Octave Pedals
We've chosen four of the best bass octave pedals on the market based on price, quality, and overall performance.
You really won't regret getting your hands on any of these pedals, but if you want to use your bass octave pedal in a certain way or you're looking for a specific sound, here's what to consider:
Versatility
For a bass octave pedal, you're generally only looking for one that can play an octave down and maybe an octave up. Too low and the sound starts to disappear, too high and you might as well get a guitar.
All of the pedals on this list can do the basics, but some of them boast extra features that you might find necessary. For instance, you might be looking for a pedal that can go that extra octave down or you might need a pedal that you can split between your guitar and your bass.
Sound Quality
We've chosen the pedals on this list very carefully making sure none of these pedals produce too much extra fuzz or an overall "bad" sound quality. Every pedal on this list is going to sound "good" to someone—it's all about personal preference.
While all four of these pedals produce a high-quality sound, some are going to produce a more natural analog sound; others might sound cleaner or more metallic or electric. We've done our best to highlight the overall sound produced by each of these pedals so you can choose the sound that's right for you.
Return on Investment
Obviously, if you spend a little more money you can get better sound quality or some better features. We think all of these pedals are some of the best in their price range, but if you really need a certain level of quality or some extra feature, it might be worth it to drop a little extra.
Reliability
You want a pedal that will last you. You may want a pedal that you can directly smash your bass into at the end of your show and still use it at your next show the following night.
These are all pretty solid pedals and, while we don't encourage abusing your instruments, they could (theoretically) take a pretty good beating without losing their sound.
Conclusion
In our personal opinion, the best bass octave pedal has to be the Electro-Harmonix Micro POG Bass Octave Pedal; it makes a beautiful sound that isn't really beaten by anything on this list.
However, the price tag makes it a bit difficult to justify. For return on investment then, the clear, yet entirely subjective, our winner would have to be the Boss OC-3 Dual Super Octave Pedal. It's still really great quality and its versatility and precise controls make it a useful addition to any board.