(Last Updated On: December 21, 2017)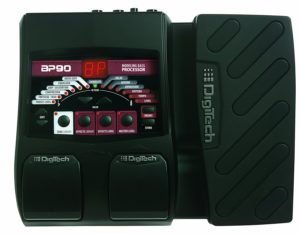 Picking the right bass multi-effect pedal can be tough, especially since there is no certain way to pick a pedal. It all depends on what you are looking for and how you want to use it.
Not all pedals have the same effects so you would need to try out a few to see what sounds you like. In this buyer's guide, we will review a few different bass multi-effects pedals that are hot on the market.
Now we will take a look at four different bass pedals. I will list all their pros and cons. Hopefully, this will help you decide which multi-effects pedal is best for you.
Top 4 Best Bass Multi-Effects Pedals:
Zoom B1on Bass Effects Pedal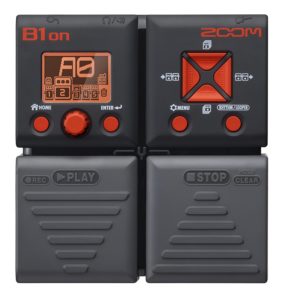 The first multi-effect pedal we will look at is the Zoom B1on Bass Effects Pedal.
Now let's go over a few pros and cons from the product description.
Item weighs about 13 ounces, so easy to carry around.
The foot pedals themselves are nice sized so easy to toe into press buttons while performing.
Here are some other pros and cons listed below.
Pros
Listed at about $50. So very affordable
Has 100 sound effects. So you have a good number to choose from
Has a built in tuner, looper and rhythm machine
Has 100 memory locations, so you can save beats and loops that you make to use in performances.
The device is small and compact; easy to carry around
Can run on batteries or AC Adaptor
Has 68 Rhythm patterns
Has USB connection
Cons
The device is made of plastic, so can easily break
The display screen is small so it may be difficult to read
Small and the buttons are close together. You have to tap your toe on it to change sets
Overall, there is a lot of good product reviews for this bass pedal. Most people like that it's affordable, there are a lot of options for sound effects.
It's good for if you are just starting to experiment with using effects or if you gig but not a bunch. However, if you gig and travel a lot, the fragile plastic frame of the pedal may not last.
Zoom B3 Bass Guitar Effects and Amp Simulator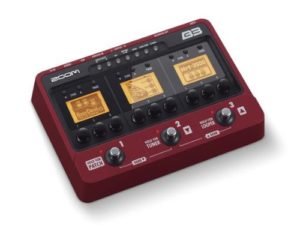 The next pedal we will look at is the Zoom B3 Bass Guitar Effects and Amp Simulator.
This product is listed at about $200. It has 3 LCD screens that are large enough to read well. It has a looper function with 40 seconds of phrase recording.
The pedal also has a drum machine and chromatic tuner. Over 100 built in effects and you can store up to 100 sounds that you create.
It can operate on batteries and/or AC adapter. Also, includes Steinberg Sequel LE recording software.
Here are a few other pros and cons that have been found from some specs and reviews.
Pros
Compact. Weighs 3.5 pounds
Stomp pedal board so easy to change to what effects you need
3 large LCD screens and everything goes under 1 of 3 sub locations.
You can use up to 3 effects in any combination
Includes patches personally made by some of the world's top bassists: Victor Wooten, David Ellefson, Frank Bello, and Doug Wimbish.
Has over 40 different rhythm patterns and the tap key lets you set the tempo.
Balanced XLR output for use with Direct Input (DI) Boxes.
Fast patch change speed of 1milli second.
Free edit and share software for Mac/PC
Cons
No gain level to adjust the amount of compression
When you turn off the device, all the loops and tracks you stored are deleted.
Doesn't have Aux In port
Most of the product reviews on this item were very good.
DigiTech BP90 Bass Guitar Multi-Effects Processor (Editor's Choice)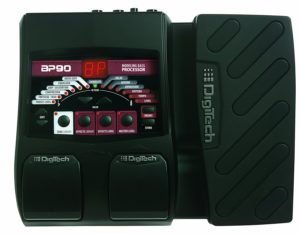 The next pedal we will take a closer look at is the DigiTech BP90 Bass Guitar Multi-Effects Processor. This product is listed at about $100. It's still a smaller pedal but it is a little bigger than the Zoom pedal.
BP90 Features
32 Bass effects, so not as many effects as the Zoom pedal
100 Presets (50 Factory/50 User) More user presets so you can make and save your own.
Built-in drum machine with 40 different patterns
Built-in expression pedal (The Zoom pedal didn't have this)
Independent R/L outputs
Built-in tuner
Aux input
Dedicated headphone out
Power Supply Included
This pedal has a bigger display screen and would be easier to get around on. A lot of reviews found that users liked the sounds offered in the effects.
Some of the customers found it a little harder to understand. It depends on if you like having the option of more buttons to press or if you like sticking to 2 or 3.
There are also a couple reviews that you may have some problems with the pedal sticking and making extra noise after some time of use, so don't step too hard on the pedal.
Overall, I think this pedal is better for if you do a little more performing. It's not made of plastic so it is rather durable. The expression pedal allows you to control your effects in real time, and you can tune and record as you go if you need to.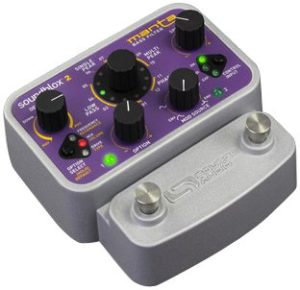 The last pedal we will compare is the Source Audio Soundblox 2 SA223 MANTA. This product is listed at about $170. The product is small and lightweight at almost 2 pounds. Has 12 filter effects and 8 variations of distortion. Has 2 user presets and can be battery powered or with AC adapter. Here are a few other pros and cons about this product.
Pros
Item is very small and lightweight
Easy to travel with
Has a phaser
Multifunction In/Out
Clear 24-bit converter
Editable parameters for each setting
Customizable sounds
Cons
Distortion doesn't have its own dial to adjust sound
No LCD screen
No MIDI, XLR,or USB/auxiliary connections
Buyer's Guide to Purchasing a Bass Multi-Effects Pedal
The Most Important Features of the Best Bass Multi-Effects Pedals
There are a few features that your bass multi-effects pedal must have. These items include:
Chromatic tuner. All guitar pedals usually come with a built-in tuner. If you see one that doesn't have a tuner DO NOT BUY IT!!
At least 20 sound effects. It's ok if the pedal has more than 20 sound effects, but as long as it has the types of effects you like there doesn't need to be an excess of options.
At least 20 rhythm/beat patterns. I included this because most players need to be able to play in real time and have their backing tracks/beats readily available. This keeps you from needing to buy another device. You want to get as much as you can from one product.
Additional Things to Consider Buying a Good Bass Multi-Effects Pedal
Some of the things you also may want to consider when buying a pedal are some of the cosmetic details such as:
Durability. A durable pedal, especially if you plan to gig and travel with your pedal vs. one made of plastic or flimsy materials. If you travel a lot you don't want a plastic pedal it would break easily on the road, but if you just want to play around and practice with it at home that would be fine.
LCD Screen vs lights (read what your menu board says or lights illuminate). This might not seem like a big deal but if you perform and can't read your LCD screen to change to your desired preset, it could make things difficult. Also, if your LCD screen breaks or becomes inoperable, you would have to get a new pedal. A lot of pedals now have a little light that shows what effect/preset has been selected.
A power source (if uses batteries, AC adapter, or both). If you travel an output for a plug may not always be there. Good to have a pedal that has backup options.
Types of Input/Output connections (Aux, XLR, USB, MIDI, etc). The types of connections you want to purchase depend on how you need to use it, but the more types of connections the better.
Stomp pedal board vs. buttons. Pedalboard makes it a little easier to change presets and effects while performing.
If pedal also has a wah pedal. An actual wah pedal will allow you to control the effect as you play and sounds more natural vs it being automatically added to your sound.
Some Questions to Ask Yourself Shopping for a Multi-Effects Pedal
Does the pedal allow you to record/create your own tracks?
A few questions to ask yourself when looking for an amp are "Will this be for practice or performing?", "Do you want/need to be able to record?", "What types of plug-in connections do you require?", and after you have tried out some different effects, "What types of effects do you want to be on your pedal?".
So, What's the Best Bass Multi-Effects Pedal?
Overall, all four of these bass pedals are good to use. If you are just starting to experiment with effects and won't be doing a lot of gigging I would recommend the Zoom B1on Bass Pedal.
You would only pay about $50 and have a lot of effects to practice with and find what sounds you like.
If you travel a lot and still want to get a good price and quality sound I would recommend the DigiTech or Source Audio pedals. They both have great reviews from customers on sound quality, durability, and are user -friendly.
Out of the two, I personally would go for the Digitech because it has Aux input, XLR output (a lot of performers have XLR cables readily available) and the expression (Wah) pedal.
There's more that you can do in real time with this pedal especially if you perform live a lot. Plus, it costs only about $100 so you pay less but have more options!