(Last Updated On: January 23, 2018)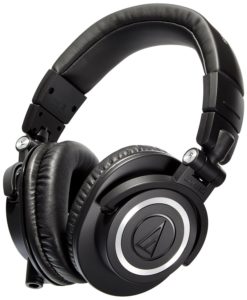 I have done an extensive research for you and collected a comprehensive list of the best bass headphones available in 2018.
This buyer's guide includes useful advice on how to choose headphones with good bass, and all the best bass models reviewed.

Please note that I did not include in-ear headphones in this article; all earbuds with the best bass have already been reviewed on our website. Excellent bass earbuds might also be found in our article about the best earbuds under $100.
Without further ado, let is jump straight to the point.
Top 3 Best Bass Headphones: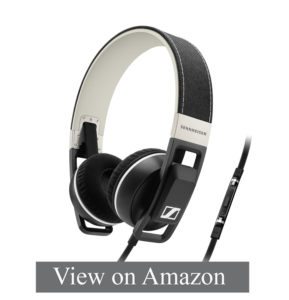 Welcome to my review on the Sennheiser Urbanite on-ear headphones. They are now my favorite on-ear headphones for delivering a more impactful bass experience.
What is in the box?
Included with the headphones are a soft carrying pouch and a detachable cable with in-line remote.
The pouch is pretty normal. It is a thin fabric bag but it does feel soft and works fine as a basic carrying pouch.
The detachable cable with the in­line remote includes an integrated microphone for Apple or Samsung Galaxy Phones.
The remote and microphone work well and call quality are good, though, people can tell you are using headphones. Still, it is easy to have a clear and understandable conversation.
The cable itself is 48 inches long, flat and tangle-free. The headphones end of the cable terminates into a 2.5mm plug which plugs into a recessed jack on the left earpiece.
Design and Features
These headphones are a more stylish-looking compared to what you would normally expect to see from Sennheiser, and they look even better in person than in a photo.
You have aluminum slider arms, stainless steel hinges, a fabric headband cover, and plush velour ear pads which all highlight the great mix of materials used with the Urbanite. Most parts of the headphones also have a satin finish that resists fingerprints nicely.
For iOS device users, the Urbanite is available in five different colors, for Android and other smartphone users you can only select between the black and denim colors.
They are on-ear headphones, which means they rest on your ears, as opposed to having the earpads completely surrounding them. However, for being on-ear headphones, they are very comfortable.
The earpads are made of a medium density memory foam and are covered in velour.
There is a 360-degree pivot motion on the ear cups which makes it easy to find a perfect position on your ears. The slide adjustment is made of aluminum and one of the best I have used. The ear cups look extremely durable.
The headband is nice and wide which helps prevent any hot spots from forming after wearing these headphones for a while. A silicone rubber­-like material is used for the headband padding which is quite comfortable.
These headphones also fold inward to become smaller for storage and transport.
Although the weight of these headphones is more compared to other headphones in this price range, the trade off is you have something that is built like a tank.
Without a doubt, these headphones are among the best-constructed headphones I have experienced at anywhere near this price range.
Regarding noise isolation, these headphones work well. They do a very good job of passively blocking any noise around you, though they do not block out sound to the same degree as good active noise canceling headphones.
They are also really great at not leaking sound. There is a very little sound leakage with these headphones so you can listen to music loudly on a bus, airplane, or at a library and not bother people around you.
Comfort
Regarding the comfort,­ when I first got these headphones and put them on, I found the ear pads felt very comfortable. They have this velour padding and it feels really nice against the ears.
You do not feel like they are going to fall off your head, yet they are not so tight that after a short while you feel like you have to take them off and give your ears a break.
I can wear these headphones for a long time, even­ for several hours without any discomfort. If you are someone who is not sensitive to on-ear headphones I think you can easily wear these headphones all day long.
They also sit very comfortably around the neck. They do not pinch at all; just very comfortable to wear this way.
If you are someone who wears glasses definitely you can wear these headphones fairly comfortable with glasses.
Sound Quality (Bass)
Although these headphones are not some traditional Sennheiser sounding headphones, they do sound really good for their intended purpose.
Overall, they are moderately warm sounding headphones with an exceptional bass response and a well-balanced midrange.
Bass is definitely present with these headphones and it sounds absolutely fantastic. It is strong and slightly exaggerated but still very accurate without going overboard.
There is not a crazy amount of bass by any means. The bass is well proportioned even relative to the midrange.
It is very tight and really impactful with low distortion. The bass does not take over the mids or highs and it is not boomy or loose at all.
The whole experience that you get from the low end is truly excellent and actually one of the best I have heard for on-ear headphones. Sennheiser did an outstanding job in this department.
The bass to mids transition is also very good. The midrange is liquid smooth, clear, well-­balanced, and dynamic. Vocals are very accurate and pleasing but push back just a touch. Guitar picking is precise and tight; this is definitely my second favorite part of the sound signature; the mids are very enjoyable to listen to.
The treble is where these headphones are a bit rolled off. They do come alive in the upper treble region to bring some sparkle back, which helps to keep these headphones from sounding dull.
So you do get a little bit of that crispness in there and ultimately you get a fairly articulate and clean impression of the highs even though, they are softened a bit.
The strength of this type of sound signature is that they sound great with compressed music or downloaded music files. This type of music can often sound harsh or annoying with a brighter or more revealing headphones.
The way Sennheiser has handled the treble helps to mitigate or reduce these headphones effects and as a result, playing those types of music files on these headphones sounds very good.
Of course, you can still use these headphones for high­-quality recordings as well. The details from the upper frequencies just will not be quite as crisp.
Overall, I found these headphones do very well with any genre of music but they sound best with anything you are listening to that can take advantage of the exceptional low end.
So, obviously, genres like rap, hip­hop, dance, pop, and so forth sound absolutely incredible.
Comparison to similar bass headphones
Compared to other headphones, such as the Beats Solo 2, which are also bass leading headphones, you will find Urbanite has a slightly veiled treble compared to the Solo 2 which does make Beats sound a little more lively up top.
The Urbanite excels at having an exceptionally good bass response, a better bass to mids transition and a better-balanced midrange relative to that bass.
Whereas, the extra bass emphasis with the Solo 2 is a little more accentuated and it bleeds into the mids and highs, producing a slightly thicker sound.
If you compare these headphones to the V-Moda XS you will find V Moda's have a better tonal balance and do not have as much bass emphasis.
But, the bass is looser sounding and it is not as impactful and there is more distortion compared to the Urbanite. Also, the treble with Urbanite is slightly more articulate.
As impressed as I am with these headphones there are some reasons you might want to choose something else.
For example, if you are after slimmer or lighter wearing headphones these ones may not be for you. While not super heavy, they do have some heft to them, which you can feel.
So if size and weight are priorities, then you would want to consider something else.
From a sound signature perspective, these headphones do not have a typical well-balanced Sennheiser sound. They are more bass-leaning.
The bass is not overwhelming but if you are after a more neutral sound, of if you prefer a more treble presentation that is crisper, and on the brighter side, then you will probably want to get something else.
The bottom line on whether you will like the sound of the Urbanite or not is that it will depend on what you listen to primarily and what you want to have emphasized.
Personally, when I am after a more emphasized bass experience these headphones is now my favorite among all other on-ear headphones.
Although there are others that may provide a slightly larger quantity of bass they do not provide the same quality of bass that you get with the Urbanite. So, although technically you may be hearing more bass it does not sound as satisfying overall.
While other headphones that emphasize bass can muddy up the mids and highs, leading to a thicker or heavier overall sound, the Urbanite gives you the best of both worlds.
You get a rich and extremely satisfying bass experience and a midrange with great clarity that is liquid­smooth to the ears.
Pros
Very durable because of stainless steel hinges and aluminum sliders.
Very compact and foldable for people on the go (nice soft pouch included).
Pretty comfortable.
Exceptionally good, powerful bass response and very smooth midrange.
Cons
A little bit heavy, not so much but I could hardly name them "lightweight".
Not neutral or well-balanced in terms of sound, the treble is slightly weaker than other parts of sound signature.
Conclusion
If you prefer on-ear headphones that provide excellent noise isolation, are extremely durable, comfortable, give you beautifully clear vocals and midrange while emphasizing bass in the most satisfyingly awesome way possible, then I would highly recommend these headphones because you will absolutely love them.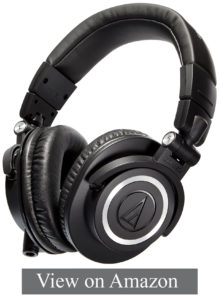 These headphones are the predecessor to the M50 headphones which are legendary, I would say one of the most popular headphones especially in the under two hundred dollar category for whether the home use or professional studio monitor headphones. They are absolutely incredible.
I have owned M50s for a long time and they have been my staple headphones that I have used.
I was particularly excited to see what are the differences with the M50X. And are those differences worth upgrading? I do want to talk to you about that today and cover things like the comfort and sound quality of these headphones as well as any additional features.
Design, Features, and Comfort
Honestly, at first glance, these headphones look just like the M50S do. You are really not going to notice much of a difference at all other than where a detachable cable goes at the bottom.
However, when you are putting these headphones on, that is when you really started to notice the difference comfort wise. The ear padding that they used is actually quite a bit more comfortable. It is very similar in terms that thickness, but what I noticed is even to the touch the padding on the M50X has a softer feel to it versus the M50s. It has more of firmness to the padding. I immediately noticed that when putting these headphones on my head.
these headphones have much more of a softer comfort the way they like an envelope around ears. Whereas with the M50s I consider that to be more of a firmer type of comfort. As a result, sometimes it is difficult to wear those for longer periods of time before I would just need to take them off and give my head a rest. But these headphones are so comfortable!
You can literally wear these headphones for easily for 4-6 hours a day.
You will notice with his headband you have a lot of great flexibility. Of course with the ear cups themselves, you actually have 180 degrees movement and that allows you to get the perfect fit.
Also, another benefit to it is when you have it around your neck. They sit quite comfortably here. I would say you do not really need to adjust that much around the neck. I mean they are just comfortable bringing straight from the head to around the neck but you have the benefit to just lay them flat if you like. Of course, you can swing them up if you want to have little speakers play music here that way.
Another nice thing is on here can adjust it so that you have one ear on and one ear off. This is kind of more for DJ use or monitoring so that way you can still hear what is going on outside but you can also hear what you are listening to.
A lot of versatility with these headphones which makes these headphones great and of course as far as the portability, very nice as well. They also come with a nice pouch which you can put these headphones in and take with you. Very portable and great to take with you.
Now an important consideration whenever you are talking about closed back headphones that especially the particular ones that get a great sound isolation the way these headphones do is what is the heat build-up like. With these headphones, it is actually pretty good. You definitely notice warmth around your ears but it is not to the point where they ever get sweaty.
Even after listening to these headphones for eight hours I never had sweaty ears at all. Definitely, feel some warmth but not uncomfortable and not sweaty.
Sound Quality
Next, I want to talk about the big one. Sound quality. Now just as with the M50s, these headphones sound amazing. You get that very balanced sound and you get there rich deep lows that are tight and punchy with the bass. You also get the very detailed mids and also wonderful highs.
What is interesting though is I did detect a little bit of an adjustment in the sound quality. As I noticed a couple others have mentioned as well. One is with the bass, there is just a slight increase. Maybe about 2 or 3 decibels increased in the bass. So you get a little bit more of the low end there.
Also into treble, it is reduced just a bit. What is nice about that is it is not quite as bright or harsh compared to the original M50s which can be a little bit. Especially if you start to listen to them at louder volume levels. I would say both of those are great improvements. The bass does not at all dominate the mids and highs. It just sounds awesome. It is especially because it is so tight and punchy. there is a great bass extension here.
So even if you are listening to music and you are hearing the strum of a bass guitar you really hear that note been carried out to its fullest extension. You just hear that great kind of underline reverberations of those bass notes. Listening to rap, hip-hop, dubstep, house, you know any of that type of music where there is a great beat sounds awesome.
It is a very nice, tightly refined bass. Also, I would say these headphones handle all that other delicate kind of music really well. If you are listening to more classical instrumental type music, you are listening to the violin being played again it is just so wonderful. It has such a natural sound to it. What is great about these headphones is because they have so much detail just like the M50s did that you hear all the nuances in your music.
And one of the things that set these headphones apart from so many others is they handle all genres of music phenomenally. Every pitch and tone just sound amazing. Also, there is no distortion if you are maxing out the volume. I like to listen to it at really high volume levels. you are not going to get that distortion.
You have a little bit more of a low in the bass area like maybe a two or three-decibel increase there. Which for me personally makes these headphones even better sounding than the original version of the M50s. So I absolutely love these headphones.
If you have never had a nice sounding pair of headphones, these headphones would be the one to get.
Also, what is great about these headphones is how they will handle music that has a lot going on. You might be listening to something with some bongo drums kind of going on in the distance and these headphones do a nice enough job of giving you some that spaciousness, that imagery. So you are hearing the bongo drums and then you are hearing like a low bass guitar and then you are hearing vocals coming in and you do not have the bass bleeding into the vocals or one drowning out the other. You get all of the detail and if you have not heard that before it is just amazing. You never want to take these headphones off. they are that good. From a sound quality standpoint, these headphones really are the best the best. Absolutely awesome.
Should I upgrade from M50Xs?
I want to answer the question is it worth upgrading if you already own M50s, should you sell them or should you go ahead and purchase the M50X.
Here is what it comes down to. One is the comfort. If you found the original M50s to be a little bit uncomfortable after awhile and you wanted to keep wearing them but just from a discomfort standpoint. You felt like you needed to give your head a rest. That would absolutely be a reason to upgrade to these headphones. I know that was the case for myself.
It is noticeable how much more comfortable these headphones are. Even to the touch. You can feel it when you are pressing down on the ear pads with your fingers. But when you put them your head, absolutely you will notice it right away. They do not even take like stretching out a breaking-in. Just from day one, they are immediately more comfortable.
The other reason would be for the detachable cables. The fact that you get three cables, you get a short cable, a long straight cable, and then you have the coiled cable.
You really have all your bases covered and that is a huge feature. For yourself, you know whether that is something you probably need or not. For me, the comfort was the bigger issue over the cables. But I love having extra cables, it is kind of icing on the cake so to speak. It is just a great bonus.
Finally, sound quality could be the other reason. Although with the M50s I have nothing to really to gripe about. I thought they sounded amazing. Now that I have these headphones and you get just that little bit more of the low also just reducing the treble just a little bit. I found those to both be welcome improvements.
For me personally, that makes these headphones a worthwhile investment. It is worth the extra money and it is worth the upgrade in my mind. Hopefully, that helps you if you are kind of on the fence about whether or not it is worth the upgrade or not.
Pros
Perfect multipurpose headphones.
Outstanding sound quality, maybe the best in this price range.
Noise isolation works pretty well.
Very comfortable for wearing all day long.
Cons
If you are a real audiophile you should go for some $400-500 headphones which sound even better. The sound quality of these headphones is more than enough for the majority of normal people who just love listening to good music.
Conclusion
I will go ahead and wrap things up with some final thoughts about these headphones and some recommendations. They are the perfect all-purpose pair of headphones. they are tough enough and durable enough that I can really take them anywhere and not worry about them breaking or falling apart.
Also, they are very comfortable so I can wear them all day long. Whether I am just having fun watching movies on Netflix and doing a marathon of it all day or if I am doing work. I am doing video editing or writing reviews and I just want to be listening to music or I need to listen to the editing I am going to be working all day I can do that with these headphones and not feel like I need to give my head a rest.
Then of course from a sound quality standpoint. These headphones are one of the best sounding headphones. I think personally the best sounding headphones in this price point. You would have to spend quite a bit more to start to get headphones where you are noticing it enough to justify the cost. But even then we are talking about spending quite a bit more money. Maybe even a couple hundred dollars or more before you really start to notice enough of a difference to justify upgrading to something else.
I also love that I can listen to any genre music with these headphones. These headphones sound great no matter what I am listening to.
Also, of course, the versatility with these headphones. They were great for gaming, they were awesome for movies, and they are phenomenal for music. So whatever I want to use these headphones for and even for travel. I love the portability. they are collapsible. You get a great bag and you can toss them in a suitcase and they are going to be fine. And I can use on an airplane. So although they are not noise canceling headphones, they do such a wonderful job of passively blocking out a noise and giving you that nice sound isolation. They were great even on airplanes or on a noisy bus or something like that.
I can't think of more perfect, all-purpose headphones that are still reasonable price. It is not up there you know for $400-$500 hundred dollars or $1,000 dollars. At this price point under 200 dollars to me are a very fair price and an incredible value considering.
I have tested many headphones and listen many that are $300 dollars or more that I still prefer the sound of these headphones over. And now with the upgraded ear pads, I prefer the comfort of these headphones well.
The headphones are a no brainer for anyone who considers sound quality and comfort two of their top priorities. If you are looking for a pair of headphones under $200 I definitely recommend these ones.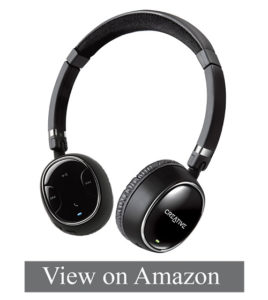 Welcome to my review of the Creative WP-380 headphones.
These bass headphones are probably the best ones under 100 dollars.
The fact that they are also Bluetooth ones just makes them even better for me.
I do want, of course, talk about the basic sound quality, comfort, and features.
First Impressions and Comfort
If you stretch them out, they become more comfortable over time. Initially, I would say these headphones are comfortable for maybe two or three hours, but as you stretch them out they can easily become headphones you can work all day long.
The nice thing about these headphones is you can definitely enjoy your music and not necessarily affect those around you unless you like to listen to your music at really high volumes.
Features and Accessories
these headphones do come with a flat high-purity tangle-free audio cable.
I also like that they have the L-shape adapter which offers more protection for the cable.
You also get a soft pouch bag which you can use for travel. When these headphones are folded flat they just fit right into the bag.
The headphones are charged with a micro USB cable and I was impressed how quickly they charged up. It only took two hours for the initial charge and then you get up to 12 hours of talk time or listening to your music.
They also come with a manual and Quick Start guide.
There is an abundance of features that come with headphones.
First, they support NFC technology.
Also, these headphones have something called "share me". It allows you to share your music wirelessly with more than one headphones: you can have two headphones and one source.
They also have the so-called multi-point technology and it allows you to pair two separate devices to the headset at the same time.
Another great feature is the ability to have phone conversations using these headphones. Dialogue is also very clear and people can definitely hear what you are saying just fine.
Bluetooth pairing also is a breeze with headphones. Works really well and what is nice is it automatically connects after you initially pair it to a Bluetooth device. You do not have to keep going to the process of repairing it and reconnecting. It just finds it automatically and establishes that Bluetooth connection for you.
You can swivel your cups back and forth. Of course, you can lay them flat for portable use.
In terms of the actual styling and build quality of these headphones, I like it.
It is a plastic build although they certainly are durable.
The headband itself is also comfortable. It has kind of a foam padding and as far as the ear cups themselves, the padding is certainly comfortable.
The ear cups are definitely a little bit larger than in WP-350s, and the headband itself is very similar.
Sound Quality
This is definitely the best part of these headphones bass headphones.
They are phenomenal sounding. The lows, the mids, and the highs are all well balanced. They do a phenomenal job of creating a very engaging listening experience.
these headphones are the type of headphones that when you put them on and you start listening to them you just do not want to take them off. You just want to go through all of your favorite songs and listen to them again.
It is just awesome how good vocals sound with these headphones.
The bass, in my opinion, is one of the highlights of the sound experience with them. A lot of headphones if they bring bass get it too boomy, not tight or controlled. But it is not the case with these headphones.
It is a very tight controlled, refined bass. It punches, it hits hard when you expect it to but it is not dominating the show when it is not the right time for the bass to be there.
They, in my opinion, do one of the best jobs of bringing out the bass but also not sacrificing the mids and the highs some other headphones. For example, violins still sound very natural and very detailed.
What is interesting about these headphones is I would almost consider the little brother to ATHM50Xs in terms of how they sound.
these headphones are one of the best bass headphones you can choose in the hundred-dollar and under category, wired or Bluetooth. They are outstanding.
A nice feature about WP-380s is that you can use them as wired headphones as well and they sound best as wired headphones.
However, because of the aptX codec, they actually sound close to that sound quality when you are using them as wired headphones.
It is pretty cool to get the convenience of Bluetooth and almost the same level of quality as you would listen to them as wired headphones.
Pros
AptX codec for the best sound quality is supported.
NFC for an easy pairing is supported too.
Both wired and wireless (Bluetooth) uses are possible
You can answer phone calls with headphones on.
Sound quality is phenomenal, especially in terms of the bass.
The comfort also is great and it gets better over time especially as you stretch them out.
Cons
Not perfect for sport
From the comfort point of view, there are still some other headphones which are better than these ones in the same price range.
Conclusion
If you have other bass headphones under $100, and you are considering different options and have the money to spend, go ahead and upgrade to the 380s. I would absolutely do this.