(Last Updated On: December 21, 2017)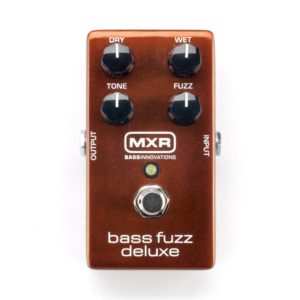 Finding the best bass fuzz pedal is a bit different than choosing a unit to produce the distortion and fuzz for the guitar. After all, you're not seeking to reproduce six-string guitar sounds that will attract the attention of classic-rock fans.
Using a fuzz pedal designed for the lead guitarist will not be satisfactory for the serious bass player who wants the right level of distortion added to traditional punch and fullness.
Top 5 Best Bass Fuzz Pedals: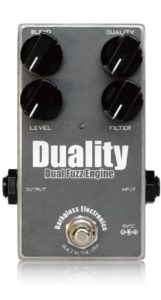 Beyond the great name for this fuzz pedal, you are also buying excellent control features. Set the level with the traditional volume control, then blend the clean and fuzz. The loudness of the processed sound is set by the Level knob, while the clean signal remains at unity gain.
This unit also has a filter control (low pass) letting you cut the high content or bring it up as needed. You get the perfect presence and edge with this control feature. The Darkglass Duality Fuzz Bass Pedal also has Duality control for selecting and mixing the fuzz circuits.
Moving this know counter-clockwise (to the left) gives you a traditional saw-tooth shape. When it's turned fully to the right (clockwise) the result is modern and high-gain.
Pros
Filter and Duality controls
Old School and New School sounds
Dirty fuzz without break up
Cons
If there is a con to the Darkglass fuzz pedal it's the extra money you have to pay for the power supply. No battery operation.
Available since 2013, the Duality Fuzz Bass pedal will deliver player control to color and fill out your tone. Versatility might be the best word to describe a high-quality product for "choosy" bass players.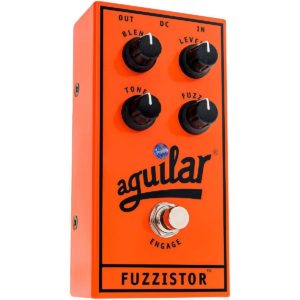 When you put the Aguilar Fuzzistor Bass Fuzz Pedal between your bass and your amp, expect solid fuzz without loss of tone. As with other top pedals, this one gives you great control over the type of sound you want to produce. In addition to the stout on/off switch, this pedal has four controls – Blend, Tone, Level and Fuzz.
The Blend knob lets you find the right mix of clean and fuzz, with separate fuzz delivery from that knob. The range should satisfy any player since it goes from subtle to "crushing." Set your tone with what the company likes to call Tilt EQ. The pedal comes with three-year warranty and nine-volt battery operation. Power supply is optional.
Pros
No bottom end loss
Sensitive control to match sounds
Aguilar reliability
Cons
None other than optional power supply cost
The Fuzzistor from Aguilar holds the low end as well as any pedal designed for bass players. The range travels from warm and mild to all the snarl you could desire. The Blend control is a great feature that delivers reliable results. For a unit that's versatile and conveniently usable, this is a good choice.
MXR M84 Bass Fuzz Deluxe Pedal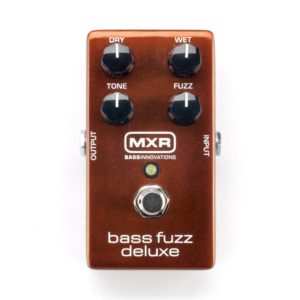 MXR has been producing dependable electronic products for quite some time. The M84 Bass Fuzz Deluxe Pedal is another solid unit in the Bass Innovations series. Designers have modified a vintage fuzz box to make it work for the 21st-century bassist. Plug it in and hear the bold, cutting sound without loss of low end and punch. Clarity, as you would expect, is excellent.
Controls include Tone and Fuzz, as well as Wet and Dry. These last two give the effect of hearing two different amplifiers, allowing you to blend to your taste. As with most top-end products, you get subtle sound on one end of the control range but you can push it to full fuzz on the other end. The circuitry designed into this pedal puts Fuzz and Tone control only on the Wet signal.
Pros
Good bottom end hold
Ease of dialing in different sounds
Mixing Wet and Dry output
Cons
The M84 has been around since 2011 and continues to deliver outstanding bass fuzz performance. Using the foundation of a vintage fuzz box, then modifying it for modern bass was a fantastic idea that works.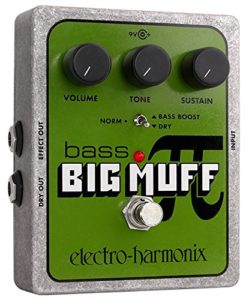 One of the real "veterans" of electronic products, Electro-Harmonix has been around for half a century. Founder and CEO Mike Matthews has been deeply involved in music promotion and production since the company began in 1968.
The Bass Big Muff Distortion Pedal is a combination of two Muff classics from past years. The company defines this pedal as having "grit" and "grind" that owes its sound to the Big Muff Pi from Sovtek and the Big Muff Pi made in New York. But his one is specifically for bass players. It offers the standard on/off switch, along with Volume, Tone and Sustain dial controls.
A three-way switch gives Norm, Bass Boost and Dry options. Power comes from one, 9-volt battery, with AC adapter sold separately. Low-end production is more than adequate and the Big Muff has a direct out so you can send to a separate amplifier or an effects rig.
Pros
Outstanding tone control for the money
Bottom end is magnificent
Dry option
Cons
Unreliable performance with select units
If you want a bass fuzz pedal that will rumble, and last due to its solid construction, the Big Muff might be for you. Good performance for the price.
Hartke HF44 Bass Fuzz Effects Pedal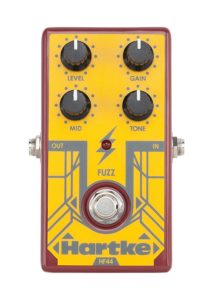 When you choose the Hartke HF44 Bass Fuzz Effects Pedal you get a rugged unit that's compact and easy to control. Knob controls include Level, Gain, Tone and Mid, the last two delivering nice harmonic character and the edge you want at higher frequencies.
The punch you want comes from all-analogue circuitry, which you may be used to hearing from classic "stomp box" units. You'll like the body of sound, along with the tone that approaches output from a tube amplifier. This company has been producing performance systems for almost 40 years, including amplifiers, cabinets and combos.
Pros
Quiet operation, clarity
Performance for price
Hartke experience with electronics
Cons
Range not as dramatic as desired
Buyer's Guide: How to Choose the Best Bass Fuzz Pedal
Bass Ain't Guitar
When you start your search for a fuzz pedal for bass, begin with the end in mind. This means knowing how you will be using the unit within your band's overall sound, as well as how it will enhance your traditional bass-playing skills.
There are a few veterans of the low-end who have never used distortion or fuzz simply because they didn't like the sound produced by units meant for the guitar. Their view of this additional sound might be different if they had access to some of the newest products, which allow the bassist to maintain edge and power. A bassist does not have to "disappear" within the band sound in the attempt to get some fuzz.
One idea is essential to getting good bass-fuzz sound: You can't approach your shopping/search with the idea that both guitar fuzz and bass fuzz just distort sound, so they must be the same. As one wise fellow said, "It just ain't so." Oh, you can put your bass signal through a guitar fuzz but there will usually be obvious tone differences when you compare them to an effects pedal designed for the bass range.
Tightening the Sound?
Ask yourself this question when you start searching for the best bass fuzz pedals. When a guitarist uses distortion or fuzz the goal is usually a tight sound or at least tightening of an already good sound. The units designed for lead guitar tend to filter out low frequencies, which is what a bass player wants to preserve, right?
Traditional guitar fuzz pedals usually leave the bass sound thin. Higher notes, especially with the "G" on a four-string or the higher strings on a six-string bass, will buzz but that's not what most players are searching for. You can buy a fuzz pedal meant to be used with a tuned-down or "detuned" guitar. It seems they work rather well for many bassists. Try a combination pedal that gives you control of distortion and of a cleaner sound.
What Should You Look For?
To bring this brief look to a summarized state, before getting into individual units, you should consider some of the features you'll be looking for. With that information, you can decide if those features will deliver the benefit that is the object of your search.
What is the most important item when buying any music equipment? The answer can be summed up in one word: control. As you shop for the right bass-fuzz unit, look for evidence the designers and manufacturers were focused on control. Search for words such as "level," "blend" and "filter." If you see phrases like "complete control" and "deep tone" you're on the right track.
In addition to control, you should also be on the lookout for ease of use and solid construction. When you get ready to play a specific song, you'll try a few settings and leave them in that position as you start. However, if you want to make changes or turn the unit off and on, you should be able to do so without wasting a lot of time. Controls should be easy to use. It's that simple.
Solid construction shouldn't be a problem if you spend the money to purchase a quality unit. Follow the recommendations of fellow bass players. They'll guide you to the right choice almost every time.
Product Reviews
Getting a good overview of the best bass fuzz pedals is helpful, of course, but if you're going to spend some hard-earned money on a good unit, you'll need to get much closer to each product. As with any electronic equipment used for producing music, you'll need to balance cost with results as you shop for a fuzz pedal. Prices can vary widely, so use both budget and the sound produced by the unit as your guides.
So, What's the Best Bass Fuzz Pedal?
When you're looking for a bass fuzz pedal to give you a tone range and some dirt, without losing the solid foundation every bass player desires, you have several outstanding options. Prices vary widely, yet each of the reviewed products will perform. In fact, it's difficult to find problems or "cons" with any of the units reviewed.
You may want to start with a brand you're familiar with, if you've had a positive experience with them in the past. But then, there's something to be said for trying a different company, especially within this group. You probably won't be disappointed. Bass players with plenty of experience will probably find any of these (or all of these) will deliver the necessary sound control.
As mentioned in the beginning, choosing from among the Darkglass, Aguilar, MXR, Electro-Harmonix and Hartke bass fuzz pedals really comes down to balancing performance with price. Ask yourself what sound you're looking for and what price you're willing to pay for that result.