(Last Updated On: December 21, 2017)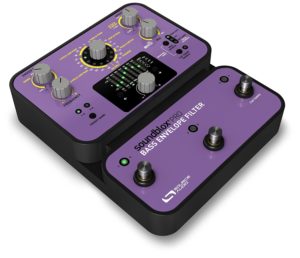 Playing bass in about providing the "bottom end," and about building a foundation for the rest of the instruments. At least that's the common view for this important piece of the musical puzzle.
But a quick look at the progression of bass instrument shows this original task has changed through the years.
Before electricity took music to another level, allowing performers to reach thousands of fans instead of a handful, a bass instrument was providing a frequency and flavor few listeners noticed.
The audience was more likely to focus on "lead" instruments such as the violin, piano etc. When creative individuals such as Leo Fender, Les Paul, and others amplified guitar sounds, the bass line was louder. However, things didn't change much in terms of gaining the attention of the listener.
Top 3 Best Bass Envelope Filters: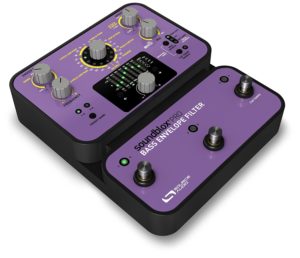 When you're looking for the right bass envelope filter (or any new equipment) for your specific sound, you should pay close attention to what other players say.
The Source Audio SA143 Soundblox Pro Bass Envelope Filter deserves high marks for its versatility and because players can find the unique sound they're looking for. According to information from the manufacturer, this unit delivers 22 filter sounds, including "2 Pole Low Pass, 4 Pole Low Pass, Single Peak, Triple Peak & Notch, as well as Phasers."
Other features include Wet/Dry knob with a unique low-end preservation called "Lo-Retain." The SA143 also has four modulation sources – envelope, LFO, expression pedal and Hot Hand. This filter follows the previous edition, the Soundblox BEF.
Settings can be additionally modified with several control options, such as positive/negative filter sweeps, sweep range, attack speed, and decay speed, as well as frequency range.
Three footswitches give the bassist six presets that can be customized, with a Tap Tempo LFO option for one of the footswitches. The 1.1-pound filter unit requires four AA batteries, which are included.
While this top-end filter equipment will take some time to get used to, it will deliver great sound from first use. Take some time to tweak and adjust and you'll be amazed at the changes you get. There are lots of variables available.
Pros
Versatile, variable sounds
On-board equalizer for variety
Easy to dial in sound
Cons
Takes time to learn all the possibilities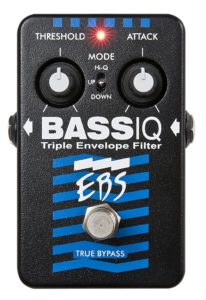 This filter unit is marketed at having true bypass and durable construction, and it delivers. As with other leading units, it's triggered by your notes, with great response and some outstanding funk.
You'll be able to produce classic wah sounds automatically, choose the funkadelic sound or find a unique sound to suit your ear.
Threshold and attack controls, plus three modes – Hi-Q, Up, Down – make the EBS Bass IQ-Analog Triple Bass Filter Pedal quite versatile. True bypass technique and more headroom give you extra space, while you'll also appreciate improved sensitivity, easy-to-use, dial-in analog circuitry, lower noise and great dynamics for sound variety.
Bassists will enjoy experimenting with the IQ-Analog unit, achieving tight and funky, excellent auto-wah and up-wah. The EBS works well with active basses and passive basses.
You'll appreciate the results from this unit, along with the analog warmth. It produces fine sound with slap technique.
Pros
Three modes
Sensitivity of adjustment
Low Noise
Cons
Could use more frequency and level control
MXR Bass Envelope Filter Effect Pedal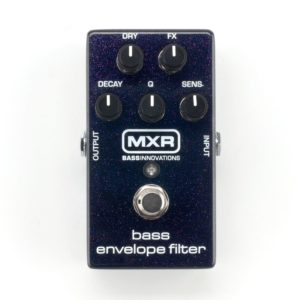 The MXR Bass Envelope Filter Effect Pedal delivers classic analog envelope filter performance with user-friendly design and construction. Low-end punch remains when you dial in the amount of filter you need, using Effect and Dry controls.
Sensitivity and attack are great, as is the true bypass, which preserves your tone. As with other top-shelf products in this line, funk is the name of the game.
What you'll like most about the MXR is versatility, maintaining the desired low end with Dry and FX controls. Other controls give you extreme or mild effect.
This unit will operate on 9v battery power, though performance will probably be best with the AC unit. It's lighter than some bass filter pedals at about 14 ounces.
Pros
Cons
Settings are a bit limited
Buyer's Guide: How to Find the Best Bass Envelope Filters
What If There Was No Bass Line?
Unfortunately, the majority of listeners aren't conscious of the bass line. However, if it was missing altogether the music probably wouldn't have the same effect.
A couple of years ago, one writer suggested that, contrary to popular opinion, bassists are very important to a band or any other musical group. The bass line provides a necessary background, a rhythm that people feel as much as hear.
Think in terms of what part of the music you tap your feet to or tap your fingers to. Studies show people notice changes in rhythm in the bass register more readily than they do when the melody line changes.
It seems the human brain is more suited to following the rhythm, the feel, of music if it's in the lower tones. So, bass is absolutely necessary. Without it, music wouldn't be complete.
With this essential information in mind, you can begin to appreciate the changes that have taken place since the original acoustic/stand-up bass provided the necessary low end for orchestras several centuries ago.
In the 21st century, imaginative players seek ways to enhance the bass sound while holding on to that depth every music aficionado appreciates.
Bass Is Not Just Bass
Nuance in bass sounds? It's been quite acceptable, even celebrated in recent decades. When the subject is envelope filtering, there are a couple of ways to do it.
Bass players have used a manual wah pedal for years, rocking the foot back and forth to produce the unique sound, though some players decide against using this sound at all.
The other way to produce a great-but-different sound is to use a bass envelope filter pedal as part of the input line. Since this equipment takes the place of the manual pedal and the foot action, it's sometimes referred to as the auto wah.
However, the best envelope filters used for bass provide a pop that many players seek for slap bass and funk. Get a good filter pedal and you will have a sound you simply can't produce with manual wah, no matter how fast your foot is.
The pedal unit uses a peaking filter which amplifies a specific frequency and cuts off others. The quickness of electronics responds faster than the musician can move the pedal, delivering unique effects.
With practice, a bassist can produce consistent sound, shaping sound beyond what a manual pedal can produce.
Final Thoughts on Bass and Envelope Filters
When you take the manual operation of the old-style wah pedal out of the equation, you step into the new world of highly interactive equipment with the bass envelope filter pedal.
Because the response dynamics are so quick and efficient you can change sounds with very small adjustments to your playing technique.
That's why some players love using these units when they need a great slap sound, or when they're reproducing the bass sounds made famous by such greats as Herbie Hancock, George Clinton, and others.
It does take some practice before you'll feel completely comfortable with the auto-wah performance. However, you can achieve consistent sound as you use the filter pedal more.
Flea uses this method to perfection with "Falling Into Grace" with the Red Hot Chili Peppers. The Band used a more traditional wah sound with "Cripple Creek". However, it would certainly be possible to reproduce this or enhance it with auto-wah.
As you shop for your bass envelope filter pedal, look for features such as sensitivity control to adjust input level. This helps match that level for the follower and other circuitry. Depth of filter sweep is essential, as is control for filter resonance, multiple filters and Up/Down filters.
As with any other quality music equipment, you should view this special unit as an investment. Some players will spend the money for a high-end pedal and use it for one or two songs.
Of course, this will depend on what your group is trying to present to listeners. However, you'll probably find your fellow musicians will think the addition of the bass envelope filter is a fantastic idea, especially when you've used it enough to get just the right sound.