(Last Updated On: December 21, 2017)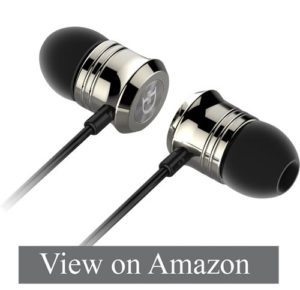 Do you know the real difference between the bad, good and the best bass earbuds? I do not think so.
Finding inexpensive earbuds with good bass may often seem tricky and, in some cases, nearly impossible. In this buying guide, I will share my thoughts on this as well as review the best bass earbuds available on the market at the moment to satisfy your quality bass needs.
Dozens of affordable earbuds were reviewed for this guide, with specific attention to sound quality and deep bass, in the hopes that you will find the best choice for your music needs.
Top 4 Best Bass Earbuds: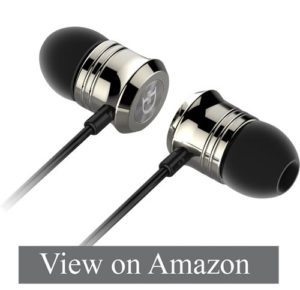 The Dunu DN-1000 audiophile earbuds are ones that I have used in some of my other reviews as the standard for super high-quality earbuds that have absolutely amazing sound. This time, I'm going to go ahead and do a full review on the Dunu DN-1000 earbuds.
What Is In the Box?
First, let's go over what comes with these earbuds. You get a ton of accessories inside, including:
All kinds of different silicone ear tips: both black andwhite, in different sizes. The ear tips go deep inside your ears to isolate all ambient noise and get the best bass.
Power accessories.
An adapter.
A hard case. This was the case that I actually used the most with these headphones.
A leather bag.
Little spacers in assorted sizes (I used the thickest one). These spacers are placed on the body of the earbuds, which allows the tips to stick out further and go deeper inside your ears. I prefer earbuds such as these because the sound is usually better, and the earbuds are less likely to fall out.
Adapters that allow you to run the earbuds cable through and put them behind your ears. I have not used these adapters yet simply because I prefer earbuds that come in my ears. Everyone has different habits and preferences, of course, so it's great that you are given some options.
Comfort
The construction quality is top-notch and made of metal instead of plastic. The cable is pretty thick: it's not a typical flat cable but it is fairly tangle-free.
These headphones are a little bit heavy, which may be an important factor for those using earbuds for exercising purposes.
The current price for these earbuds is $160, which is why I would not recommend these for working out (I wouldn't want to sweat on such an expensive pair of earbuds, let alone lose them!).
The earbud jack is not a 90-degree bend, but it does sit on your cell phone nicely. It has a sort of cable retention device on the cable for this.
The markings from left and right are pretty subdued and they're kind of hard to see. The left earbud has a little dimple that sticks out on the inside, which indicates that it does not have a microphone or button.
A lot of really high-quality earbuds don't have microphones or remotes to play or pause the music. That's fine for me because it seems a little bit wrong to take calls with these rather expensive earbuds.I also don't use these earbuds in a real active setting, such as working out or running, so they do need a microphone, in my opinion.
Do you need a remote? I don't necessarily need a remote. Typically when I'm using earbuds, I'm mostly sitting around, so it's easy for me to grab my phone and press play, pause or skip.
Sound Quality
The best feature of these earbuds is their bass-driven sound quality. I went on a search to find a pair of earbuds that had the best quality as far as clarity, powerful bass, and clear mids. It took me several attempts to find a very good pair of bass-enhancing earbuds before I found this set.
These are considered to be "hybrid" earbuds, which means they have a balanced armature driver and a dynamic driver inside. A lot of earbuds only have one or the other.
Balanced armature earbuds are known for their clarity, really good treble and really clear mids, but they lack some warmth as well as bass that you would get with a dynamic driver.These earbuds have both, however, so you truly do get both ends of the spectrum! You get extremely clear highs, highly clear mids, and really good rich bass.
I've heard pure audiophiles say that these have a little bit too much bass. I've listened to music with earbuds that I thought had too much bass, and I don't think these are one of them. The mids and highs in these earbuds are not shrill or fatiguing. Everything is very well-tuned, and I would consider them very well-balanced. These earbuds are very warm-sounding without being muffled at all.
The bass is super tight and extremely clear; it sounds well-defined and still deep. Higher pitches sparkle and sound phenomenal without sounding too harsh at all.
The overall sound quality of these headphones is amazing. I finally found a pair of earbuds that I can listen to when I'm really wanting some high-quality music and meet my standard of quality.
If you have similar tastes, I would highly recommend these earbuds. I'm not going to go out and spend $1,000on a pair of custom in-ear monitors, butI do like high-quality music. The $200 range is where I have to draw the line. If you have a similar budget and want a pair of high-quality earbuds that you can travel with,I highly recommend these earbuds.
Pros
Perfect quality of design and construction.
Great selection of different ear tips.
A nice hard case and bag.
Outstanding sound quality with a deep bass.
Cons
These earbuds are definitely not cheap – they cost about $160 on Amazon at the moment. However, you can find something between these pretty expensive ones and cheaper models listed below in our guide of the best earbuds under $100. You will get TONS of bass from these models.
Again, I would not recommend these earbuds for working out because they are heavy, expensive and you probably wouldn't want to get sweat on them. For just sitting around and listening to music, however, these bass earbuds get my highest recommendation.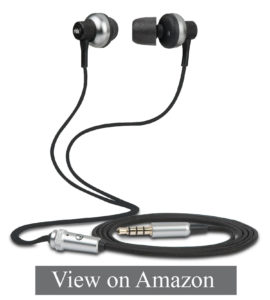 RBH EP2 earbuds retail for $139 now.
Let me preface this review by saying that I am not a professional audio engineer or even a professional audiophile. I don't have the equipment to measure frequencies and don't have 40 other earbuds to compare with this model.However, I have been using some good earbuds recently and would like to share my honest opinion about these ones.
A while ago,I bought a pair of Audio-Technica headphones and fell in love with the quality. Unfortunately, it's harder to go back to anything else once you get used to a certain kind of standard.This is why I went on a search for the best bass earbuds in the hopes of finding ones that had a good, deep bass similar to what I got used to with top-notch expensive bass headphones.
Intro
In order to give you some background, here are some earbuds I have tried and compared in the past:
Similar to many others, I started off with just the basic Apple EarPods.
Then , I tried Sol Republic Jax headphones. These were one of the cheapest and the most precise bass earbuds I have ever tried at the bottom of the whole $10-100 price range.
Then I got a pair of Klipsch S4 which I really liked. Unfortunately, they did not have quite the sound quality that I was looking for. They were very good for the price, though, and I think the Klipsch are really good earbuds overall. You can find them for 70 bucks or less now.
Additionally, I tried a pair of a-Jays Five's. I did not get a good fit with them and I had to use the Comply Foam Tips to help them stay in my ears.
I also tried a pair of JayBird BlueBuds X which are some Bluetooth headphones. These were so big and bulky that I could not get them to stay in my ears and had to send them back.
I bought a pair of RHA MA750, which I think is in the class of these RBH earbuds. The problem with the RHAs is that I could not (again) get them to stay in my ears. The earbuds came with plenty of different tips, and I tried once again to help them fit by using Comply Foam Tips. Unfortunately these didn't help, which was pretty discouraging considering the sound quality on the RHA MA750 was really cool.
Finally, I had to narrow down to getting the RBHs or the Phillips earbuds. Phillips makes a very similar type of earbuds called Fidelio S2. What got me to try the RBHs over the Phillips is that I actually wanted to call the companies and ask them some questions. This endeavor was fruitless, however –I called Phillips and was placed on hold for 25 minutes and then got disconnected.
I called RBH and within probably two minutes I was actually talking to the guy who designed these earbuds. It's really important to me to have customer service where I can actually call and get replacement parts and ask questions. This level of customer service is what got me to go ahead and purchase these RBH earbuds.
Technical Specs
These are dynamic driver earbuds, 13 mm drivers, the impedance is 16 ohms, sensitiveness is 101 decibels, the frequency is 14-18 Hz and they've got a 3.9 feet cable which I think is a pretty good length.
What Is in the Box?
The box contains a nice pouch which you just need to press down on and it opens up. I use pouches a lot with high-end earbuds to protect them while being stored in my pocket or in a bag. The pouch is super easy to use: just wrap the cord around your finger, put earbuds in the pouch and they're stored really well.
The package includes some Comply Foam Tips, which are nice. I'm a fan of these, especially when maximum isolation is needed.You also get three different-sized pairs of silicon tips as well as a cord clip for attaching the earbuds to your shirt.
The cord on these is a cloth-like material, which helps increase its flexibility. The cable is pretty tangle-free. It's probably not quite as tangle-free as a flat cable, but it's much better than the old-school rubber cables.
The quality of construction on these is pretty good. It's made of a lightweight aluminum, which is nice because it's easy to put the earbuds on and fit them inside of your ears.
Comfort & Fit
I really like the way these tips are designed for several reasons.
The earbuds come with a single button remote. A lot of audiophile purists don't like microphones or remotes on their earbuds, but they can come in helpful if you need to answer calls, play/pause, or skip music with the phone in a pocket or in a backpack.
One of the things I like most about these earbuds is the fit. As many of you know, I've had problems with silicon ear tips staying in my ears.In fact, the only earbuds that I've been able to use with stock ear tips is the Sol Republic Jax, which are cheap $39 earbuds, and those, by the way, have a really good bass but the clarity isn't that good. This particular model, however, actually stays in my ears very well and has a great bass, too!
As I mentioned before, I'm a big fan of Comply Foam Tips. However, with these and with most earbuds, you get a little bit more natural sound with the normal silicon tips.The Comply Foam Tips do a really good job of isolating noise and will give you an enhanced bass response, but the clarity is just not quite as good as with silicon tips.
If isolation is your main goal with your headphones, especially when you are traveling in a car or a plane, the Comply Foam Tips will give you a little bit better isolation but does sacrifice some clarity.
Clarity is something that I really look for in a pair of earbuds. I always carry a pair of Comply Foam Tips in my bagin case I get into noisy environments. It is easy just to change stock tips and that's it. While I do carry these, I tend to stick to the silicon tips so that I can get the best clarity out of the earbuds.
Sound Quality
As I mentioned many times before, once I started using high-quality headphones it became hard for me to go back to anything else.
Big headphones are not always practical, especially when you travel or maybe when you're sitting at your desk and you don't want to look too unprofessional with a big set of headphones on your head. That is why I like earbuds so much!
These earbuds have probably the best soundstage that I have ever heard (for earbuds, of course). The separation, the detail, the quality – everything is excellent.
If you're not familiar with some of those terms: "soundstage" describes how close the music sounds to hearing it live in a stage setting as opposed to hearing all of the instruments jumbled together. Good soundstage allows you to hear guitars and drums separately, as well as the vocals. The more spread out they are, the more natural the music sounds.
Again, I'm not an audio engineer, so I don't know how they get the soundstage so good in a set of earbuds, but it's perfect.The detail is really amazing for these earbuds and you are able to hear instruments separated from each other, as well as all of the different tones, etc. It's not going to sound jumbled together as if they were just inside your head, which a lower quality set of earbuds will probably do.
I listen to a lot of acoustical music and jazz, which is why I really seek headphones with a lot of detail. I'm not a guy who just wants booming-thumping bass without any detail. Details are very important!
The clarity is superb for the price, andthey are better than any other basshead earbuds that I've ever tried. Another thing that I love about these is the quality and the depth of the bass.With these earbuds, the bass sounds really deep. The good thing about the bass on these is that it's very natural— if the music doesn't call for bass, it's not going to be there.
If it calls for deep bass, these earbuds do an excellent job of reproducing that deep but not boomy bass sound, especially when you listen to acoustic drums…they really just carry the tone of the bass. It's very tight and clean, which is probably another reason why I love these earbuds so much. All in all, the clarity and quality of the deep and extended bass allows you to get the full range of sound the way it's supposed to be.
Overall, these earbuds are open-sounded and have amazing bass extension thanks to the 13mm dynamic driver. Highs and mids are incredibly balanced for this dynamic driver,even compared to some balanced armature designs I have tested lately.
These in-ear headphones have a very clear and warm sound with excellent and neutral bass. The mids are extremely solid, and the highs are crisp and clear but not harsh at all.The majority of people would be surprised at how good and balanced these bass earbuds sound if they gave them a try!
The Bottom Line
As you can see, I really like these earbuds and I recommend them to anyone similar to me – a person who wants a high-quality set of earbuds without spending a crazy amount of money on a pair of custom in-ear monitors which can run $500-$1000 or even more.If you're the kind of person who likes listening to truly clear, differentiated music, these earbuds are for you.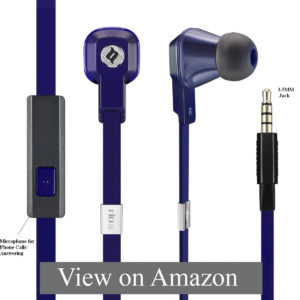 I've already reviewed some other Noontec products: I've reviewed the Zoro and the Noontec Hammo S – both of those are over-the-ear headphones. This is the first in-ear headphone product that I've ever used from Noontec.
This is I believe an upgrade of the original Rio headphones. They have made some really significant improvements in terms of bass. I've never listened to the original Rios, but the sound quality of these earbuds for bassheads is pretty cool. I'll talk about that below.
What Is In The Box?
First of all, you get pretty high-quality packaging, which I think is really important. When a company goes through the lengths of making up a package that's nice, I think it is consistent withthe quality that they put into their headphones. The earbuds come with a nice zippered pouch, which allows for ideal protection and storage.
Noontec has a pretty interesting business model. They make products that look very similar to Beats, but they actually have an even better sound quality than Beats do, and they still look good. Last but certainly not least, they have a much better price tag than Beats headphones as well.
Some people may wonder why other manufacturers make products that look similar to Beats. I think it is just their business model, take it or leave it.
Of course, these earbuds do have a single-button remote microphone, which is really important for some people. Sometimes expensive and pure audiophile headphones do not have a microphone for some reason. The microphone works well and sits right by your mouth, ensuring that it picks up your voice well.
The earbuds have a flat cable, and it is very tangle-free. It's actually a little bit wider than some of the other flat cables that I've used before, which decreases its likelihood to tangle a lot.
A clip is also included on the earbuds. I usually don't use clips like this – if the cable is thicker, it usually makes the clip a little heavier. The clip is on a little pellet that allows it to swivel really well and move around freely while attached to your shirt.
Noontec also makes these earbuds in different colors. My headphones are blue, but they also have white and black options.
A straight headphone jack is located on the other end. It's relatively thin, which helps it go into even thick cell phone cases.
Comfort & Fit
The fit of earbuds is one of the most important things when you are looking for a good pair of headphones.
Over-the-ear headphones work for most people. Earbuds are much more finicky and I've had some earbuds that just would not stay in my ears. These particular earbuds do a pretty good job and they don't go really far inside your ears.
When I do headphones reviews, I like to compare similar products. I would compare these earbuds most closely to the Sol Republic Jax. I actually have done a review of Sol Republic Jax as well.
The Jax, by the way, have been my longstanding favorite bass headphones if we are talking about solid but affordable models which you can use for a gym or your running sessions.
Sol Republic Jax earbuds go into your ears a little bit further, which does a couple things: first, it gives excellent noise isolation. Since Noontec Rio S are angled, they don't go into your ears quite as far.They don't provide total noise isolation, which is actually a preference for the majority of people. Some people don't want to block out all noise when they are wearing earbuds.
They still provide good noise isolation, it's just not quite as good as something that goes further into your ears.
The downside of bass-emphasized headphones like Sol Republic Jax is that you get a really strong microphonics effect (some people call it "cable thump").The cable bounces around your shirt and you can hear that banging in your ears, and it's due to the superb seal that these earbuds have.
On the other hand, Rio S do not block out all the noise but you also don't get that strong cable thump that you get with some earbuds. That's actually a plus of these not fitting really deep inside your ears.
One more thing to note is that these headphones come with four sets of silicon ear tips. Interestingly, the sets are the same size. You get two sets of small ones and two sets of larger ones.Speaking of ear tips, one thing that may help with these headphones is the Comply Foam Tips.
If you go to Comply Foam's website, you can't find the Noontec set listed in their tip finder.Their 500 series works with the Noontec Rio S. I think these ear tips would be important for people like me who have kind of finicky ear canals. If I walk around with "normal" ear tips, they don't go deep inside my ears and have a tendency to fall out sometimes.
If you're using these earbuds for the gym, walking around or even running, you may want to go with the Comply Foam Tips. Those tips really just "lock" earbuds into your ears andprovide really good noise isolation. I would recommend the Comply Foam Tips for the Rio S if you have any fit problems.
Sound Quality
I've previously mentioned that these earbuds are an upgraded model of the original Rio. There have been some reviews about the original Rios having a bloated bass, a lot of rolled-off treble, and not so strong mids.It's obvious that Noontec has done a really good job improving the sound of the Rio S because these earbuds have absolutely amazing clarity for headphones under $60.
These earbuds are almost as clear as my Dunu DN-1000, which are $200 earbuds that include special drivers to give them really strong and deep bass, as well as a really strong clarity that only a balanced armature will give!
The DN-1000 headphones have superb clarity and bass and are awesome, and the Rio S's clarity, mids and highs are certainly comparable to the Dunu DN 1000.
There is one more really important thing to consider and understand: these Rio S earbuds are very balanced. I want to be 100% clear because this guide, after all, is about finding earbuds with high-dizzying bass.This means that if you are a person who likes really BOOMING bass, these earbuds should probably not be your primary choice.If you're more of an audiophile and you don't want super strong bass, you'll probably love these for their price (and the bass is still very good).
I would prefer more "audiophile bass" earbuds to really hear what I am listening to while still getting premium bass.For music lovers who love to hear everything in a clear way, including guitar strings, classical music, saxophones and jazz, these earbuds are excellent.
However, if you are searching for earbuds with amazingly strong bass for a low price, the Sol Republic Jax are going to be the better choice for you. These headphones are not well-balanced earbuds by any means. However, the clarity is pretty good on these for the huge amount of bass they produce. The clarity is not nearly as good as the Noontec Rio S, though.
If you like your music to be really clear and you want it to sound pretty similar to the way it was produced, you can't go wrong with the quality and price of the Noontec Rio S earbuds.
Pros
Absolutely fantastic sound quality, with deep and rich bass.
Really good price.
Modern-looking design similar to the best Beats examples.
Cons
The bass is really good in terms of balanced sound quality but if you want just TONS of bass without worrying about a music sound balance I would probably recommend to choose something else, e.g. Sol Republic Jax.
The Bottom Line
To summarize, these Noontec Rio S earbuds are perfect for a person who wants really clear music and really strong detail.
Sol Republic Jax earbuds are probably the best bass earbuds under $30, and they're most likely the better choice for someone who wants more heavy bass (and less sound balance).
All that being said, you're not going to be able to beat the clarity of sound and build quality of these earbuds for the price (under $60). These bass headphones are great by all means.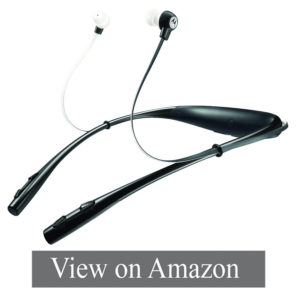 If you're interested in good-sounding Bluetooth headphones with tons of bass, stick around because these are pretty good. More details about the sound quality and bass can be found below!
If you're familiar with the LG Tone Plus, these earbuds go around your neck. I'll be doing more of a side-by-side comparison with the LG's because these earbuds are really similar to that model in the way they perform.
The headphones have magnets on the end, so when you're not using the headphones, you can just put them on your neck and put the earbuds on the magnets.When you're ready to use the earbuds, whether it's to listen to music or answer a phone call, you just pull them out and pop them in your ears.
Design, Build Quality and Comfort of Use
There is a charging port on the back side and it's made for a micro-USB charger.
In order to turn the earbuds on, you hold the button down for about three seconds and you'll get a blue light that flashes.If you have already placed the earbuds in, you'll hear a voice saying "Welcome to the Motorola Buds." It'll connect after you've paired it with your device.
On the left side, you'll find a play/pause button. If you hit it once, it will play music. If you hit it again, it will pause. If the music is not playing and you hold the button down, it will pull up Siri (or similar voice activation) for phones equipped with such features.
If music is playing, the button has three built-in EQ settings. You hold the button down while the music is playing and then you'll hear the music kind change equalizer frequencies and say, "EQ changed."The downside is that you don't really know what EQ setting you're on until you listen to the music. It would have been nice if it said, "EQ level one; EQ level two" or something like that.
Another button is the "skip" button. If you press it once, it will skip to the next song. If you double-click, it will go back.
On the other side, you have the volume control. There is volume up and volume down, and both work really well.
The quality construction of these earbuds is really good. It's a pretty hard plastic, but they do bend to get around your neck. They're not as flexible in the back as the LG Tone Plus, which is made of a more rigid plastic. Overall, both the buttons and construction have good quality.
Bluetooth Range
I quite rarely pay attention to this metric, but the operating range of these earbuds is exceptional – about 150 feet!
The majority of modern Bluetooth devices have a normal range about 30-33 feet so the difference is huge and in my opinion that is on of the biggest Motorola wins regarding these Bluetooth earbuds.
Sound Quality
The majority of cheap earbuds sound static and you normally expect a lack of bass, muffled highs, and inexpressive mids. No sign of static is reported in this case.
The bass is absolutely fantastic for a pair of earbuds under $30. In my opinion, extra bass isn't necessary for these – they sound really clean and I would even call it more of a punchy bass for some songs. The bass is not muffled or muddy.However, you also retain really good mids and highs with these earbuds which is good even if you are normally just looking for high-quality and hard-hitting bass.
There's one final important thing to note: there are three or four different pairs of ear tips. They put the smallest size on and I wasn't getting a good seal at first.I ended up putting the larger ones on, and noticed that the sound quality was drastically better when I did. You really have to get a good seal with these earbuds but it is not hard at all.
These are not only some of the best-sounding Bluetooth headphones that I've used, but some of the best cheap bass earbuds that I've ever used, which really amazed me.
Pros
The bass is absolutely crazy for such a low price.
Good fit, very comfortable.
Extremely cheap for such high-quality build and bass.
Overall these headphones are one of the best bass earbuds under $50 and definitely the best bass earbuds under $30.
Operating range is about 150 feet. That is an outstanding result for the majority of Bluetooth headphones, regardless of price.
Cons
The bass was sometimes a bit too extensive, but I do not think that's a big deal for the majority of the readers of this article. 🙂
Why Do We Need More Bass?
As we all know, clear and sometimes even extreme bass is one of the most critical things to have in order to get the best listening experience. It adds some depth to songs you are listening to.However, do you really need tougher bass on your earbuds? That's not another theoretical question: earbuds with good bass tend to have a way higher price tag.
The answer to this interesting question really depends on what music style you like. Corny but true, music with more bass needs a boosted bass on headphones. And the bass you find in a song, the better earbuds you need to extract that bass properly.
Finally, what genre of music has/needs top bass response? If you asked 1000 people you would probably get 1000 different answers. "Bass music" is rather a broad term to define.
I do not know the right answer to this tricky and rather complicated question too but normally drum/dubstep, hip-hop, metal, and rock songs have tons of heavy bass, and that is the point where really top-notch earbuds with good bass matter the most.
What Are Earbuds With Good Bass?
Usually, you are not able to say something more or less specific about the quality of bass (and sound quality in total) of a particular model of headphones or earbuds if you haven't tried them yet.However, there are several simple but very important technical characteristics you should be aware of in order to get tons of bass from your earbuds.
Yes, technical specifications are sometimes tricky and boring to read, but you still can get some valuable information from them if you know what you are looking for. I am here today to help you with some of these scary words, including frequency, impedance, drivers and other strange and scary terms:
Frequency response is usually meaningless in terms of bass if it is not qualified by dB rating and only if specs includes -3 or -10 dB tolerance. You can use frequency as a significant metric, e.g. 15 – 28,000Hz (-3 dB). Here's a simple rule of thumb for you: the smaller the first number in this range, the better because it refers to the deepest bass your headphones/earbuds can reproduce.
Does impedance matter for deep high-quality bass? Yes, but there is a difference whether you use your earbuds at home or outdoors. Amplifiers of portable devices are much weaker and in general, you need low impedance (32 ohms or even less) earbuds for the street and high-impedance earbuds at home to get more natural bass from your earbuds.
Larger drivers do not provide any significant advantage over smaller ones. If you see a model which has 6.5mm drivers, you have nothing to worry about –the bass will be rich and deep in most cases. Modern earbuds sometimes use a two-driver approach and have individual drivers for bass and mids/high frequencies.
How to Get More Bass From Earbuds
There are several things you need to know if you want to get the best bass from your earbuds:
A good seal is the most important factor in terms of getting deep and rich bass. If they feel good and sit well in your ears you will definitely get much better bass at the end of the day. Unfortunately, we all were born different: the form and the shape of the ear canal are unique for any person.
That is the main reason why it is so hard for headphone manufacturers to make "universal" earbuds that would fit well to anybody. So, you need to try hard for the first several days and find your own way of putting earbuds into your ear canal for the best bass.
Bass response is much worse if you do not use the right size of ear tips. I recently had a really interesting experience regarding this. When I picked Motorola Buds SF500 earbuds up at the store, I was impatient to see how they would sound, so I took them out of the box while I was driving home from the store. When I put them in my ears the sound was… at least, not good. In fact, I almost turned around and brought them back.However, when I got home, I realized that the smallest size of ear tips had been on, which made the bass quality very poor! When I got a good seal, the bass went from being not really good to being probably the strongest bass I've ever listened to on a pair of cheap earbuds!
However, when I got home I realized that there had been the smallest size of ear tips on! When I had the smaller size ear tips on the bass was not good at all. But when I got a good seal, the bass went from being not really good to being probably the strongest bass I've ever listened to on a pair of cheap earbuds!
Manufacturers usually put several sizes of ear tips in the box so try different ones to get good noise isolation and perfect bass response.
Try it, experiment and you'll be able to get a much better sounding from your headphones.
Buy "hybrid" earbuds with both a balanced armature driver and a dynamic driver inside.
Usually, earbuds have just one or another type of drivers but there are several models, e.g. Dunu DN-1000, which have both. This will help you to get clear sounding and deep rich bass on both ends of the sound spectrum.
Wired models of earbuds tend to sound much better in terms of overall sound and base. The brutal bass is not a feature of earbuds themselves and sometimes you get just flat and muffled sounds with your Bluetooth earbuds because of technology restrictions.
Modern AptX technology solves this problem to some degree but you will never get the same bass from wired and wireless models of earbuds. Plus not all smartphones support this yet.
Do not use earbuds if you are a real bass-head. Earbuds are not supposed to be the best bass headphones: it is just impossible from the technical point of view.
If you need a lot of premium bass, use over-the-ear headphones. They usually are way more expensive, but you can count on them when you are listening to more bassy songs. By the way, is "bassy" or "non-bassy" even a word? 🙂